Best of City Living: Casual Summer Evening Stroll
Living right in the heart of the city brings a lot of unique opportunities and challenges. We're bombarded by tourists, so accustomed to sirens and car horns we no longer hear them, and we don't have a single blade of grass to call our own.
But … we also live directly above a full grocery store, are within three blocks of almost anything you could want, and walk everywhere. Despite the weather, throwing the boys in the stroller or jumping on the train to get just about anywhere we want to go is awesome. We definitely spend 95% of our life in Chicago within one mile of our apartment.
Last Saturday, on about as perfect a summer evening as imaginable, we all stepped into our walking shoes and headed out to grab some dinner. We wanted to hit up The Roost, my favorite fried chicken and biscuits, one last time before leaving it behind in Chi-town.
Our simple walk to dinner turned into a three hour affair before we finally dragged out feet back into our apartment.
On the way to dinner, we took a detour through a dark tunnel to listen to echos, jump over potholes, and (of course) take a quick pic of my outfit for the blog.
I won this shirt in an Instagram contest hosted by Dress Well Do Good and Evan Brooke Ethical Clothing many months ago, and I wanted to be sure I shared it. I considered sharing it sooner but it's only been "t-shirt weather" in Chicago for a few weeks now. Evan Brooke sources various brands of ethically produced pieces for kids and adults, and this one is definitely a winner. The photo doesn't do the fabric any justice, but it's so soft!
I picked up the jeans from the Salvation Army not long ago. It took me a while to find thrifted jeans, but I persevered and this is the second pair I own and really love. Let me also give a shout out to the little toothbrush and detergent that helped me get the mascara stain out of the waistband of these jeans. I spotted the stain before buying them, but knowing it would come out, I bought them anyway. Wallah! Perfect jeans for me that no one wanted because the stain scared them away. I'll take it.
Shirt – Evan Brooke Ethical Clothing | Jeans – Vince (thrifted via Salvation Army) | Shoes – Bucketfeet (Get $15 off your first purchase!) | Sunglasses – Persol | Necklace – gift
Back to our walk through the tunnel and then to dinner, we sat outside to eat our chicken and biscuit sandwiches before heading back home.
Our little escapade in the city called for a bathroom break. We popped into a coffee shop and, as an act of goodwill, bought a hot chocolate for M and the boys to share. I'm not the only one who feels uncomfortable using a retailer's bathroom without buying something, am I?
It certainly wasn't cold outside, but they all love hot chocolate. It's about the only form of chocolate toward which I'm entirely indifferent. Hot beverages do nothing for me, so I just hung out and admired their hot chocolate milk mustaches.
With the sun setting, we stopped at the park for a bit after our hot chocolate and bathroom break. I dug deep into the archives of my athletic career and pulled out some gymnastics skills from my elementary school days. I showed my boys how to flip up over the bar and drew quite a bit of attention from the other kids at the park wanting to try the same thing. T and J still have some practice before they'll master the move, but I have no doubt it will be in their playground arsenal soon enough.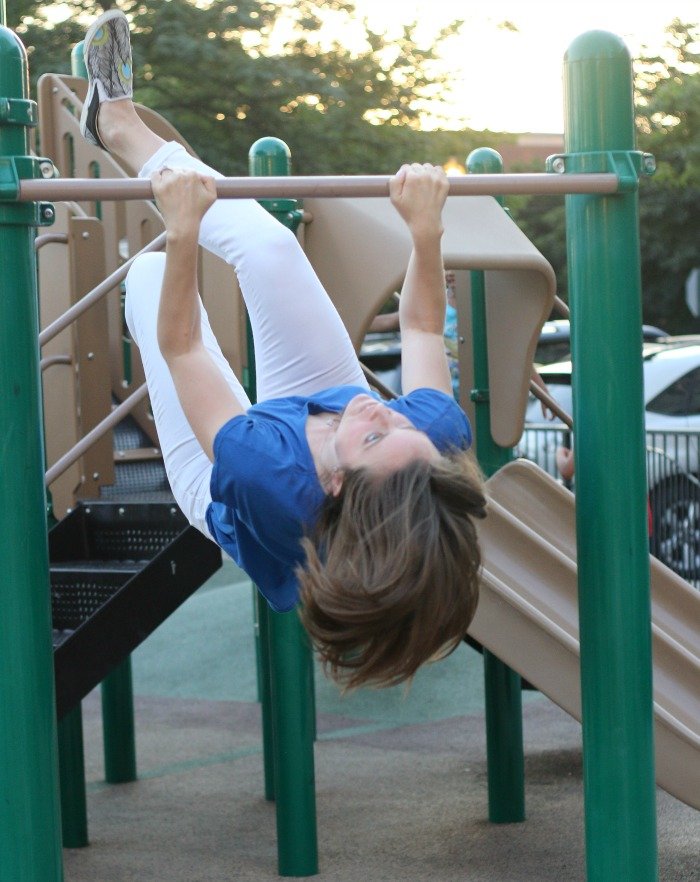 For now, they're more interested in the water structures and swings. But really, who doesn't love the swings?! They're for sure my favorite aspect of the park. Even though my hips get crushed like crazy in the swings, I still pump my way up to flying back and forth when the opportunity arises.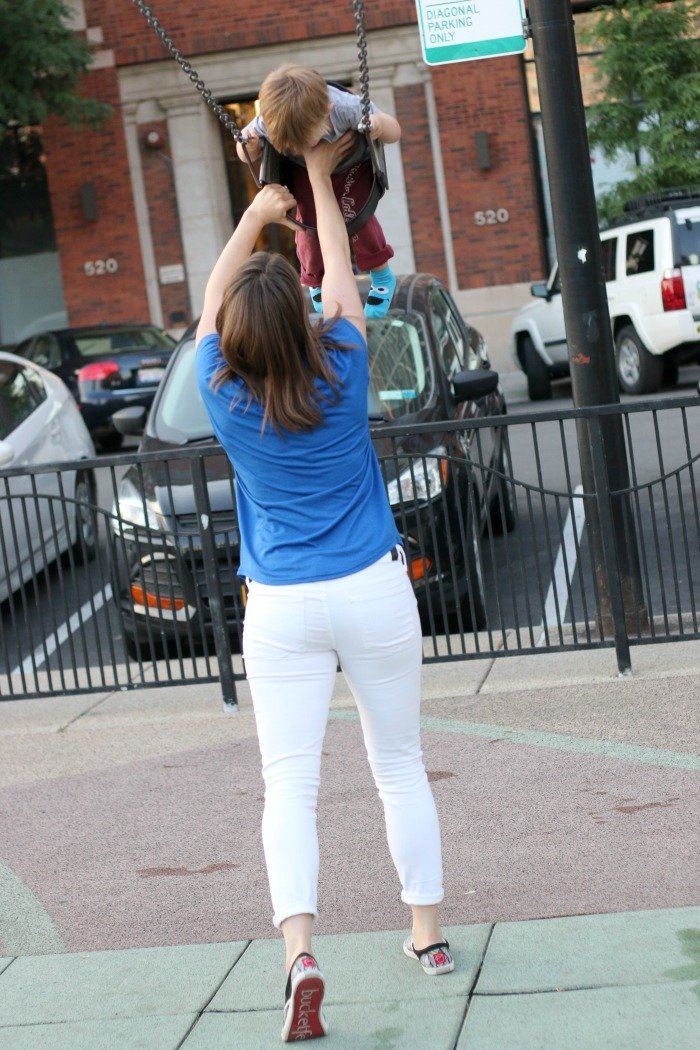 No surprise, our three hour stroll around the city left T and J pretty exhausted. Even the adults were ready to park our butts on the couch for the rest of the evening.
In just a few days, we'll be living in the suburbs appreciating that we can step outside into a yard full of grass and onto a driveway adorned with a basketball hoop and hockey goal. The boys are sports fanatics, to say the least, and having these games readily available will be wonderful.
However, I will more than miss the unplanned adventures around our neighborhood that only urban living can offer.
Our new town will likely have wonderful walking paths and parks. But as you can imagine, driving to a park or walking along a predefined and finite path just doesn't have the same appeal as stepping out my front door to endless possibilities of exploration.
Crowds and traffic I can do without. Endless walkable city sidewalks will be sorely missed.