5 Tips To Buy High-Quality Pajamas For Kids
Are you splurging on special holiday pajamas for kids this year? If so, take a look at these five tips to find high-quality pajamas for kids without breaking the bank.
This post is sponsored by OEKO-TEX®.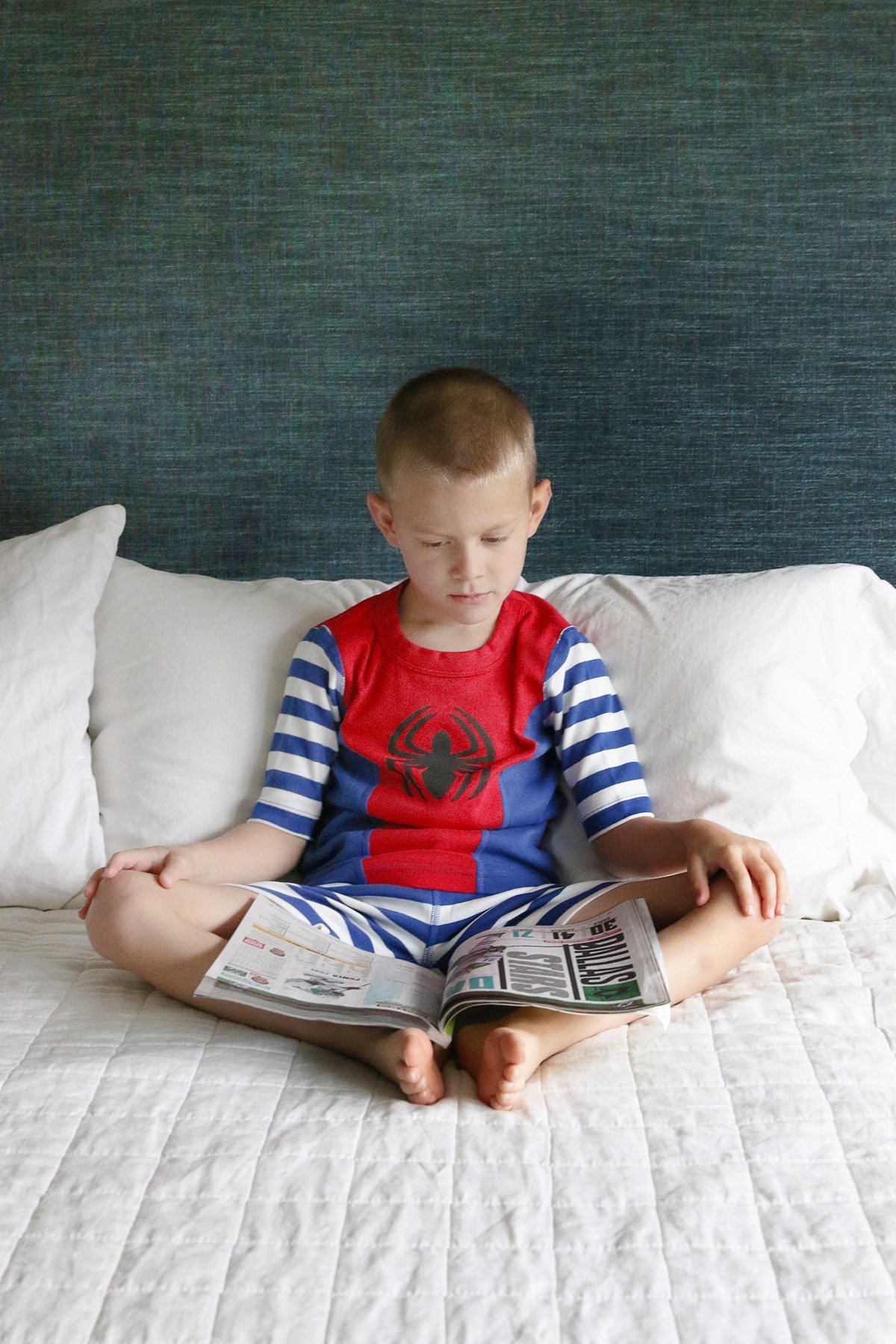 It's December so I'm guessing that by now your social media feeds are flooding with families dressed in cute matching holiday pajamas. Those photos always look so adorable. A few years ago for the holidays, we purchased matching kids' Christmas pajama sets for our boys and our nieces and nephew, and we had such cute photos from Christmas morning.
This year, we are headed to Arizona for the holidays to spend time with my family. We picked a large home rental in a warm location with the intention of spending lots of time together at the house in a small group and plenty of time outdoors hiking and walking.
In anticipation of a fun Christmas morning altogether, I've been thinking about splurging for matching holiday pajamas for each of the five grandkids. I know it would be so fun to get photos of them all together in their adorable holiday pajamas.
When searching for high-quality holiday pajamas for kids, my first stop was Hanna Andersson, a company that is basically "kids pajama royalty". Hanna Andersson has so many high-quality kids' holiday pajama options and crushes the holiday pajama game! Did you know they've been selling matching family pajamas since 1983?!
Hanna Andersson makes family pajamas that last. Just as important, the company has been testing their pajamas to ensure they are safe from harmful chemicals and toxic substances for many years.
5 Tips For Buying High-Quality Pajamas For Kids That Will Last
When thinking about finding good quality holiday pajamas for my boys and their cousins, there were several factors I considered to ensure the holiday pajamas were safe and didn't break the bank. Here are five tips to find great pajamas for kids that will last many seasons.
Look For Certification Under STANDARD 100 by OEKO-TEX®
STANDARD 100 by OEKO-TEX® is a global certification process that tests for harsh chemicals and toxic substances throughout an entire piece of clothing (including threads, fabrics, notions, and more). You can read more about STANDARD 100 by OEKO-TEX® and why it is important in the post I shared a couple of weeks ago.
Hanna Andersson has long held their children's clothing to the highest certification level of STANDARD 100 by OEKO-TEX® to help ensure that the clothes we put on our kids are safe for them to wear. Because these pajamas hold up so well, we can feel confident dressing our children in these pajamas time and again.
Ensure a Good Fabric Hand
The "hand" of the fabric is how the fabric feels in your hand or on your skin. Higher-quality fabrics often feel better on our skin. When buying pajamas for kids, pay attention to how the fabric feels, and go with your gut.
If a fabric is scratchy or rough, your child probably won't want to wear the pajamas often anyway. It will end up being a wasted purchase. A good fabric hand is more likely to please your child and endure lots of wear and tear from regular use.
Buy Kids Pajamas A Size Up From Their Current Size
Especially with kids' holiday pajamas, they feel relevant for a short period of time. While it's nice to let kids wear clothes year-round, it's also sweet to have a few special items that only come out around the holidays.
If you prefer to keep kids' holiday pajamas a special treat for holiday time, buy pajamas in a size up from their normal size. The pajamas will be a tad bit big the first year but still hopefully fit them a year later, so you get more use out of the purchase and reduce the use of virgin resources to make new pajamas each year.
Prioritize Kids Pajamas With Good Resale Value
High-quality kids' pajamas are often more expensive than fast fashion alternatives. While the upfront cost might feel out of reach, it's helpful to consider the full cost of an item if we can reap resale value when our children outgrow their clothes. High-quality clothing might not be as expensive as they seem when we consider the full lifecycle of the garment.
Brands like Hanna Andersson hold their value well because they are of such high quality. If you can resell your kids' clothes at good prices, it significantly helps reduce the effective price of sustainable wardrobes for our kids. When shopping for great holiday pajamas for kids, prioritize brands that have a good resale value in the secondhand market so you can earn a bit of money when your kiddos outgrow them.
Shop Secondhand For Kids' Holiday Pajamas
Speaking of resale, it's great to be on both sides of the secondhand market. Save money by selling your high-quality brands while also buying secondhand for your kids. There are so many holiday pajama sets available in secondhand markets.
In fact, the very first pair of secondhand pajamas I bought for my older son was a Hanna Andersson set. It was in great condition, just as I expected.
With respect to holiday pajamas, you may have the best luck looking for holiday pajamas during off-season periods. But surely secondhand pajamas abound, especially because families often buy them as gifts or as special outfits for Christmas morning and then don't wear them much after the holidays. You may even be able to find them shortly after the holiday season in a local swap group!
Matching holiday pajamas are all the rage and super cute for family holiday photos. Do you plan to buy holiday pajamas for kids this season? If so, what will you prioritize when buying your pajama sets to ensure they are safe and suitable for the kids in your life?
Be sure to check out Hanna Andersson holiday pajamas if you're looking for OEKO-TEX® certified items that are great quality and will last for many wears in your child's closet.