Pumpkin Chocolate Chip Cookies | Sharing The Wealth
I share with you today one of my most loved recipes. I received it from a friend a few years back and have earned rave reviews from just about anyone who has ever sunk their teeth into one of these babies. M asks me to bake them often (too often, because I ALWAYS eat too many and, of course, he has much better self-control than me when a huge pile of cookies sits in front of his face).
But I couldn't have been more excited, for several reasons, when I recently volunteered to bake dessert for a charitable dinner hosted by my alma mater. A neighborhood church hosts a Dignity Dinner for low-income and homeless members of the community and, once a month, my school sponsors this dinner.
I do not give back to my community enough and have recently been feeling more inclined to increase my charitable contributions (of both money and time). I know… it's about time. I guess turning thirty does really make one wiser, and I will share more about that later this week.
With this dinner, not only do I have a chance to provide just a small spoonful of sweetness to fellow community members, I also get to bake a multitude of desserts , have a few bites of each, and then get the excess out of my house to prevent inevitable overindulgence! I admit I have absolutely no will power in the face of chocolate desserts. With certainty, I can say a better win-win doesn't exist.
Lucky me, I baked regular brownies, York peppermint patty brownies, regular chocolate chip cookies, and these pumpkin chocolate chip cookie wonders and ate a few bites of each.
Then I happily shared the bulk of the batches with others. I can't wait until next month when hopefully I can bake for the dinner again. These pumpkin cookies apparently received the best reviews (no shock there) so I will certainly include them in my collection for next month, and I can't wait to experiment with a few new desserts including cupcakes, maybe? Anyone have any favorite cupcake recipes to recommend?
Kids in the Kitchen
When I am home with T, I do my best to let him help as much as possible (where it makes sense considering he's only thirteen months old).
A heads up, the cookies have more of a cake-like consistency than expected, so snacker / baker / cookie monster beware. I think it's what makes them wonderful. Generally, when someone new tries them, I get a surprised look because of the unexpected texture, followed shortly by a request for another.
I like to bake smaller cookies because I find they bake more evenly. I typically fill a small scoop (shown above) about 2/3 full. But certainly the size of the cookie can suit your preference, and you can adjust the baking time accordingly.
Bake for about 6 – 7 minutes and you (… and the cookies… and my cookie monster mouth) are golden. Then chow down to your heart's desire. Let me know if your cookie monsters love these bad boys as much as mine! I have confidence these cookies won't last long on any kitchen counter.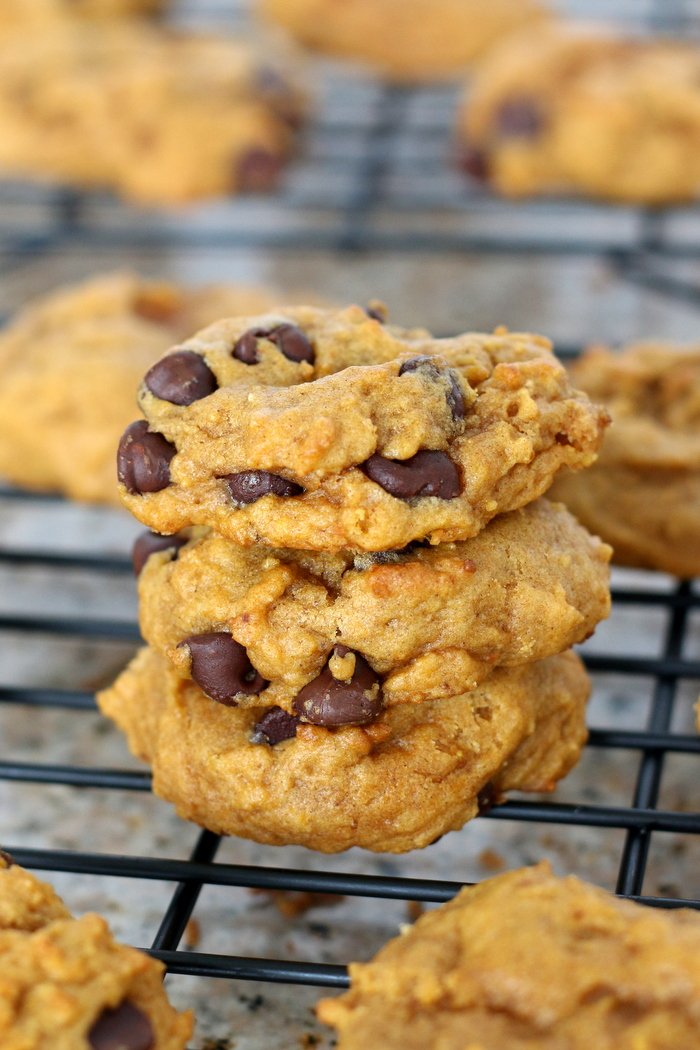 Yep. I ate it. Guilty as charged…
Pumpkin Chocolate Chip Cookies
Ingredients
1 can pumpkin, 14 oz
1 tsp baking soda
2 eggs
2 c brown sugar
1 c vegetable oil
4 c flour
2 tsp cinnamon
4 tsp baking powder
1 tsp salt
2 tsp vanilla extract
2 tbsp milk
12 oz chocolate chips
Instructions
Preheating the oven to 350 degrees
Mix the pumpkin, baking soda and eggs in a large mixing bowl.
Then mix in all other ingredients.
Fill a small scoop about 2/3 full.
Bake 6 - 7 minutes (or longer, if you prefer larger cookies)
Nutrition Information:
Serving Size:

1 grams
Amount Per Serving:
Unsaturated Fat:

0g