Fun Gift Ideas For Kid Chefs & Young Bakers
Do you have a kid chef or young baker in your life who loves cooking and baking? Check out this list of eco-friendly gift ideas for kids chefs and young bakers they are sure to love!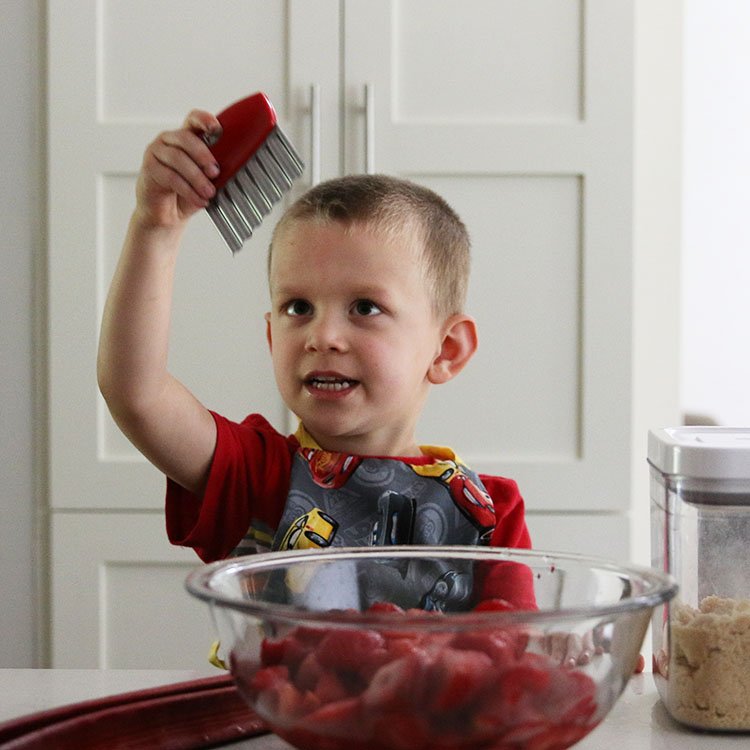 This post contains affiliate links.
I love cooking and baking with my kids. We enjoy the time together, and I also think it's important for kids to learn basic kitchen skills for life. Over the last several years, we've learned lots of tricks and tips to make baking with kids more fun including my very favorite tip for baking with kids.
Cooking and baking with kids is much more fun and a great learning experience when they have tools and recipes made for their little hands and growing minds.
Both of my boys, and my younger son in particular, have spent a lot of time in the kitchen with me and learned quite a bit for their age. I'm always on the lookout for cool recipe books, fun kitchen projects, and great kids cooking tools to further encourage my boys to build their kitchen skill repertoire.
Gift Ideas For Kid Chefs & Young Bakers
Below I've included some of my very favorite gift ideas for kids chefs and young bakers. My boys really like these things, and I bet the youngsters in your life might love them too!
Make Your Own Chocolate, Gum, and Candy Kits
Glee Gum, a sustainable chewing gum and candy company, sells make your own kits for chocolate, gummies, and chewing gum. These are so neat and I know my boys would love this! They love sweets and anything chocolate, so making their own from scratch would be a big hit!
Shop For Make Your Own Chocolate, Gummies, and Chewing Gum Kits
My First Cookbooks from America's Test Kitchen
We first heard about My First Cookbook for kids on the Mystery Recipe podcast, which is hosted by America's Test Kitchen Kids. The boys made the One Pot Pasta recipe that was the feature of the podcast's first season. It was delicious, and they loved it!
America's Test Kitchen Kids has a great website with awesome kid-friendly recipe instructions that were perfect for my boys. After seeing how kid-friendly the recipe instructions were online, I knew the book would be great for kids in the kitchen too.
We checked out the cookbook from the library to give it a test run. My younger son loved it and asked to make so many of the recipes. This is definitely a cookbook we would invest in to have at our house and use regularly.
Raddish Cooking Club Subscription
Raddish Cooking Club is a monthly subscription box that includes three recipes as well as a special kids' cooking tool in each monthly box. I'd heard about Raddish Cooking Club for some time but wasn't sure I wanted to invest for our boys.
While home with the boys for a while, we watched a few of their free recipe tutorials on Facebook Live and also checked out some of the free kids' recipe instruction sets they offered. They were perfect for kids and so easy for my boys to follow. I loved them and knew this would make a great gift for my younger son, in particular, who loves to help out in the kitchen.
We tested out a monthly club box not long ago and it was a big hit. You can read more about my review of Raddish Cooking Club and how much our boys enjoyed it here
Subscribe to Raddish Cooking Club For Kids
CHOP CHOP Magazine Subscription
Getting mail (or at least good mail like fun magazines and packages) is always the highlight of a day. I love receiving fun mail as an adult, and loved it even more as a kid.
I think a subscription to this kid's cooking magazine, Chop Chop, is an awesome way to keep kids engaged in the kitchen and share a gift that keeps on giving. The magazine includes a variety of healthy recipes to try, and it's also available in both English and Spanish!
100 Days of Real Food, Fast and Fabulous Cookbook
This 100 Days of Real Food, Fast and Fabulous cookbook is made for adults but has lots of kid-friendly recipes that my kids can make on their own. We have had this cookbook for many years, and we use it almost every week.
Most recipes include only 5 to 10 everyday ingredients, so we can make nearly all the recipes with ingredients we already have on hand. Because the recipes are designed to be family-friendly, they are also fairly simple recipes that many kids can make independently or with just a bit of help from an adult.
The 100 Days of Real Food, Fast and Fabulous cookbook would make a great gift for a child who wants to learn how to make healthy recipes they can share with the whole family. I'm not sure it's still in print, so you may have more luck finding a secondhand copy at a place like Better World Books. You could also just check it out from the library and copy your favorite recipes if you can't find a copy to own in your home.
Buy the 100 Days of Real Food Cookbook
Learning Tower or Kitchen Stool
Have you seen these kitchen learning towers? Kids will have much more success and enjoy the process if they are elevated to counter height. They can stand on a chair or stool with supervision. Sometimes, I have my little guys sit right on the counter. If they aren't at the right height, it makes stirring, pouring, and even seeing in the bowl really difficult.
We have a few friends who own kids' kitchen stools, and I always thought these were really neat. Although we never had one, I think they would be great for families looking to really get their kids involved in cooking and baking.
You can buy these kitchen learning towers and stools from a variety of retailers, but there are so many amazing ones on Etsy. I linked to my favorite one at a great price on Etsy, so go support small businesses and independent creators! 🙂
Check Out Kitchen Learning Towers For Kids
Kids Apron from Etsy or DIY
A couple of years ago, I made two simple aprons for my boys. I have pretty basic sewing skills and made them without a pattern, so I know they aren't hard to make. If you have basic sewing skills, consider making your own DIY kids' apron. Tutorials online abound if you want a few simple instructions.
Etsy also has tons of sellers that carry awesome kids' aprons. If you prefer to buy it instead of making it, be sure to check out all the handmade kids' aprons on the Etsy Marketplace.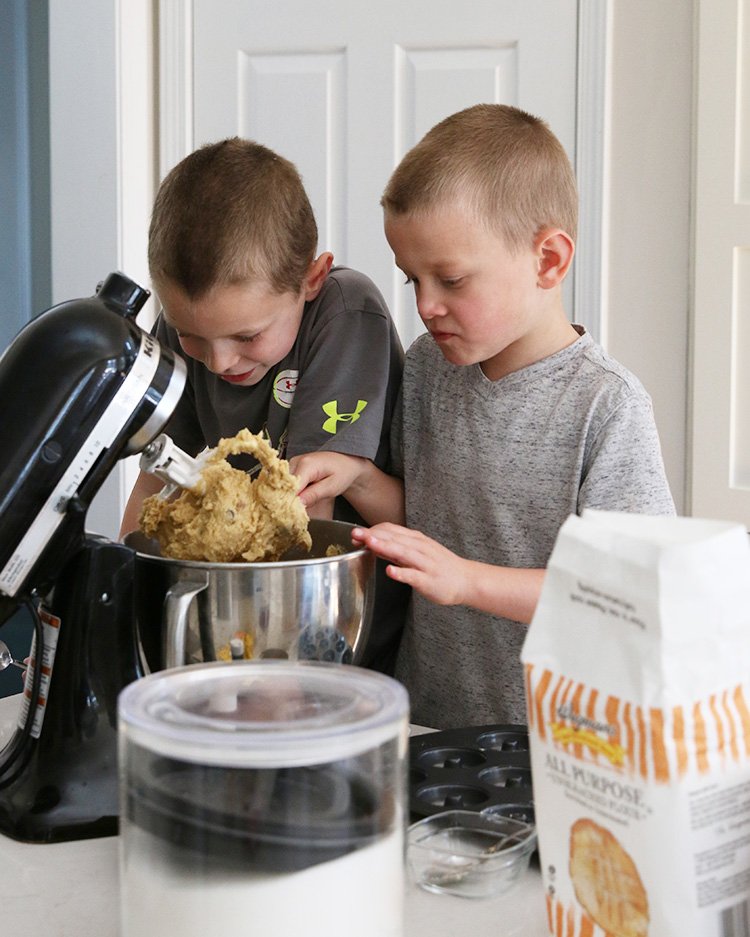 Kitchen Aid Stand Mixer
A KitchenAid Stand Mixer is definitely not made specifically for kids, and it's pretty expensive, so it might be a bit of a stretch. But it is one of the most useful and frequently used tools in many bakers' kitchens. If your young chef or baker has a bit of experience under their belt, a KitchenAid Stand Mixer would be an amazing gift to help take their skills to the next level and show your support for their culinary development.
Through the holidays, KitchenAid is offering significant discounts on stand mixer appliances. They are currently $100 off the regular retail price of certain Stand Mixers, making it the perfect time to invest in a KitchenAid Stand Mixer if you know your family or your young chef or young Baker will use it. My six and eight-year-old boys, who love to bake, have become very comfortable using our KitchenAid stand mixer to make a variety of sweet treats to share with family and friends.
Buy a KitchenAid Stand Mixer (Shop The Sale!)
Do you have any other ideas for gifts for young bakers and Young chefs? If so, I'd love to hear about them in the comments. We're always on the hunt for fun and unique tools to encourage our kids to become more skilled in the kitchen.