Make Kids Cooking Fun With Raddish Kids Cooking Club
How do you make kids cooking fun with your family? Have you tried Raddish Kids cooking club to get your kid chef excited about cooking?
Helping teach kids to cook is a great way to encourage eco-friendly living using fresh, local foods instead of heavily packaged and processed alternatives. Read on for more about why the kid chefs in our house think Raddish Kids cooking club makes kids cooking fun!
Thanks to Raddish for sending us a kids' cooking club box to try. All opinions are my own. This post includes affiliate links.
I bake quite a bit with my boys, and they are becoming quite the kid chefs. Just last week, my younger son was hiking with a friend telling her about a recent recipe he made that used a "hint of lemon". It cracks me up that at just six years old, this little kid chef is telling friends about a hint of lemon in one of his favorite desserts.
We have a few go-to recipes that both boys are comfortable making almost entirely on their own. Eating the decadence of their labor is certainly a worthy cause for learning a few skills in the kitchen. They even started their own frozen cookie dough business.
However, they haven't gotten into cooking quite as much as baking, which I suppose makes sense when the rewards aren't as sweet, literally. Cooking also involves a few skills that are slightly more complicated than baking, though definitely in the realm of things elementary students can learn.
Cooking involves more knife skills which take some practice. It also often requires more active time over an open flame or hot burner, at least relative to the simple baking in our house.
No matter if they prefer cooking or baking, kids are plenty capable of developing some great food preparation skills, and we've found that Raddish kids cooking club boxes are an awesome way to make the learning process fun.
What is Raddish Kids Cooking Club?
I first heard about the Raddish Kids cooking club a few years ago. Raddish is a monthly subscription box through which kids receive a set of kid-friendly recipes along with a corresponding kid-sized cooking tool and other exciting information about food and kitchen skills.
I gifted it to my niece some time ago and recently came back to it when quarantine started back in the spring. Raddish hosted several free Facebook Live sessions for kids to cook and bake along with the host.
My younger son totally loved the Facebook Live sessions, and we finally got around to trying Raddish for ourselves. Unsurprisingly, the boys really enjoy the recipes and special tools that are just right for their age and skill level.
Fun and Healthy Kid-Friendly Recipes
A Raddish Kids cooking club box comes with three recipes. Each of the recipes was a fun and interesting healthy snack or treat to intrigue their taste buds. I like that the recipes had a variety of flavors and also included both savory and sweet options.
We received a Halloween-themed Raddish Kids box that included Boo-nana Bread, Haunted Hummus and Pita Chips, and Jack-o'-Pot Pie. So far, we have made the Boo-nana Bread twice and it was delicious.
The first time, my little guy substituted cumin for cinnamon, so our bread was a bit more savory than we expected. But they both were great, and he learned that you can make a mistake, things turn out ok, and you can even improve for next time!
Easy Kid Chef Recipe Instructions
The recipe cards are really kid-friendly. They have written instructions with lots of helpful visual components. My six-year-old can read, but normal recipes can get pretty text-heavy for the little ones. Having the confidence to manage the recipe almost entirely on his own was exciting for him and definitely made the experience even more enjoyable.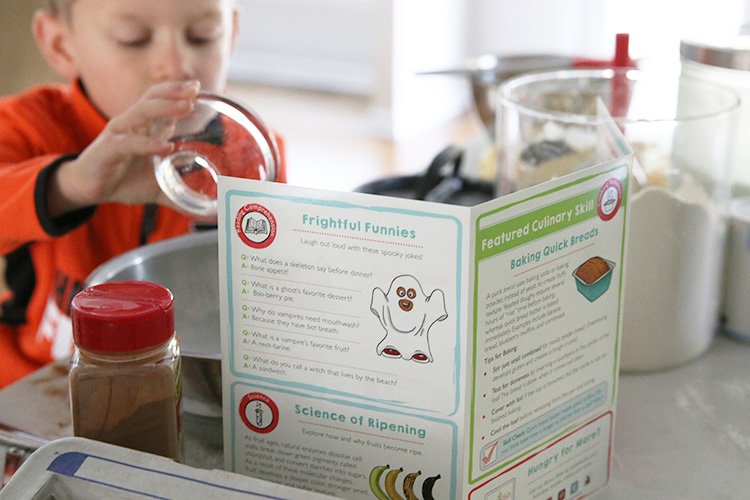 Fun Food Facts and Kitchen Skill Features
The recipe instruction cards each include relevant facts about the food items included in the recipe as well as a highlighted kitchen skill. For example, the Jack-o'-Pot Pie highlighted a bit of history about jack-o'-lanterns, the difference between Pie and Pi, and a bunch of tips on good knife skills for kids.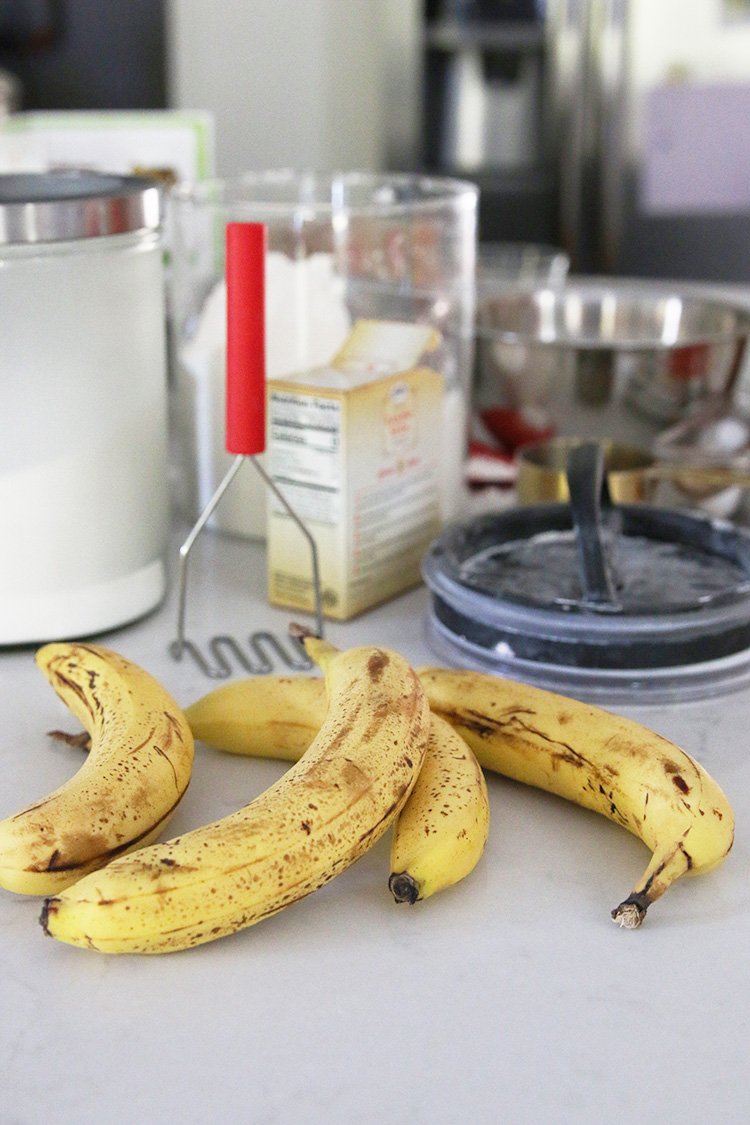 Kid Chef Cooking Tools
Each Raddish Kids cooking club box comes with a special kid-sized kitchen tool that goes along with at least one of the recipes. In the box that we received, my son got a small masher to smash up the bananas for the banana bread recipe.
We already had a masher that was much larger. Because this new one is a bit smaller and lighter, it's much easier for him to use. He's pulled it out several times since he received it to make other things, like guacamole, a household favorite healthy option we all enjoy.
When my younger son made the Boo-nana Bread, he completed this baking process almost entirely on his own. I helped him a bit getting the pan in and out of the oven because our oven is pretty high for him. But aside from that, the instructions and visual additions were more than sufficient to get him through the process independently.
If you have kid chefs at home who love to cook, Raddish Kids cooking club is a great way to teach kids to cook. I know that having kids in the kitchen can be stressful for some parents, but it's the only way to help them learn to be self-sufficient at such an important life skill.
If you're interested, you can check out my long list of Tips for Baking with Kids as well as my very favorite (and kind of sneaky) tip for baking with kids for more ideas to reduce the stress of kid chefs in your kitchen.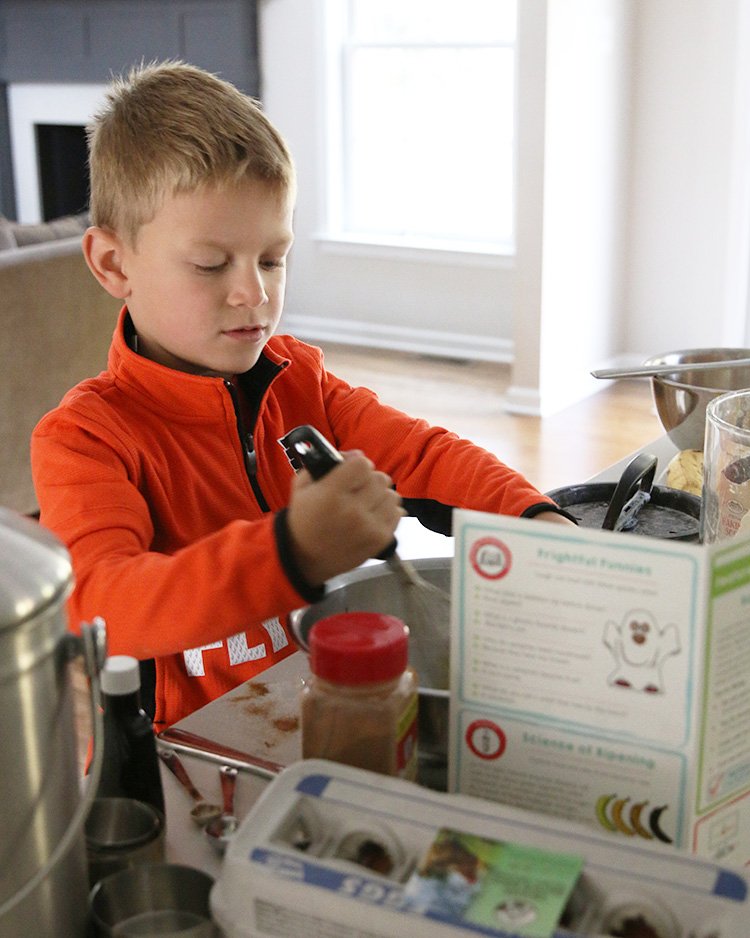 Teach Kids To Cook For More Eco-Friendly Living
Teaching kids to cook is also important for leading a more eco-friendly life. Packaged and processed food, including most restaurant food, comes with an onslaught of waste (not to mention that most processed food is pretty bad for the environment itself because of the ingredients and manufacturing).
When we teach kids to cook, we open up a world of fresh food and local ingredients to them. They can exercise their kid chef muscles to try new foods and new recipes of their own creation and on their own volition. They can prepare food at home with far less packaging waste as they get older.
Lesson Plans For Cooking With Kids
In addition to the monthly cooking club boxes, Raddish offers lesson plans to go along with several of their monthly kits. The lesson plans include new vocabulary related to the theme, videos, and resources to learn more about it, educational activities like sequencing lessons, and books to read to go along with the kit. This is great for all families but especially perfect for homeschooling or virtual learning families.
Cooking is a great life skill. It's one that's quickly getting lost in the chaos of modern family life. If you're not sure where to start to get your kids in the kitchen (or even if you're looking to amp up the excitement for a youngster already experienced in the kitchen), Raddish Kids cooking club is a fun and kid-friendly way to explore cooking and baking with kids.
Have you tried Raddish Kids cooking club? I'd love to hear what you think! We're definitely adding the Raddish Kids cooking club to our boys' holiday gift idea list.
If You Like Kids Cooking, You Might Also Like
Comprehensive Beginner's Guide To Zero Waste Baking
7 Zero or Low Waste Homemade Popcorn Recipes