8 Simple Ways to Celebrate Fall With Kids
Fall is such a great time of year and perfect for so many fun activities with family. Try one of these simple, everyday fall activities with kids. We've included tips to keep each of the activities kid-friendly in order to celebrate the changing seasons with your family.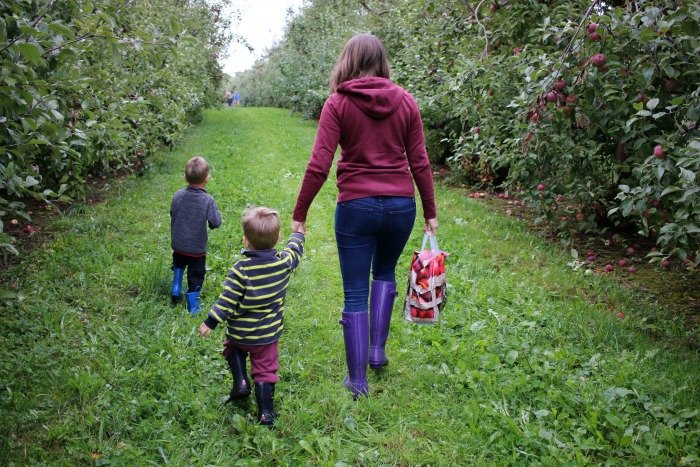 Fall is my favorite time of year. I'm a big fan of summer, and I'll pass on spring and winter, but nothing beats fall.
I love the crispness in the air, the feelings of renewal and a fresh start, and getting back into the routine of a school year. Even though this is the first year we have a child in regular school, summer always seems to carry with it the craze and chaos of vacations and special events. September signals schedules and routines.
As we settle into fall, I'm excited to do some quintessential fall activities with the boys. They're finally getting old enough to actively and enjoyably participate.
8 Simple Ways to Celebrate Fall With Kids
We have a few things on our agenda for this coming fall, many of which we have done before. I don't expect we'll get to all eight of the fun fall activities below, but we'll surely cross a few off our list.
Apple Picking with Kids
Recently, we went apple picking (if picking three apples counts). We stopped by a local apple orchard, and I let J pick as many apples as he wanted. After three, he'd gotten his fill. We also bought a basket of apples from the orchard's store… because we wanted more than three apples.
Keep It Kid-Friendly
Choose a small orchard and stay near the entrance. Children have short attention spans and no one wants to buried in the back of an orchard with an antsy child who has surpassed their limit for picking fresh fruit from trees.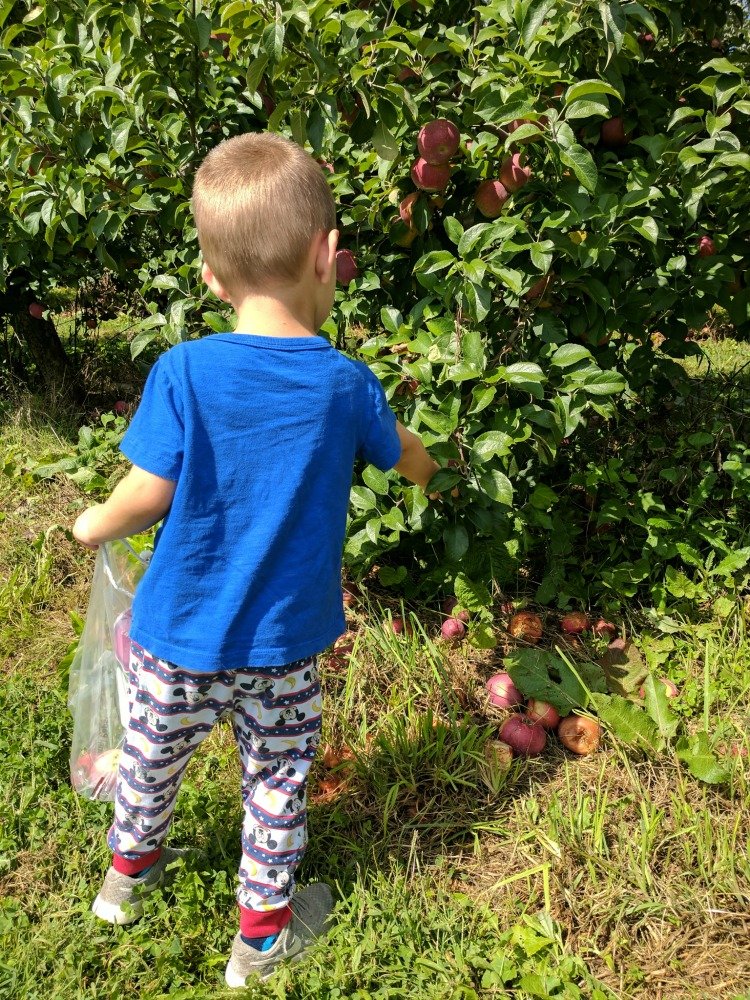 Bake an Apple Pie
M's grandmother makes a stellar apple pie. Surprisingly, no one asked to learn to bake it before I requested the secret recipe. A couple of years ago, I asked her to teach me all her tricks. While I'm certainly not the expert baker she is, I've started to learn the ropes and my apple pie is serviceable.
Keep It Kid-Friendly
Let children help measure, pour, and mix ingredients. You might be surprised what they can do with just a little bit of guidance.
Ignore the mess. It's totally worth the time spent baking together. Children also gain an appreciation for preparing their own food children and exploring their creativity in the kitchen.
Pie crust can be a little persnickety, especially if it gets overworked (an infraction my children are highly likely to commit). Give children their own small piece of dough with which to play and make their own small pie. Not only do they keep their little hands off the "real stuff" but they also have their very own creation to enjoy.
Make Your Own Applesauce
This is so easy! I've heard and read about a variety of recipes that are more complicated, but making applesauce is a piece of cake (and really healthy). Add a little butter to a pan to prevent the apples from sticking. Peel, slice, and then saute the apples until they're soft. You'll need to stir occasionally and possibly add a bit of water if it starts to get too thick or dry for your taste. But really, it's not a science.
My grandmother bought me this counter-top apple peeler that the boys and I love using. It has some sharp pieces, so it requires adult supervision when the boys are around. It makes for quick peeling and spiral slicing though that's perfect for sauteing.
Keep It Kid-Friendly
Forget adding extra sugar. No one, especially children, needs added sugar in applesauce. The apples have plenty of flavor. If they really need a little punch, add cinnamon (which has more flavor than sugar and no junk).
Let the kids help peel and slice the apples, particularly if you have a stationary peeler.
Allow children to stir the apples in the pan. We bring a stool or chair right up to the stove. I'm always standing next to them and watching their hands to ensure they stay clear of the pan.
Go on a Nature Walk and Gather Leaves
No need to climb mountains or walk on water to execute this 'hike'; maybe you just take a stroll through your yard and find leaves that have fallen from your own trees.
Keep It Kid-Friendly
If the children are young, stay close to home. You never know when they will have entirely. had. enough!
Bring a bag to collect leaves. Surely they'll want to bring home some of the lovely leaves you find together.
Play games with the leaves like identifying colors, matching colors, spelling the colors, or counting the points.
Visit a Pumpkin Patch, Pick a Pumpkin, and Bake Seasoned Pumpkin Seeds
Keep It Kid-Friendly
Give each child their own handful of seeds to season and let them go to town with whatever flavors they want to try. You'll get your "good stuff" and their creativity won't be impaired by some rational adult brain monitoring flavor combinations.
Make Your Own Soup
We like this carrot ginger soup in our house. But this fall, I'm determined to try my hand at a tasty butternut squash soup. Butternut squash can be time-consuming to prepare, so there's a good chance I will start with pre-cut cubes of squash. Nonetheless, I've had butternut squash soup in a restaurant a couple of times recently, and I have to try to make it for myself!
Keep It Kid-Friendly
Allow your child to help cut up the vegetables, if needed, with this chopping tool. It works far better than a knife in little hands and is also much safer. It still requires adult supervision!! Yet we have had our boys chopping vegetables with this tool since they were two years old.
Take a Family Photo
The whole world wants their holiday photos in the fall, but they don't necessarily have to be a formal affair. Have a friend who knows just a thing or two about photography snap a few quick photos while you're out. If you do have photos taken professionally, you may have to schedule them a bit in advance.
Keep It Kid-Friendly
Bring some snacks to the photo session. Not only can photo shoots feel very long for a young child, but many are early in the morning or later in the evening when the light is just right. The glow of the golden hour will be worth it, but you'll be happy you came prepared with snacks.
Consider lifestyle photos where children are moving around and playing with parents. They feel more natural, capture emotions and personalities, and make it much easier for young children "to follow the rules" of the shot.
Attend a Local High School Football Game (even if you don't know anyone playing)
Keep It Kid-Friendly
Football games are long and end late. Don't feel obligated to stay for the whole game. Even if the ticket cost money, the experience is more worthwhile when it's short and sweet instead of long and drawn-out well past bedtime.
Take the kids to play their own flag football away from the bleachers during half time or when they get antsy.
How are you celebrating fall with family this year?