16 Fun & Easy Sustainable Back-to-School Traditions
What if we choose to prioritize back-to-school traditions instead of back-to-school shopping (often for things we don't really need) when the new beginning of a fresh school year comes around each season? Read on for more about a new back-to-school tradition we started this year that the boys are totally pumped about, a simple way to make a mundane task a little more fancy and fun.
Summer heat is winding down and school season is coming in hot. Time to shop, right? Nope. We can do better for our budget and the planet.
The new school year ushers in a time of transition and a season of new beginnings. Retailers have trained us to believe that this transition requires mountains of new clothes and supplies. Capitalism at its best.
Oftentimes, however, kids really don't need that much new stuff to start the school year. The backpacks from last year are probably just fine. The colored pencils and crayons still work. And they definitely don't need new jeans and sweaters in sweltering August.
What if we flip the script and create space for back-to-school traditions instead of back-to-school shopping? Even if students need a few supplies or a new pair of shoes to fill in the gaps of things that no longer work or fit from last year, we don't need all that pomp and circumstance around consumption just for the sake of spending.
Last week, I decided to schedule hair appointments for our boys at the fancy salon I visit for my regular haircuts. They need haircuts before school starts, and we typically take them to a quick walk-in place not far from our house. But I thought it would be fun to make the back-to-school haircuts a bit more special by taking them to the salon. They are so excited, especially about the head massage.
As I made the appointment, I thought this would be a fun activity to turn into an annual tradition. Paying a premium for upscale haircuts on a regular basis feels excessive for us. But a periodic visit for a special cut to kick off the school year feels like a fun way to celebrate and get excited about the upcoming year.
We typically don't do much back-to-school shopping. My boys have so many clothes, many of which are hand-me-downs from friends, and quite frankly, nicer than what I would probably buy for them. We are lucky to have such generous families who share their clothes with us when their boys outgrow them.
Before we buy new school supplies, we sift through last year's school supplies and cross off the list anything they already have that's still in usable condition. Then we stop by the school supply section for the few things we need to round out the supply list. It's all pretty anti-climactic.
But a fresh haircut at a fancy salon? That sounds like something to look forward to!
Choosing experiences over consumption of stuff is a primary tenet of sustainable living. It's not a perfect solution because some experiences carry quite a carbon footprint. But by and large, it's a more eco-friendly avenue for finding fulfillment and ways to connect with others than setting out on a shopping spree (especially for things we don't really need).
16 Fun & Easy Sustainable Back-to-School Traditions
There are all sorts of back-to-school traditions you could try at a variety of budget levels. I've seen lots of lists of back-to-school traditions, and I wanted to focus on a few that might be especially poignant for families looking to make sustainable choices in their everyday lifestyles. Here are some fun sustainable back-to-school traditions:
Get fancy salon haircuts before school starts: Of course, I'll start with the one we did this year! Make the first day of school haircuts fresh, clean, and fancy at a local salon. Even better if the salon is a green salon that uses eco-friendly products and prioritizes green business practices.
Choose secondhand shopping adventures: If your kids really want a wardrobe refresh, you could consider these tips to make secondhand shopping for back-to-school more fun. Alternatively, check out some of these online resale tips and shops that are great for back-to-school shopping.
Filling backpacks for children in underserved communities: Many children start the school year without adequate supplies, and this really hinders their ability to learn. Participate in a school supply drive through an organization like Cradles to Crayons or help fill backpacks with school supplies for kids in your community or surrounding communities.
Host a Special Family Dinner: Gather round in the kitchen and host a back-to-school family dinner like Ralphie from Simply on Purpose, one of my favorite Instagram accounts. Each person helps prepare a meal that includes some of the favorite food of each family member.
Donate new or like-new clothing: If back-to-school clothes shopping is on your agenda, consider adding a couple of outfits to your shopping list or going through your own closets and donating some of the best quality clothes that no longer fit your kids to an organization like The Giving Factory. This program connects your family with another child, and then you send in two full new or like-new outfits for that child.
I always looked forward to back-to-school shopping, even though we had a small budget and just got a few things. But many children have no access to any budget for quality clothing. If you're shopping or making space for new clothes, consider making it an annual tradition to include other children in need on your back-to-school shopping list. This is one of the ways kids can volunteer that one of our contributors, Jess, does with her kids from time to time.
Fundraiser for your favorite teachers: Teachers (at least in the United States) spend far too much of their own money on school supplies. Consider hosting or supporting a fundraiser to provide your teacher or local teachers with a few gift cards or extra cash to purchase classroom supplies they don't otherwise get through their district or school funding.
Host a school supply swap (in-person or online): Organize an annual school supplies swap at the end of the summer where friends, neighbors, sports teammates, or people in your religious community can exchange gently used or surplus school supplies like notebooks, pencils, and binders. This reduces waste and helps everyone acquire what they need without purchasing new items.
Alternatively, you could do this through something like a BuyNothing or local gifting group by creating a thread specifically for school supplies. I did this with Halloween decorations and costumes a few years ago, and there were a handful of people that connected through the thread. I think the same type of exchange could work with school supplies. And a dedicated thread may encourage more people to dig through their cabinets and drawers than otherwise might post to share without being prompted.
Go out for ice cream after the first day of school: In most places, it's still hot (or at least pretty warm) on the first day of school. Hop off the bus and head to a local ice cream shop. Two scoops on a cone in a great zero-waste treat to top off the first day of school.
Plan a family back-to-school picnic: Have a family picnic in a nearby park or your backyard to celebrate the upcoming school year. Pack a sustainable lunch using reusable containers and utensils. Share your hopes and goals for the new school year.
Homemade spa day: Have a DIY spa day at home using natural, homemade skincare products. Use ingredients like oats, honey, and essential oils to create soothing treatments. Back-to-school season can be stressful with so much transition, so a calm day of quiet activities together might offset that well.
Visit an amusement park at the end of the summer: Close out the summer with one last hurrah at a local amusement park. Bring your own food and snacks as well as reusable utensils and water bottles, and spend the day riding rides and splashing at the water park. Check out this list of tips for a more sustainable Disney vacation (many of the tips can be applied to any amusement park).
Host a sustainable fashion show: Have a mini fashion show at home where family members showcase their sustainable back-to-school outfits. Kids can share outfits purchased on their secondhand shopping adventures. Bonus points if they create outfits by shopping their own closets! If you're really feeling up for it, invite a couple of other families over and make a party out of it.
Back-to-school planting day: As a symbol of growth and learning, have a family planting day where you each plant a small tree or a selection of seeds. You can plant something outside, in a garden, or even a new houseplant that will grow throughout the school year. Propagating plants is a fun and easy way to see the growth right before your eyes! Check out these tips for plant propagation in water with kids.
Host a neighborhood book swap: Set up a neighborhood book swap station where kids can exchange books they've already read. This encourages reading, sharing, and a sense of community. Kids will be ready for the new school year with plenty of reading material (for all those homework assignments to read just a few minutes each day at your leisure).
Eco-friendly chalk art festival: Organize a chalk art festival where kids can create vibrant artwork on sidewalks or driveways using eco-friendly chalk. Draw colorful images, write words of good luck and encouragement, and share positive messages to inspire kids to be excited about returning to school.
Also, check out this extensive list of back-to-school traditions from Janssen of Everyday Reading. She gathered up a ton of ideas from people in her Instagram community so they can inspire you to try one of them (or something similar) and make back-to-school special without all the unnecessary shopping.
Rent a bounce house and order pizza: Rent a bounce house and invite all the neighborhood families over for pizza. We have rented a bounce house for birthdays in the past and the kids loved it. Be sure to send any leftover pizza home with everyone if you can't eat it all so it doesn't go to waste. And toss the pizza boxes in the compost bin (especially if they are too greasy to be recycled).
Do you have any sustainable back-to-school traditions? I'd love to hear them in the comments!
About The Author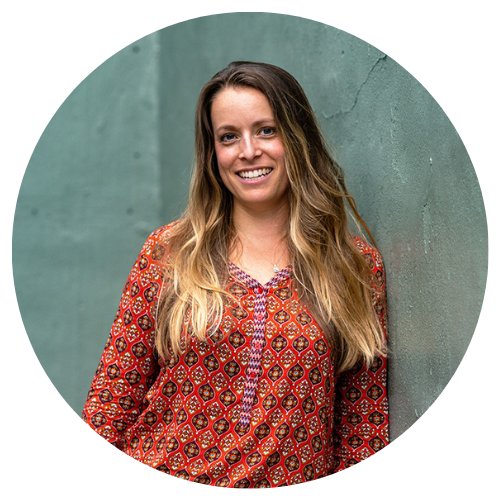 Jen Panaro
Jen Panaro, founder and editor-in-chief of Honestly Modern, is a self-proclaimed composting nerd and an advocate for sustainable living for modern families. In her spare time, she's a serial library book borrower, a messy gardener, and a mom of two boys who spends a lot of time in hockey rinks and on baseball fields.
You can find more of her work at Raising Global Kidizens, an online space to help parents and caregivers raise the next generation of responsible global citizens.