The (Carrying) Case of the Traveling Mom
Quick Note: If you're in the market for a new bag, this one is on sale just for today. You can get $30 off this bag (or any bag from Kelly Moore) plus free shipping with code LOVE. Stop by to check them out if you're interested.
—-
I'm a mom. I'm a blogger. I love photography. That's a dangerous trifecta (at least if you're opposed to a camera in your face).
That lethal combination means I'm almost always armed and ready with my camera. Be careful what you do around me. It just might be captured on candid camera (or worse… video).
It's true. I love to take my camera with me more often than I should probably admit and, definitely, more often than M would like. It's been a point of contention at times, and I'm working on being more present instead of hiding out behind the lens. Nonetheless, I have searched high and low for years to find the perfect camera bag that carries all my crap but still protects my camera. I've tried a few different options, to no avail.
I'd been eyeing this Libby Bag from Kelly Moore for a couple of years. It looked beautiful, had great space and definitely protected my camera. But I feared it might be too heavy to carry on long walks around to zoo or at the park, especially after it was loaded up with my camera, the kids diapers and extra clothes, and my few personal things like a wallet, phone, you get the gist. So I shied away from the bag, particularly due to it's high-end price tag.
This past Christmas, my mom asked for a few suggestions of gift ideas for me. I didn't want for much but had this bag stuck in the back of my mind. I mentioned it to her.
After she checked out the website, she called to share her concerns, the exact same ones I had about the bag weighing me down due to its size, structure, and all the junk it could hold. We hemmed and hawed together and, eventually, I told her to make the call.
Come to find out, she even threw the idea around with a few of her friends who encouraged her to bite the bullet and buy the bag.
So.. she did! And… I love it.
I've carried it to the mall, to indoor play spaces, and even as my carry-on when I flew to and from my parents' house with the two boys alone. The flight home may not have been as smooth a ride as I had hoped, but the bag (honestly) helped keep me sane. The hidden little pocket on the back of bag proved a perfect place to store our boarding passes and my phone, so I always knew right where to find them. (I'm notorious for misplacing things. It was hugely helpful for these important items to have a permanent and perfect home.)
I'd be lying if I didn't admit that it can get a little heavy at times. I have to be judicious about what I bring with me when taking it out with the boys. But I don't think that's necessarily a bad thing. Do I really need to bring everything but the kitchen sink with me when we go out for a fun event? No.
The bag is just right for my needs. It holds and protects my camera, has versatile organization options and it's really pretty. I love the color! And it definitely feels strong and sturdy. I have a feeling this bag and I will be creating a lot of memories together.
You can find more details about the bag in the video at the bottom of the post. This particular video highlights the Libby bag I have. But they offer a host of videos that offer far more in depth looks at the details of each of their bags. Are you in the market for a camera (slash) everything bag?! I'd definitely encourage you to check it out.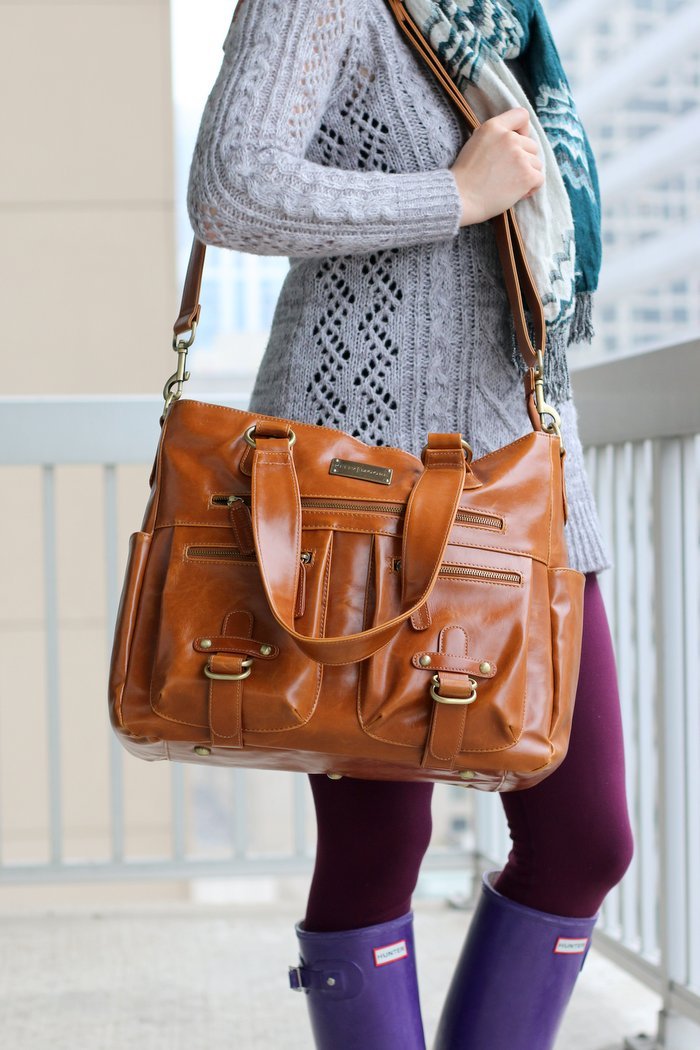 Sweater – 15each.co | Leggings – Beyond Yoga | Scarf – old | Boots – Hunter | Bag – Kelly Moore