The Pretty Solution to Wasteful Gift Wrapping
Gift wrapping is a great opportunity to repurpose so many materials already around the house. Check out these 8 pretty and sustainable solutions for holiday gift wrapping.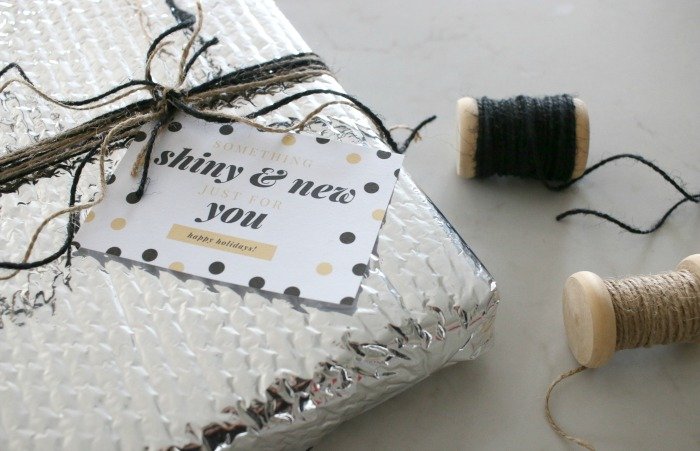 Gorgeously wrapped gifts always look so amazing. However, the paper and accessories take up space in my closets, consume energy and resources in order to be produced and stored, and are far from the main attraction when everyone is opening gifts. Further, wrapping gifts takes quite a bit of time and, for me at least, generates stress. Who needs one more thing to add to their to-do list?
Does having gorgeously wrapped presents really matter, at the expense of the environmental and emotional costs?
Recycled and Repurposed Gift Wrapping
This year, I decided to wrap all my presents in sustainable (repurposed, upcycled, or recyclable) materials and keep the decor minimal. Instead of feeling stressed about spending money on the wrapping products or feeling guilty about the environmental costs, I felt inspired by the creativity of finding a way to make packages look nice with materials I had readily available and that would leave less of an impact on the environment.
While it may have taken the same amount of time as regular wrapping, turning it into a creative challenge made it so much more enjoyable.
Last February, I used newspaper as gift wrap material. While I know this isn't anything particularly unusual, I added a themed card to make it appear intentional instead of the last-minute, unprepared alternative it usually looks like. Taking a page out of that book, I racked my brain for more ways to turn repurposed or upcycled materials into gift wrapping supplies by playing up a theme.
Here are eight ideas I really liked (and you're more than welcome to copy) to make your gift-giving less stressful, more environmentally friendly, and a game to engage your creativity.
8 Pretty Alternatives to Wasteful Gift Wrapping
Brown Paper Bag ~ Open up a paper grocery bag and turn to the plain brown side. Wrap up the gift with the paper bag and you'll essentially have traditional and simple brown kraft paper. Tie it up with a string and you're good to go. I recently wrapped a birthday gift this way. I used string that came wrapped around my Industry Standard denim package and purchased an eco-friendly card from Etsy.
Kids' Art ~ For a more personalized take on the brown paper bag, let your kids decorate it with paint. This becomes homemade wrapping paper or can be folded into a gift bag with this free tutorial. Add a tag that says "Made By Little Hands With Love" and you've got the best wrapping paper anyone could ask for.
Newspaper ~ Transform old newspaper from recycle bin fodder to perfectly intentional gift wrap with a tag saying "Extra Special Gift for an Extra Special Person". Just be sure the gift won't be stained or ruined by newspaper ink if it's in direct contact with the paper.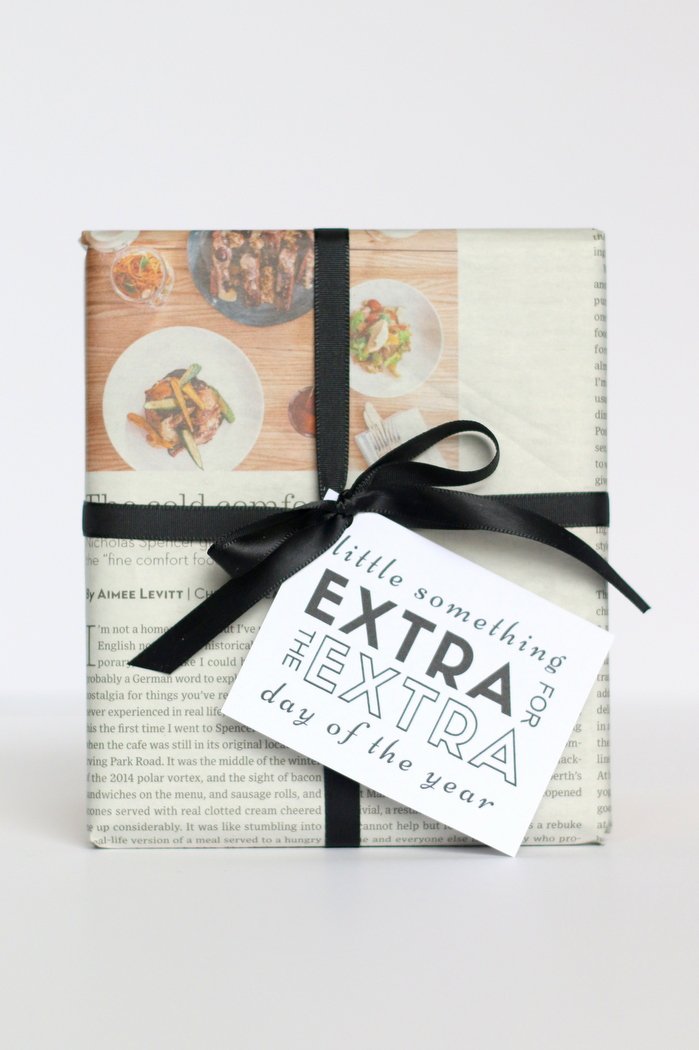 I modified the Leap Year Day gift tag that I made earlier this year and made this new tag (which you can download if you've got extra newspaper lying around that's dying to be turned into gift wrap).
Fabric scraps ~ If you have extra fabric, particularly smaller pieces that won't be used for larger projects, wrap up your gifts in the fabric. Certain types of tape may not work on fabric, but you could also use safety pins or ribbons instead, thus reducing waste even more.
Aluminum Foil or Shiny Packaging Material ~ I used packing bubble wrap that came in our most recent Hello Fresh box. I love the silver look with the contrast of the more rustic twine.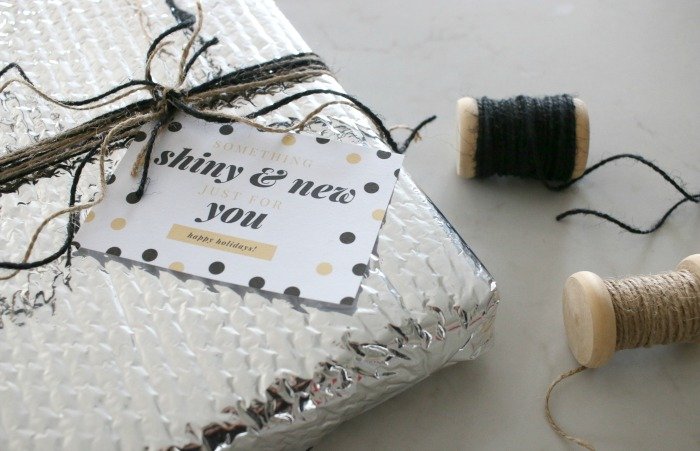 You can also use aluminum foil (which is recyclable) as an alternative, and then you don't need any tape to wrap your gift. It might seem a little odd, but when accompanied by this tag "Something Shiny and New Just For You" it gives meaning to the shiny wrapping. Bonus points if you reuse the aluminum foil. Download the tag and print them off for your own gift wrapping if this one suits your fancy.
Crumpled Packing Paper ~ We received some purchases not long before the holidays that included simple, brown paper as filler. Although the paper had some creases and crumples, I lightly crumpled it all up to make the crumples even. I added this printable, which is a line from The Velveteen Rabbit, to play up the "loved" look to give purpose to the crumpled look of the paper. You can download the PDF for this gift tag as well.
Cereal or Cracker Box ~ These boxes are almost exactly the same size as standard clothing boxes we use. Ditch the extra gift boxes and wrap clothes or other similar gifts in an old cereal or cracker box. Be sure it doesn't have any crumbs or stains inside that could tarnish the gift, though most have a plastic bag on the inside so it's likely free of any food residue. Then wrap up the box with any of the other ideas in this post.
Brown or Black Kraft Paper ~ If you don't have any materials you can repurpose, consider buying basic brown or black kraft paper. These options are both much more recyclable than traditional wrapping paper. You can also use the black kraft paper as chalkboard paper, which makes for a pretty neat look. No need for a tag when you can write your message and recipient's name right on the paper in a pretty way.
This short list is only the tip of the ice berg. I know there are tons of other ways to repurpose materials for simple yet sophisticated packaging.
Was this post helpful? Pin the image below to share with others.