Remix It Up Series: A Printed Top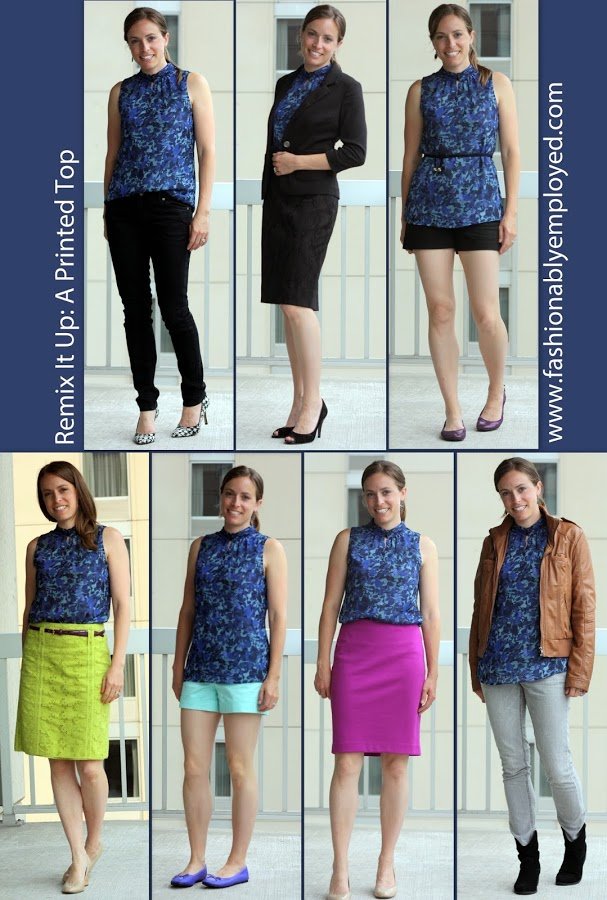 I won't keep you long today reading my rambling. Instead, you can focus on all the fun shots of my sweet black and blue Banana Republic blouse. Enjoy the traditional remix and the ridiculous names I assigned to each iteration.
Friday Night Fancy
It's fancy in my book. Heels = Fancy and this would suit me
perfectly for a night on the town with some girlies.
Potential Promotion Meeting with The Boss
Dress the part.
Brag About My Belt
Alright fine. I made it myself with some rope and two beads. It sat in my closet for
years (literally), and I finally found a way to wear it that I consider awesome.
Thank you inspiration – next time please don't wait so long to show up.
(I even threw in a close up freebie – you're welcome.)
Squinty Eyes: It's The Sun, Not the Skirt, I Swear
Contrary to popular belief, the brightly shining sun caused my squinty eyes and
not the blinding green skirt I thrifted from Savers some months ago. Check
out all the ways I wore this neon skirt back in July.
Enough is Enough
Sorry this photo is a bit blurry. My camera decided to focus on the balcony
behind me. I guess it had had enough of me. Actually, the battery died just
as I took this photo. It really did want to rid itself of me. After all these selfies,
I suppose I don't blame it.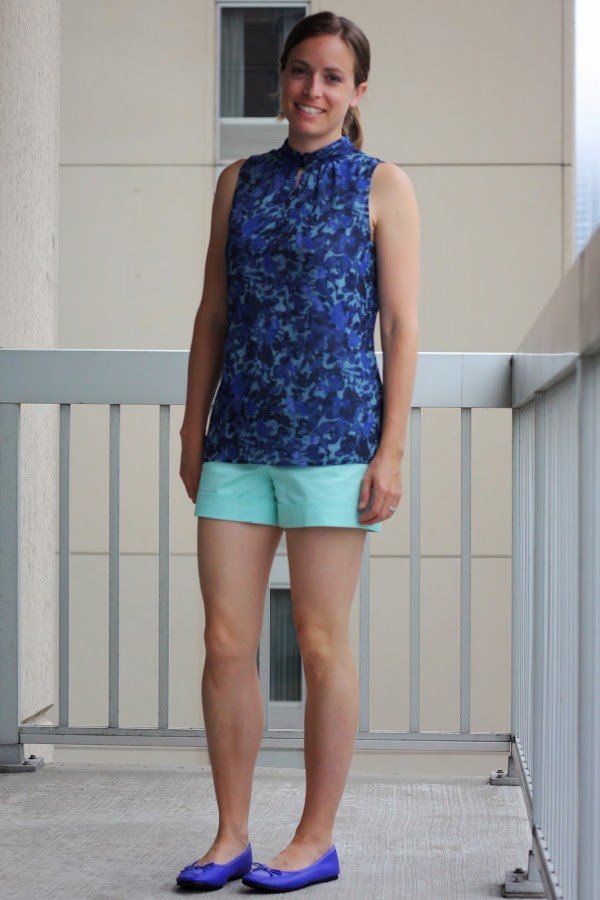 Hello Happy Hour
Something a bit more fun for the office. No work getting done in this cubicle
when the weather's nice and the drinks on the outdoor patio are flowing on
the company's dime (with partner approval, of course).
The Edge of Glory
The jacket and boots threaten to give this dainty shirt a bit of edge;
simultaneously, I wish I could pull off a more edgy look here and there and
would be on the edge of glory if edginess crept into my natural style.
For the record, I'm well aware I haven't yet received that gift. (And I
not-so-secretly love singing out loud to the Lady Gaga
song in the privacy of my apartment. The gift of a beautiful voice resides next
to naturally edgy style on my "things I don't lose sleep over" wish list.)