Sustainability Side Hustle | Renegade Flower Farm
As a part of our Sustainability Side Hustle series, we are interviewing people passionate about our planet and who have explored their own skills and talents to share with their community. As our planet continues to suffer under human-caused climate change, pollution, and overall environmental degradation, we hope more people find pleasure and financial fortitude in a sustainability side hustle or small business.
Sometimes dreams really do come true. At age 12, when her dad nudged her out of the house and into their garden to pull weeds and clean up vines, Erin Cech didn't yet know it would be the first of many small but steady steps toward owning the magical flower farm on which she now spends her days.
She often rises before the sun and spends dewy mornings among rows of beautiful blooms. Sometimes she prepares bouquets for events, neighbors, and all her customers. On other days, she labors over the dirty work of planting bulbs, pulling weeds, and plucking pests from flowers to avoid spraying pesticides on her colorful crops.
This hard work, with the help of family and friends, brings to life the vision Erin cultivated over many years to combine her loves of flowers, farming, crafting, and restoring into a community space she could share with others. Meet Renegade Flower Farm.
In 2009, Erin and her husband, Keegan Rodkey, and their newborn baby moved into a home tucked in the woods behind an old farmhouse. Over many years, they became close friends with the aging couple who lived in the farmhouse. A year or so ago, after the husband and wife both passed away, their daughters set to sell the quaint farmhouse and the large plot of land on which it stood.
After over a year of passing the beloved but empty house, Erin caught wind that a developer had placed a bid on the property and planned to replace the farmhouse with a housing subdivision. "Not on our watch," she thought. She couldn't fathom seeing the farmhouse and field succumb to demolition.
With a dash of love, a dollop of hope, and every penny to their name, Erin and Keegan submitted a bid to buy the 11-acre property. They weren't the highest bidder. But they wrote a letter to the daughters selling the home to accompany their bid that laid out their plans for the future of the property, and that letter proved compelling enough to give them the chance to pursue their dream.
After many months of arduous labor turning a 2-acre portion of the land into a flower farm, they transformed the space into a pollinator paradise that also scatters seeds of joy for anyone who visits. Even just grabbing a hand-picked bouquet of flowers in an upcycled glass jar from the weekend farm stand (handcrafted by Keegan from an old car trailer found in the woods) brings a smile to your face.
Maintaining the farm is no small feat; it's a family affair. While Erin leads the endeavor, her husband and three daughters, Gray, Prue, and Desy, get their hands dirty too. Around his full-time job as an engineering consultant for the Navy, Keegan was integral in preparing the land for planting. He's also the resident pumpkin and gourd aficionado. When they aren't in school, the three girls weed the fields, pick flowers, arrange bouquets, and bring plenty of young energy to the farm.
Erin has big plans for the property, beyond preserving the land and providing fresh, local flowers to the community. She and her family love the old farmhouse adjacent to the flower farm. They're in the process of restoring it with recycled, repurposed, and reimagined materials to turn it into a micro event space and, eventually, a vacation rental for those who enjoy unwinding in the delight of gorgeous flowers.
Renegade has already hosted some events at the farm and has more planned for the fall. They hosted the first of many U-pick flower events in August. Over 80 visitors soaked up the charm and cheer of the farm with friends and left with handpicked bouquets to brighten their homes.
For the fall, Erin planted several late-season flowers and plants like Dahlias, broom corn, chocolate cherry sunflowers, millet and barley, and other fall flowers to provide local bouquets to customers well into autumn. Keegan planted a variety of heirloom gourds and squashes, as well as pumpkins in white, black, pink, and blue. They sell these unique pumpkins at the farm as they harvest them throughout the fall. They definitely are not your run-of-the-mill grocery store variety.
Erin has long dreamt of running a maker space, and the flower farm and farmhouse create the perfect setting for that pursuit to blossom. In anticipation of winter, she planted several flower varieties that dry well. She intends to host a handful of crafting classes at the farmhouse using dried flowers to make things like floral chandeliers, handmade notecards, wreaths, and more. In classic Erin style, the craft projects are sure to be inspired by lots of creative material reuse and repurposing.
Erin and her family took a leap of faith to pursue a passion and fulfill a dream. Right now, they're in the trenches of sprouting seeds and nurturing new beginnings. Stem by stem, they're crafting into reality the vibrant and thriving community gem they envision. With every bouquet Erin sends out into the wild, Renegade Flower Farm plants another root on its journey to being a flourishing home of creativity, community, and connection in its local area.
Additional Questions With Erin About Renegade Flower Farm
In addition to her story, here are a few more answers to questions we asked Erin about how she and her family make Renegade Flower Farm come to life each day.
How did you fall in love with flower farming?
Every summer, my family visited relatives in Bloomington, Indiana. My aunts (Kay, Kim & Jan) and uncle Leo have the most unbelievable gardens you could ever imagine. As a child, I remember walking through their beautiful, lush flower jungles and feeling so alive.
They grew Cleomes taller than me and roses that we could smell from the front porch where we sipped iced sun tea. Butterfly bushes attracted the most spectacular butterflies. I found zinnia in every color of the rainbow. And the hummingbirds that flocked to each of these flowers felt like pure magic. It was a feast for all of my senses, and I believe it awoke something deep inside of me.
Beyond the flower fields, "Miss Rumphius" by Barbara Cooney was one of my favorite childhood books. I continue to read it to my own children. In this book, the lead character has three goals that she wants to accomplish in her life…the last and most important is to make the world more beautiful.
She sets off throughout her town & spreads Lupine seeds everywhere. The following spring, the town is covered in blooming Lupines, and it becomes an inspiration for the whole town. People come out of their homes, kids run through the fields of Lupines, and her community is changed forever because of one person's mission to make her world more beautiful. I love this so much, and I feel like it inspires my adventure with Renegade today.
How did you become an expert on flower farming?
Oh my goodness. I definitely don't feel like an expert. I have a background in marketing and writing, but I have been growing flowers and food for a long time. Also, I've always been surrounded by growers. I like to think that it is in my genes.
Wherever I lived, I always sprinkled seeds in the ground. Some years I planted vegetables. In other years, I focused more on flowers. But I always grew something. When we settled in our current house, I planted more and more flowers each year – mostly perennials. I immersed myself in different varieties that would thrive in our climate, with our soil type, and be deer resistant.
I also enjoyed splitting and moving perennials around each fall. I love that you create a huge garden for free after an initial investment in your "mother stock."
After we bought the farm, I signed up for Floret's Online Workshop. This workshop is an intensive 6-week-long farming class that teaches students everything from seed starting tricks to how to set up drip irrigation to how to market your flowers to a variety of buyers.
I plan to take farming workshops every year to always be learning as much as I can from other farmers who have been doing this commercially for much longer than I have. It is a wonderful community of people who are beyond helpful to new growers. And we are never done learning in life.
How do you choose which flowers to grow?
For a few years, I worked for a local floral designer (Sue Davis of Fresh Designs Florist) part-time. She was an incredible mentor to me. She listened to all of my early brainstorms about starting a business years before I created Renegade Flower Farm and always lifted me up when I would dream with her.
While working in Sue's studio space, I saw lots of different flower varieties coming in the door and started to get a sense of what brides favored, which flowers held up well as cut flowers, and which ones were great seasonal options.
Because I am a life-long crafter, I also follow artists online who create beautiful art with flowers. I often thought about creating a Makery where people could gather and craft using upcycled materials, mostly using found or foraged objects.
Once we bought the farm, the Makery idea expanded to include dried flowers. While I planted a large variety of flowers for farm fresh bouquets, weddings, and event work, I also chose to grow flowers that could be preserved easily when dried out. This allows us to continue our season when it is cold out.
We planted Strawflower, Gomphrena, Amaranth, Breadseed Poppies, Billy Buttons, Dusty Miller, Celosia, and other varieties with the intention to dry them and use them "off-season" for arts & crafts workshops at the farm. Drying flowers is something that I have always done. I have dried flowers for years and have bins and bins of dried flowers from our home garden in my basement.
Do you have a favorite seed shop?
When we can, I love to save seeds. We buy seeds in bulk (over 1,000 in a packet) and the cost of this can add up, especially when buying several packets, so seed saving is very important. Sometimes a flower will go to seed before we can harvest it for design work. These are perfect candidates for seed saving. We deadhead many of the flower heads that are dried out and dropping their seeds on the ground.
We collect the seeds in our stash of paper Trader Joe's bags or old cardboard boxes. When I store seeds in a box, I make sure to line the bottom of the box with recycled newspaper so the seeds don't get wedged under the folds of the box.
A fun fact – yellow finches help us with seed saving! The yellow finches love Zinnias As they playfully dart to and from the Zinnia beds, they peck away at the flower heads. They often leave behind little seeds that they have pecked out, sitting on top of a cupped leaf, waiting to be collected.

When I do buy seeds, I buy many of them from Johnny's Seeds, but I did buy some from Floret this year as well. True Leaf Market & Baker Creek Heirloom Company seeds are also great because they specialize in rare, heirloom varieties that you can't find in too many other places. I love growing rare flowers that you just can't find anywhere else! I feel like it really sets us apart from other flower farms when we tuck rare blooms into an arrangement.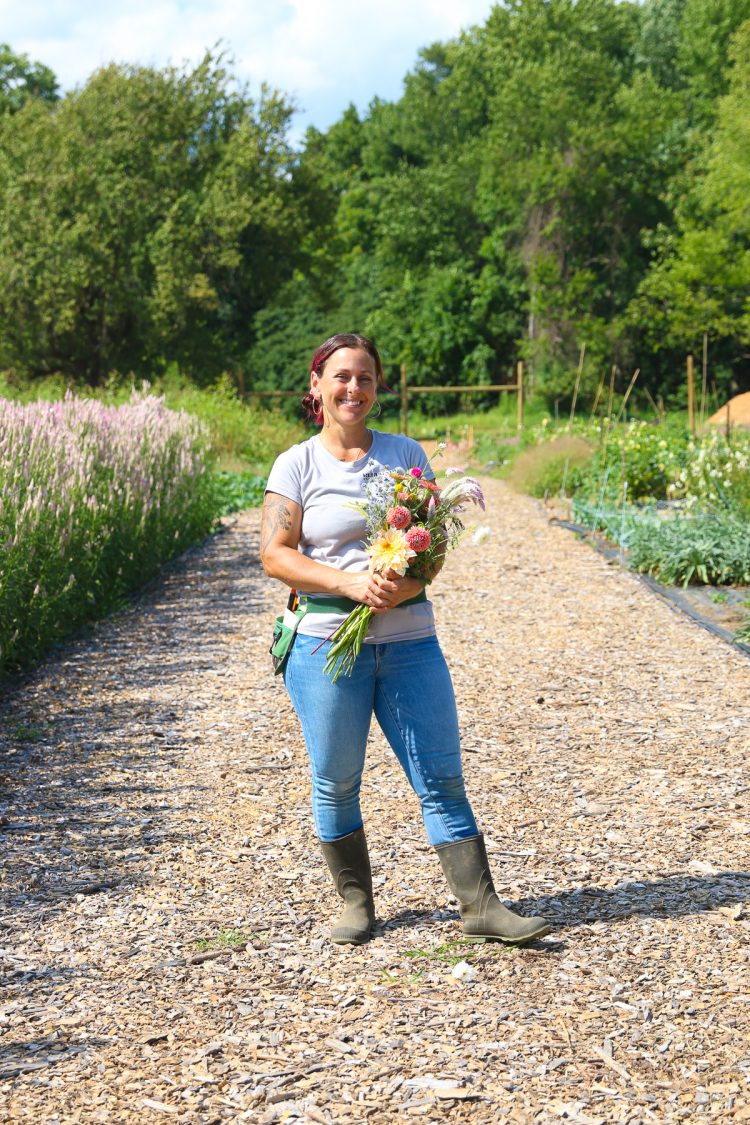 How do you incorporate sustainable growing methods on your farm?
Renegade Flower Farm is technically not "organic." There are so many criteria required to meet the certification. It is tough to manage all the requirements and cover the costs of compliance, especially as a small, family-run flower farm.
For instance, if I use a regular starter mix (non-organic) to start my seeds and transplant those plugs into my garden beds, I believe that discredits us from being designated organic. In our first year of business, our goal was to get everything in the ground in as healthy a way as we could.
However, many of our practices are sustainable and meet the organic classification. As we prepared the new field for planting, we got rid of invasive vines by using a rented excavator to grab and move them all to a burn pile instead of spraying them with chemicals. We tilled organic mushroom compost into the field. We compost all the organic waste from the farm. We maintain a beehive near the field to support pollinator populations.
We also do not spray our flowers with any pesticides. Most bugs I let go. We had a huge potato beetle infestation on our Amaranth crop this year (which I have since learned is pretty common). I hand-picked many of them in the beginning but eventually just let them go. With all of the pollinators coming into the garden, I hoped a natural predator would show up to take care of them.
We also health with a Japanese beetle issue on our Sunflowers & Zinnia this year. We handpicked them off and did not spray them. We have powdery mildew on our Zinnia now, and I will likely spray the leaves off with something natural like Neem Oil.
We have young children running around and handling everything in the field, so it is important that they are not coming into contact with pesticides. And not to mention we don't want anyone's hands touching blooms that have been sprayed.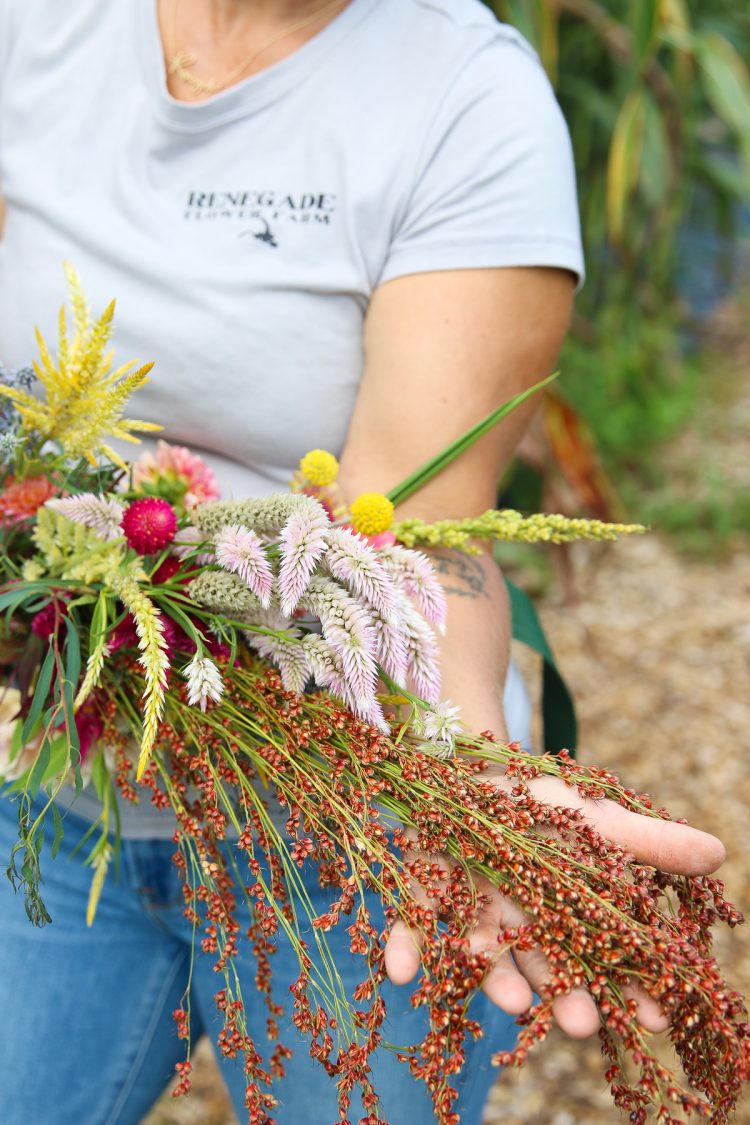 How else do you incorporate sustainability into your business?
My brain is always churning with thoughts about how we can do something for less money, use what we already have, and rig things to make them work with what we already have. My mother was extremely resourceful and has influenced so much about how I live and how I incorporate sustainability into Renegade Flower Farm.
With four kids and a husband who traveled the world building a chemical company (that he had started in our basement!), she had to be resourceful. From a young age, she showed me how to cut coupons out of the newspaper. I have memories of sitting down at the kitchen table cutting coupons with her, learning about bartering and negotiating discounts.
Her thriftiness really had a huge impact on me growing up. I believe that's why I started vegetable gardening and preserving all of our vegetables during the wintertime. Outside of the seeds and my time, it was free food.
Upcycling at Renegade
Glass Jar Upcycling Program | Instead of buying vases, we repurpose all sorts of glass jars and bottles through our upcycling program. My mom always used old pickle jars for vases growing up, and I've continued that practice in the business. We have a bin located at our farmstand where people can donate old pasta/pickle/jelly/salsa/etc… jars that often land in the recycling bin. We soak the jars to peel the labels off and then sanitize them in the dishwasher.
If a customer returns their jar in the bin or donates additional jars, they receive $1 off of their next bouquet with us. Despite this offer, not one person has taken us up on the discount. People really love bringing us old food jars. We even have one customer who polishes off their pickles just so they can get the jar to us!
Bamboo Stalks For Staking | Instead of buying expensive metal poles for staking, I cut bamboo stalks that are growing deep in the woods next to our home. They are very sturdy & work just as well for us.
Repurposed Wood | Instead of using plastic plant markers in the field, I have also utilized the Fenceworks AMAZING donation bin! I discovered it years ago when getting chicken food at a local ACE Hardware store. They have multiple bins by the curb filled with free wood. Sometimes the bins overflow with old fencing that they have removed from a job. But many times they have long, thin strips of wood that I load in my car and use for plant markers & staking.
I would love to eventually start hauling old fence posts and build a mini children's You Pick garden inside of our field, but I need a pick-up truck for that. If you know where I can get a cool, vintage-looking pick-up truck, let me know. That is my absolute DREAM!
Compost and Mulch at Renegade
Mushroom Compost Soil Amendment | For compost, we take advantage of Mother Earth's free mushroom soil. We pay for delivery service, but the compost is free. They delivered 120 yards last year to amend the soil out in the field which was deficient in phosphorus and potassium.

Leaf Collection and Leaf Mold | I also love to load my car up with those curbside paper bags of collected leaves in the fall and spring. I dump the leaves onto my garden beds to create a nice layer that will break down over the wintertime and can be tilled into the soil late winter to continue breaking down just in time for the spring planting.
Unfortunately, I don't know if the leaves have come into contact with pesticides from that person's yard, so it's not a perfect system. It's another example of a practical and affordable sustainable practice that is good for the farm but also makes it more difficult to be certified "organic" even though we are probably meeting the intentions and principles of most customers looking for organic, local flowers.
Chip Drop Mulch | Through one of my farming workshops over the winter, I learned about Chip Drop. This is an amazing service that connects tree companies chipping their downed trees with customers needing free woodchips.
Many times, smaller tree service companies don't have a relationship with a mulch company, so they need a place to dump their wood chips. Because we have a farm and need a lot of chips, we have built wonderful relationships with two local tree companies who drop their wood chips regularly on our property. We have so many uses for the woodchips, it really is a win-win for both parties!
One Person's Trash – Reusing
I trash pick like it's my job. Seriously. I remember my mom pulling amazing stuff off of the curb when we were little. Now, I do the same, much to my children's total humiliation.
I have an amazing collection of extremely useful items around my home and farm that one person either didn't want or didn't want to repair that we have been able to use and repair. We have acquired a huge wagon to dump and haul weeds and a smaller radio flyer wagon that I use to cart my harvest buckets.
Over time, we picked up useful side tables, chairs for our Maker space, and old windows that we hope to use to build an open-air greenhouse pavilion in the future. I gathered wood, plant stands, giant planters, tools, bricks, you name it! We restored our entire previous home in Baltimore out of trash picks and amazing finds from The Loading Dock, an affordable building material salvage yard.
The flower farmland includes a historic farmhouse. Can you share your plans for this house?
The farmhouse is very special to us, not only because of its historic character but because we developed a deep friendship with the couple who lived in the farmhouse before they passed away. The house sat vacant for a year before their daughters decided to put it on the market. I remember driving up and down my driveway each day, watching the home…the black windows at night, the empty porch…how it sat so silent but stoic. Just waiting.

When the home went up for sale, I waited two weeks to do anything, hoping that a family would buy it and fix it up. Nothing. I called the realtor on a pressing feeling and learned that a developer put a bid on the property with plans to knock down the farmhouse and build a subdivision on the field. My thoughts raced. Not the end. Not on our watch.
We put in a bid and wrote the daughters a letter detailing our intentions for the property. We were outbid but got the farm. On our first night of owning the home, my family and I went over to the farmhouse, sat in the kitchen, and toasted the older couple who previously lived there. We thanked them for being such incredible stewards of this beautiful home and promised them that we would do our very best to take good care of it for them. We love this home and feel so blessed that we are the next generation of caretakers.

Now, we pay the taxes, mortgage, and farm-related expenses through our retirement and kids' college fund – which won't last forever. First, we plan to sand the wood floors, give the walls a nice coat of paint, and rent it out for lifestyle photoshoots or small-scale gatherings. A friend of ours renovated her kitchen and donated all of her appliances, cabinets, and countertops to update the 1950-era kitchen (not original), another important step before we can rent it out.

It is our intention to rent the farmhouse out as an Air B&B so anyone can experience a stay in an old farmhouse located on a flower farm. And before we build our open-air upcycled window greenhouse Maker space, we would like to host Marker workshops inside the farmhouse.
Renovating the farmhouse is a long-term project. We have a page "Farmhouse Upcycling Project" on our website that details our needs for the farmhouse beyond what we can handle financially right now. We hope that if someone has plans to dump something in a landfill and it is an item that we need for the farmhouse, we could come to pick it up to save it from being dumped and give it a new life.
What does a typical week look like for you?
It is hard being a night owl and a farmer. Over the past few months, I've had to adjust my schedule drastically to be able to wake at dawn. I'm not consistent though. Some mornings I wake before the sun; other mornings I'm up later.
I tend to fill the early part of my week with weeding, seed saving, staking, laying paths, catching up on emails, and posting on social media. Harvesting and bouquet-making keep me busy the later part of the week for our Saturday and Sunday farmstand sales during the warmer months, preparing event flowers for florists, and fulfilling customer orders.
In this season of growing our flower farm, I do not take days off. I work 7 days a week. It is tough but, in my mind, very necessary to get the business established out of the gate. I control burnout by taking cat naps each afternoon when the sun is at its hottest to rest my body, exercising, and planning family time with my children.
Can you share a few ways you have or plan to connect with the community through the farm?
I love meeting new people, connecting with them, and hearing their stories.
You Pick Days | A huge part of Renegade Flower Farm revolves around our community. Some of my favorite events are our You Pick Days. We have hosted them for moms, private groups with friends, kids, and more.
Just like I experienced my family's gardens when I was younger, my dream is to create a very special You Pick garden for children at the farm where they can fill mason jars and create their own arrangements. I feel that sometimes kids are told, "oh don't touch that" or "don't pick flowers without asking." I want to create a special space for them without those rules where they can let their creativity shine. I am the most excited about this!

Bloom Bar | We also have the cutest little Bloom Bar that we rent out for parties or special gatherings. It is a cute-as-pie little cart on wheels that has buckets filled with flowers that we grow on the farm. At the gathering, people can take one stem from each bucket and build-their-own bouquet. It's a great activity for any event and so fun to send people home with fresh flowers.

Pumpkin Patch | In October, our pumpkins come up, something about which we get VERY excited. My husband, Keegan, managed the pumpkin patch for the farm. He selected some pretty cool varieties that we didn't see anywhere else locally, such as pink, blue, white, black, and scary pumpkin varieties as well as Heirloom Gourds. We sell the colorful pumpkins at our farmstand towards the end of October and have a You Pick event where people can come and pick out a pumpkin growing in the field.
Makery & Flower Programs | Outside of the special children's garden that we have planned, there is a whole list of programming that I've spent years building for different audiences, from crafts using dried flowers, to Girls' Nights Out, to creating holiday centerpieces. I would love to expand the use of the farm to host micro-weddings, yoga classes in the flower field, and dinners in the field (partnering with a local chef and winery). The list is vast, and all ways that we can engage with different groups of community members on the farm.
How do you convince the community that choosing local, organic flowers is worth the additional investment?
We can communicate that local, pesticide-free, just-picked that-day flowers far outlast exported flowers that were picked 1-2 weeks prior, traveled into the country on a long journey, sat in cargo, moved again, and were jostled around by trucks. But beyond that, there is not much I can do to convince people to choose our flowers over grocery store and similar alternatives.
Truthfully, if someone needs a lot of convincing that local and fresh flowers are best, they probably aren't our customers. I try not to spend too much of my time making a case for why local is better and let my product speak for itself by cultivating return customers and encouraging them to leave us a review of our blooms. Our customers are the absolute best, some of the kindest, most generous, lovely people I have ever had the pleasure of meeting.

Generally, I do my very best to educate our customers about certain varieties that aren't long-lasting cut flowers so they don't have an unrealistic expectation that the flower will last weeks in a vase. When I sell our Lilacs, Poppies & Dahlias, I am clear that those varieties, while beautiful, fade faster than some of the other flowers in the vase.
I try to consistently mix up the variety in our arrangements to show customers that even if they buy store flowers, they may not get the wide variety of flowers that we offer. I rotate what I'm designing every single weekend to keep our presentation fresh and exciting!
I find that many grocery store arrangements, while colorful, have very generic & expected flowers in the mixed bouquet mix: carnations, statice, waxflower, and a lily. These don't excite me so I try to put myself in the shoes of my customers and create bouquets that are exciting, fun, and unique.
What has been one of the biggest challenges you've faced so far in building Renegade Flower Farm?
Right out of the gate, we experienced challenges with the farm, but I think we expected challenges so met them head-on. The land where the farm currently sits was an overgrown field when we purchased the property. It took several failed attempts of backbreaking labor to clear invasive trees and thorny vines through cold winter months before the field was ready for planting.
Once we got the land ready, we hired a company to install a fence. While the fence installation kept getting pushed back, our seed starters in the grow room (the dining room of the farmhouse) started to bloom in their seed trays. Some of them started dying in their seed trays because I was unable to put them in the ground fast enough.
It was a tense few months in the early spring, and we thought for a few weeks there that we might lose everything we had worked our butts off to prepare. Ultimately, we got the fence installed and planted many of our plugs which led to our first flourishing season.

On the sales side, it has been a little wonky trying to find which avenue will be best for us to sell our flowers, and which customer base will benefit our work and our farm the most. There are so many ways to sell flowers, from the grocery store to direct-to-consumer sales (floral subscriptions, a la carte, or farmstand sales) to florists. Not all of those avenues are worth what you put into them, so it has been a learning experience for us to find what works best for Renegade.
It has been my instinct to say "yes" to everything, even if it hasn't served us well, in order to get our farm on the map and expand our customer base. But at the end of the day, I usually can tell what isn't serving us well if I've been running around like mad, have hardly made any money, and am exhausted. This is definitely a kink that we are hoping to get worked out as we grow, weeding out the opportunities that don't serve our family and farm well while focusing on better cultivating the relationships and sales channels that do.
What has fulfilled you most on this journey?
Hands-down, the support of my family, especially my husband Keegan. He works full-time as an engineering consultant for the Navy. Every waking minute he isn't working, he's helping out with the kids or hauling butt on the farm so I can realize my dream.
The support of my neighbors and friends has also been incredibly fulfilling. They show up to volunteer when they can see I'm struggling to get it all done. They let me clip flowers in their yard when I'm short for an order. They bake our family goodies and deliver garden goodies to us.
Neighbors and friends scour estate sales and Facebook Marketplace for items that they think will sell at the farmstand or that we need for the farmhouse and donate them to the farm. They participate in our floral subscription and regularly buy flowers for friends, family, and special events in their lives. They share our posts and recommend our flowers to their networks.
It has also been just so incredible to meet our customers. This has been so rewarding to see the people who chose to stop at our farmstand or order our flowers. I make it a point to walk out to the farmstand for every single customer who stops because I feel that it's important to greet people with a warm smile and a thank you.
The people I have met in this community have been extraordinary humans. They all have a story to share about flowers or life and the connections we have made with them are beautiful. It fuels me to continue on this journey to bring joy to their lives.
Can you share a few ways you've marketed the business? How have you been able to get the word out?
I spent 15 years in a marketing career prior to launching Renegade Flower Farm, so this is my other love. Despite all my years of marketing and purchasing paid ad placements, nothing ever performs as well as word-of-mouth marketing.
With absolutely no money for paid advertising (at this time), we get creative and pound the pavement to tell people about Renegade. Other than developing a social media presence, we get out in the community and talk about our farm. Everywhere we go as a family, we bring flowers with our business cards attached to them. From Wawa to the nail salon to the park to their sports games., my kids help me walk around and pass out flowers to strangers. Almost everyone is happy to see us and engages with us.
I've also worked to create partnerships with other local small businesses so we both have access to each other's customer base but also help hold the other up. There are so many amazingly creative new business owners out there that need a break just like we do. Partnering with them gives them more visibility and includes our offerings among a more diversified platform of goods.
We recently started a partnership with Neigh Sayers, a mobile pop-up bar in a renovated horse trailer. The business owner is wickedly creative and has a really cool service to offer the community. We want to help her along in that journey while also offering her cool mobile bar to our customer base.
Who or what has been the greatest resource for you in the sustainability/local small business community?
The folks who deliver our woodchips for free and ask nothing in return have been super helpful. And of course, our customers! Each week I receive a message from a customer asking if we need "this" or "that" – they are always thinking of the farm!
In general, though, I've had to brainstorm or seek out resources myself when I think about sustainable practices. From searching for leaf compost locations near the farm to seed exchanges to finding bulk compost instead of the pricey compost that most mulch companies charge for around here, I've done a lot of research on my own. Because we are so new and have debt that comes along with buying a farm, we simply cannot afford to spend much on some of these products or services for the farm, so I've really been challenged to think outside of the box.
If someone wanted to earn a bit of side hustle from their passion for growing flowers, do you have any advice to offer them?
I would suggest starting by planting "cut and come again" flowers in the first year. These are annuals that keep blooming over and over again even after you cut them. They are usually cheap seeds and you really see your return on investment almost immediately. Zinnia & Cosmos are great examples of these.
Focus on methods of selling that are the simplest and don't require a lot of cash investment. Selling bouquets on the side of the road or via word of mouth is more feasible than providing flowers for weddings. Dried flower craft events and make-your-own-bouquet carts are also good options for getting started or setting up a flower farm side hustle.
Social media is a great way to promote your arrangements to your community. Many communities have groups that you can join that allow you to promote your business or product on a certain day. This is a great opportunity to post something introducing yourself, post a picture of your arrangements, and show how customers can order your arrangements.
If you enjoy crafting, there are many flowers that you can dry and preserve for use over the winter months. These are great for making wreaths, tabletop arrangements, jewelry, art, etc. that you then sell during the holidays when people are looking for unique, local goods to purchase.
If you live somewhere where pick-up is difficult, you can always reach out to your local library or similar community organization to arrange for people to pick up their bouquets or crafted goods in their parking lot, creating a pop-up or pick-up set-up say once a week. You can offer to donate a certain cut of your earnings to the library's annual fund to make the arrangement beneficial for both parties. They may even promote your set-up on their website for you.
What do you think the future of sustainable flower farms could look like and how do we get there?
Decrease Demand for Off-Season Flowers | One of the reasons flowers are shipped around the world with a hefty carbon footprint is to meet the off-season demands of customers. Florists receive all sorts of requests from customers (and especially brides) asking for out-of-season flowers like Peonies in December (they grow locally in May-June) or Roses in January (they bloom in the spring-summer). Florists have to order from places like South America to fulfill these orders.
Recently, I provided flowers for a bride who only wanted local flowers. This was incredible! She provided her color palette, and we harvested buckets of flowers within that palette. She was completely open to the type of flower used. This progressive way of thinking – to prioritize a color palette but be open to whatever types of flowers are in season – was so refreshing.
It would be wonderful to see more images and ideas (perhaps even on Pinterest boards) that show weddings utilizing local flowers by season. This would cut down on the demand for shipping pricey flowers into the country off-season.
Help Local Flower Farmers Grow Year-Round | Meanwhile, many flower farmers (myself included) cannot afford heated greenhouses to grow all twelve months out of a year. If we had more affordable access to greenhouses and help to set them up, it could cut down on the demand for ordering internationally.
I think more support for American flower farmers in the form of small business start-up assistance would be a game-changer. I think there are many people who would love to take over a flower farm, but the cost and steep learning curve make it prohibitive for them. If we could help flower farmers in the United States get established, we could have a larger supply of local flowers to fulfill customers' orders.
Where else can we find more information about you and support the business?
We are online at www.renegadeflowerfarm.com and on Instagram and Facebook @renegadeflowerfarm.
Thank you so much for this incredible opportunity for us to share our story with your readers!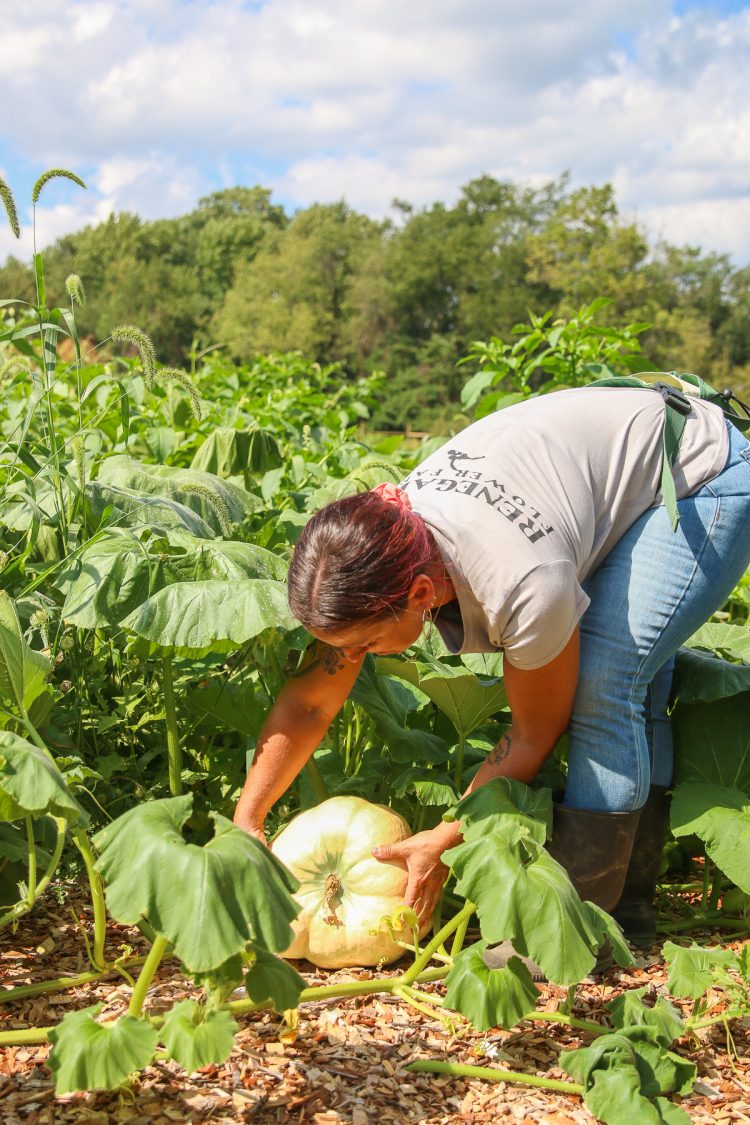 About The Author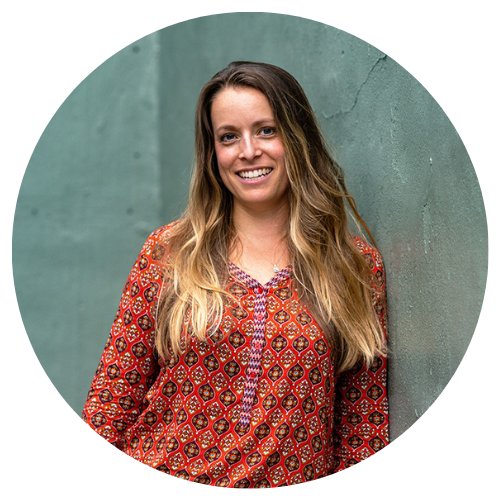 Jen Panaro
Jen Panaro, founder and editor-in-chief of Honestly Modern, is a self-proclaimed composting nerd and an advocate for sustainable living for modern families. In her spare time, she's a serial library book borrower, a messy gardener, and a mom of two boys who spends a lot of time in hockey rinks and on baseball fields.
You can find more of her work at Raising Global Kidizens, an online space to help parents and caregivers raise the next generation of responsible global citizens.