This post is part of our Loving Lately series in which our team shares some of their favorite sustainable living things they've been loving lately. From habits to products, big things to small things, we hope these ideas help you find a few ways to continue incorporating eco-conscious practices into your everyday life. Psst… some of these items also make great gifts too! Check out the full Loving Lately series.
This post contains affiliate links.
If I were a coffee fan, it would be PSL season. But alas, I'm just a chocolate girl, and I'm always down for dark chocolate (especially with caramel or mint). Here are a few things, like delicious chocolate, the Honestly Modern team has been loving lately. Check out the rest of our Loving Lately series.
Endangered Species Chocolate Bars
I love them in the fall and just about every season, but these have been a regular on our grocery list lately. My boys used to only steal the Caramel Sea Salt + Dark Chocolate from my "secret" stash. But now they don't discriminate and are happy to take the Forest Mint + Dark Chocolate too. I think I need to find a new hiding spot.
Endangered Species Chocolate uses proceeds from sales to support conservation efforts to protect endangered species and sources their chocolate from fair trade farmers in West Africa. I'd love to see compostable packaging (it's currently recyclable), but otherwise, I'm really happy with the brand.
~ Jen Panaro
Aventura Sweater
I'm basically living in this organic cotton/modal blend sweater right now. It's incredibly soft, ridiculously warm, and Fair Trade Certified.
~ Reese Moore
Secondhand Universal Thread Sherpa Jacket
I found the perfect jacket for my level of cold, which is freezing the moment cold air hits. I've always found it hard in the fall to find a jacket that keeps me warm in the cool shade but doesn't make me sweat in the cool sun.
I found this jacket at my consignment shop for $14 and knew it was the one…the one I've been looking for! I love the cream with brown accents. It kept me at the perfect temperature for a hike up a mountain in the cool sun and walking around all day to explore. It's sherpa fleece, which is 100% polyester (i.e. plastic) so the material is not very sustainable, but it's secondhand.
Here are a couple of links to secondhand alternatives from Poshmark and Mercari.
~ Rupa Singh
Library Card
I've long been a fan of our local library. But lately, I've really been making the most of my library. I've checked out so many books for myself. And I've checked out loads of picture books for some really great projects we've been working on Raising Global Kidizens. Just in the last few months, I've checked out a couple of hundred books. Some quick math proves I've saved some serious money!
~ Jen Panaro
Practice Everywhere Yoga App
We live life on the GO. Sometimes I only have 20 or 30 minutes for working out, which doesn't allow for going to the gym, parking, and battling traffic. Practice Everywhere offers everything from guided jogging routines to quick yoga flows and full-body HIIT classes that you can do literally anywhere.
~ Reese Moore
Sunrise Bliss Hair Towel
My long hair takes a long time to dry. If you have long hair, you know that extra plush or large towels that are great for drying your body aren't that great for hair. They're just too big and bulky.
I recently purchased this organic cotton hair towel from Sunrise Bliss, and it's perfect for wrapping up wet hair after a shower. I'm happy to support a small business that also uses organic cotton fabric. I have the size Medium towel, but if you have long hair, you may want to check out the larger option as well.
~ Jen Panaro
New-to-me Vintage Glass Cake Stand
I've wanted a vintage glass cake stand with a clear lid since forever because they're such an elegant and efficient way to house leftover baked goods without tin foil, paper, etc. My friend just surprised me with one from the antique store, and the best part was that it had a Mexican chocolate cake inside and a Halloween ribbon on top. It's similar to this vintage glass cake stand from Etsy.
~ Reese Moore
Yeti Water Bottle
Our family has tried a lot of reusable water bottles over the years. My Swell water bottle that I received as a gift 6 or 7 years ago is still kicking and is great. But they're all second-class compared to our Yeti water bottles with the chug caps.
The chug cap has two parts. The screw top opens to have plenty of room to add water and ice from our ice machine. The pouring top is perfect for drinking; just enough water flows without it spilling all over my face.
And the water bottle keeps water cold for a seriously long time. I often find ice from the previous day still frozen in the bottle the next morning if I leave the water bottle on the counter overnight.
~ Jen Panaro
Knickey Underwear
The arrival of fall meant an underwear drawer overhaul for me. I purchased a few pairs of organic cotton underwear from Knickey and am thrilled with their comfortable fit. Additionally, Knickey is transparent about where its materials come from and how they are manufactured, disclosing a supply chain list on its website.
~ Jess Purcell
Alpaca Gloves
I found these alpaca gloves at the farmers market in Blacksburg when I was visiting my alma mater, Virginia Tech. They are super warm and for my tiny hands, they fit perfectly. With a love for fiber and slow living, the fleece from the Alpacas is a gift.
~ Rupa Singh
Solgaard Backpack
From hockey practices to my Alt Summit conference in New York City with Jess Purcell, I carry this the Solgaard Lifepack with Juicepack with me everywhere. Solgaard backpacks are made from recycled ocean plastic and have sustainability at their core. The backpack also comes with a solar charging pack that uses solar energy to charge devices like smartphones and tablets. I only use the solar charger when traveling because I don't need it from day to day when I can charge devices at home.
The backpack includes a hook on the side to attach a water bottle. Because of that, it doesn't have a net pocket on the side to hold a water bottle. This is the only thing I don't like about the backpack; my water bottle clicks with every step when it's hooked to the outside so I keep it in the front pocket. It's fine but the one thing I wish I could change about the bag. Aside from that, it's of great quality and still like-new after using it for months almost every day. It's my favorite backpack I've had to date.
~ Jen Panaro
About The Author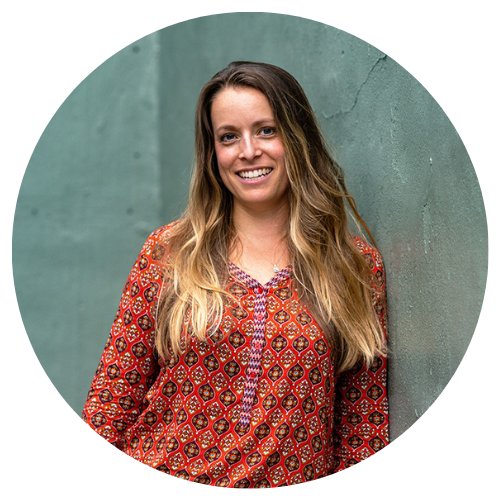 Jen Panaro
Jen Panaro, founder and editor-in-chief of Honestly Modern, is a self-proclaimed composting nerd and an advocate for sustainable living for modern families. In her spare time, she's a serial library book borrower, a messy gardener, and a mom of two boys who spends a lot of time in hockey rinks and on baseball fields.
You can find more of her work at Raising Global Kidizens, an online space to help parents and caregivers raise the next generation of responsible global citizens.