6 Kids Audiobooks For December
Check out these recommendations for fun audiobooks for kids this December. We included a few holiday options as well as some that are great any time of year.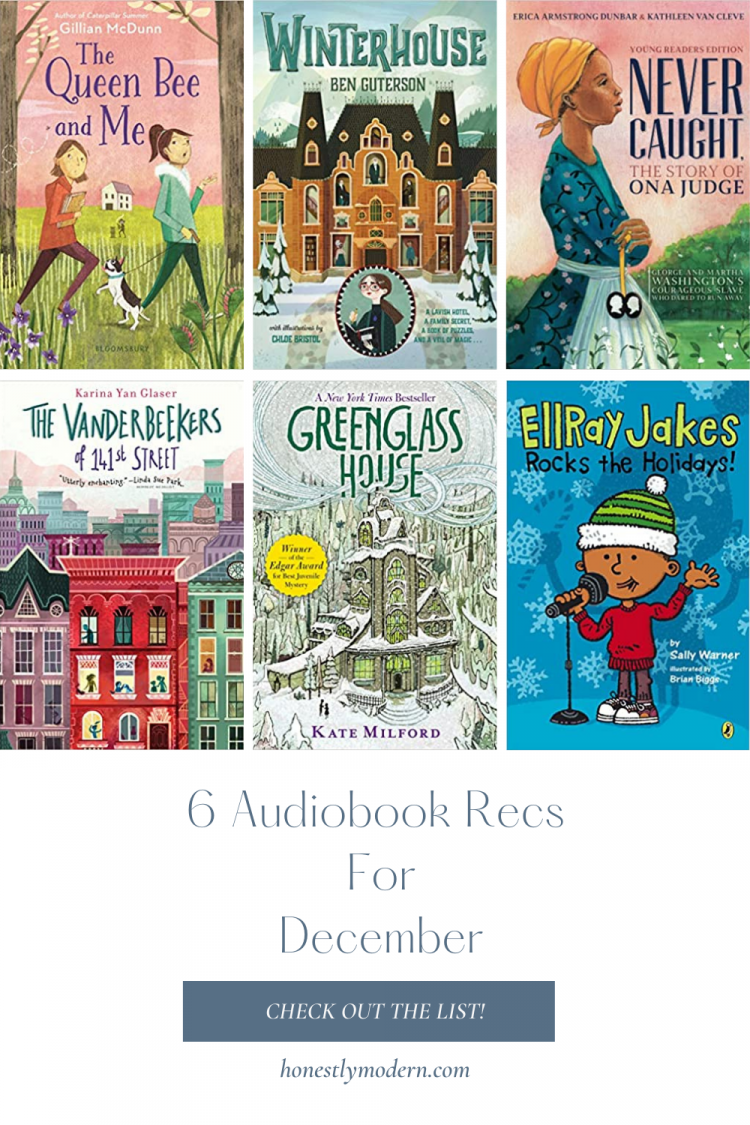 This post contains affiliate links. If you make a purchase, Honestly Modern earns a small commission that does not impact your purchase price. Thanks for supporting Honestly Modern.
Audiobooks are such a great way to share books with kids. They offer more listening opportunities, like while driving in a car, when you might not otherwise be able to grab a book. Audiobooks allow kids to listen above their independent reading level and experience books with more advanced vocabulary and syntax. And they offer children an opportunity to hear professionals read stories with engaging tones and intonation.
This edition of Audiobooks For Kids is a part of a growing series of posts with fun audiobooks to share with your children each season. Here are several audiobooks to consider checking out with your family.
Age and grade level recommendations offer guidelines, and we hope they help you more quickly find the right books for your children. However, many children read above or below the "recommended" age or grade level and develop reading skills at different rates. Parents and caregivers know what's best for their children and students.
We've also included links to the physical books if you'd rather have them in hand.
A Note on Buying and Borrowing Books
We include affiliate links to books we recommend. If you purchase through one of these links, Honestly Modern earns a very small commission that has no impact on your purchase price.
If you can find the books from your local library, from a friend, at an independent bookstore, or through a used book shop, those sources are ideal. Using the library is zero waste, saves money, and saves space in your home because you can read all the books without storing all the books on your bookshelves. If you're not sure of the best way to use your local library, check out these tips to make the most of your local library. With a little exposure, your kids will learn to LOVE the library!
If you prefer to listen to audiobooks, we recommend using Libro.fm, our favorite audiobook app. We've tried several audiobook apps and love that Libro.fm supports independent bookstores and offers a great user experience.
The Queen Bee and Me by Gillian McDunn
This story brings together the science of bees in nature with the social nature of queen bees in school. Meg's best friend of many years is Beatrix. As the two girls get older, their interests diverge. Meg becomes interested in science while Beatrix thinks this is uncool.
A new girl named Hazel shows up at school. Meg and Hazel connect over their interest in the science of bees, but Beatrix is not a fan of Hazel or her friendship with Meg. Beatrix is quite mean to Hazel and convinces others in school to do the same.
The story shines a light on the challenges of standing up to bullies, especially when they are friends, and the difficult circumstances students face in middle school.
Age 8 – 12 | Grade Level 4 – 6 | Pages 288 | Length 6 hrs 10 mins
Winterhouse (Book #1) by Ben Guterson
Elizabeth, a young orphan girl, is sent to live at Winterhouse Hotel in the city. Soon Elizabeth realizes that this charmed hotel has many secrets that she is uniquely equipped to solve. As a bookish girl, she is particularly fond of the library and finds it one of the most charmed (and spooky) places in the Winterhouse Hotel. This fantastical mystery is the first in a three-part series and is great for readers who love a touch of fantasy in a modern setting.
Age 9 – 12 | Grade Level 4 – 7 | Pages 400 | Length 9 hrs 25 mins
Never Caught, the Story of Ona Judge by Erica Armstrong Dunbar & Kathleen Van Cleve
School doesn't always teach us the most interesting and compelling stories of our history. Ona's story was certainly not one I learned about in school, likely due in part at least, to our school textbooks tending to highlight the successes of the United States "Founding Fathers" and leaving their darker sides in the shadows.
This non-fiction book captures the true story of Ona Judge, a slave of George Washington and his wife Martha Washington, who escaped slavery and found freedom in New Hampshire. The book highlights her childhood, offers insights into her life at the Washington house, and shares her brave escape from one of the most powerful families of her time.
This is a young reader's edition of a book by the same title written for adults by the same author. While it's part of our past and important for our children to learn the truth in time, it's worth noting that this book discusses how vulnerable enslaved individuals were to kidnapping, brutal punishment, and sexual assault, with explicit references to rape (though without descriptive acts of violence).
Age 9 – 13 | Grade Level 4 – 8 | Pages 272 | Length 5 hrs 22 mins
The Vanderbeekers of 141st Street by Karina Yan Glaser (part of series)
The Vanderbeekers have always lived in the brownstone on 141st Street. It's practically another member of the family. So when their reclusive, curmudgeonly landlord decides not to renew their lease just before the holidays, the five siblings have eleven days to do whatever it takes to stay in their beloved home and convince the dreaded Beiderman just how wonderful they are. And all is fair in love and war when it comes to keeping their home.
Age 8 – 12 | Grade Level 3 – 7 | Pages 304 | Length 5 hrs 39 mins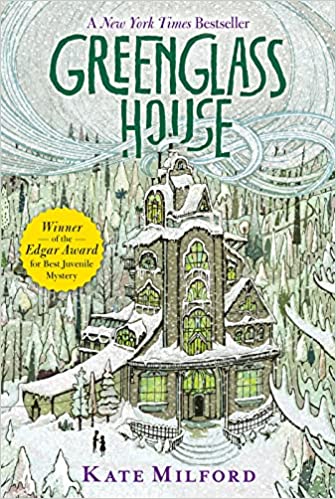 Greenglass House (Book #1) by Kate Milford
Greenglass House is an inn located in a town that's controlled by an evil corporation. Milo, the adopted son of the innkeeper of Greenglass House, looks forward to spending a relaxing holiday at the inn that's usually busy hosting smugglers (who are beloved by the town for their efforts to circumvent the large company's torment on the town.
To Milo's surprise, mysterious guests begin to show up at the inn and odd things happen. Milo and a friend work to uncover the mysteries that take place at the inn. Through their adventure, they also learn truths about themselves.
I haven't read this one yet, but it looks really interesting and perfect for the holiday season. It's also part of a series, so if your young readers enjoy it, there are four more books in the series to capture their reading interest.
Age 10 – 12 | Grade Level 5 – 7 | Pages 400 | Length 11 hrs 41 mins
EllRay Jakes Rocks The Holidays! by Sally Warner
EllRay Jakes is nervous about being the emcee for the upcoming holiday concert at his school. Not only does he not want to be the center of attention, but he's also not excited about being noticed for being different. He just wants to blend in with the rest of the students.
This book helps young readers connect to a character who knows what it feels like to be different and touches lightly on matters of race in a way that is accessible for young learners.
Age 6 – 8 | Grade Level 1 – 3 | Pages 160 | Length 2 hrs 41 mins
About The Author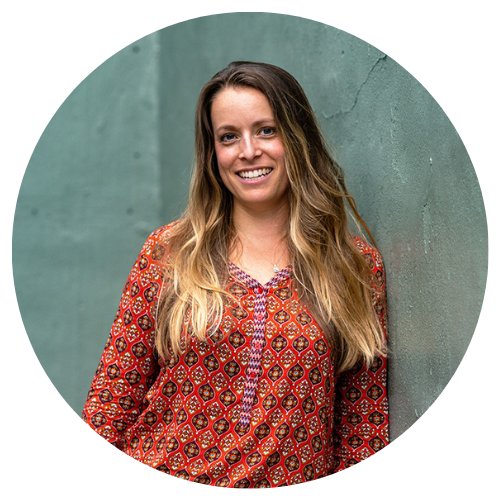 Jen Panaro
Jen Panaro, founder and editor-in-chief of Honestly Modern, is a self-proclaimed composting nerd and an advocate for sustainable living for modern families. In her spare time, she's a serial library book borrower, a messy gardener, and a mom of two boys who spends a lot of time in hockey rinks and on baseball fields.
You can find more of her work at Raising Global Kidizens, an online space to help parents and caregivers raise the next generation of responsible global citizens.