A Cross-Cultural Christmas Celebration of Less Stuff and More Adventure
Our family is Indian-American. We constantly hold one foot in Indian culture and one foot in American culture. We celebrate Christmas as a cultural holiday and not a religious one.
Magic of Christmas And Intentional Gifting
The magic of Christmas is pretty big in our home; most of the boxes of decorations in my basement are for this holiday. Christmas is about the "magic" in our home, the smell of the tree, the lights everywhere, the decor transforming our home, the stories adding warmth into our hearts, and the excitement of being with all our family!
Along with the magic of the season, Christmas comes as a time to buy all the things.
I enjoy buying special gifts for my family around the holidays, but I want them to be really meaningful and useful. I want to be 100% sure that the gift recipient really wants and will use a gift.
When I shop for my kids, for example, I don't want to think they want something, I want to know they want it. Otherwise, it feels wasteful, like I'm buying simply to consume instead of purchasing with intention. With our kids, I usually put a piece of paper on the fridge around November and encourage them to start thinking of what they want to receive from Santa.
Family Ethos To Guide Holiday Gifting
This past January, our family did something that has really stuck with us through the whole year. We created our Singh Ethos, a collection of priorities that reflect our spirit, our values, and the beliefs that we hold as a family. We wrote this down in January and return to these values regularly to guide our family life, including decisions like what to buy for holiday gifts.
One item on our Ethos was "less stuff, more adventure", coined by Miranda Anderson. This informs our choice to give more experiences and fewer tangible gifts around Christmas.
Because we defined and regularly reflect on our family ethos together, our older kids expect to receive gifts of "adventure" instead of "stuff" this year from us. However, we leave space for Santa to bring a "stuff" gift for each of our older girls. Because our little son is only two, and it's his first Christmas being aware of things, he might get a few more "stuff" gifts.
Gifts From Family Members
We have a smallish family with whom we exchange gifts. We plan gift options together so they choose what they want to get and it also aligns with our values as a family. Since the kids won't have physical "stuff" gifts to open from them, we plan a scavenger hunt for them to find out what their "adventure" gifts will be. This way, we still enjoy a little excitement and something under the tree for them to find while staying true to our family Ethos.
Here are the gifts we are getting for our kids to enjoy the magic of the season and celebrate a cultural Christmas in our Indian-American home.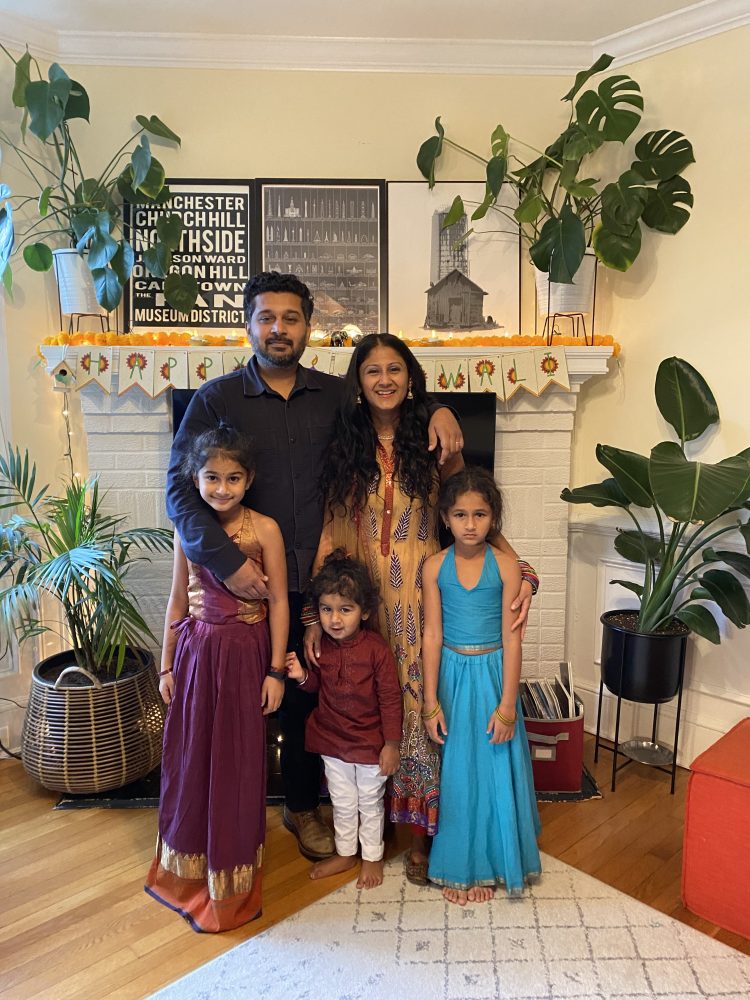 ADVENTURE GIFTS
Although we won't have anything under the tree for most of these, we will give them clues to discover the gifts.
Adventure Gifts For Our 7-Year-Old and 9-Year Old Daughters
The girls love getting creative in the kitchen, and my time to do this with them has disappeared with the two-year-old in tow. I searched online and found Young Chefs Academy (they have locations all over the world). With a gift card, they will get to take 2-3 classes each in person with other kids based on the food theme for the month.
Due to both girls being in elementary school and current pandemic restrictions, we have not been at our local gym for a few years. They miss it so much! This activity is one they love, but not necessarily in our budget. I asked the grandparents to gift this to them. Their grandparents can decide how many months of classes they want to give.
Learning about sustainability in a fun and active way is something I know my girls will flip over. This large coloring sheet has the 17 Sustainable Development Goals that the United Nations adopted in 2015. Each goal has a book list that goes with it. The first goal is No Poverty.
Using the book list provided, I requested as many books as I could from the library. The poster will be under the tree with a note to hunt for the books in their existing bookshelf. When we are ready to do the next goal, I'll print the list and the girls will help request them at the library!
Connecting our kids to our culture is always confusing as there is no blueprint on how to do this as each immigrant family has its own experiences. The Toka Box comes each month with a hand-picked, curated children's book from South Asian publishers, authors, and illustrators and a related literacy or STEAM activity that provides contextual STEM education. I know our 7-year-old will love this hands-on connection to our culture for 6 months.
The Kiwi Crate is something I've wanted to get the girls for years, but I couldn't get past the waste. My 9-year-old is old enough to get the Tinker Crate, which I believe to be more substantial projects, so I think she will keep and play with what she creates. The monthly box includes all the materials and inspiration for science and engineering projects such as trebuchet, paper circuits, and walking robots.
Reading Harry Potter Series with Cha Chi, Pinna + Cha Cha (aunts + uncle via facetime)
The girls have been asking me to read this to them at bedtime, but it's really difficult to put them and the 2-year-old to bed. Most nights the girls go to bed with a Stories podcast episode.
I know their hearts will burst when they hear their aunts and uncle will be taking turns reading the first book to them a couple of nights a week. The girls will snuggle in one of their beds and follow along on our copy of the book while listening to it being read to them over Facetime for 20 minutes by their most favorite people.
Adventure & Toy Gifts For Our 2-Year-Old Son
High Five is a monthly magazine with short stories, games, and activities. I think he'll love getting it in the mail. Also, he shares a lot of the time, so I think he will really enjoy that this gift is just for him. It's also a non-glossy paper magazine, easily recycled or repurposed. 🙂
This museum is an indoor/outdoor pretend play space that is loads of fun. I've taken him before, and it's the place where he comes most alive in playing. Due to restrictions over the last couple of years, it's taken him a lot longer than my girls to engage in the world outside our home.
Avengers Books
When I say my son is obsessed with Avengers, it's an understatement. I wanted to get him books with easy storylines, lots of pictures, and a book for each character. Sometimes the exact thing you're looking for only exists on Amazon.
Avengers Action Figures ("good guys")
I refused to buy these as new. Toys, more than anything else, can have a very long life in the hands of multiple kids who love them. Because I knew exactly what I wanted, finding them on eBay was super easy. Bidding for them was a bit harder!
He asked for four figures. I've already received and given Black Widow and Thor. For him, finding them one at a time sitting in his room is more exciting than receiving them all at once. I've had trouble finding Spiderman and Hulk secondhand, so I might just take a break and get them for him later (if he even remembers).
My girls are so active, but my son isn't quite as inclined to be as active as them. I wanted to give him a little push and hopefully help him find a movement activity he loves. We took a sample class at the gym for his age group, and he was iffy about it. However, he loves a good teacher connection, so we are gonna give it a shot for a few months.
STUFF GIFTS
This year, "stuff" gifts are coming from Santa, who leaves them unwrapped under the tree. Santa has never wrapped gifts in our home. We also have stockings, so some of these smaller, tangible gifts are stocking stuffers.
Tangible Gifts For Our 7-Year-Old and 9-Year Old Daughters
Fuzzy pillows + blanket + stuffed animal hamster
I rarely take the girls to stores, but every time we go to Ross my 7-year-old gravitates to the cozy bed aisle. She loves fuzzy blankets and pillows and begs me to buy them for her! She added the hamster stuffed animal to her fridge list for Santa. After deep-diving into the internet, we found slim pickings for a gray life-like hamster, but we eventually landed on something she will like.
Avengers Lego set
My 9-year-old is a Lego + Avengers nut. She included an Avengers LEGO set on her list for Santa. Because these sets are in high demand and can get pricey, I shopped for this on Black Friday and found the best price at Walmart. I picked it up at the one store in our area that had it.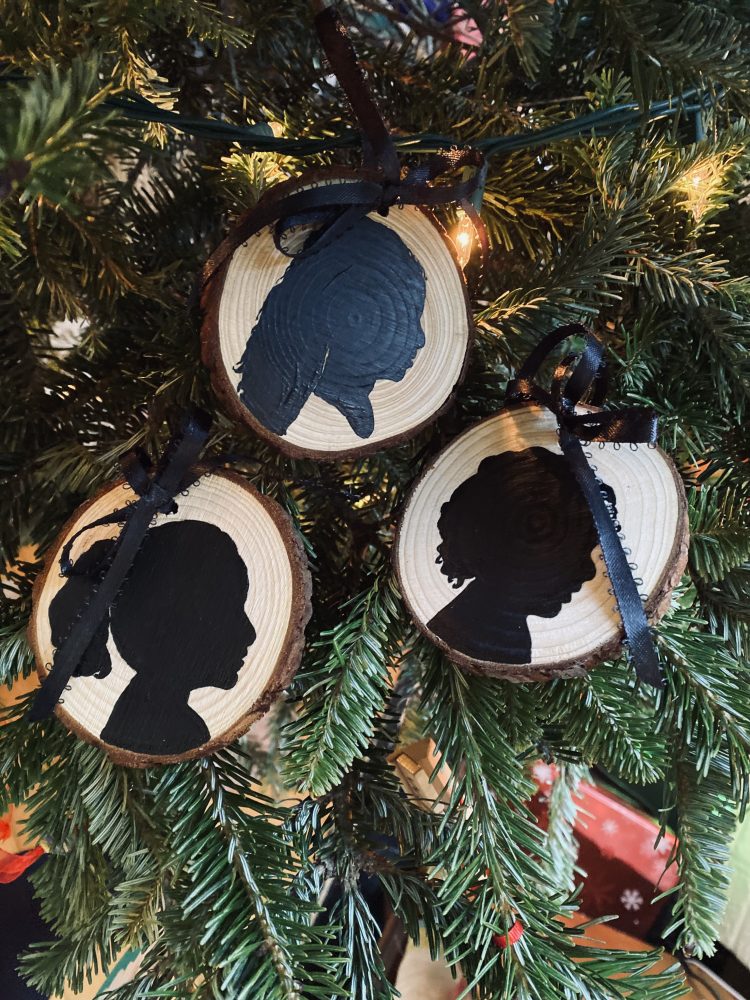 I always get the kids an ornament each year for their stockings from a small business. A good friend of mine is making these silhouette ornaments this year locally, and I fell in love with them!
I saw these books, A Kids Books About Anger and A Kids Book About Empathy, on a sale post my friend shared. I got them because they were on sale and because I have struggled with teaching empathy to my 9-year-old and helping my 7-year-old with her anger. I hope these books can be tools for the three of us.
Tangible Gifts For Our 2- Year-Old Son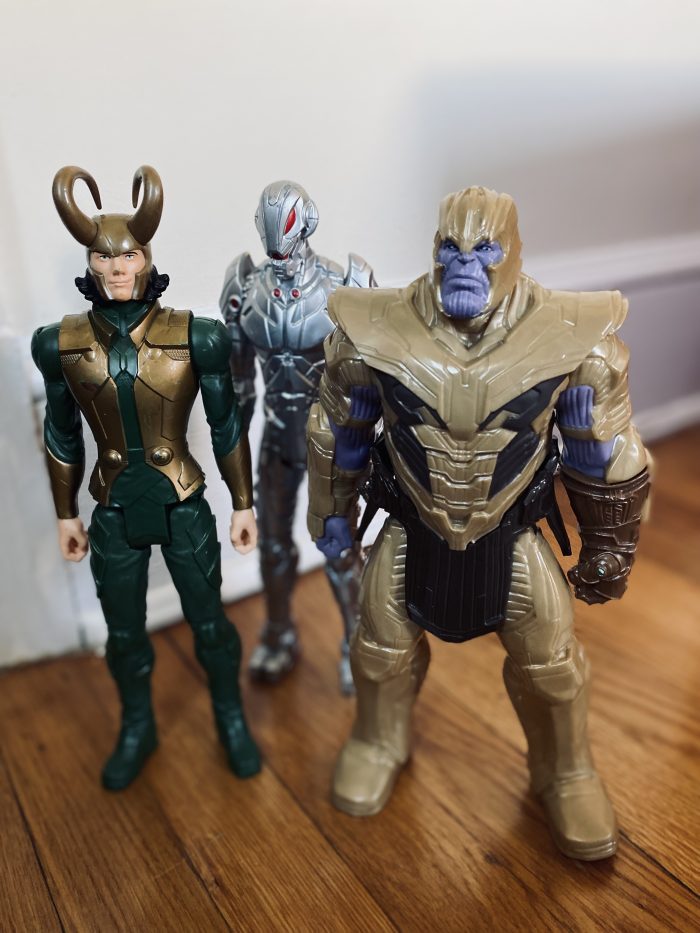 Avengers action figures ("mad guys")
Of course, I refused to buy these as new. He likes to call bad guys, "mad guys." 🙂 He told me exactly who he wanted: Thanos, Loki, and Ultron. These were super easy to find on eBay. I didn't bid on them. I just bought them outright because the price was right.
I always get the kids an ornament each year for their stockings from a small business. I'm getting my son the same silhouette ornament I ordered for each of my daughters.
I got A Little Book About Grit for him to identify with courage, perseverance, and resilience, nicely wrapped in a board book for his age.
HAPPY HOLIDAYS!
About The Author
Rupa Singh
Rupa Singh is an ex-social entrepreneur and mom of three kids connecting them to their South Asian (Indian) roots + sustainability. Organizational wife to an altruistic architect. Advocate for low waste + thoughtful consumption. Continually unlearning + learning. Her bullet journal + audiobooks + morning ritual feed her spirit.