Affordable & Clean Energy | Picture Book List For United Nations Sustainable Development Goal #7
Picture books are a great entry point to many difficult conversations with our kids. Read on for more about this creative project to help kids connect with and understand the global social and environmental justice goals as defined by the United Nations Sustainable Development Goals in an age-appropriate way.
This picture book list is part of a series of picture book lists that align with the United Nations Sustainable Development Goals. We've created a picture book list for each of the 17 United Nations Sustainable Development Goals as well as a FREE coloring poster to track progress and explore the United Nations Sustainable Development Goals with kids.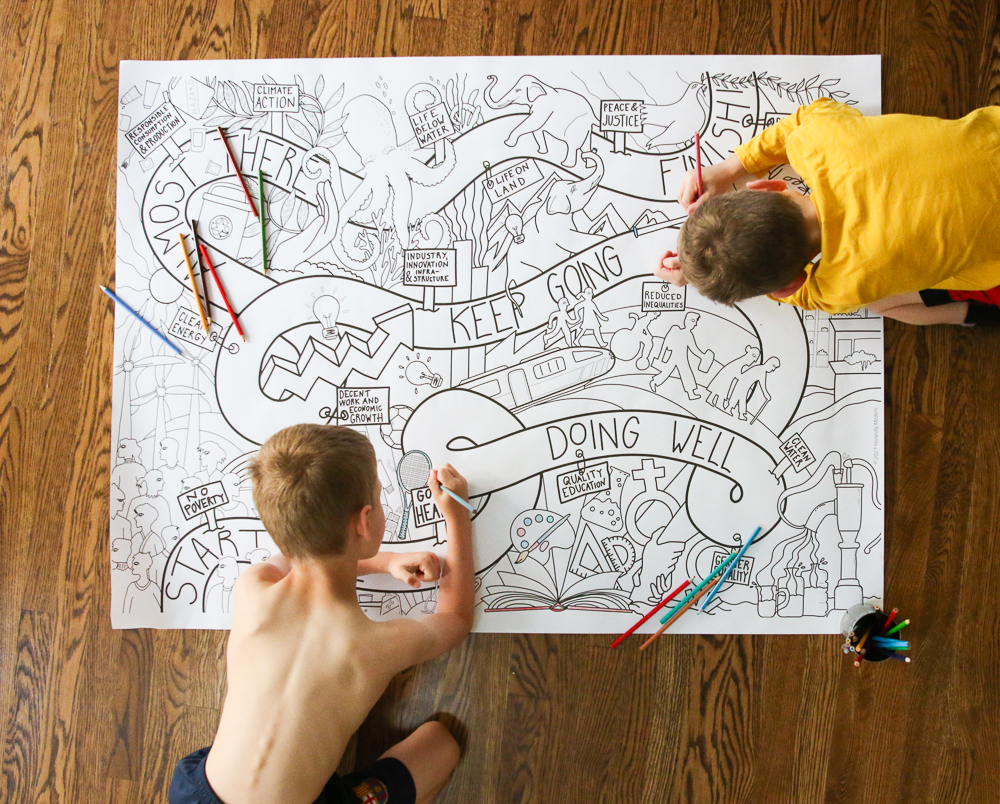 Learn More & Download The Free Coloring Poster
To learn more about the FREE coloring poster and see all 17 picture book lists, head to the United Nations Sustainable Development Goals Coloring Poster and Picture Book List homepage. Alternatively, simply sign up for our email list below and receive a link to download the FREE coloring poster.
What Are The United Nations Sustainable Development Goals?
In 2015, the United Nations adopted 17 Sustainable Development Goals (SDGs), a collective framework for peace and prosperity for people and the planet, now and into the future. The Sustainable Development Goals have broad intentions to end poverty and other deprivations while recognizing the need to simultaneously improve health and education, reduce inequality, spur economic growth, and tackle climate change.
Affordable & Clean Energy | United Nations Sustainable Development Goal #7
This United Nations Sustainable Development Goals strives to provide access to affordable, reliable, sustainable and modern energy to all. The goal provides guidelines for increasing access to renewable energy, reducing carbon emissions from energy sources, and creating infrastructure to get reliable energy to more people.
A Note on Buying and Borrowing Books
We include affiliate links to books we recommend. If you purchase through one of these links, Honestly Modern earns a very small commission that has no impact on your purchase price.
If you can find the books from your local library, from a friend, at an independent bookstore, or through a used book shop, those sources are ideal. Using the library is zero waste, saves money, and saves space in your home because you can read all the books without storing all the books on your bookshelves. If you're not sure of the best way to use your local library, check out these tips to make the most of your local library. With a little exposure, your kids will learn to LOVE the library!
If you prefer to listen to audiobooks, we recommend using Libro.fm, our favorite audiobook app. We've tried several audiobook apps and love that Libro.fm supports independent bookstores and offers a great user experience.
Picture Books About Affordable and Clean Energy
The list of picture books about energy includes non-fiction books about how energy and electricity work, inspiring stories about children who helped their local communities build novel renewable energy sources, and how electricity and energy can transform communities and open opportunities for prosperity.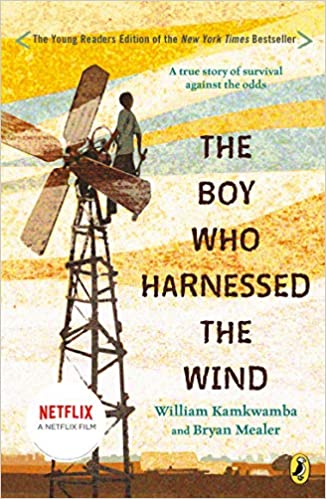 The Boy Who Harnessed The Wind by William Kamkwamba
Based on a true story, this book explores the accomplishments of a young boy in Malawi, Africa, who watches his family's farm die off due to drought. Using his local library and teaching himself English, the language in which all the scientific books are written, he figures out how to use trash and miscellaneous parts lying around his community to create a windmill. He uses the windmill to create electricity and, eventually, power a well for his family's garden.
This story is so wonderful for children on so many accounts; it discusses environmental issues of drought, poverty, innovation, and creativity, and highlights characters from another part of the world. That it's based on a true story also helps children connect with the reality of the issues addressed.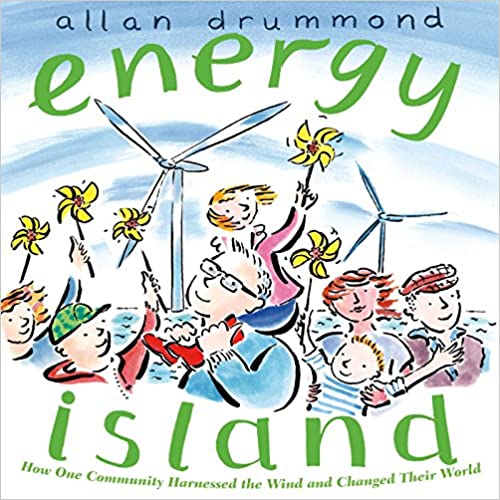 Energy Island: How One Community Harnessed the Wind and Changed Their World by Allan Drummond
Based on a true story, the residents of an island in Denmark tell their story of how they transformed their community from one that used fossil fuels to one run entirely on wind power. It took much effort from the community working together and convincing naysayers to move forward with the change, but a collective effort proved fruitful. Now the island community is a leader for cooperative renewable energy transformation.
Iqbal and His Ingenious Idea: How a Science Project Helps One Family and the Planet by Elizabeth Suneby
A young boy sees his mother and young sister getting sick from smoke each time they cook meals for the family because they use an open fire to cook indoors. For the science fair at school, Iqbal works with his sister to create a solar-powered cooking device so they do not have to us an open fire as often for cooking. Iqbal found a way to win first prize in the science fair while providing cleaner air and better health for his family at the same time!
This story introduces young children to the problems associated with open-flame cooking in the developing world, as well as background information on sustainable technology. Part of the CitizenKid collection, this book uses the common experience of a science fair project to help children recognize that they, too, can help make the world a better place through innovative thinking and creative problem-solving.
Energy Makes Things Happen by Kimberly Brubaker Bradley
This illustrated book explains all the different ways living things and machines obtain and use energy. The book is a great introduction to the transfer of energy and the sources of energy, especially the sun. It provides a good foundation for having follow-up discussions about which sources of energy are more eco-friendly and sustainable.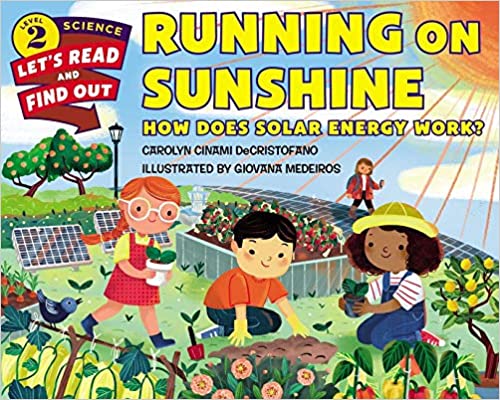 Running on Sunshine: How Does Solar Energy Work? by Carolyn Cinami DeCristofano
This is a wonderful book about how solar energy works, how engineers are working to make the technology and related battery storage better, and all the ways that solar energy helps make our planet cleaner and healthier. It touches a bit on the impacts of climate change and why solar energy is important and also discusses a few ways that people around the world are using solar energy in their everyday lives to live more sustainably and healthier. This book makes the science and environmental importance of solar energy accessible to students as young as elementary school though it could be the basis for more complex and deeper learning for older students.
Energy: Physical Science for Kids by Andi Diehn
Learn about the basics of energy and what makes things move in this introductory physical science book directed toward younger elementary-aged students.
Solar Energy: Running on Sunshine by Amy Hansen
This is a non-fiction book that's introduces the science of solar energy and how it could be used in the future. It includes a table of contents and glossary and is written for slightly older students in late elementary to early middle school.
Buried Sunlight: How Fossil Fuels Have Changed The Earth by Molly Bang & Penny Chisholm
What are fossil fuels? Where did they come from and why does it matter if we burn them? Told from the perspective of the sum to humans on Earth, the story explains the harm that rapid use of fossil fuels can create for the planet and why we need to care about finding alternative sources of energy.
Why Should I Save Energy by Jen Green
This book is written for younger children and is a bit dated, but it's a first step to thinking about simple ways that kids can save energy home and what might happen if we ran out of energy.
Did I miss any other great picture books abut clean energy? If so, leave your recommendations in the comments!
And if you have not done so already, be sure to check out the other booklists aligned with the United Nations Sustainable Development Goals and print out the FREE Coloring Poster!