Why We Love Primary Pajamas For Our Boys
Looking for some great sustainable kids pajamas? These pajamas from Primary are our favorite.
[the_ad id="27452″]
Praise the powers that be. Over the last few months, we've stumbled on a bedtime routine that actually works.
We have slogged through six years of tumultuous bedtimes filled with tears, laughter, battles, and lots of extra hugs. Bed time has always been exhausting.
Lately, however, the boys actually seem tired at bedtime and fall asleep without too many fights. Fingers crossed that I'm not jinxing our newfound bedtime success.
When they do crawl into bed, we have a favorite pajama brand we love. I see many pajamas made of poor quality material that quickly fades or pills after just a few washes. Our Primary pajamas, however, are high quality and have stood the test of time (at least in our house). They may also have endured long days being worn as regular clothes, because who doesn't want to wear pajamas all day, right?!
Primary has some of my favorite basics in just about all categories, including pajamas. If you follow me on Instagram, you've definitely seen my boys in Primary clothing. We have lots of pieces from the brand, including a half dozen pairs of their striped pajamas. They fit my boys just right, a feat I sometimes find hard to accomplish because they are pretty thin.
Primary has really reasonable prices, particularly relative to their quality. By selling directly to customers online and only selling classic styles, Primary avoids the costs of middlemen, retail mark-ups, and chasing new trends.
The pajamas are made of OEKO-Tex Standard 100 certified cotton. To meet OEKO-TEX Standard 100 certification, products must be free of over 300 chemicals in accordance with legal regulations (such as banned azo dyes, formaldehyde, pentachlorophenol, pesticides, cadmium and nickel) and comply with US Consumer Product Safety Improvement Act (CPSIA) requirements regarding lead and harmful chemicals.
Denaye Barahona of Simple Families recently visited their headquarters and shared in her Instagram Stories that Primary has a corporate responsibility officer in Hong Kong who helps ensure the manufacturing facilities maintain ethical working conditions.
I also love that Primary clothes are simple, nothing fancy or overdone. The styles are classic and will last, making them perfect for handing down to siblings or friends as well as mixing and matching.
In addition to great products, Primary also has a School Giveback program. They offer fundraising opportunities to raise money for schools and preschools. I haven't tried this yet, but I anticipate it would be a great way to raise funds for your child's school.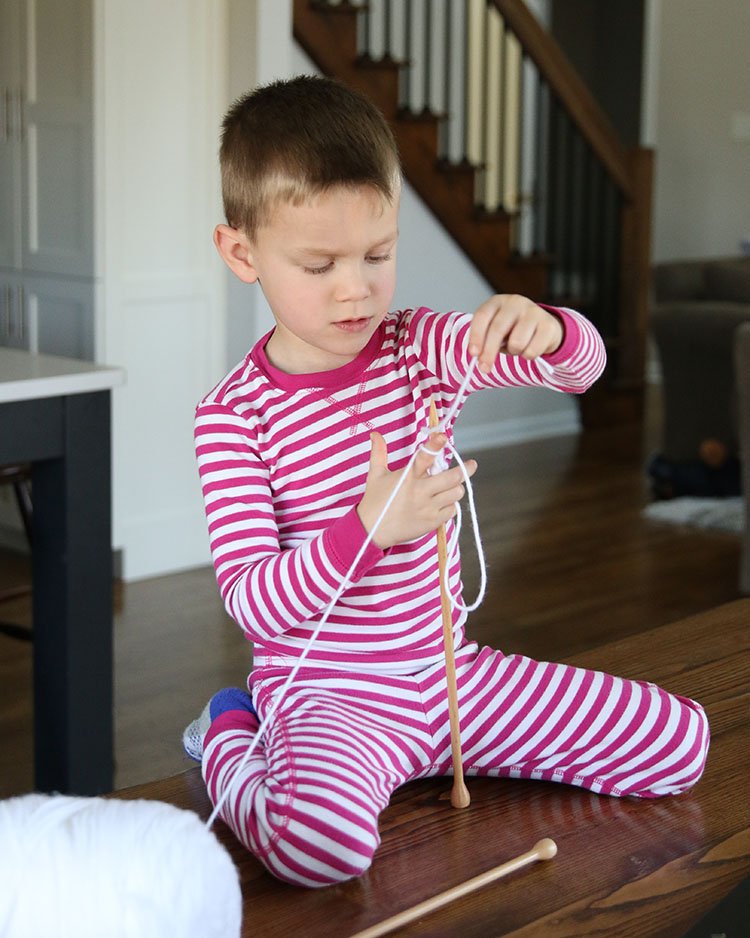 As my boys get older, they have started to develop more specific style preferences. They prefer athletic clothes over traditional cotton clothing. I know this isn't as great for the environment due to the synthetic nature of the materials. However, we often buy these clothes secondhand, and they wear them over and over again, week after week. That counts for something, right?
I don't love that most of my boys' clothes are loaded in logos and silly slogans. I'd love to see Primary develop shorts and shirts along the lines of something I might find on the racks of Nike or Under Armour but in simple colors with no slogans. I'm not an expert on matters of textile supply chains, so I'm not sure it's possible, but I can dream.
Needless-to-say, I'm a huge fan of Primary and have been shopping for the brand for several years. If you haven't checked it out, I highly recommend it. And if your kids do wear their clothes, let me know in the comments what you think!
If You Like This Post, You Might Also Like
When Do You Compromise on Ethical Style For Kids?
Our Favorite Secondhand Clothes for Boys
5 Ethical Clothing Companies That Sell Great Sustainable Basics For Kids