Perfectly Simple Homemade Marshmallows & Hot Chocolate
If you like marshmallows and are a fan of a little dose of serious sugar or love a good cup of hot chocolate, this perfectly simple homemade marshmallow recipe might be right up your alley.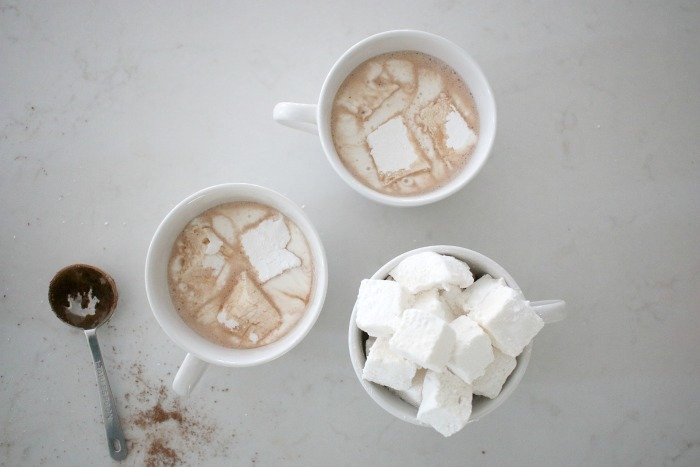 I have a love/hate relationship with marshmallows. M thinks their gross. The boys think they're the best things ever. And I love them enough to hate when an entire package sits in my cabinet. They call my name to eat far too many (because they're basically air and sugar and never fill you up)… until you've had enough to be sick (something about which I know "nothing").
Occasionally, I want to buy a handful of marshmallows for one night of hot chocolate or one s'more per person around a bonfire. But then I have this lingering bag of straight sugar tempting me in my cabinet because they come in bags of about a billion. Annoying.
So I devised what I think will be a solution to my "marshmallow dilemma" (which I fully realize is probably not fair to the word "dilemma"). But anyway…
My answer? Make my own.
I think this will solve two problems.
First, I can make a small batch, we can enjoy one or two each, and then be done.
Second, making something from scratch that's loaded in sugar helps me realize just how much sugar goes into those bad boys. That makes me think twice (or even three times) before I eat them every time thereafter. This definitely happened the first time I made caramel from scratch. Talk about a load of sugar! (But still so tasty…)
As it happened, homemade marshmallows didn't curb my marshmallow problem entirely. These ended up being pretty wonderful, especially after a day or two when the outside starts to get a little harder while the inside is still soft and sticky sweet. To be expected, they were so much fresher and tastier than store-bought marshmallows. Unless I'm in a pinch, I may never go back.
For now, I made a small batch of marshmallows that paired perfectly with a cup of hot chocolate. The boys thought it was about the greatest thing ever.
And let's be honest, I thought it was pretty great too. If you're interested, the recipe is down below!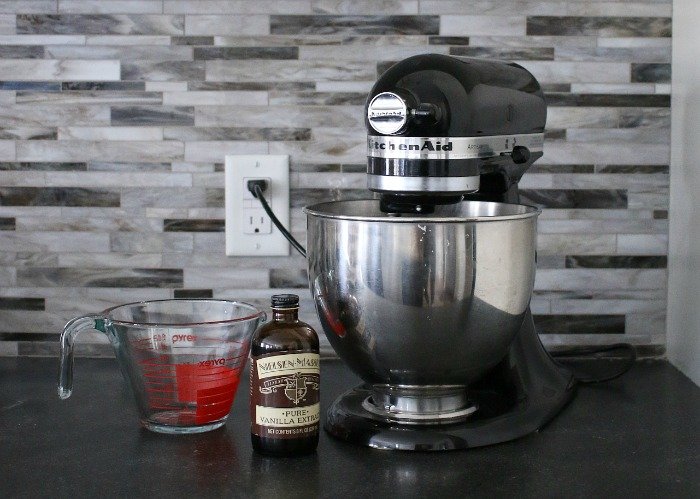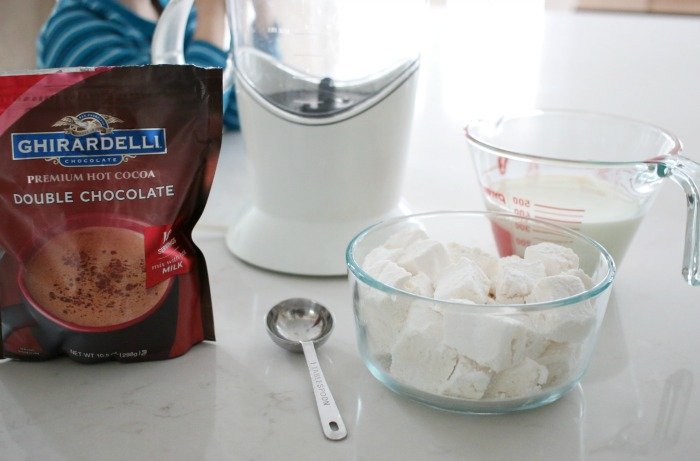 Perfectly Simple Homemade Marshmallows
Ingredients
1/2 cup cold water, divided
1 cup granulated sugar
1/4 cup light corn syrup
1/4 oz pack of gelatin
1 tbsp pure vanilla extract
Instructions
Place 1/4 cup of cold water in a stand mixer. Add gelatin and let sit for about 5 minutes (a little more is ok).
Line 9" square baking dish with cooking spray or butter and coat lightly with powdered sugar.
Mix 1/4 cup cold water, sugar and light corn syrup in a microwave safe bowl
Microwave on high for 2 minutes, remove and stir**
Microwave for another 30 seconds on high**
** be sure to watch this heat up. Every microwave is different and I originally let this heat up far too long. It bubbled all over the inside of my microwave and was a bummer. It just needs to be hot enough for the sugar to dissolve in the water.
Add water, sugar and light corn syrup mixture to stand mixer. Mix on medium-low for 10 minutes. Wipe sides clean, mixing in any ingredients. Mix on medium-high for 10-12 minutes. Mixture should become white and fluffy, increasing at least three times in size.
Mix in vanilla.
Place marshmallow cream mixture into the baking dish and allow to sit at room-temperature overnight or in the refrigerator for at least three hours.
Cut into squares and enjoy!
Nutrition Information:
Yield:

30
Serving Size:

1 grams
Amount Per Serving:
Unsaturated Fat:

0g