3 Easy Ways to Reuse BRIANNAS Bottles to Simplify Meal Planning
Thanks to BRIANNAS Fine Salad Dressings for sponsoring this post. All opinions are my own, and you're more than welcome to borrow the ideas!
Finding a new use for an old thing generates such a rewarding feeling, don't you think? It's so satisfying to exercise our creative juices to devise ways to meet our needs and wants, have unique tools and decor in our homes, and do our part to save the planet in the process. Spark a little eco-friendly joy by trying these three ways to reuse BRIANNAS dressing bottles in your home.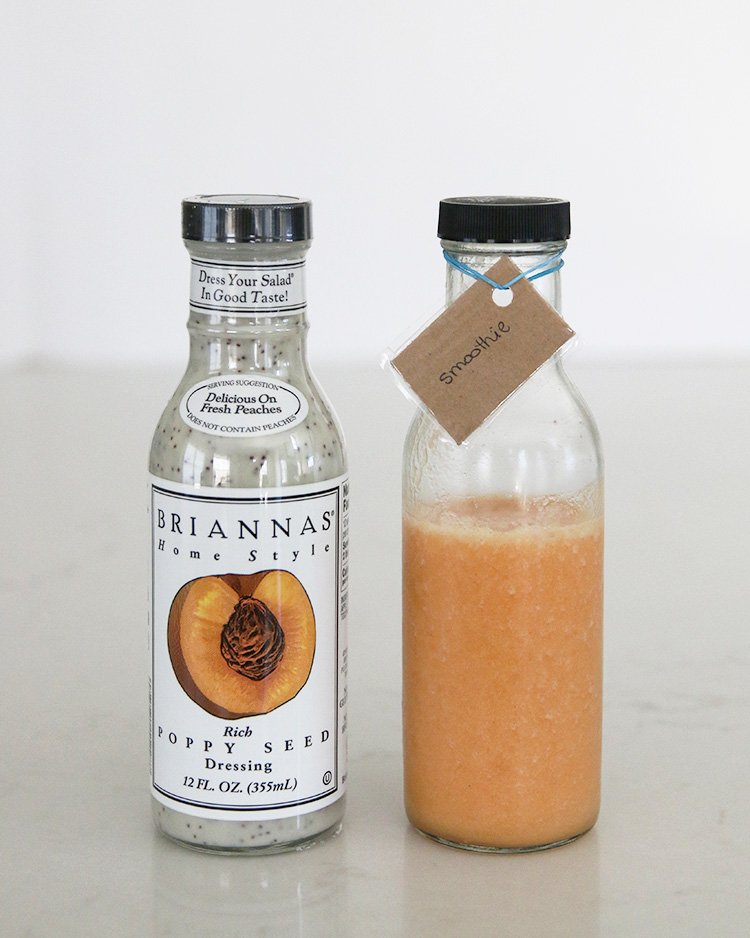 Want to know one of my favorite zero waste tips? Don't waste your money on fancy jars and storage containers. Ever. Trendy mason jar… I'm looking at you!
Reusing glass jars from the things you already purchase at the store might not be the most revolutionary zero waste living habit, but it's one of my favorites because it's so easy to execute. The Instagram-worthy zero waste movement looks all too perfect sometimes and implies that zero waste living is expensive or onerous. Some aspects of living zero waste or low waste are fraught with privilege, no doubt. But reusing glass bottles and jars is a habit just about anyone can do and it costs nearly nothing.
At least for me, reusing glass jars and bottles wasn't always obvious. Before diligently cleaning and reusing pasta jars and salad dressing bottles like these from BRIANNAS, I scoured thrift shops for secondhand mason jars. Thrift shops, though, are in the know and realize that classic Mason jars are a hot commodity; they aren't so cheap anymore. In some cases, secondhand mason jars are more expensive than new mason jars from a big box store. Forget the mason jars! Reuse the high quality jars and bottles you already have for free!
I find I need different size and shape bottles and jars for many things in our house and cabinets. Today, I'm going to show you a few ways I reuse BRIANNAS salad dressing bottles to help facilitate weekly meal planning.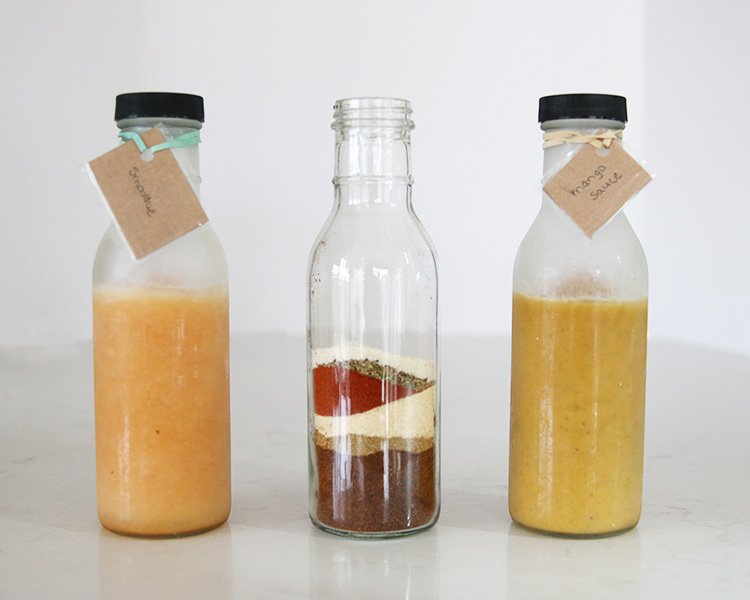 3 Ways To Reuse BRIANNAS Bottles To Simplify Meal Planning
Pre-Made Homemade Taco Seasoning
Some nights, I need a quick and reliable dinner on the table. In our house, tacos are a "go-to" for busy weeknights. I'm not such a fan of most store bought taco seasoning mixtures because they're full of unnecessary junk and loaded with salt.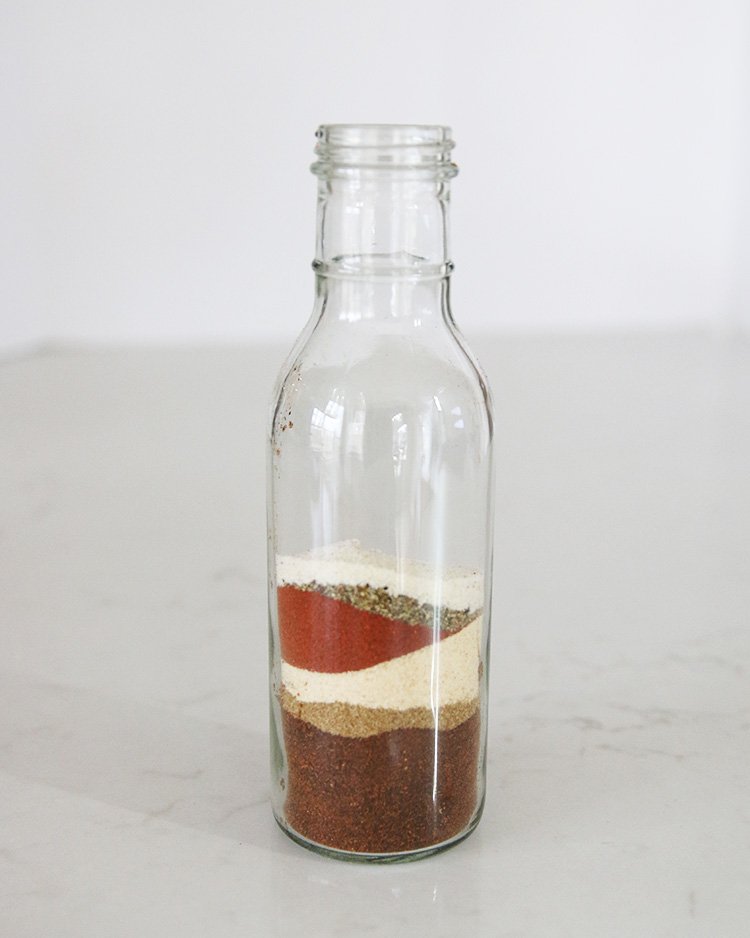 Once every couple months, J and I spend five minutes (seriously, that's all it takes) to whip up our favorite taco seasoning mixture from spices in the cabinet. We store it so it's ready for those crazy weeknights filled with hockey, soccer, piano and whatever else packs our calendar.
He loves to add all the layers and then shake the bottle silly to watch everything mix like magic. It's a really easy recipe to make, and you can double or triple it if you eat a lot of tacos in your family like we do (no judgment here). I recently posted the recipe for just the right amount of seasoning mix to fill your BRIANNAS bottle yet have enough space left to shake it all up.
You can use the seasoning however you please. In our house, we brown a pound of ground meat on the stove, and then add 3/4 cups water and a tablespoon or two of seasoning mixture (depending on your preference for spiciness). Stir to combine the meat and seasoning mixture, and then let it saute until most of the liquid has cooked off. It takes about ten minutes.
Make Ahead Smoothies
We are big fans of smoothies, but I'm not such a fan of making them from scratch every morning. We don't have a large, fancy blender to make smoothies, and I don't love dragging out and cleaning these types of small kitchen appliances anyway. I would love, however, to have a yummy smoothie every morning or even as an afternoon snack.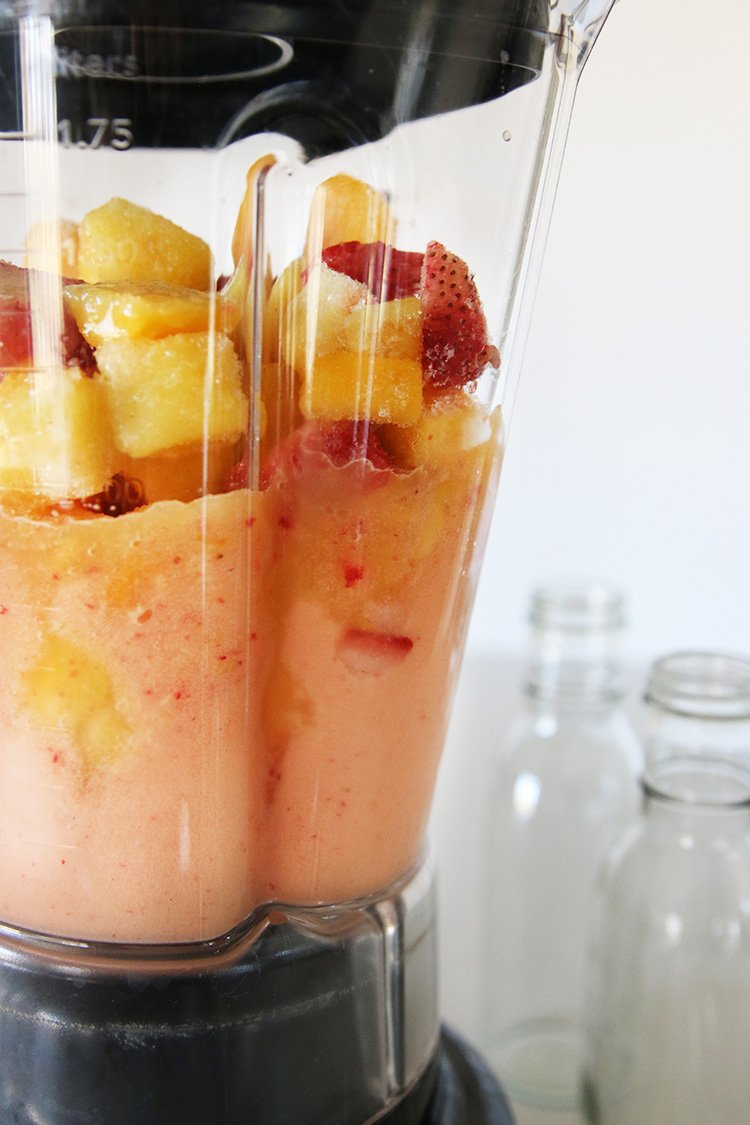 BRIANNAS salad dressing bottles = problem solved. In a blender, I mix up a large batch of smoothies. We never drink it all at once, so I pour single size servings into glass jars and store in the freezer for the upcoming week.
If we want a smoothie in the morning at lunch or as part of the boys' snack after school, I set them on the counter to thaw out right when we get up or about 30 minutes before we plan to eat them. I can also let them sit in a bowl of warm water or put them in the microwave for 20-30 seconds to expedite thawing if needed. It's such an easy way to add a bunch of fruit to breakfast without the whole process of making smoothies.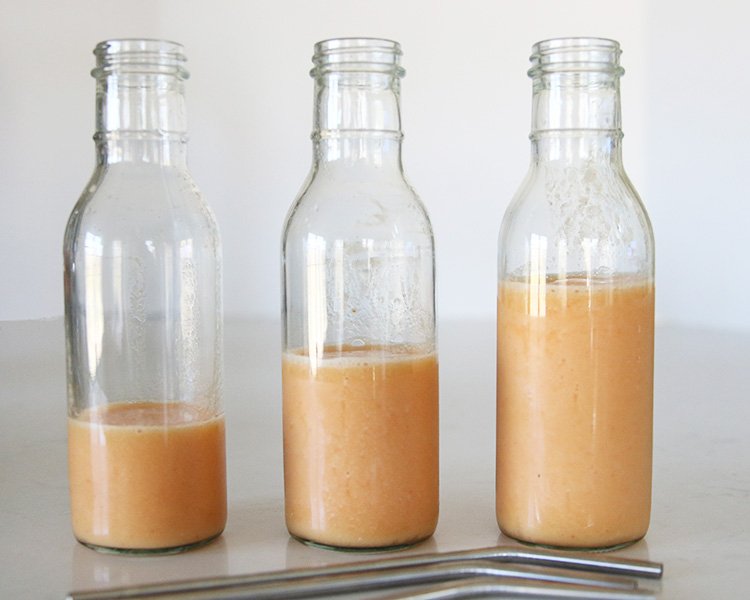 If you plan to freeze the smoothies, be sure to leave enough room at the top of the bottle so the glass doesn't crack when the mixture expands in the freezer. Leave a little space below where the neck of the bottle starts to shrink or bend inward, and you should be all set.
Peach or Mango BBQ Sauce
We have a few favorite sauces I make from scratch, but most of them take a while to cook. In particular, we all love this peach or mango BBQ sauce I learned how to make at a cooking class several years ago. Because the sauce takes a while to make, I don't make it all that often.
This past weekend, I made a large batch. We used one bottle for dinner that week and stored the excess in a couple of BRIANNAS salad dressing bottles. I popped them in the freezer and will pull them out in a couple of months when we want grilled chicken with the sauce again.
DIY Name Tags
Once the bottles are frozen, it can be hard to tell what is in each one. For each bottle or jar, I use cardboard and packing tape to create a little tag. I cut the piece of cardboard and cover it on all sides with packaging tape so it doesn't collect moisture in the freezer. I punch a hole in the tag and attach it around the top of the bottle with a rubber band.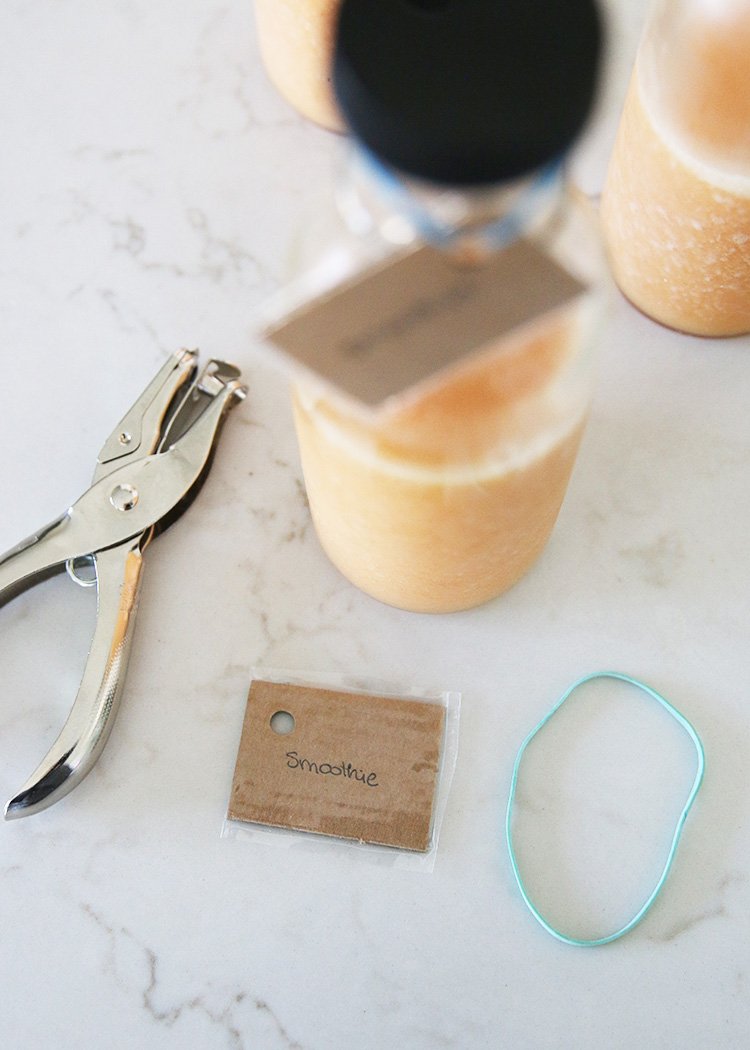 Pass Along as A Gift or Dinner Assist
The taco seasoning or the mango BBQ sauce could be a great complement to a homemade dinner gift for a friend who is sick, recently had a baby, or just needs a little help to get dinner on the table. As I made them, J told me that I should sell them, so maybe they would be a great gift for any occasion!
Reducing our waste and living sustainably does not have to be impossible or cost prohibitive. In fact, for much of history, reusing and reducing were a means of frugality and efficiency, not an expensive endeavor to save the planet. Be sure to hang on to the glass bottles and jars from the products you buy every day. You can almost certainly put them to good use long after you consume their contents.
Do you have any other great ideas to reuse BRIANNAS salad dressing bottles? Be sure to share them in the comments.