My Favorite Sustainable Subscriptions
I'm not always a fan of subscription services because they can drive over-consumption. There are, however, a few every day and eco-friendly subscriptions of which I'm a big fan. Here are a few of my favorite sustainable and eco-friendly subscription services.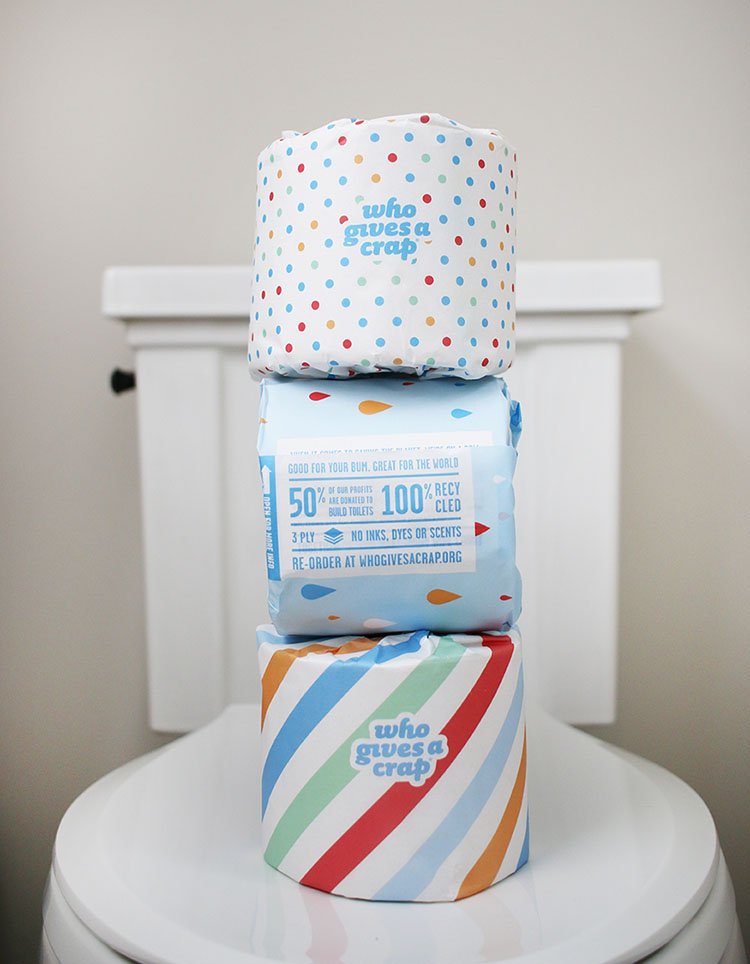 A few weeks back, when all the quarantine discussion first started, we saw toilet paper fly off store shelves. While some people worried about how they would wipe their butts (though I'm sure we are all creative enough to come up with great solutions under pressure), we received a giant box of 48 rolls of toilet paper without a hitch.
I let our neighbor know we had more than enough toilet paper and were happy to share if they needed a few extra rolls. It turns out, I think most of us made it through the initial toilet paper frenzy unscathed.
We have had a subscription to Who Gives A Crap for a couple of years now. I don't love buying giant packages of toilet paper each time I shop, and I love that our toilet paper now is delivered in plastic-free packaging. All the paper wraps, tubes, and cardboard boxes feed our compost bin and ultimately our garden.
Truth be told, I'm leery of most subscription services because I think they drive excessive consumption. I end up buying more than what I need or want. There are, however, a few sustainable subscriptions that I think are well worth the cost and not at all wasteful.
My Favorite Sustainable & Eco-Friendly Subscriptions
Here are a few of my favorite sustainable and eco-friendly subscription services. You'll notice that many of them are for pretty practical products that I would buy anyway. That's kind of the point. I love subscriptions that make my life easier without dumping a bunch of junk into my home that I will only use once or twice.
LOLA
LOLA provides period products delivered to your doorstep. They started by selling GOTS-certified organic cotton tampons and have grown their product lines to include other period-related products. I have had a subscription for a couple of years. I love that I can pause or cancel my subscription at any time, and I can personalize the number of each type of tampon (super, regular, light, etc..) in the box to fit my personal needs.
My subscription arrives once every two months which is just the right amount for me when combined with my Thinx period underwear. The packaging is nearly plastic-free (but for the tape and the label on the box). After I peel those off, the rest of the packaging heads to my compost bin in my garden.
Succulent Studios
Succulent Studios delivers two baby succulents to subscribers each month. The plants are grown in California, require minimal water, and are shipped in zero-waste packaging.
For a while, I've been looking to incorporate more plants into our house. They provide color, bring the outdoors inside, and help clean the air. I had no idea where to start, and I didn't really want to impulsively buy something from the big box store down the street. Succulent Studios felt like a really good entry point, and I've been really happy with my subscription so far.
Get $5 off your first Succulent Studios order!
Causebox
There are many "ethical and sustainable" subscription boxes but most have things I don't really need or use. I've followed Causebox for quite some time and been impressed with the quality and usefulness of the items in the box. I also love that a friend bought one box and split the pieces up to give as gifts during the holidays.
I subscribed a few months ago, and each of the items in the box was so neat and something I will almost certainly use with regularity. The box only arrives once a quarter, which feels more reasonable than once a month, so I don't receive too much extra "stuff" but get some fun things every one in while from great, sustainable and ethical brands.
Use this link to get $10 off your first order!
Who Gives A Crap
Who wants a toilet paper subscription? Everyone these days! As I mentioned above, toilet paper isn't such a benign commodity anymore, so having it delivered from Who Gives A Crap predictably to keep our TP stash packed is perfect. We receive a box of toilet paper rolls a couple of times a year, and I love that I never have to think about needing toilet paper when I'm at the grocery store and already have a full cart to carry home.
Mightynest
Mightynest sells all sorts of eco-friendly household products from soaps and detergents to kitchen supplies and storage containers. They have a monthly "Mightynest Fix" subscription through which you can receive one eco-friendly item per month as well as a discount on other purchases and free shipping with your subscription. I used to subscribe to the Mghtynest Fix "mystery item" each month but found that I didn't use it as often as I would like.
I do, however, have a Mightynest laundry detergent subscription. We buy Meliora detergent from Mightynest and receive two containers once every six months. With this subscription, I still get free shipping on anything I add to my order when the subscription ships. I really like the products they have and love that I can order just what I need yet don't have to think about this staple product at the grocery store.
Scribd
I listen to quite a few audiobooks and have tried a handful of different audiobook options. For now, Scribd is my favorite. With Scribd, I get unlimited access to their entire collection and can listen and read as much as I like.
Their collection isn't as large as Amazon's Audible library, but it's enormous and plenty big enough to find almost everything I want (and certainly enough to fill all my potential listening time with great authors and narrators). Unless you're finding everything you want at your library (my very favorite FREE subscription), I think Scribd is your next best option for audiobooks.
Try Scribd and get 60 days free!
Misfits Market
Misfits Market is one of several companies that deliver ugly or rejected produce right to our homes. A significant amount of produce from farms is rejected for traditional grocery store shelves or commercial use because it doesn't look perfect. Shopping from a company like Misfits Market reduces food waste by preventing less than perfect food from ending up in landfills.
Buying seasonal and organic produce from a local farmer is usually the most sustainable way to feed your family. However, that is not a realistic option for all us, especially during colder seasons when fresh food production slows down for some of us. Misfits Markets sends one box of produce each month to keep your family's bellies full with perfectly nutritious and delicious produce that might be a little funny looking but is wonderful all the same.
Rent The Runway
I have rented a special occasion dress from Rent The Runway here and there for events like weddings. I don't love buying or storing these types of dresses, so rental is a perfect option for me (and it's much better for the environment than everyone owning a slew of dresses they only wear once).
Rent The Runway also has monthly subscription options through which you choose a set number of items to borrow each month. You keep the items for as long as you'd like and return them when you want to swap them out for something new.
This subscription isn't necessarily for the person who loves classic style and a minimalist wardrobe. However, I think it's perfect for the fashionista who wants to wear the latest designer styles without breaking the bank or packing their closet with lots of new pieces they don't often wear.
Do you have any favorite sustainable or eco-friendly subscriptions or subscription boxes? Share in the comments and we can check them out!