15 Beautiful Thrift Store Finds For Your Gallery Wall
Are you looking to spice up your gallery wall with thrift store gems? You'll love these adorable ideas for fun ways to add shape and interest to your gallery wall. Check out these 15 thrift store finds for your gallery wall.
This post contains affiliate links.
I'm convinced that were it not for the gorgeous gallery wall of thrift store finds in my office, none of my work would ever get done. I used to get positively antsy from sitting at my computer for too long, but now my office feels like a beautiful, whimsical space where I actually want to spend time. While I might still procrastinate on bookkeeping, at least now I'm staring at art instead of staring into space.
I recently discussed how to make a gallery wall from thrift store finds, and I want to include some ideas on how to take your gallery wall to the next level by breaking up the square and rectangular lines of your framed art or photos. Most framed art is boxy in nature, and when you're sourcing from thrift store finds, you may end up with unusual spaces in between paintings and not know how to fill them. You may also want to add some round or asymmetrical pieces to spice things up and draw the eye through your collection.
(Don't be a square; throw a curve ball in there! Get it? Ok, maybe I'll reconsider my mid-life crisis career in standup comedy.)
Read on for 15 beautiful thrift store finds for your gallery wall. These suggestions come from my own experience creating a gallery wall and also the extensive time I've spent secondhand shopping for my home and two antique booths. Your local resale shop likely has several of these items available right now, so hopefully, your finished gallery wall is easily within reach!
Adding Interest to Your Gallery Wall: Decorating with Thrift Store Finds
Round, Oval, or Diamond-Shaped Works of Art
Most framed works are square or rectangular, but it's worth keeping an eye out for round, oval, or diamond-shaped panels while sourcing thrift store finds for your gallery wall. Consider whether you'll want these to be on-theme and match your current selections or if you want them to serve as a contrast. Because of their curved shape, you'll likely find these sorts of artworks on the walls or on shelves at your local thrift store – they tend to flop about and not "stay put" in a leaning stack.
I recently found small circular 1970s floral illustrations in gorgeous gold frames for $2 each and an Italian hand-painted diamond-shaped tile for $1. The original oil painting pictured was a $30 score from an antique store, and it's one of my favorite elements on my gallery wall.
Beautiful Woven Baskets
I have what you'd politely call "a decorative basket" problem, but fortunately, baskets are multifaceted. In addition to serving as functional storage, the right basket can be a lovely wall decoration as well. When selecting a basket to add to your gallery wall, consider the depth of the basket, how you'll hang it, and what colors or textures will complement your other artwork. Shallow baskets and catchalls tend to look the best, and don't be afraid to paint or embellish your thrift store find with beads or tassels.
Round, Oval, or Starburst-Shaped Mirrors
Mirrors are a wonderful addition to any gallery wall because of their light-reflecting properties, and they're frequently available in various shapes and sizes at your local thrift store. I snagged this small starburst thrift store find for only a dollar, but a larger round or oval mirror could be a gorgeous central element to anchor the rest of your gallery wall around.
Decorative Letters, Phrases, or Signs
Do you forget to live, laugh, or love without a cursive sign? Never fear: there's space on your gallery wall for that.
While stores like Homegoods, Hobby Lobby, and Michaels abound with inspirational wooden or metal scripts, you can easily find these decorative phrases such as "dream," "family," "gather," or my personal favorite, "eat" at your local resale venue for a fraction of the price. Are you worried a secondhand sign may not match your gallery wall aesthetic? A touch of paint will breathe new life into that discarded "dream."
Cast Iron Pieces or Hooks
Are you looking to add a funky, striking touch to your gallery wall? Add an interesting cast iron embellishment or hook to a blank space on your wall! Cast iron wall pieces have been in vogue for a while now, and they literally come in all shapes and sizes. Are you building a nautical gallery wall? Keep an eye out for a cast iron octopus, mermaid, or anchor. Are you cultivating a boho curio wall? Grab a cast iron bird or tree branch.
We use a lot of cast iron accents throughout our home, and we've lucked into cast iron antlers, birds, and even a pointing finger while decorating with thrift store finds.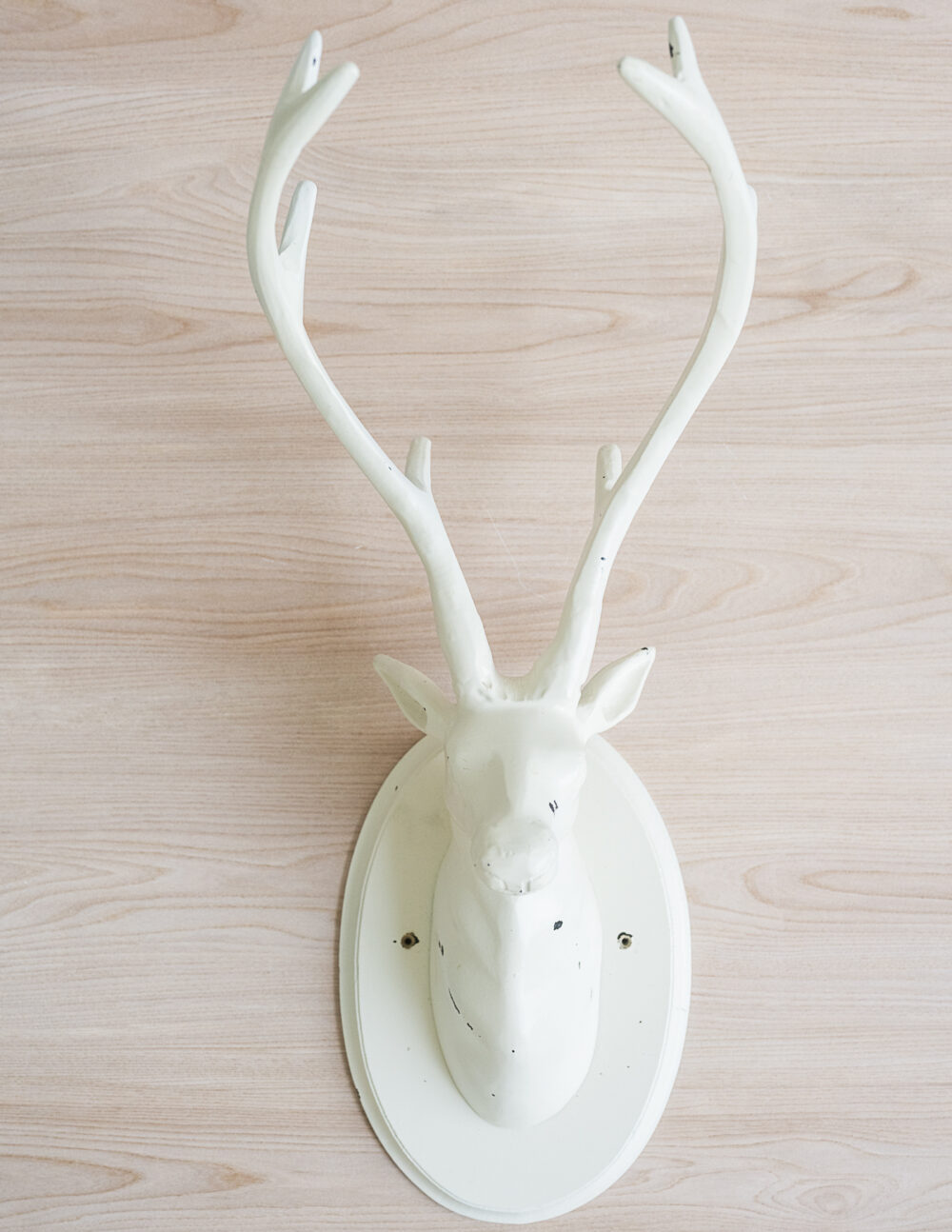 Faux Deer Head or Antlers
Does real taxidermy gross you out? Do you feel like its eyes are following you? Never fear: you can add some personality and flair to your gallery wall with a faux deer head or resin antlers. A plaster or paper mache deer head is a statement piece that will take up a good amount of space, and it will be the perfect accent for a library or gallery wall of landscapes. I scored this gorgeous thrift store find for only $10.
Vintage Trivets
Our ancestors took trivets to an absolute art form, y'all. While I don't have a huge need for vintage trivets as functional kitchen items, many of them are exceptionally beautiful found art objects that will break up the static lines of framed art pieces in your gallery wall while also adding intrigue.
Keep an eye out for carved wooden trivets like the one pictured here, or decorative cast iron or shiny brass trivets. Some will even feature brightly painted designs like peaches, apples, or folk art, and they usually cost between $1-$5 a pop.
Plates or Trays
Brass is one of my favorite elements when decorating with thrift store finds because of its eye-catching, lustrous quality and because it's readily available in most resale shops. Work a small brass tray (such as the one pictured) or a decorative plate into your gallery wall for a touch of old-world opulence.
Beautiful china plates can be found for $0.50-$2 at almost all secondhand stores, and this brass thrift store find only cost me $1.
If you're not sure how to hang plates on the wall, here are some ideas to try depending on how and where you plan to hang them. These spring hooks are easy to use if you have the right-shaped plate.
Small Curio Shelf
Have you ever spotted a tiny shelf at a thrift store and wondered what on earth someone would ever put on that? A small decorative shelf can be a playful addition to work into an empty space on your gallery wall!
My gallery wall consists entirely of moody flower art in gold frames, and I'm currently hunting for the perfect tiny shelf. My plan is to paint it gold or black and keep a little vase of dried flowers on it.
If your gallery wall is comprised of family photos, this could be a great way to work in a treasured memento like your first house key, one of your grandmother's tea cups, or a pair of baby shoes.
Wall Sconces
Who isn't a sucker for an elegant candle wall sconce? Candle wall sconces may not be as trendy as they once were, likely because we're all worried about burning our houses down, but they're still gorgeous home accessories that are the perfect accent for your gallery wall.
I regularly find brass, wood, and cast iron wall sconces at our local thrift stores, and if you hate the idea of an unlit taper candle in a wall sconce, look for a pillar candle wall sconce. The wider dish will allow you to rest a small vase of flowers or keepsake on the sconce instead.
Faux Greenery Wreath or Dried Wreath
A faux greenery wreath or dried flower wreath is a great focal point for a gallery wall of framed art, especially if you're using family photos or something more neutral, like a collection of pen and ink drawings or black and white art. This artificial eucalyptus wreath was a $5 thrift store find, and it was in perfect condition.
Clocks
Among the more practical items you can add to your gallery wall to break up strong angles is a large clock. You can find clocks in almost any style and size at your area resale stores or on Facebook Marketplace, but be sure your desired clock has been tested and approved before purchasing.
Macrame or Wall Hangings
Try adding a macrame or woven wall hanging to your gallery wall for a folksy, more handmade touch. The softer texture can add a refreshing accent to a wall of framed square or rectangular art. Keep an eye out for quirky circular cross-stick pieces, as well.
Stained Glass
We have a small gallery wall in our kitchen, and one of my favorite pieces is a precious, tiny pair of stained glass bananas. Keep an eye out for colorful round, oval, or irregularly shaped stained glass works to enhance your gallery wall. You can find everything from stained glass landscapes and hummingbirds to clowns with balloons for only a few dollars.
Architectural Salvage Elements
Think outside the frame and incorporate some fun architectural salvage pieces into your gallery wall. Hit a specialty resale store for uniquely shaped tile samples, vintage grates or crown molding, and more. A beautiful historic piece will add visual richness and depth to your collection.
Have you made a gallery wall from thrift store finds? Tell us about your favorite pieces in the comments below.
All photos via Reese Moore Photography
If You Liked How to Make a Gallery Wall From Thrift Store Finds, You May Enjoy:
How to Make a Gallery Wall From Thrift Store Finds
25 Tips on Flipping Furniture for Beginners
Single Best Secret For Scoring Secondhand Gems
About the Author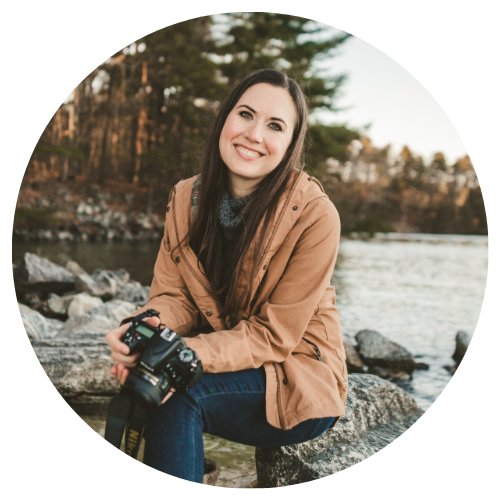 Reese Moore
Reese Moore is a photographer, content creator, and pickle connoisseur who divides time between Charleston and Lake Lure. When she's not behind the lens shooting stunning images for Reese Moore Photography, Reese loves to spend her time wandering the woods with her dog Gatsby or adventuring with her husband Logan in their Airstream Basecamp.