13 Ethical Bloggers Share Sustainable Halloween Secrets
With cheap, single-use costumes, loads of junky candy, and a laundry list of socially-questionable costume choices, Halloween can be a challenging time to take a minimalist or eco-friendly approach to Halloween. Read on to see how 13 ethically-minded bloggers enjoy Halloween in all its glory.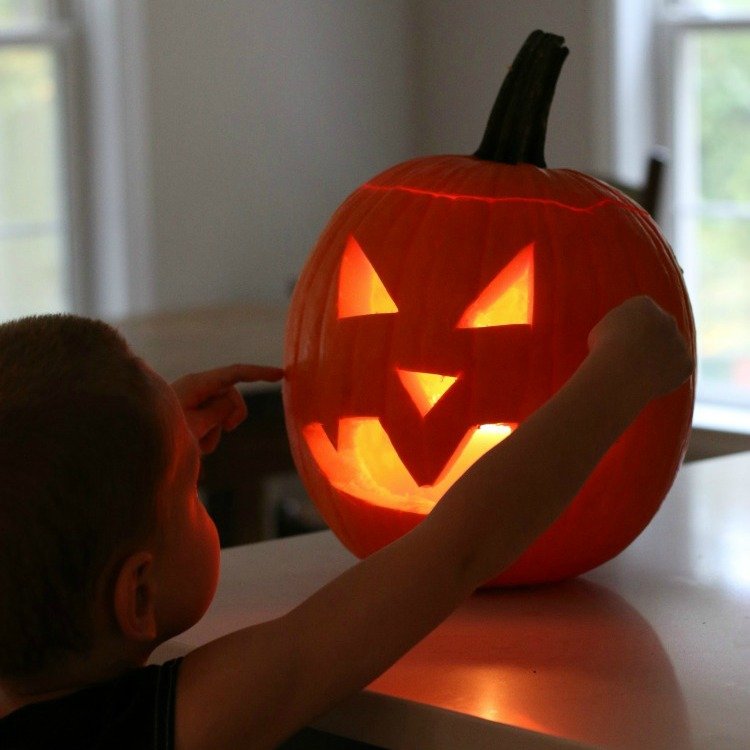 How are you celebrating Halloween this year? Have you thought about eco-friendly ways to celebrate Halloween? I've collaborated with a "lucky 13" group of bloggers to share socially-conscious ideas about the spookiest holiday of the year.
For the last few years, I've had internal battles about the holiday. How much do I invest in buying decorations? How much do I indulge in the ever-changing costume wishes of my boys?
There's no perfect answer, but consider the tips these 13 ethical bloggers share about socially responsible Halloween practices. I suspect you'll find at least a few that resonate with your values wholeheartedly.
Low Waste Costumes and Candy For Trick-Or-Treating
From Honestly Modern (me!)
Although I don't have an exceptional affinity for Halloween, I have two young boys who think Halloween is pretty sweet (you like that silly pun??). I don't mind getting into the holiday spirit on their behalf, but we have a few parameters around how we celebrate eco-friendly Halloween to reduce waste and be more conscious about our festivities.
For costumes, we start by shopping the boys' closets. We try to make Halloween costumes with things we already have. When the boys need a piece or two to complete a costume, we try to buy solid colored everyday clothes (a new pair of sweatpants or long sleeve shirts, for example, if needed) that provide a base for a costume from Primary. Primary has awesome simple and sustainable kids' clothes. (Get 20% off your first order at Primary with code AFF20PCT)
They wear these solid pieces many times after the holiday. We finish the costumes with things we already have around the house. In recent years, they dressed up as Elmo and Captain America and ninjas. This year, they plan to a black jaguar and a baseball player.
I've shared a whole lot more about great ways to find eco-friendly Halloween costumes on a budget.
When trick-or-treating for Halloween I've intentionally provided the boys with small containers or bags so they fill up quickly. Not only do we run out of space for more candy, but they're happy that their bags are "full of candy".
Two years ago, we used pint-sized Halloween buckets that we reuse for other purposes. We've also upcycled old t-shirts into trick-or-treating bags using a sewing machine and using fabric tape instead of sewing.
We can also do our best to hand out low waste and sustainable Halloween candy. These are a few of our favorite eco-friendly Halloween candies for trick-or-treating.
Buy Fair Trade Chocolate
From Candice Batista | The Eco Hub
I grew up in South Africa in the 80's and 90's; Halloween was something we saw on American TV shows and movies.
We never celebrated Halloween at all (they do now), so I find the whole concept of Halloween to be quite strange. My husband on the other hand LOVES it, all of it, and calls me the Halloween Grinch. I've come to terms with this label!
A good DIY costume is key, and in most cases you can create something fun with items you already have. But the bigger issue is the consumption of chocolate from brands that don't have the best track record when it comes to human rights and environmental stewardship.
The documentary film The Dark Side of Chocolate is a very revealing and disturbing look at child trafficking in the Ivory Coast and how that relates to the harvesting and purchasing of cocoa beans. As the film illustrates, the cocoa bean business is competitive and the desire for cheap chocolate in first-world nations like Canada and the USA only increases the demand placed on these countries.
In the USA alone, people spend $2 billion on Halloween candy. A few years ago a lawsuit was filed against Hershey, Mars, and Nestle claiming that they were "duping consumers into unwittingly funding child slave labor trade in West Africa, home to two-thirds of the world's cocoa beans". Another film Slavery: A Global Investigation depicts children as young as 11 years old, working 80 to 100 hours a week to harvest cocoa beans.
This is a much larger issue for sure and one that calls for open dialogue between the companies that make the chocolate and the local governments who accept large kickback from the same companies.
There are things, however, that we can do. First off, buy ethical chocolate. It's more expensive, but at least you have peace of mind that no child was hurt in the process. You can also check out THE GOOD GUIDE CHOCOLATE GUIDE, World Vision's guide to ethical chocolate. Also, look for third-party certifications like Fair Trade Canada, Fair For Life, Fair Trade USA, and Rainforest Alliance Certified.
Here are a few brands that I like:
I realize this is a hard sell for some as most people don't want to be preached to, especially during a "holiday" like this. But hopefully this will open people's eyes to the issues of over-consumption during a "holiday" that, in my opinion, has become even scarier. Bottom line, I make my Halloween more sustainable by being mindful of the items I buy and the impact they have on the world.
Borrow and Thrift To Create Halloween Costumes
From Meghann Percy | Kiss that World
Halloween is. my. jam. It is mostly the costume part that gets me hot under the collar. Since I was a wee tot, I would daydream for months about crafting an elaborate costume, which usually turned into some semi-recognizable, Pinterest-fail version. I still really enjoy the daydreaming and as my motor skills have improved- creating has also gotten better.
I love the challenge of turning the ordinary into extraordinary and whenever I can wear a mustache – even better! Aside from a few sexy (and probably insensitive) times in college, I have managed to find the most comfortable, cost-effective costume by using things I already own. Last year, a sheet turned into a Whacky-wiggly-waving arm guy. Honestly, it's amazing what you can do with duct tape and a dedication to make-believe.
If you don't have all you need, then borrow! What's the point of having friends if you can't raid their closet? And check out thrift stores. They have gotten extremely good at curating for the holidays.
As far as individually wrapped candy goes, my house does not get many Trick-or-Treaters. Bulk is best, but unfortunately, those poison candy rumors ruined it for everyone… So I am going to convince my significant others to look for organic brands we trust wrapped in cardboard. (Which might be raisin's but hey, they're nature's candy right?)
Host a Sustainable Halloween Party
From Olivia Gossett Cooper | Today We Will Newsletter
With my birthday two days before Halloween, I always have a Halloween/birthday party. And, I love it! Well, I love putting events together and dressing up, so double yay.
For the Halloween party, here are things I do to stay sustainable:
Use reusable decorations that are not made from plastic, like fabric banners, metal pumpkins, etc.
Serve only finger food on reusable or non-industrial compostable plates and napkins…and I actually compost them
Serve all plant-based foods
For costumes, mix things you already own or can find vintage at a local store.
For candy, I give away Dots. They come in a cardboard box and are vegan.
Choose Respectful & Sustainable Halloween Costumes
From Alden | EcoCult
Halloween is my favorite holiday because I love Reese's Peanut Butter Cups and I love dressing up in costumes!
I don't really participate in the candy aspect anymore – all the sugar and disposable wrappers are not my style – but I do love a good costume. There are a couple of things I keep in mind when planning my outfit.
The outfit is not culturally appropriation or offensive to a marginalized group.
Sexy Pocahontas, sexy genie, sexy Egyptian goddess, sexy soldier – all of these costumes reduce real groups of people who already suffer from elevated rates of sexual assault – American Indian women, Indian women, Egyptian women, female soldiers – to a sexy trope. That sends a message to dumb men that these women are for having sex with, and nothing else. Please avoid.
I wrote a Refinery29 article about this if you would like to learn more about when a costume crosses the line from cute to not OK.
The outfit is sustainable.
The amount of cheap polyester manufactured to be worn once and discarded in the name of Halloween makes me shiver. If you really must go with mass-produced Halloween costumes, there are plenty of places to rent one! StyleLend has the chicest costumes, but Costumes Galore will hook you up with something warm and fuzzy or just plain fun.
Otherwise, I'm always the most impressed and engaged with interesting, creative costumes that someone made using things right in their closet. The guessing game is half the fun!
If you have to buy something to complete the look, try eBay, Etsy, or a secondhand site or store first. Aim to buy something that you'll wear again, or that you know you can resell afterward.
Last year I bought an American Apparel velvet dress and striped black leggings, then borrowed a lace-up bustier from a lady friend to make my goth costume. I ended up getting appendicitis that weekend, so I have no pictures for you. But I've worn the dress and leggings several times since!
Make Halloween Preparation Part Of The Celebration Together
From Kaméa Chayne | Green Dreamer
Ever since I graduated from university, I haven't been very festive. That's probably out of sheer laziness for the most part, but also partly from thinking about all the cheaply made, possibly toxic and non-biodegradable waste that's generated from all of these single-use decorations and accessories.
Actually, I'm thinking I should start participating in such events again. With all of the green knowledge I've acquired over the past years, I can prove that where there's will to do things greener and cleaner, there's a way.
For treats, for example, we can buy healthier ones in bulk and serve them in large wooden bowls. For costumes, we can get creative and make something out of our old clothes or even trash (e.g., old newspaper, cardboard boxes, food wrappers, …etc.).
If we're lazy and don't want to D.I.Y., we can go treasure-hunting at second hand stores to buy done-for-you costumes passed on from their previous owners — costumes that honestly have only been worn once before. We can even make a pre-Halloween party out of this treasure-hunting process.
DIY Costumes are Fun and Sustainable
From Holly Rose | HollyRose.eco
Big urgent orders for cheap Halloween swag result in garment industry workers being forced to work long hours for very little pay. To add on to the horrors, most costumes are made out of polyester, which is derived from the oil industry and is non-biodegradable.
Americans spend $6.9 billion on Halloween alone, most of which ends up in our landfills, so doing your own DIY, upcycling second hand, or swapping with pals are sustainable alternatives to purchasing new.
Before I moved to Europe, Halloween was an event I'd start preparing for as soon as summer had ended. My mum had always encouraged us to make our own costumes as kids, and I got really into making my own costumes out of second hand clothing over the years.
I've got a few DIYs online for some of the costumes I made in the past if you're looking for some costume upcyling inspiration (they're from way back so forgive the formatting / photos):
My pride and joy, an OWL COSTUME I made out of an old body suit and some funky printed fabric which I cut into feathers. I've also got a separate DIY for the OWL MASK.
I made a CLOWN COSTUME out of an upcycled oversized shirt I got at a second hand store and a blouse which was stained and in their $1 bin.
I also made a DISCO COSTUME out of a second hand blouse.
Try Different Local Halloween Festivities
From Elizabeth Stilwell | The Note Passer
I tend to go with the flow for Halloween, so each year is a different event. Some years I'll go to a friend's costume party. Other years I'll go to the hair-raising Halloween Extravaganza at The Cathedral Church of Saint John the Divine — yes, it's really a church! They show a silent movie accompanied by live organ music followed by a procession of ghouls right down the aisle. Another year, I checked out the big parade in the village.
But the constant the last few years has been my costume: Little Edie Beale. After I watched Grey Gardens, for whatever reason I loved her and thought she was just the best character. I put on tights and a turtleneck topped with a bathing suit, add a scarf and voila — the best costume for today.
It's dead simple to create a costume from clothes you already have or thrift something you will keep wearing. Combine a trend of the season with a topical costume and you win Halloween. This year, I'm loving the red trend and Carmen Sandiego or 60s inspired and The Love Witch.
With your costume sorted, you can keep the ghastly waste of Halloween to a minimum by decorating with natural materials like pumpkins and paper, switching to bio glitter, and serving up homemade party treats with real plates and glasses. I don't have kids or get many trick-or-treaters in my building, but if did, I'd definitely look for palm oil free, vegan candy to pass out. It's gonna cost me more, but it will cost the environment less.
Use Toxic-Free Halloween Makeup
From Nath Fedorova | BEAUTYCALYPSE
Halloween is a favourite in la case BEAUTYCALYPSE. Even my blog's name lends itself beautifully to an Ecogothic/ Ecohorror theme. So of course there is a whole collection of articles dedicated to making Halloween (or Samhain) greener, including recipes and entertaining tips – a Healthy Halloween Best Of!
Several articles about toxins lurking in the "conventional" decorations and costumes, among which Beware of Toxic Halloween, are the darker but much needed part of the story.
And because I don't feel like supporting the "sexy ____" costume trend, I tend to pick obscure and majestic figures, for example a Celtic goddess, Helen of the Ways.
To share a few helpful links: My favourite to send out paperless party invitations is definitely Paperless Post, for all the look and feel of exquisite stationery with no actual paper or printing or shipping involved. And the website Take Back Halloween is a great source of information for women who, like me, want their costume to celebrate a goddess, a queen, or an awe (or fear) inspiring mystical creature.
Try Eco-Friendly Face Paint and Glitter
From Tahira | BeautybyTahira
I have always loved Halloween and have rediscovered my joy of it via my son. Keeping it ethical and sustainable is easy for me because I will not put anything on my son's skin that makes me feel uneasy.
There are many water based non-toxic, cruelty free makeup brands out there to use and even Natural Face Paint. For the grown ups, cruelty- free makeup abounds. Liven things up with biodegradable glitter from shops like Eco-Sparkle Fun or Eco Stardust perfect for festivals and holidays. True Glue offers all natural lash adhesive and Ethical Lashes.
Costumes are always some sort of upcycled outfit. Last year, cleverly placed bandanas and some clothes we already owned became a pirate outfit, and this year the DIY outfit is a painted cardboard box.
We also have a birthday party close to Halloween, so I am always conscious of the footprint our party will make. Festive accessories that are biodegradable are easy enough to find online. There are even some specialty shops for Eco Childrens parties, with Natural Latex Balloons that are biodegradable. Our party favors are always useful and somehow sensible like fun pencils rather than small plastic toys. This year we have the added bonus of making our own piñata out of recycled free newspapers and a recycled cardboard box.
Do Something Entirely Unrelated To Halloween
From Annie | Terumah
I've never been big on Halloween. For the last couple of years, the vibe of the holiday has really creeped me out, and not in a good way. Celebrating demons and death is not my thing. Haunted houses are seriously scary.
Instead, I'm making my Halloween sustainable by not participating and doing something else. I'll be going to a classical music concert. The Toronto Symphony Orchestra will be playing Beethoven's Symphony No. 5. That's kind of scary, right?
While I'm eschewing Halloween, I still like costume parties. I usually get creative by reworking what I already own or by borrowing clothes from people. In the past, I have rented costumes. Recently, I dressed up like a nerd by borrowing clothes from 5 real-life nerds.
Stick With Simple DIY Halloween Costumes
From Faye Lessler | Sustaining Life
Ever since college turned Halloween into just another opportunity for getting wasted and romping around scantily clad, I have gracefully declined to participate in the holiday. Instead of drinking or candy-binging, I prefer to spend time with my boyfriend (our anniversary is on Halloween after all – but that's another story) enjoying a warm home cooked meal.
Before I became a Halloween-Scrooge, I was the queen of homemade Halloween! Three Halloween costumes from my childhood that can be (and sort of were) done sustainably:
Harry Potter – everyone's favorite fantasy character can be easily mimicked with a pair of your nerdy friend's old glasses, a striped scarf, a blanket worn as a cloak, and a bit of eyeliner (non toxic, of course) to make that defining lightening bolt on your forehead.
A washing machine – no really, I was a washing machine one Halloween. This is the ultimate upcycling costume; all you need to do is take a big old box, paint it white, cut a door in the top and armholes in the sides, and glue some old bottle caps on to act as dials! I might even call this my greatest Halloween costume ever.
A black cat – yes this is perhaps the most basic of costumes, but it avoids the need to buy new things and steers clear of inappropriate appropriation territory. Simply don all black everything (making this the easiest costume for anyone who lives in NYC) and use that non-toxic eyeliner again, but this time for a nose and whiskers. Make ears from a headband and scraps of fabric and you're ready to go!
Celebrate Halloween Like The English
From Francesca | Ethical Unicorn
Halloween is primarily a US holiday, however I am English. Because of this, I get a little weirded out by how intense the American love for Halloween is. We do celebrate, but why get so excited when you have Bonfire night just 5 days later? I mean, you get to celebrate a foiled attempt to blow up Parliament by blowing up loads of fireworks in the sky instead, and that is fun.
Although commercialization and rising popularity of Halloween has definitely crept into the UK over the years, when I was growing up if you went trick or treating you were just as likely to get tricked with a water gun in the face than you were to get candy. (For real, this actually happened to me about 10 years ago).
I grew up with parents keeping it a bit more fun, chill and eco-friendly, and this is how I'd like to celebrate when I'm older. We used to play games and have fun at home as a family, doing things like bobbing for apples, hangman, and baking. My parents were never anti-Halloween, they were just English, so a lot of my early memories associate it involve a lot more with time spent together being silly. It's just nice to know that you can still get spooky, dress up and participate without having to buy into consumerism of unsustainable costumes or way too many sweets. (Disclaimer, I did still get some sweets).
However, if you are planning on going all out for Halloween, please don't culturally appropriate!
Be sure to head over and check out some of their blogs, podcasts, and other resources and find new voices sharing insightful perspectives on green living, minimalism, socially-conscious consumption, and more.
Note: This post was originally published in 2017 and has been updated. But… it still all seems so relevant!