Banana Cardamom Bread (And Respecting Bananas)
Think twice before you toss a banana in the trash. Not only does a banana have a long ride to your kitchen, but an overripe or bruised banana is just right for this banana cardamom bread and so many other delicious snacks. Check out more details about the life of a banana and how it landed in this banana cardamom bread!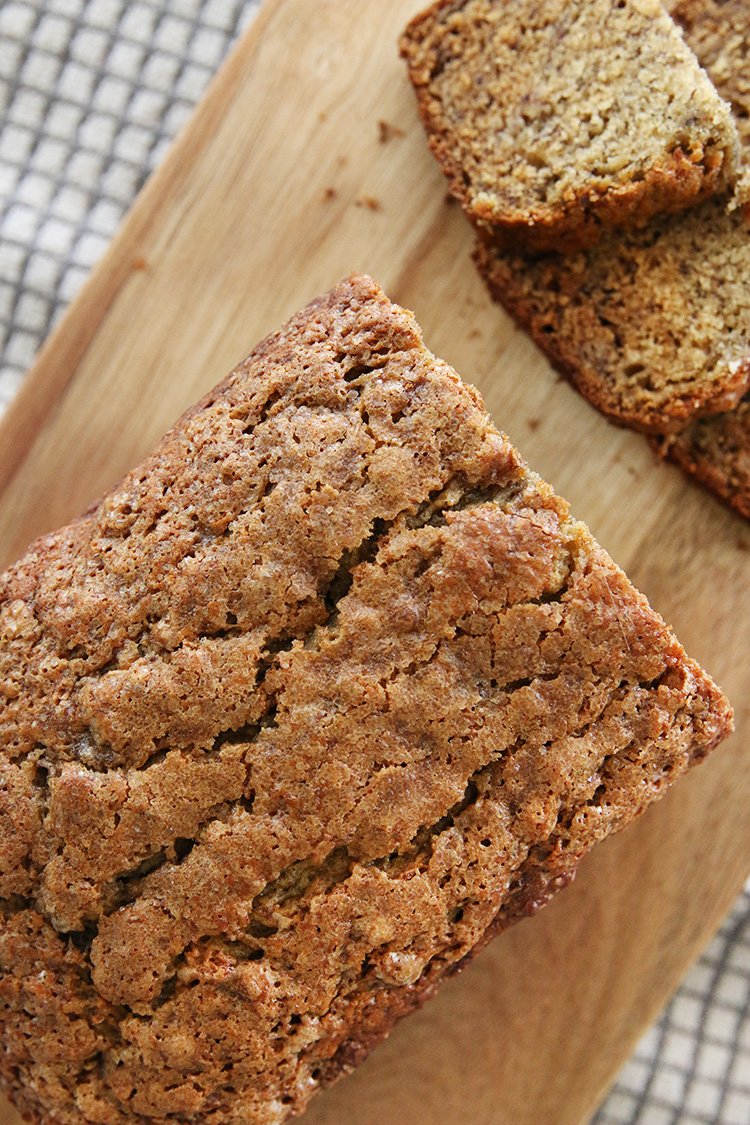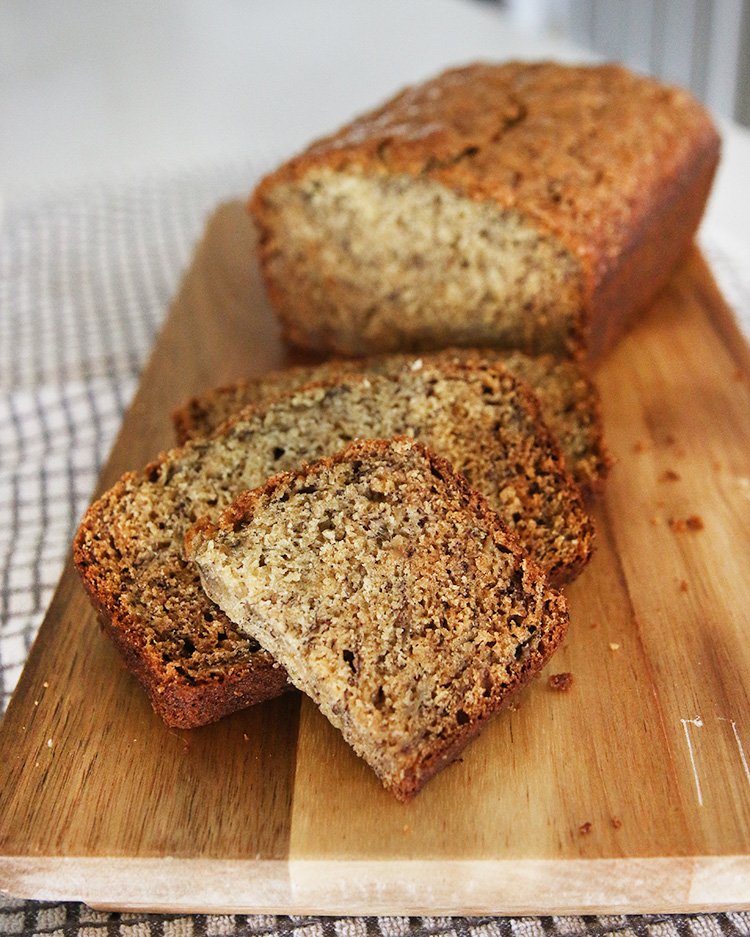 A couple of years ago, I declared bananas a prissy fruit. Under just a little bit of duress, they become bruised and brown.
Yesterday, while running the 12-minute benchmark run at my fitness studio (Orangetheory friends… you know what I'm talking about), I had a banana epiphany. Bananas aren't a prissy fruit at all. Bananas may be a little sensitive, but they show up for us in a variety of different ways!
Bananas thrive in all sorts of temperatures. They're great on-the-go snacks that don't need refrigeration. AND… they crush life when frozen as a sweet treat. They're quite versatile.
Fresh bananas are a perfect snack on their own, and the peel slips right into a compost bin to feed our soil. In fact, a banana peel might be the quintessential food for a compost bin.
After bananas have aged a bit and acquired a beauty mark or two, we can slice them up, throw them in the freezer, and use them for smoothies, ice cream, and a plethora of yummy snacks. Did you know that bananas get sweeter with age?
The Banana's Journey To Our Table
All that being said, bananas have a long ride to our kitchens. Most bananas in the United States come from Latin America. After being picked while still very green, they spend 6 – 12 days on refrigerated container ships. Once the bananas land in port, they head to a ripening facility that uses ethylene gas to finish ripening the fruit, spend some time in a distribution warehouse, and eventually make it to the grocery store.
By the time we meet the bananas, they've accrued some serious travel time, so maybe we should cut them some slack when they bruise and brown faster than we want.
Like many foods, there are plenty of ethical and environmental concerns about the banana supply chain that continues to grow each year. Many bananas, especially those imported to countries like the United States and the UK, have a sizeable carbom footprint given how far they travel. They also tend to come from developing countries where labor markets may not protect workers' rights all that well.
Further, about 95% of bananas sold internationally are Cavendish bananas because this variety tastes good and travels well. However, reliance on a single variety of bananas among the over 1,000 varieties of bananas available around the world has led to monocropping, which is the practice of growing the same crop year after year on the same soil without variety.
Monocultures are more susceptible to pests and diseases and create a greater strain on the soil and ecosystem around the bananas plantations. Over the last few years, a new fungus strain has started damaging Cavendish crops in Asia and is spreading. We may not be eating Cavendish bananas as often in the future as we do today.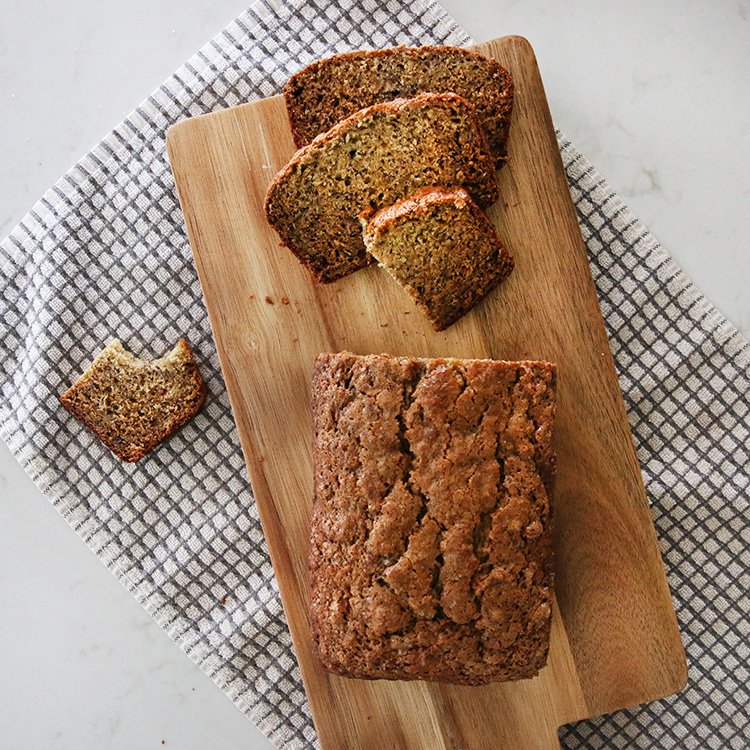 Don't Waste Your Bananas
Bananas are awesome, but they consume a significant amount of resources to show up at our tables. When you're at the grocery store, buy the single bananas that grocery stores sometimes have a hard time selling. Single bananas taste exactly the same as the group in a bunch, so it's a little ridiculous that the single banana gets a bad rap.
Once home, don't waste your bananas. It's poor etiquette, bad for the environment, and not nice to all the manpower, energy and resources used to get that lonely banana in your hands, even if it's a little bruised or brown (i.e. sweeter and well-aged).
1.4 million edible bananas are wasted each year in the UK, and bananas are one of the most wasted fruits in many countries. What the heck?! If your bananas start to turn brown and you can't use them now, please put them in the freezer to use later. Lead the trend on showing a little more respect and love for the bananas, our environment, and every hand and heart that touched the banana on its long journey to your mouth.
And after you eat the banana, compost the peel. It's what all the cool kids are doing.
So you see… Bananas aren't prissy at all. In fact, it's kind of a miracle they make it all the way to us still yellow and delicious. Even if your banana is graced with some bumps and bruises from the grind of life, give it a little love and know that it will show up for you.
Bananas With Cardamom
The overripe bananas that went into the banana cardamom bread definitely showed up for us!
In our house, banana bread is kind of a big deal, especially when I make it with chocolate chips. However, we're a teensy bit particular about our banana bread. I'll take a pass on dry banana bread.
When I found this recipe for cardamon banana bread, I knew I had to try it. I never thought to make spiced banana bread. I know maybe I've been living under a rock. But now I've discovered the magic and… it was delicious!
Related reading: Comprehensive Beginner's Guide to Zero Waste Baking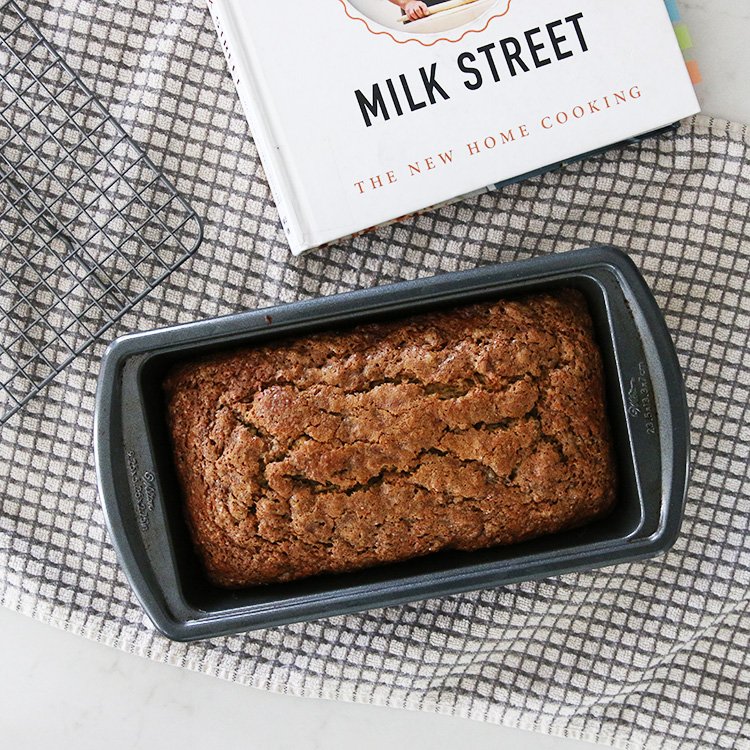 This banana cardamom bread, adapted from the Milk Street cookbook, made my week. If you have a couple of bruised or brown bananas laying on the counter or hiding in your freezer, put them to work in this banana cardamom bread.
You'll thank me… and so will all the people who put forth so much effort and energy to get that banana to you in the first place.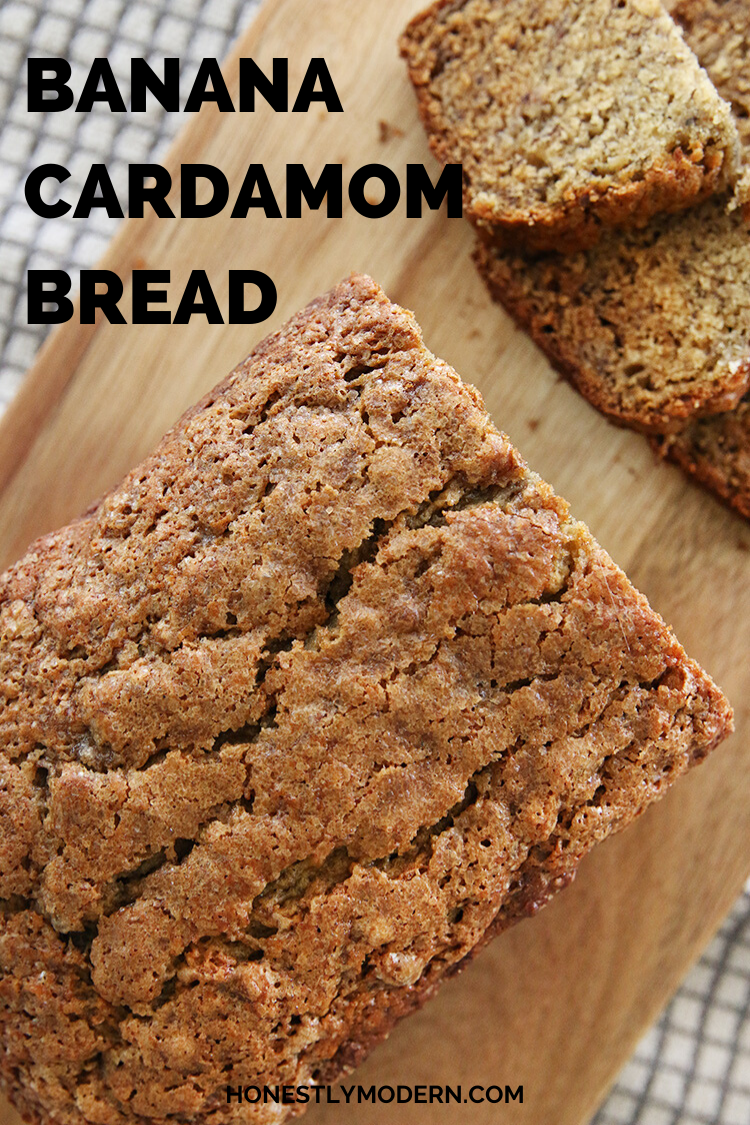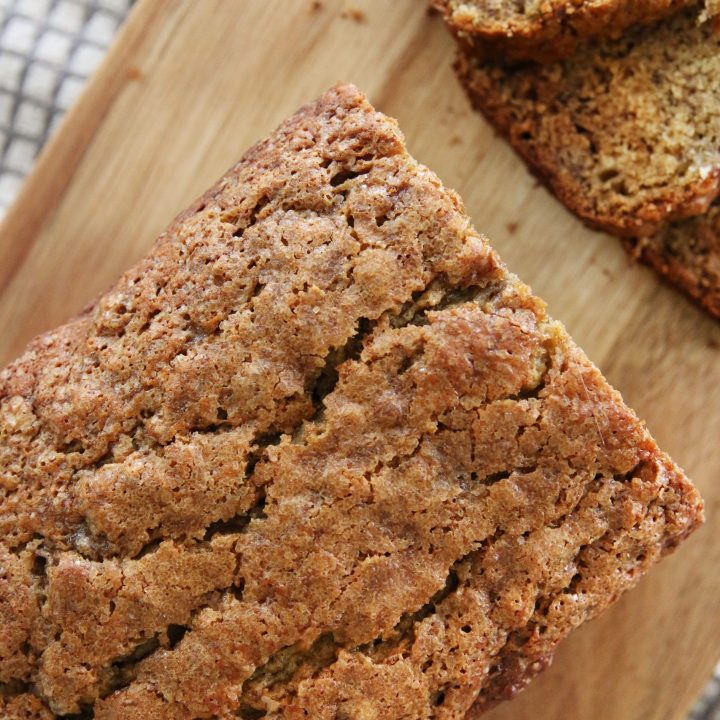 Banana Cardamom Bread
Total Time:
1 hour
10 minutes
Ingredients
2 cups flour
1 tsp baking powder
1 tsp baking soda
1 tsp salt, kosher
8 tbsp butter, (1 stick), plus more for pan
1 1/4 tsp cardmom, ground
2 cups bananas, mashed, very ripe (about 4 bananas)
3/4 cup brown sugar
2 eggs, large
2 tsp vanilla extract
1 tbsp sugar
Instructions
Preheat the over to 350 degrees.
Grease a 9x5 loaf pan with butter.
Mix the flour, baking powder, baking soda, and salt in a large bowl.
In a saucepan, melt the butter and allow it to cook for 2 -3 minutes.
Add the butter and bananas to a bowl, and mix to combine.
Add the brown sugar, eggs, and vanilla to the butter / banana mixture and stir together.
Add the banana mixture to the flour mixture and fold ingredients together gently until they are just combined.
Pour the batter into the greased loaf pan.
Bake 50 - 55 minutes or until the loaf is browned and the top starts to crack. A toothpick inserted into the loaf should come out clean when the bread is done.
Remove the bread from the oven and allow to cool for 10 minutes.
Enjoy!
Nutrition Information:
Serving Size:

1 grams
Amount Per Serving:
Unsaturated Fat:

0g