20 Zero Waste Halloween Decoration Ideas
Looking for zero waste Halloween decorations? Check out these great ideas to add festive decor to your space without buying all the things from the Halloween accessory section and saving a few bucks in the process.
Thanks to Reese Moore of Compost and Cava for inspiring this post. She's also an amazing professional photographer if you're in the market!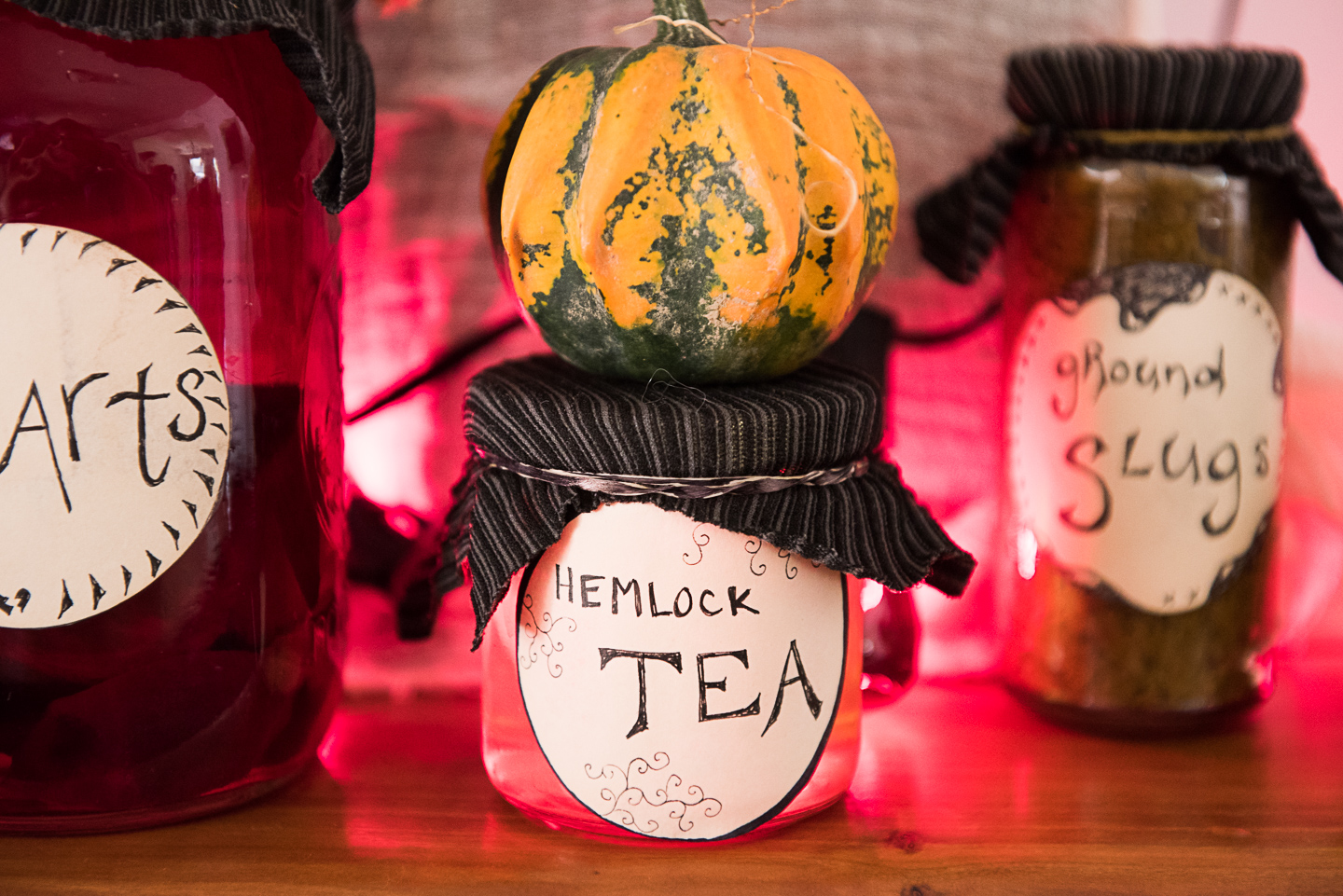 I generally believe that no one can truly live "zero waste" because, at the very least, the things we buy and use generate waste upstream before they arrive in our lives. But… I'm a 100% zero waste Halloween decorator because I don't own a single Halloween decoration (seriously). Is there a Halloween equivalent for Scrooge or the Grinch?
Ok, not really. I don't hate the holiday or get all grumpy about it. But decorating for the holidays doesn't come naturally to me and feels like a whole lot of work. So instead, I'm an aspirational Halloween decorator. I scour the Internet for amazing Halloween mantels, tablescapes, festive decor ideas, and spooky Halloween displays.
Below, I've gathered up some awesome low waste and zero waste Halloween decoration ideas from some really creative stylists. In a few cases, I even came up with some ideas myself, but I'll mostly give credit where credit is due (i.e. not me).
Wait.. Zero Waste Halloween Decorations?
As I alluded to above, very few Halloween decorations are truly zero waste. I use the term zero waste to describe guiding principles of making conscious choices about our consumption that significantly reduce the waste we generate (both in our homes and upstream from our purchasing choices). You can read more about my thoughts on zero waste living here:
Why Zero Waste Jars Are Garbage
When Are Zero Waste Efforts Not Worth The Benefit?
I think many zero waste bloggers and eco-friendly living enthusiasts agree that sustainable living is not a perfect science lived out of a mason jar. We all execute low waste living in ways that are sustainable (i.e. we can sustain them or continue to do them for the long haul) for our families.
20 Zero Waste Halloween Decorations Ideas
That being said, here are some zero waste (and more specifically low waste) Halloween decoration ideas. I've gathered up Halloween decoration ideas that make good use of things we already own, items we can purchase secondhand, small changes we can make to modify and upcycle everyday items for specific occasions, and the power of collective consumption.
Use Seasonal Food As Decorations
Halloween is a great time to use seasonal food as decorations. Pumpkins, of course, are the quintessential Halloween decoration, especially when you clean them out and turn them into festive jack-o-lanterns. However, don't forget food items like squash, gourds, dried corn husks, and even apples.
You can also use food like orange bell peppers to create mini jack-o-lantern party decorations. They won't last the whole season like some of the whole gourds and corn husks, but they are great elements for a festive party. And you can compost anything you don't eat.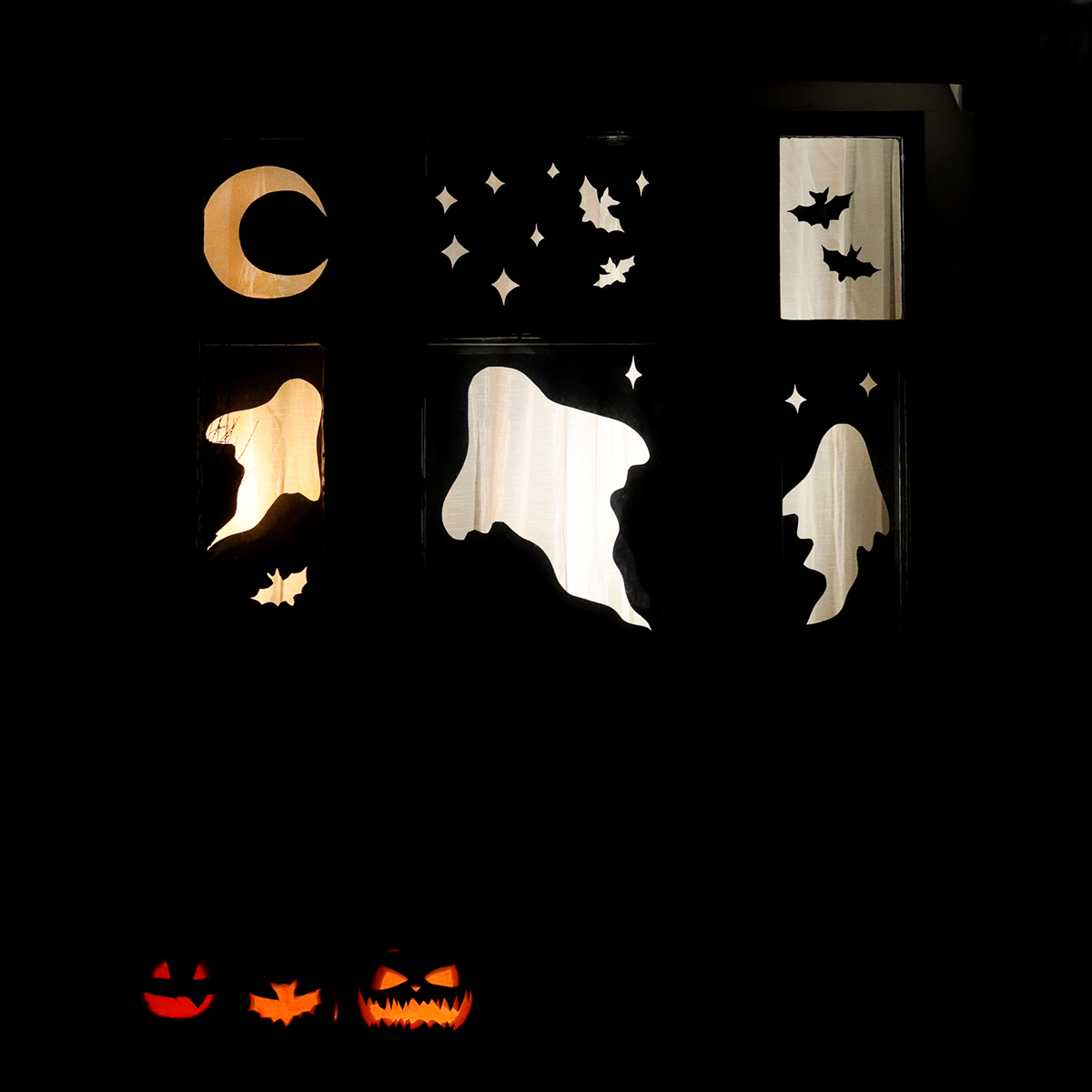 Create Spooky Window Silhouettes With Cardboard
Grab some of the cardboard from your recycling bin, cut out Halloween shapes, and hang them in your window. Add a white drape behind the shapes to create perfectly festive silhouettes in your windows at night.
I saw Erin of My Green Closet share this idea on Instagram recently and thought it was such a fun and simple way to put your recycling bin to work to decorate for Halloween (and still be able to recycle or compost the cardboard after you're done using it.)
Incorporate Seasonal Flowers
Summer has passed but flowers like mums still flourish in the fall. Use flowers that are in season in your local area. After you're done with them, you can dry them or add them to a compost bin.
If you can, steer clear of flowers shipped from around the world. Many bouquets, like those in grocery stores and those that are not in season locally, travel great distances at a significant environmental cost to decorate our spaces.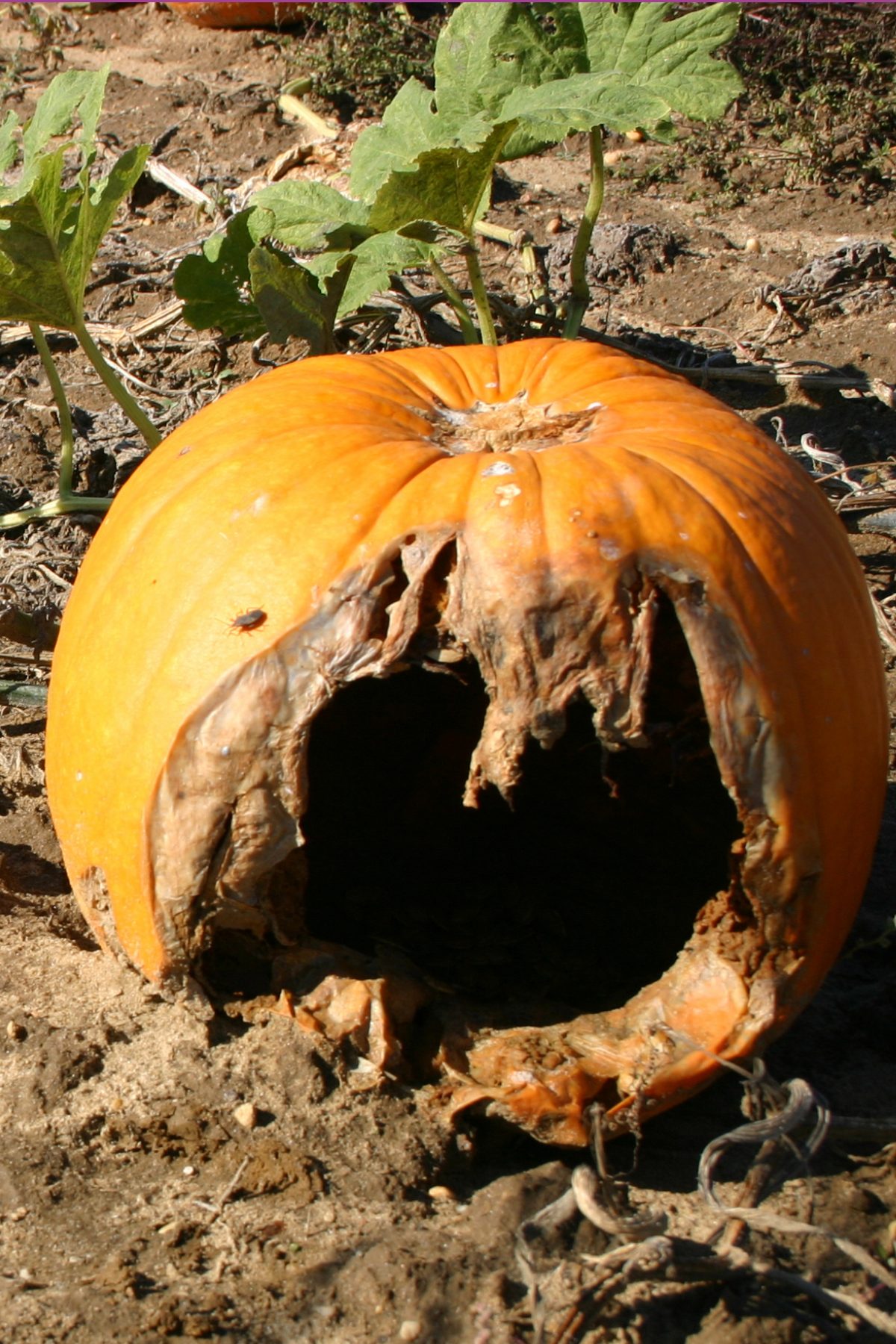 Compost Pumpkins After Halloween
Pumpkins create a huge burden in our landfills each year. Some estimates suggest we throw away over 1 billion (with a B!) pounds of pumpkins each year after Halloween. That's such a bummer!
Compost your Halloween pumpkins to prevent them from ending up in landfills. Food waste in landfills creates methane, a really potent greenhouse gas that's far worse than carbon dioxide.
If you're feeling ambitious, save the pumpkin seeds and eat them as a snack or use them to plant your own pumpkins next year.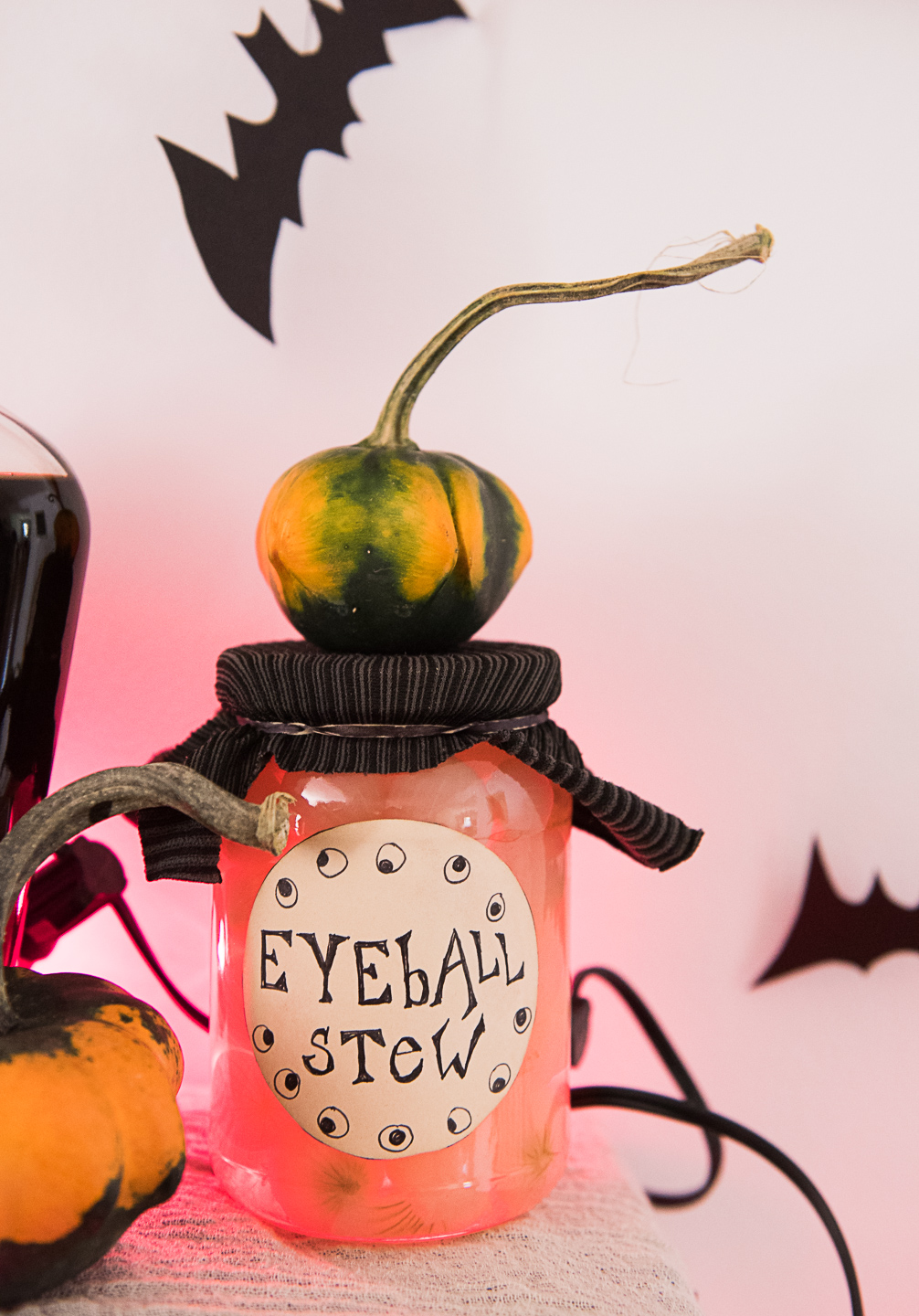 Create Witch's Brews with Upcycled Jars
As a zero waster (or aspiring zero waster), you probably have a silly number of upcycled or repurposed glass jars. Or maybe that's just me?
After you clean the upcycled glass jars, put them to good use. Fill the jars with colored water and add kombucha scoby or squishy eyeballs or whatever gross ingredients suit your fancy to make them look like potions and poisons.
Add labels to the jars to make sure everyone knows what haunted brews you have hanging around your home. Dye them with coffee to give them a dingy, spooky look. It's crazy how simple but amazing these zero waste Halloween decorations are.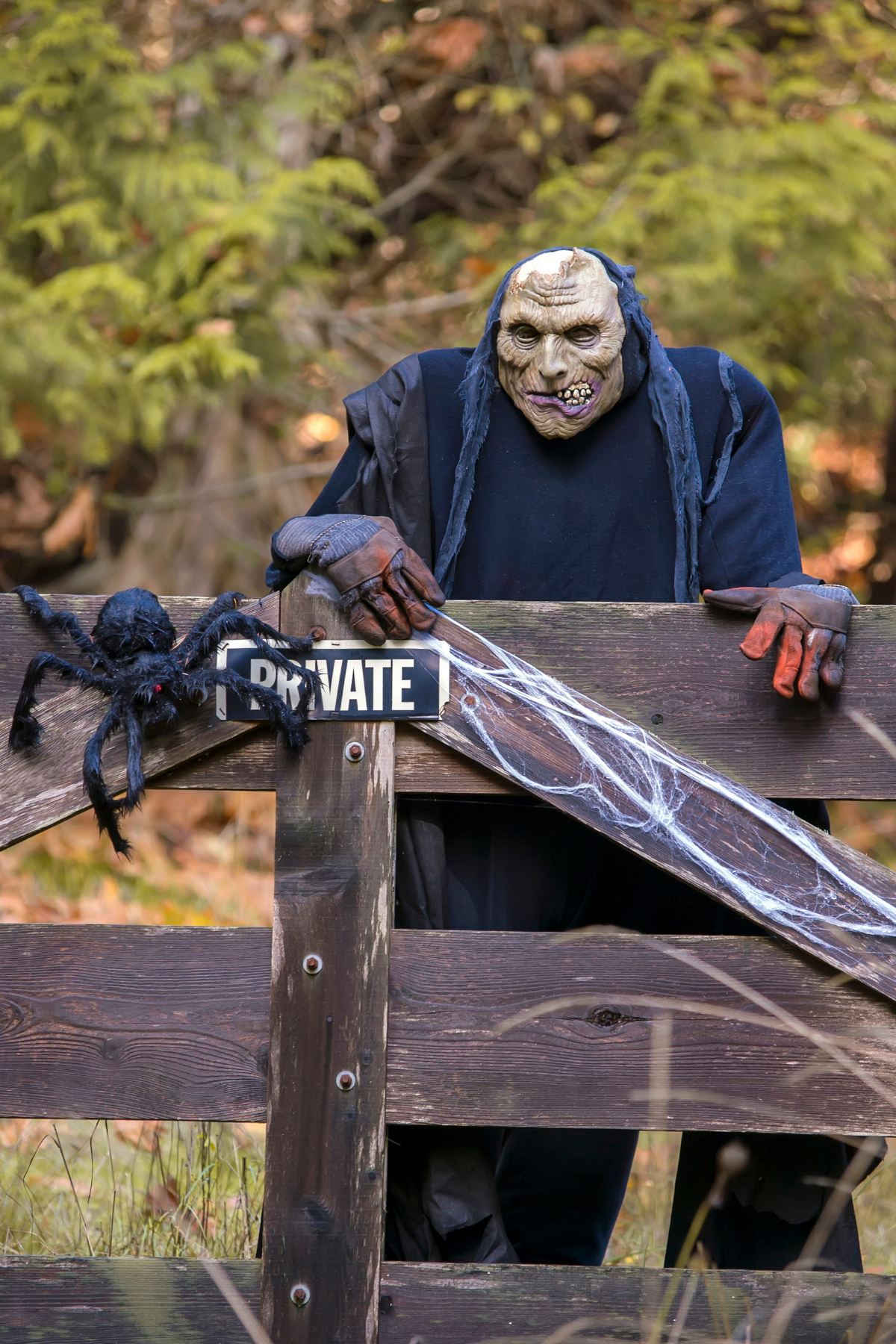 Borrow Decorations From Friends and Family
Lots of people have loads of Halloween decorations stored away from years of collection. If they aren't using all of their decorations, ask friends or family to borrow their items. They may have items that worked at a previous home and no longer make sense in their new home. They may have shifted their style, and their vintage decorations are perfect for your place. Who knows? Maybe they have a scary zombie that hangs on a fence but they no longer have a fenced in yard!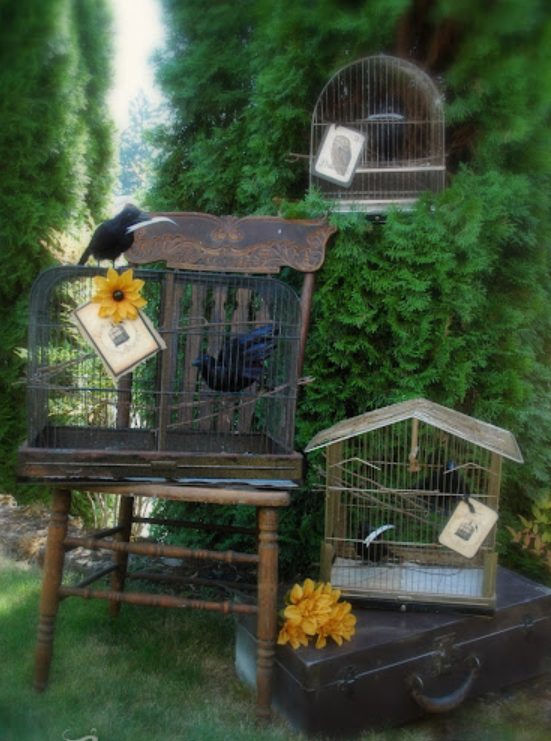 Incorporate Vintage Items in Your Halloween Decor
What's cooler than vintage, spooky Halloween decorations? In the case of Halloween, I think old age gives them even more appeal. Look for vintage Halloween decorations in local antique shops, on eBay, at thrift stores in your area, and even your grandmother's basement (those might be the very best ones!)
Especially when it comes to vintage items, they don't necessarily have to be designed for Halloween to be perfect for the holiday. Worn-out dolls might provide just the right amount of creepiness to your Halloween display. Old toys and tattered bird, bug, and spider toys will fit perfectly into a cobweb of stretched cotton balls. Use your imagination to turn old goodies into Halloween gems.
Start a Halloween Decoration Thread or Tag in Your Buy Nothing Group
Go beyond your family and friends to borrow, gift, or request Halloween decorations from your neighbors through your local Buy Nothing groups. It might be easiest to create a special #Halloween tag in your Buy Nothing group to encourage people to pass along their Halloween decorations or request something they would like.
In many cases, people may have extra Halloween items they aren't using but just don't think to gift or lend. Prompts in a Buy Nothing group could encourage more sharing (and less buying!).
Find Decorations on Facebook Marketplace
Facebook Marketplace is full of decorations for all sorts of holidays. Use the filters and search functionality to find Halloween items in your local area within a reasonable drive or walk from your house.
You could search "Halloween" but you may also find success searching for "Fall Decorations" or something more specific like "pumpkin decorations" and "witch decorations"
As an added bonus, if you have Halloween decorations you no longer need, post them on Facebook Marketplace and make a few extra bucks when you sell them. The money from selling your items on Facebook Marketplace could pay for your new-to-you purchases.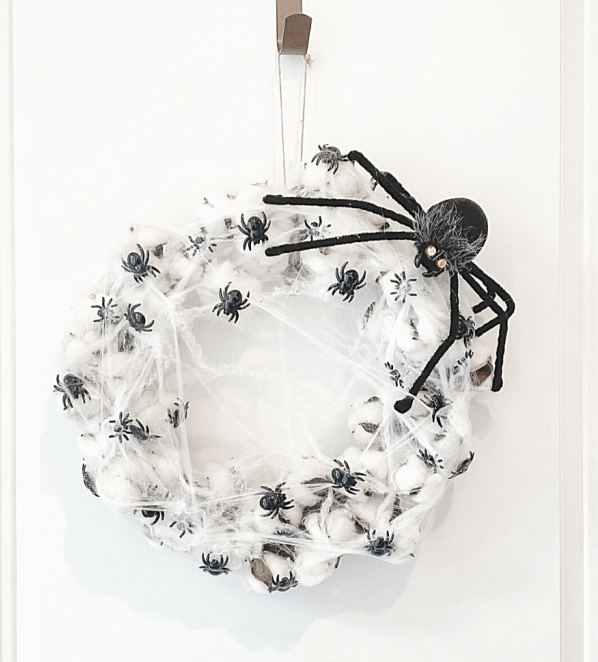 Use Cotton Balls for Spider Webs
Avoid plastic Halloween decorations and use natural materials, like cotton balls, to create your own spider webs. Cotton is a crop (i.e. grown from a plant). As long as you don't contaminate the cotton balls with inorganic chemicals or plastic materials, you can put the cotton spider webs in the compost when you're done using them. Send them back to the soil and not into the landfill.
Related Reading: All About Composting at Home
Stick to Modern Black Halloween Decorations
If you prefer a more modern look that is less cutesy and festive, try decorating for Halloween with all black items. You can include black non-Halloween items of any kind, paint existing items with black paint, or choose black witch hats, bats, and spiders.
If you have an item you love, like a fake rat that's not necessarily Halloween-esque, spray paint the item with black metallic paint. This will give your Halloween display a very high-end look, and it's a great way to repurpose Halloween and non-Halloween items you find at thrift shops and secondhand stores. Even if they don't match your Halloween look, a coat of paint will ensure they fit right into your theme.
Bring Nature Indoors For Halloween
Natural wood elements are popular decorations for many holidays, including Halloween. Head to the park to find sticks or twigs, especially a few that are curvy or oddly shaped. Put them in a vase or container you already own. Consider adding spider webbing in and around the sticks for an extra spooky look.
Repurpose Holiday Lights
White holiday lights can be a perfect way to add a bit of eerie light to an otherwise very dark display. Pull out little white holiday lights and integrate them into your dark and spooky Halloween look for the perfect finish. Then leave them out through the end of the year!
Thrifts Frames and Inexpensive Halloween Cardstock
For a cleaner and more minimalist look, purchase a few picture frames from a thrift shop (or use some you already have on hand). Instead of photos, display festive Halloween cardstock. You can repurpose the cardstock year after year or use it for craft projects. If you don't like the color of the frame, spray paint it to match whatever color scheme you're working within your home for the season.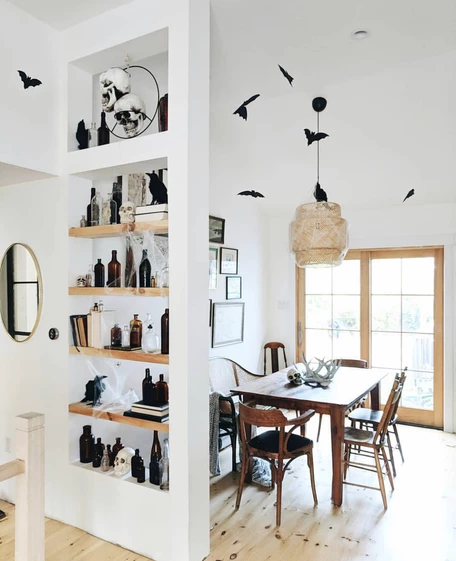 Repurpose Dark Bottles or Spray Painted Bottles
Do you have any dark vanilla bottles or wine bottles? We purchase vanilla in medium-sized dark bottles from time to time. When included in a Halloween display, dark bottles look festive and spooky, like they're full of potions and poisons.
You could even make some simple labels by hand or printed out from a free graphic design website like Canva to label your bottles as witches potions and brews. If you don't have any dark bottles, spray paint any bottles you have in dark colors to create a similar look.
Dark Books As Halloween Decorations
Incorporate some old, dark books into your Halloween mantel decor or tablescape. Thrift stores have tons of old books on their shelves. Check behind the paper cover of hardcover books to see what color the solid front and back of the books are. Choose a variety of dark colors like olive green, maroon, and black books to stack creatively. Books are a really cool way to create depth in a holiday design and different heights for staging decor.
Add Black Paper Bats To Any Halloween Scene
Cut out a handful of black paper bats or use a Cricut machine to make them. If you don't have a Cricut machine, consider borrowing one from a friend or ask if someone in your Buy Nothing group has one you can use. Maybe they'll even print out the black paper bats for you.
Attach them across the wall in flight above a mantel or indoor Halloween display to create a bit of nighttime, Halloween motion in your decorations. You can even hang them in your kitchen or over your bed for a simple, stand-alone Halloween vibe without a lot of effort.
Hang A Crooked Frame with Black Sheer Draped Fabric
How neat is this idea? Take any frame you have, turn it crooked a bit, and add a layer of black sheer fabric to entirely change up the look. I love how a simple shift using things we already have can be a great way to get a festive look without spending a dime.
Halloween Candy Jars Around The House
Who can argue with decorating with candy? Not my boys, that's for sure. (And not me either, let's be real). Find a few fun, glass candy jars and fill them with festive colors chocolates, candies, or gummies. If you don't have jars like this already, consider checking out your local thrift shop. They often have these types of decorative pieces. You could also use regular, repurposed glass jars after you clean them and clear off the labels.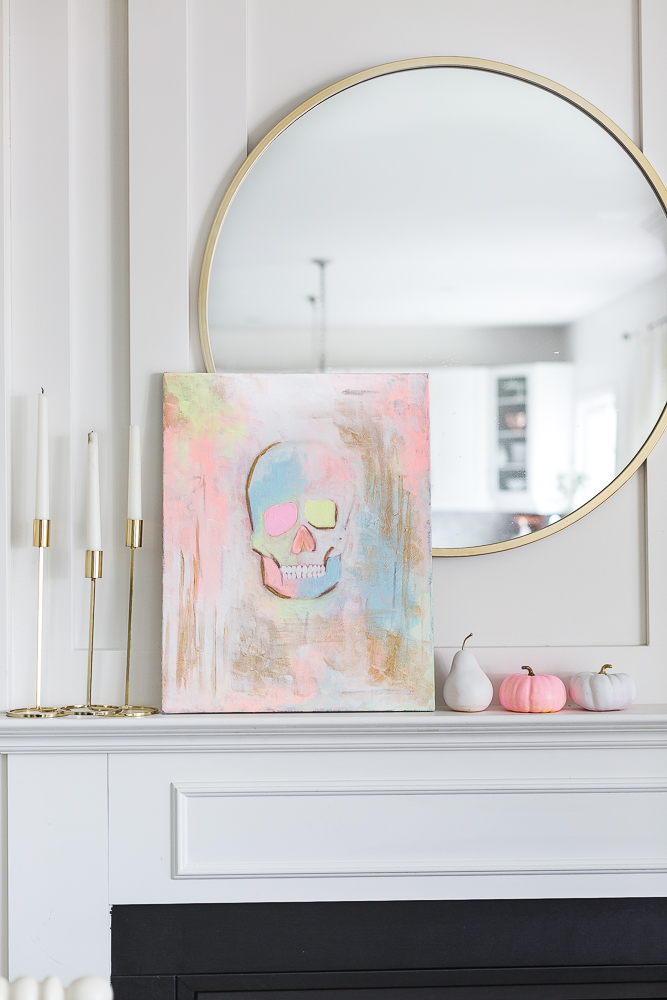 Choose Halloween Items In Non-Traditional Colors
For something totally different, consider decorating with Halloween-themed items like skulls, witches, rats, and bats but use non-traditional colors. Paint them in pastel colors or fall colors. I'm not creative enough to pull this off, but if you have an artistic vision, this could be really cool!
I'd love to know what other low waste and zero waste Halloween decoration ideas you have. We collectively spend so much money on plastic and low-quality decorations that end up in landfills after using them just a few times. How can you save money and resources by using what you already have to decorate for Halloween?
If You Like Zero Waste Halloween Decorations, You Might Also Like
Sustainable and Low Waste Halloween Candy For Trick-or-Treating
4 Ways To Find Eco-Friendly Halloween Costumes On A Budget
The Best Resource For Sustainable Halloween Costumes For Kids

About The Author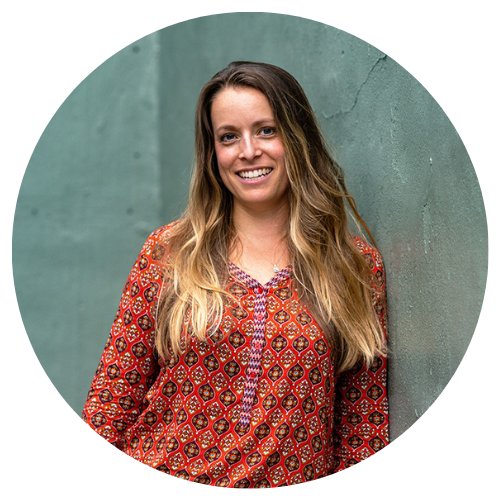 Jen Panaro
Jen Panaro, founder and editor-in-chief of Honestly Modern, is a self-proclaimed composting nerd and an advocate for sustainable living for modern families. In her spare time, she's a serial library book borrower, a messy gardener, and a mom of two boys who spends a lot of time in hockey rinks and on baseball fields.
You can find more of her work at Raising Global Kidizens, an online space to help parents and caregivers raise the next generation of responsible global citizens.