11+ Simple Tips to Host a Low-Waste Party
So you're looking to host a gathering but don't want all the trash and single-use disposables piling up? Consider these simple tips to host a low-waste party even if you're just starting to try sustainable hacks and tricks to reduce waste in your life.
Whether you're hosting a kid's birthday party, a Labor Day block party, or a Bank Holiday BBQ, there are some really simple swaps that can be made to make sure you don't have a full trash bin at the end of it. Here are five easy tips to get you started.
Simple Tips to Host a Low-Waste Party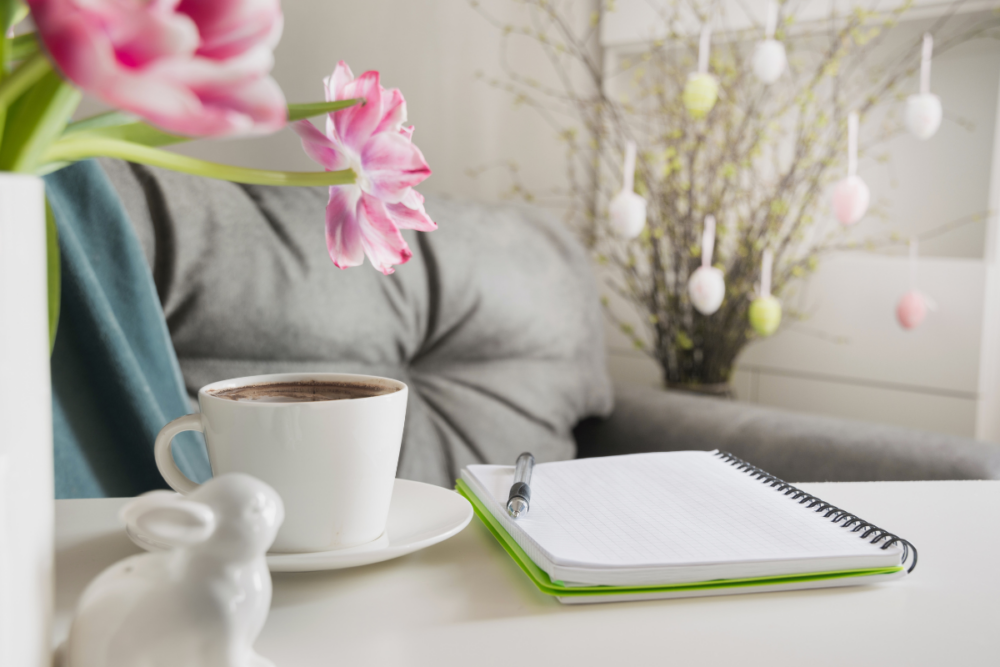 Set a plan in advance to stay organized
As with most things sustainable, throwing a zero-waste party is simple but not always easy. It is usually cheaper but will require planning and organisation. Try making a comprehensive list of:
what you need
what you have
where you can borrow from
what you can buy secondhand, and
how you'll return borrowed items afterward
Additionally, share out the tasks. Enlist a partner or friend to pick up things or keep an eye out in thrift stores for you. Make sure you set searches and alerts for the things you need or want for your party on all your favourite preloved sites.
We have a whole guide on shopping secondhand that can help you navigate different types of secondhand markets and figure out how to find just what you're looking for. Check it out!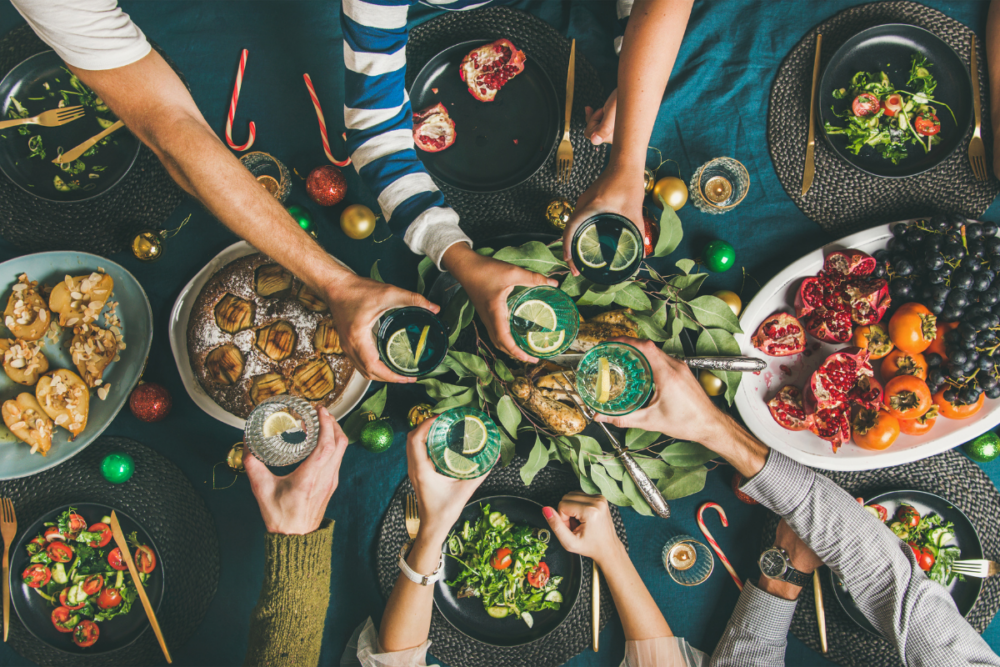 Chose reusable, not disposable, dishes and serving ware
While it might seem counterintuitive, choosing reusable is actually easier and cheaper than buying disposable plates and plastic forks every time you have a party. A robust set of reusable plastic or melamine plates, for kids and grown-ups alike, can go in the dishwasher and be used over and over again.
Secondhand reusable serving ware sets
And (you guessed it), there are usually lots to be found in charity/thrift stores, on Facebook Marketplace, vinted, eBay, or similar online preloved "stores". I picked up a set of reusable outdoor plates and cups from Facebook Marketplace for free when we relocated back to the UK (from someone moving overseas to Australia).
Use real crockery
As the kids get older, it's also okay to use your own crockery. One of the first things I noticed when I moved to the US was how frequently people used disposable plates and cups for everyday occasions. Washing up (or running the dishwasher if you have one) is cheaper and more planet-friendly than single-use items.
I'm not saying get your finest china out every time you have people over. But if you trust yourself to eat off your plates, why not trust your friends and family? Also, if you stock up your cupboard with charity shop glasses, then you won't be too worried if one breaks (and kids will learn very quickly to be more careful).
Search for listings from people moving overseas
Type in "overseas" in your search on Facebook Marketplace, and you'll find all those listings from people who need to offload items before moving! Trust me, they'll love that you're rehoming things for them! We moved from the United States back to the United Kingdom recently, and I was so happy when I could find new homes for things we couldn't take back home with us.
Secondhand wipeable or washable tablecloths
You can also find a good sturdy, reusable, wipeable or washable tablecloth in most charity shops. It's always helpful to have a couple on hand for parties. Once all your food is set out on it, no one but you will be able to tell that it's not themed with your party. Alternatively, hunt for a pattern that fits multiple themes (e.g. red/white/blue or stars) so you can use it again and again.
Reusable cloth napkins (you can do it!)
Want to go the extra mile? Ditch paper towels or themed serviettes and use cloth reusable napkins. Leave a basket in the kitchen or by the food table clearly labelled for people to return the cloth napkins to for washing after they're done with them. Worried about funny looks? Just think of it as a good conversation starter. You might be surprised at how few people notice.
If I ever need a bit of extra motivation, I love this little reminder from The Carbon Almanac about the convenience of a disposable plastic utensil: Considering convenience – The Carbon Almanac. Is single-use really more convenient?
Borrow supplies, don't buy new ones
Ask friends and neighbors
If you don't have what you need that's reusable and party-friendly, it is always ok to ask people for help. I put out a plea on our street WhatsApp group for plates, cups, and jugs for my son's birthday. Less than five minutes later, my neighbour offered up a set that was perfect.
They felt good for lending a hand. I saved time and money as I didn't have to go into town and buy a new set of serving ware, and the planet benefited because nothing new was made, shipped, and delivered. People (in general) love to help, so give it a try.
Find a local Party Kit Network set
No neighbours you can ask? Party kit borrowing sets are popping up everywhere! Check out whether there is one near you. If you're feeling really inspired, set up your own to save people money in the future: Party Kit Network.
As a side note, they make a great fundraising tool for School Parent Organisations/PTA groups or Scout/Brownie/Cub troops. You just need a couple of enthusiastic parents to take the lead.
If you're hosting the party somewhere you need to source your own tables and chairs, borrowing is the perfect solution here too. Before buying anything, ask around. 9 times out of 10 someone will have what you need.
BYO Chairs
You can also ask guests to bring their own chairs if they can. The priority is getting friends and family together and making everyone feel included. People are not focused on what everyone is sitting on. I suspect that if someone has a beach chair they love, they'll want to bring it and show it to everyone.
Need something a bit more unusual for your party? Try a Library of Things if there is one near you. Where we used to live in the US, we were lucky that our library system had a magnificent library of things! The library lent out everything from inflatable outdoor cinema screens to paddle boards and Go Pros!
There are a few such places popping up in the UK with the Library of Things branching out across London, and options like Letchworth Garden Shed are growing as well. All the items you need most likely already exist, so you just need to track down the ones you can borrow. No Library of Things in your town? If you have a library near you, why not ask if they'd consider starting one? You never know unless you ask!
Serve finger foods and bulk drink options
Your menu can make a huge difference to the amount of waste you're left with. If you serve finger food (pizza is perfect), you can avoid the need for cutlery/flatware completely! If you're doing a potluck, suggest to the group that people bring sandwiches, tacos, nachos, or anything guests can eat with their hands to avoid the need for silverware beyond a few serving spoons.
For drinks, use pitchers, jugs, or large drink dispensers. Fill with lemon slices and iced water and ditch the disposable water bottles. This goes for school sports days and field days too. Once we filled one of the big glass drink dispensers with Pimms (US folks, Google it, it's a very British drink!).
It doesn't have to just be soft drinks that go waste-free. I know Solo cups go hand in hand with many parties or gatherings in the US, but they're notoriously hard to recycle as they're #6 plastic. In fact, they aren't recyclable at all in many areas. Yes, you could reuse them as paint holders or wash them out and reuse them at your next party, but if you're going to do that why not just ditch the plastic altogether and give your guests sturdier cups to drink from?
Lead the way among your friends and family
Don't be scared to do something different! If it's important to you, it'll be important to your guests. The ripple effect of people feeling real plates and forks in their hands will go beyond what you see. Incorporating more sustainable options into your party planning is always a great conversation starter too!
Instagram picture-perfect parties aren't real life. Life is about connection, friends getting together, engaging with each other, and making memories. Reindeer or pumpkin-themed napkins aren't going to make or break the time spent with family and friends.
What's the next party you're organising or being asked to contribute to? How could you do one of the suggestions above to reduce the amount of waste created? Or do you have other tips you use to lessen the environmental impact of your parties? Do let me know, I'd love to hear them.
If you like this post about low-waste parties, you might also like
Tips for Sustainable Gifting For Family and Friends
All Things Sustainable Gifting Guides
15+ Easy Sustainable Style Tips for Beginners
About The Author
Sarah Burgess
Sarah Burgess is co-founder of the social movement Just1bag2020, mother of two, and British Expat who spent four years living in the United States and recently moved back to the United Kingdom. Sarah spends her time promoting local sustainable change through small, easy-to-do actions that everyone can do to help out the planet. When not picking up trash and persuading others to do the same, Sarah and her family can be found travelling the world and experiencing everything this precious Earth has to offer.