How To: Super Easy DIY Website Redesign in Under 3 Hours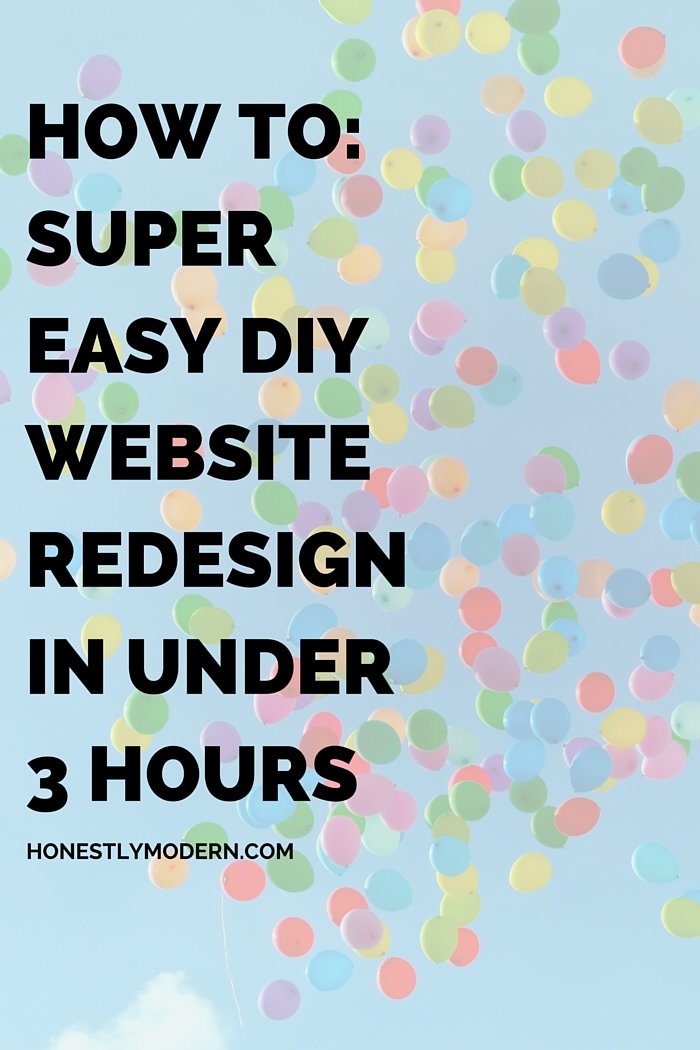 Suffice it to say I had a really awesome Friday night last week.
Because I'm Cool Like That
While some might not consider sitting at my computer by myself an "awesome night," I enjoyed every minute of it and loved the outcome of my evening.
I definitely like spending time with family and friends, for sure. But I'm also fairly introverted, so I welcome time to myself to reenergize on occasion.
Aside from the quiet time, I spent three hours at my computer completing an entire blog website redesign from start to finish. Doesn't it feel great to efficiently accomplish a seemingly big project when we just sit down, focus, and do it, uninterrupted?! I'm sure you can relate.
Time for a Change
I had been ready to change up the look for a little while. There were a couple features on my old design that didn't quite jive with my style and content. My previous design came from Restored316 and I knew I wanted to stick with them.
On a whim, I perused their site and found this Divine theme that, in short order, I knew was perfect. Also, M had plans to go out with some friends last Friday while I stayed home with the boys, so I had a large chunk of time to focus and complete the revamp. It's certainly not something I can really do in pieces.
That night, I sat down at my desk and logged onto my Restored316 account. I bought my Divine theme and got to work. A whole lot of clicks later, I had a brand-spanking new website design that felt refreshed, updated and clean, completed all on my own.
You guys, this was so easy!
It's Like a Really Affordable Web Designer
The ladies at Restored316 have put together step-by-step tutorials that show, in a really easy way, how to set up each and every detail. It also only costs $75, which feels like a pretty fair price for a clean, integrated, highly-functional, mobile-responsive WordPress child theme that comes with extensive support and tutorials. It basically feels like hiring a website designer.
For those of you on WordPress, I'd definitely recommend checking out Restored316 . I'm a repeat customer, which is essentially a walking advertisement by itself.
They specialize in pretty, feminine WordPress themes (in a world of a lot of fairly boring and masculine designs). They have tons of tutorials and guides as well as showcases to see how other customers are using and customizing the Restored316 themes for their own blogs.
What If I Use Blogger?
If you're a Blogger blogger, Restored316 won't be compatible. However, if you're serious about growing an audience or monetizing your platform, I'd definitely recommend considering a switch to WordPress, which has far more versatility, customization, and monetization options.
It's not a must and a handful of big-time bloggers have retained their platforms on Blogger, especially in the style blogging sphere. But they are certainly anomalies.
Should I Switch to WordPress?
I know there is all sorts of chit chat around the blogosphere about how "scary" it can be that Google owns the content on Blogger and can shut down sites at their discretion. That's all true but not high on my list of expected possibilities. More than that, in my opinion, WordPress is just a much cleaner, more high-functioning, integrated platform that is easier to use and far more intuitive.
If you're contemplating a switch, I've written more extensively on the topic based on my own experience shortly after I transitioned and again three months later. I tried to provide objective, useful information to help you make a decision that's right for your circumstances.
Because of its open-source nature, WordPress attracts loads of really great tech minds to create amazing products and plug-ins to customize your site and make it uniquely yours. Restored316 is just one example of how WordPress offers some really great options to step up your blogging game, creating not only better blogs but also more efficient and effective workflows.
I've also shared about a few ways I use CoSchedule to enhance my workflow. It's been an amazing tool and saves me loads of time with every post.
Hopefully the above provides another perspective on what WordPress can offer and whether or not it's an option that might make sense for you.
Want More Helpful Resources?
If you found this helpful, consider signing up to get 15 Secrets to Mastering the Pitch, the Prep and the Post-Production of Sponsored Posts. It's sure to help you increase your blog's bottom line.