WordPress vs. Blogger: Pros and Cons for Smaller Blogs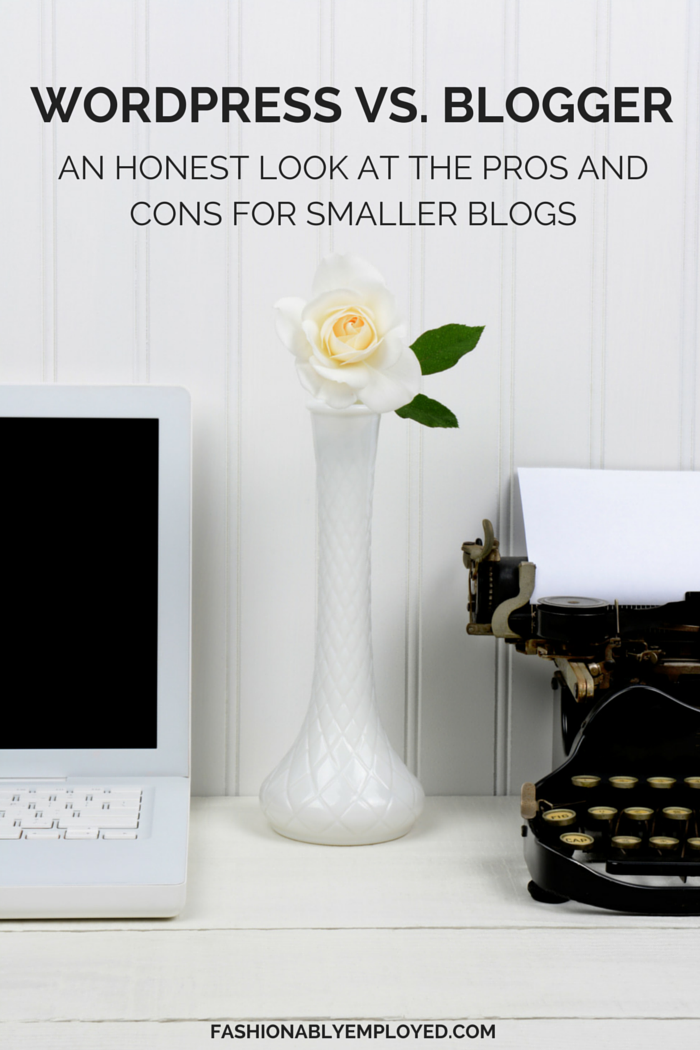 It was time. I couldn't be more excited about it! After two years of blogging on Blogger and doing every step of design and redesign and tweaking myself, I've made the switch to WordPress and added a few professionals to the mix.
For many of you, that's all probably a whole lot of mumbo jumbo. As a reader who enjoys the content and design, it's of little concern I imagine on what platform and with what tools I create my daily ramblings. Those of you with your own blogs or thinking about starting one, however, might have keen interest in the technical components of web creation. Sometimes, even those without blogs or blogging aspirations simply enjoy a peak behind the "Wizard of Oz" curtain to see how all this magic works!
With that, I'd like to begin a periodic series to give you a Backstage Pass to see the real deal about how I make this all work. I love hearing how so many other bloggers create the time, brainstorm the content, master perfect images and the like to build their beautiful blogs. I won't post about this often, but on occasion, I hope you enjoy a little glimpse into how it all "goes down."
Blogger vs. WordPress
For the first edition of The Blog Backstage, let's start with the first decision every blogger makes… the platform. While plenty of options exist, it's really a choice between Blogger and WordPress. For two years, I stuck with Blogger with conviction. I knew WordPress worked well for "big bloggers," but it also seemed more daunting and expensive. (Spoiler Alert: In some ways, that's true. More to come.) At long last, despite being wholeheartedly convinced for quite a while that Blogger was best for my specific needs, I finally made the switch to WordPress and here's why.
One quick note: WordPress has two options. WordPress.com operates like Blogger in the respect that it's not self-hosted. Like Blogger, it's free. WordPress.org, however, requires self-hosting. Today's post focuses on WordPress.org. I haven't used WordPress.com, so that's not in the scope of today's post.
Social Media Scheduling Automation
I wanted to use CoSchedule, a social media scheduling tool and content management application only available for WordPress. Everyone raves about it. I recently started my free 14-day trial and it's amazing! I'll share more about it in the future after I'm more of an expert, but I think it might be reason enough alone to use WordPress (at least for bloggers looking to grow their traffic and blog).
Update: I have been using CoSchedule for over a year now, and absolutely love it. I have upgraded beyond the basic version (even though I still have a pretty small blog). I think it's one of the best investments I've made in my blog. Not only does it save me time, but also helps make the time I do spend blogging more valuable. Check out more about my CoSchedule experience in this post and find out if it might be a good investment for you as well.
SEO (Search Engine Optimization)
WordPress offers better tools to maximize SEO. Bloggers always talked about WordPress being so much better for SEO than Blogger. I didn't know what that really meant. Was there something about WordPress that Google liked better than Blogger (which obviously makes no sense at all since Blogger is Google)? The SEO benefits don't stem solely from typing your posts in WordPress or self-hosting the website (as far as I know). Instead, the functionality of WordPress, and specifically the Genesis Framework discussed below, makes adding beneficial SEO coding much easier and more intuitive. In essence, WordPress has various boxes to add helpful SEO-boosting content in the right places without messing around with HTML code. Whether you use Blogger or WordPress, you still have to do the SEO work! WordPress has just made it a whole lot less technical.
Prettier Design
Bored with the basic design elements Blogger offered, I really wanted to switch it up. I also wanted something more unique and with more functionality. Blogger can support many really pretty and streamlined designs, but I wanted something a little different for my own space. Blogger couldn't (easily) provide what I wanted.
Long-Term Commitment
Just about everyone agrees that WordPress is an overall better and more robust platform. But for casual or hobby bloggers, the expense, learning curve, or technical knowledge about self-hosting may not be worthwhile. Two years of continued blogging through which my love for the space, the process and the community has grown, I finally decided to dive in head first. I felt I had a niche direction in which I wanted to go. I was really ready to invest.
If you're into blogging for the long haul, especially if you'd like to monetize your site, WordPress is the way to go. After working in WordPress for just a couple of weeks, it's more robust, streamlined, and modern. It also has so many more plug-ins (like functionality add-ons) available that further enhance the usability and integration of all the tasks involved in maintaining a blog.
If you're unsure (like I was for two years) or know monetization isn't in your plans, Blogger will be perfectly fine and likely the best option for now. However, I would suggest that if you anticipate wanting to monetize or switch down the road, it's better to do it sooner rather than later. The more existing content you have on Blogger to migrate to a new site, the more work you'll take on in cleaning it up (because nothing will migrate perfectly).
Content Ownership
So many people write "WordPress vs. Blogger posts" and get hung up on content ownership being the clear and obvious reason to use WordPress. Some of the more condescending posts implied I was nothing less than a royal idiot for ever thinking Blogger was best for me. For those unfamiliar with the difference, WordPress requires self-hosting while Blogger is hosted by Google. On Blogger, Google technically owns your content and could delete or remove your content at their discretion.
I get the gist and appreciate the risk. But these posts didn't convince me. Was Google really gonna delete my whole blog? Why? And if they did, would it be the end of my life? I didn't rely on my blog for income so it wasn't that big of a deal. Making the switch wasn't worth the learning curve or the expense for me if I only wanted to blog for personal entertainment.
When I did finally make the switch, however, Google had recently changed their system making it painfully difficult for the person I hired to migrate my content. (She was awesome, by the way, and I highly recommend and will share more about her.) I quickly realized just how much control Google had over my content if my measly little blog meant enough to Google that they cared to "lose my business." I know they didn't create that obstacle just for me, obviously. This did reinforce for me the importance of owning my own content if I planned to make the blog a more significant source of income for our family. This obstacle reassured me I made the right decision to switch.
Functionality and Simplicity of Use
After deciding I was willing to pay for a self-hosted site, I still stuck with Blogger for fears of having to learn a whole new platform. I'm not afraid of the learning process. In fact, I find it quite rewarding. But I have very limited free time, and I didn't want navigating a difficult new platform cramping my post-writing style.
I also knew having a self-hosted site required a bit more technical knowledge regarding hosting. In general, Blogger doesn't go down. For all but about 30 minutes one day earlier this year, my Blogger blog has functioned flawlessly. Self-hosted, I anticipate I'll experience a few moments of down time and certainly more than the Google beast would allow. I guess it's just the cost of doing business.
Without a clue about what to expect in the WordPress platform, I finally made the jump, elated to find a platform easy to use and similar to Blogger in many ways. In fact, after writing just a couple of posts, I actually think it's easier and more aesthetically pleasing. While I won't go into details about one design versus the other, know that WordPress is easy enough to use that I don't expect a seasoned Blogger user to find it a significant roadblock. Thus, if you're worried about the physical process of writing the posts in WordPress, have no fear. You'll be fine. In fact, after writing just a few posts, I think you'll actually like it a whole lot better.
The Migration
While this wouldn't have been an issue had I started on WordPress, that wasn't realistic. I started blogging very casually, had no idea the road I was headed down, or where I wanted to take my blog. I didn't even know if I would like it. I had no intention of investing financially with any significance without knowing I was in it for the long haul.
When I started seriously considering the switch, migrating existing content seemed daunting. I had no interest in dealing with it and certainly didn't want to spend my limited free time learning how to do it. When I finally hired someone, it felt like a great investment!
The Cost
Simply, Blogger is free and a self-hosted WordPress site is not. As a casual blogger, Blogger is probably a bit easier and certainly less expensive.
Here's a run down of approximately how much I spent to migrate my content and the general fixed costs going forward.
Migration ($200) – Kristie from Blog Ambitions did a phenomenal job, and I loved working with her. I received recommendations for her services from two other bloggers and completely second their approval. She's well worth the price she charges. If you're interested in moving to WordPress, snatch up a spot on her schedule soon before she fills up and raises her prices.
I requested Kristie perform a full migration for me. Busy at work and with my family, I wanted a seamless transition with as little time needed from me as possible. Kristie did a great job understanding my goals and reasons for switching and explaining her service offerings. If you're interested in less expensive options with a trade off for doing more of the work, she also offers smaller packages at lower price points.
Hosting ($94/yr) – Using WordPress.org requires the blogger to pay for a space to host all the media that comprises the blog. You can read more about a few hosting options at Blog Ambitions. I chose Site Ground given the needs and traffic level of my blog. This cost will continue each year and likely increase if I see a significant increase in traffic.
WordPress Theme ($59.95) – I chose the Genesis Framework from Studio Press. Studio Press, part of Copy Blogger, has been a reliable WordPress theme developer used by so many of the big time website gurus. I wanted something easy, clean and reliable.
WordPress Child Theme ($50) – I opted for the Simply Charming child theme from Restored 316 Designs. The child theme, though not necessary, dresses up the Genesis Theme to make it look nice and pretty. It saved me a whole heck of a lot of time not having to worry about any significant graphic design considerations. That is not my forte!!
Update: I loved Restored 316 Designs so much, I used them for my updated theme, Divine. This time, already on WordPress, I installed the new theme myself and it was super easy. Check out my whole post on my DIY Blog Redesign (with a little help from the Restored 316 experts).
That's It
So that's the run down. I searched long and hard for detailed, objective comparisons of Blogger versus WordPress for someone with blogging goals similar to mine. I found none. I never felt like the comparison gave Blogger a fair shot. Let's be honest, it obviously has its perks or there wouldn't be so many people using it. Not able to find the detailed and objective comparison I wanted, I created my own and I hope you find it helpful.
Both Blogger and WordPress have their pros and cons. If not, they wouldn't both be so wildly popular. In the end, I couldn't be happier about switching to WordPress. It's perfect for me. If you're up for the challenges and expenses of self-hosting, I think you'll find that WordPress is probably the way to go as well. If instead, you want to keep the technical aspect of maintaining a blog as simple as possible, Blogger does just that.
If you have questions about my transition or whether or not it might be right for you, I'd be happy to share more. Leave any questions in the comments!
Update: 3 Months Later
If you're interested in how things have been going, I wrote this post about my thoughts on the transition 3 months after switching over to WordPress. This may also be helpful for those of you considering the switch.
Heads Up: This post contains affiliate links. I may earn a small commission (at no cost to you) if you purchase using one of these links. If you find any of these resources valuable and end up buying something, I thank you for supporting Fashionably Employed!