Decorating from Thrift Stores: How to Use Secondhand Finds in Your Home
Are you new to secondhand shopping and wondering how to locate the best thrift store finds? Are you curious about how to artfully decorate your home with secondhand finds? Read on for shopping tips, home decor advice, and real-life examples of decorating with new-to-you treasures!
Nothing compares to finding a bargain, except when that bargain is also a secondhand find in line with your eco-friendly lifestyle goals. A choice thrift store find saves you money and keeps things out of the landfill, and the right garage sale treasure or estate sale find can completely transform your space, breathing new life into your home.
Why is secondhand shopping so important? Let's review some statistics:
Whether your venue of choice is estate sales, garage sales, Facebook Marketplace, a furniture consignor, or your local thrift store, you can feel great about a guilt-free secondhand shopping spree!
And I should know: Nearly everything in my home is a thrift store find or secondhand item! To help you visualize real-life examples of thrift store finds in the modern home, you'll find inspiration from my home in the last section of this post.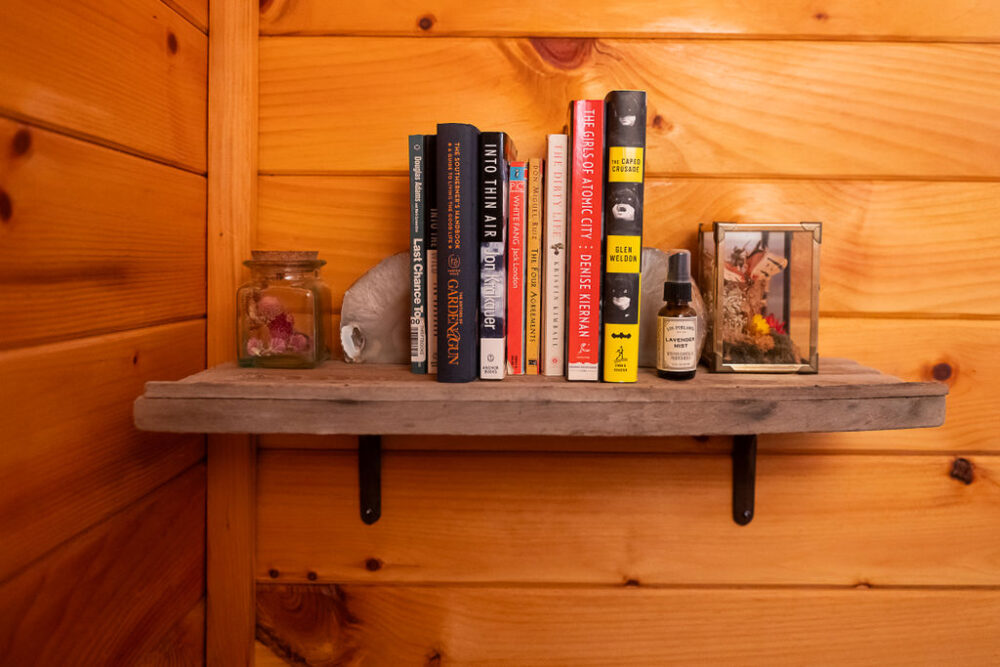 Best Places to Look for Secondhand Finds and What to (Generally) Expect
Estate Sales
Estate sales usually take place in someone's home after the individual has passed away or moved, and they're often organized by an overseeing company. Many sales run for several days, and it's not uncommon for everything to be significantly marked down on the last day. (I recently scored two nightstands in good condition for $13.75 each, which is cheaper than you'll find at local thrift stores.)
I like to search for estate sales on EstateSales.org, which provides photos in advance along with the name of the organizing company (if applicable) and accepted methods of payment.
Pros: From my personal experience as a shopper and a buyer for my antique mall business, estate sales are a great place to source quality furniture and home goods in great condition. You'll likely find everything from original art to functioning garden fountains and charming, retro barware.
Cons: It can sometimes feel awkward rummaging through someone's home if the family members are the ones organizing the sale. Additionally, some estate sale organizers prefer to haggle on-site instead of clearly pricing items, which is a massive turnoff for me, personally. If those situations feel cringy to you, do some research online or contact the organizing agent before you go. Finally, there can be a bit more of a frenzy buying atmosphere at estate sales, which I find stressful.
Antique Malls
Antique Malls contain individually rented and maintained vendor booths in a traditional store setting, making them a rich shopping location for almost any home decor style. You'll likely find everything from pristine mid-century modern pieces to artfully executed furniture flips, kitschy collectibles, and genuine high-end antiques.
Pros: While the prices are higher than you'll find at the thrift store or on Facebook Marketplace, you're paying for someone to curate, clean, and sometimes refurbish the pieces for you. If the idea of cleaning someone else's hair out of a dresser drawer makes you gag, this might be a good option for you.
Antique mall booths are often styled, which can help you visualize if things match your home's vibe. Additionally, you also have the advantage of viewing the pieces in person without the seller looking over your shoulder or pressuring you to buy.
Finally, many antique malls will offer a 10% discount on items over $20 at checkout or are willing to contact the vendor to see if they're interested in coming down on their prices. If you see the letters "ND" on the price tag, however, you're out of luck: that stands for No Discount.
Cons: Expect to pay more than you would at a thrift store but still less than you would if purchasing something new.
Furniture Consignment Stores
Furniture consignment stores are where individual sellers take one or several pieces they want to sell. The business then displays and sells the items in a retail space and takes a portion of the proceeds.
Pros: Consignment stores frequently offer high-quality and name-brand furniture in very good condition. You'll have the opportunity to examine your pieces in person in a traditional store setting, and some venues are flexible on price. Because one person is curating the consignments, you may find a more uniform quality standard than at an antique mall.
Cons: You'll definitely pay more at a furniture consignment shop, and many don't carry many smaller decor items that can complete a room or complement a new end table or bookshelf.
Thrift Stores
Thrift stores are resale venues where people donate unwanted items to be sold, and many of these shops benefit charitable causes.
Pros: There are lots of deals to be found at thrift stores, and they can house a delightful hodgepodge of goods that range from dusty antiques to next-to-new brand-name furniture to questionable and alarmingly sticky home goods. Some thrift stores also offer discount days or flash sales.
Cons: Most thrift stores do not clean up their items before they hit the floor, so expect to roll up your sleeves on many pieces. It's also helpful to have a creative eye or to mood board before you go, as it can be hard for some people to visualize how a given item might work into their current decor scheme when it's tossed on a shelf between a dirty crockpot and a pair of bedazzled Uggs.
Facebook Marketplace
This online resale platform allows users to search locally for used items. Items are sold by fellow users.
Pros: Facebook Marketplace lets you shop without leaving your couch, and you can sometimes score real bargains on furniture, kitchenware, decor pieces, and wall art.
Cons: Messaging with strangers can be a real pain, and some users may be offended if you offer them a lower price. You also should prioritize your safety when procuring items from Facebook Marketplace. Last but not least, don't be surprised if what you've purchased is slightly more worn or damaged than the description indicated. Many transactions happen remotely, and asking for your deposit back can be awkward while standing on a stranger's front porch.
Garage or Yard Sales
Garage sales offer deeply discounted used goods on a set day and time, usually in an individual's yard or at a community common area.
Pros: Expect great prices that are sometimes flexible. Garage sales are also a great place to look for project pieces.
Cons: You never know what you'll find at a garage sale, so shopping for specific items may be a more time-consuming process than it's worth. You'll also be dealing with the previous owner directly, so keep that in mind as you haggle on pricing or comment on an item's condition.
Tips for Choosing the Best Thrift Store Finds
Make sure the thrift stores you're checking out carry the types of items you're looking for. Some places now specialize in clothing, so you'll be out of luck if you're searching for a couch or new glassware.
Decide how much energy you're willing to spend on your purchases before you go. Joanna Gaines is an inspiration to us all, but if you're juggling a job, three kids, and a really moody cat, taking on a project piece may not be worth the $20 you'll save.
Thoroughly check things out before you purchase them. This includes, but is not limited to, running your fingers along the edges of glassware to find chips or cracks, flipping tables over to check for missing screws, opening drawers to check for lost hamsters, and sniff-checking everything – I'm not kidding.
Use Google Lens if you aren't sure what something is or what it's worth.
Only buy real wood furniture if you're attempting a DIY. Particle board can be a beast to deal with, and you may hate the end result.
How to Easily Integrate Secondhand Finds and Thrift Store Decor in Your Home
Take pictures of the spaces you're revamping before you go to help you visualize whether or not something will work with your aesthetic.
Measure once, shop less. When in doubt, take measurements of the furniture or area in your home to ensure what you're buying will actually fit.
Describe your style. Write it down or discuss it with a friend. Search Pinterest for ideas of what's really "you" and stick to those lines, color palettes, and materials.
Pick pieces that are fun and functional. Does it offer storage? More light? A place to sit? If it's pretty and solves a problem, you're more likely to love your newly thrifted treasure.
Look for low-effort opportunities to meld furniture pieces into your aesthetic. A heavy wood dresser will look completely different with hip, modern drawer pulls. A boring sofa can become a neutral backdrop to explore colorful, textured throw pillows. A super comfy recliner may just need partial recovering to blend in.
12 Beautiful Secondhand Finds in My Home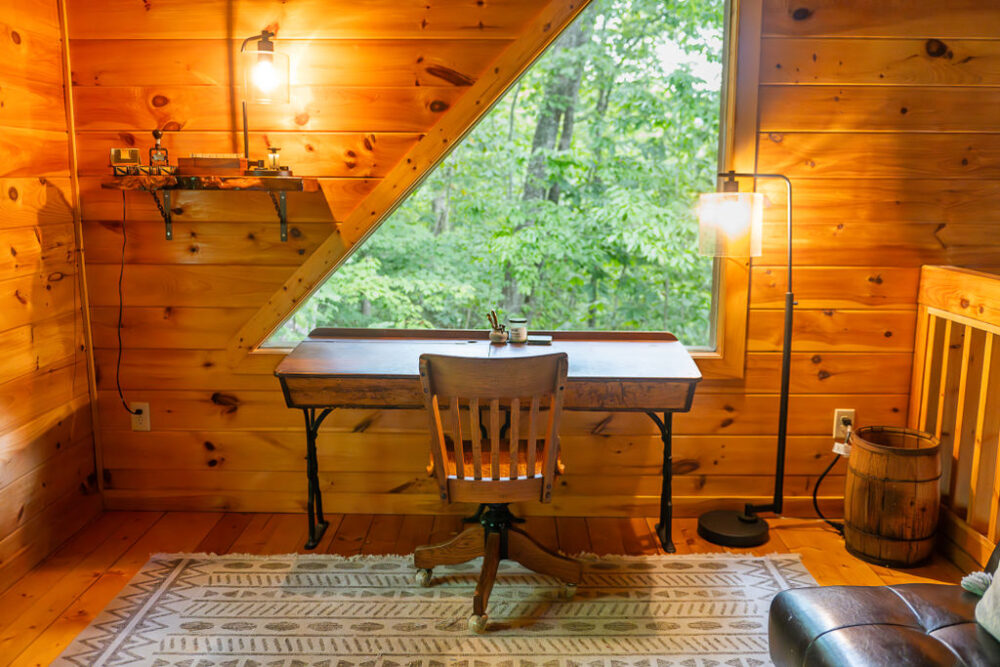 Antique School Desks and Chair
My home office is in our cabin's loft, and I found this incredible set of joined schoolhouse desks at an antique store that didn't clash with the log walls or block the amazing windows.
I love the wrought iron legs, the holes that used to be ink wells, and the decades-old initials carved into the surface. There is additional storage inside each desk as well, allowing me to truly "put work away" at the end of the day. The vintage rolling chair was a $20 find on Facebook Marketplace.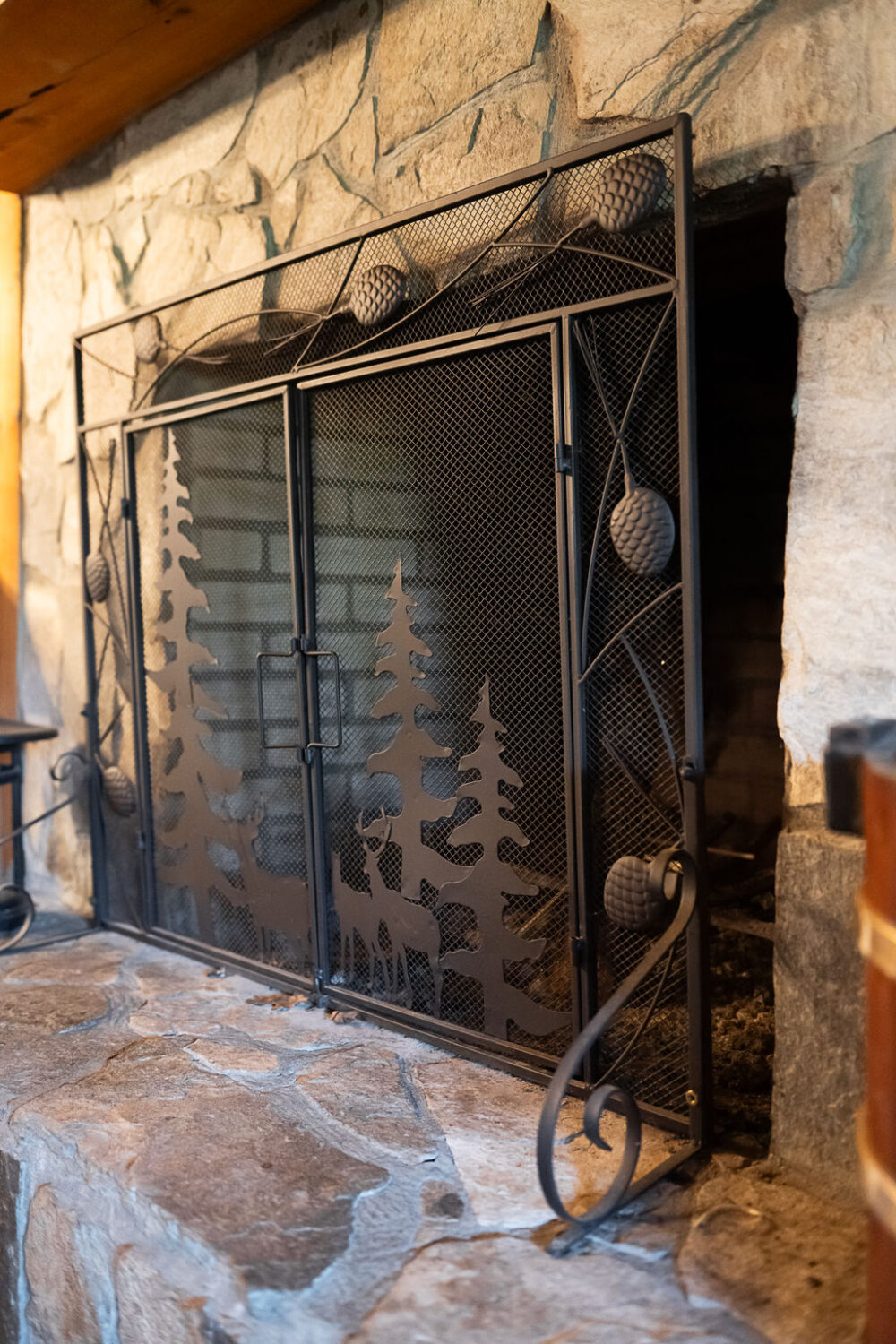 Pre-owned Fireplace Grate
We purchased our log cabin in 2020, when the entire world was on backorder. As a result, we started urgently scouring resale venues for a fireplace grate before we accidentally burned our house down.
We found this beauty at an upscale furniture consignment venue. It was half the price of the ones I looked at online, much more intricate and beautiful, and available the same day. I love how it comes to life with a fire burning behind the metal silhouettes, and it's one of my all-time favorite secondhand finds.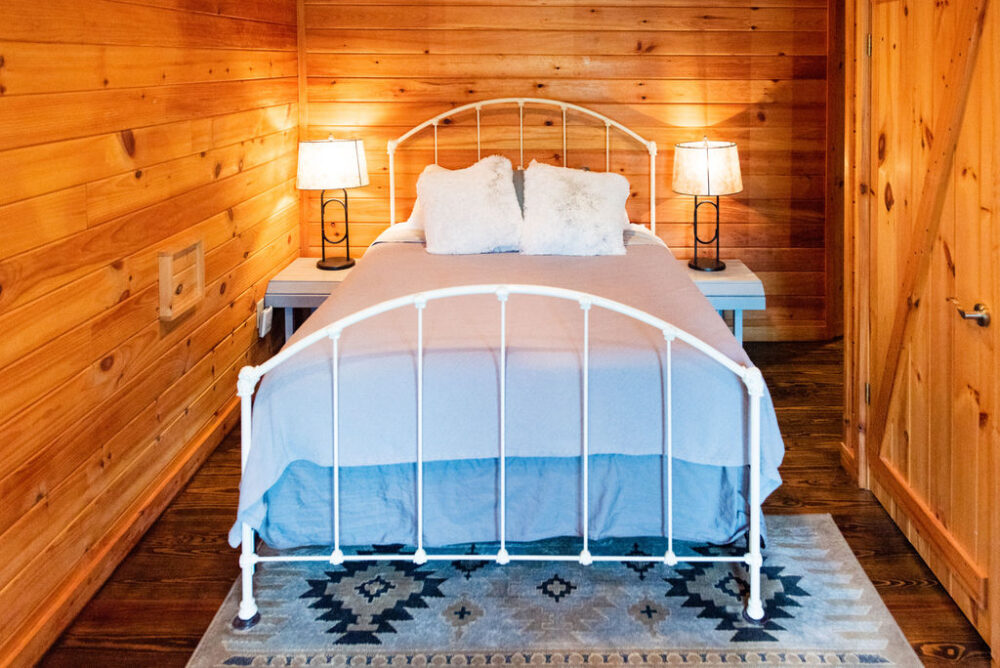 $10 Set of Cast Iron Lamps and DIY nightstands
I snagged these minimalist cast iron lamps at a Habitat for Humanity back during Bennifer part one; that's how long I've had them. They've been a seamless fit in all the places I've called home since then, though I've definitely upgraded from the original shades.
The end tables were primitive, raw wood pieces when I picked them up, which made them the perfect blank canvas for me to tailor to our home: no scraping, wood filling, or sanding necessary! I gave them two coats of furniture paint and sealed it with a clear poly, and the rest is history.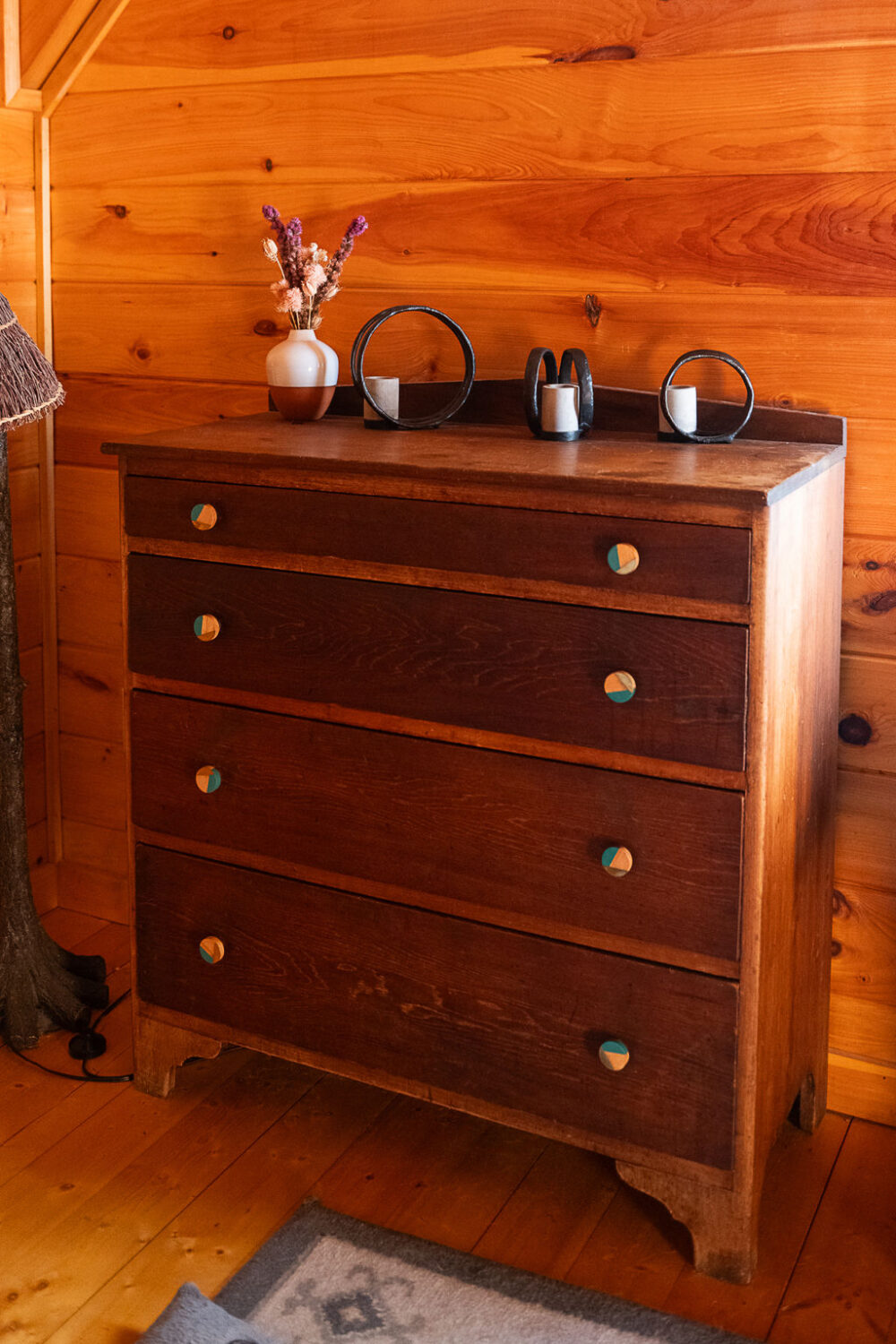 Thrifted Farmhouse Dresser
The closets in our cabin were designed for Polly Pocket, so finding a spacious dresser was essential when we moved in. This heavy antique checked a lot of boxes: it was spacious, solidly built, and pretty much a blank slate ready for a DIY.
I scrubbed it down and lightened up the body of the dresser, creating a two-tone look for some interest and to break up the heavy wood feel. I then swapped the old-fashioned carved wood knobs for these funky turquoise, gold, and lighter wood ones to modernize the look.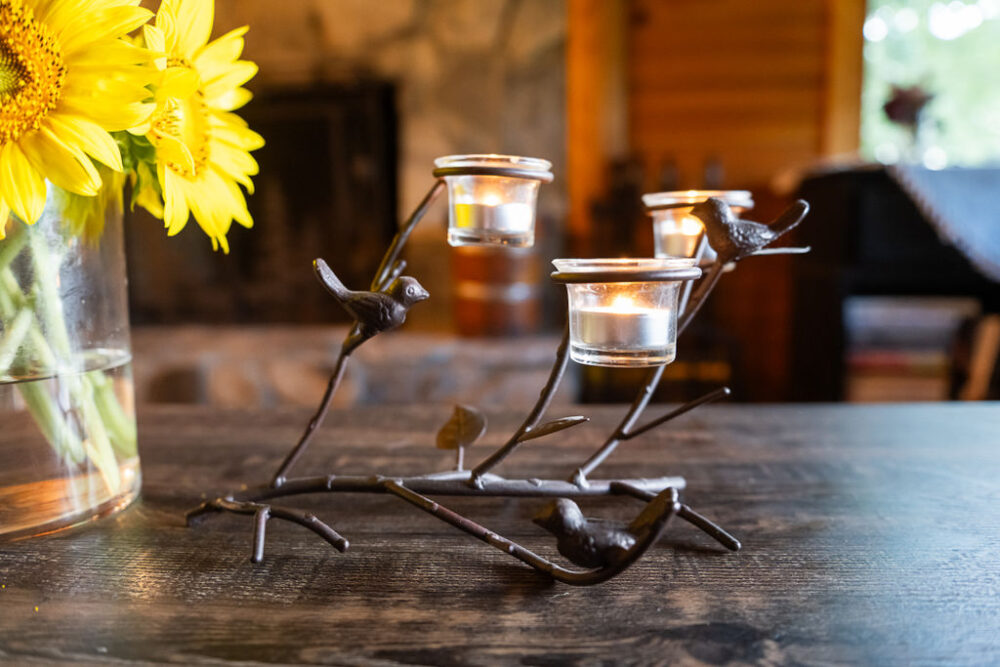 Thrifted Cast Iron Candleholder
As you may have picked up on from the cast iron fireplace grate and lamps, we love some cast iron decor in the cabin. It taps into the home's historic feel while offering visual contrast from all the wood-wood-wood we have going on. This rustic candleholder adds a whimsical touch that's perfect for our little treehouse.
Thrifted and Antique Store Curio Shelf
Let's be honest: no one wants to spend more time in their office than they have to, mountain views or not. So, while most of the time I shop for functional secondhand pieces, I added a shelf of visually pleasing curious to spruce up my office. We've slowly collected old-timey treasures to add to the shelf, like this brass calendar, a stamp, a handcrafted wooden pen box, and a folding ruler.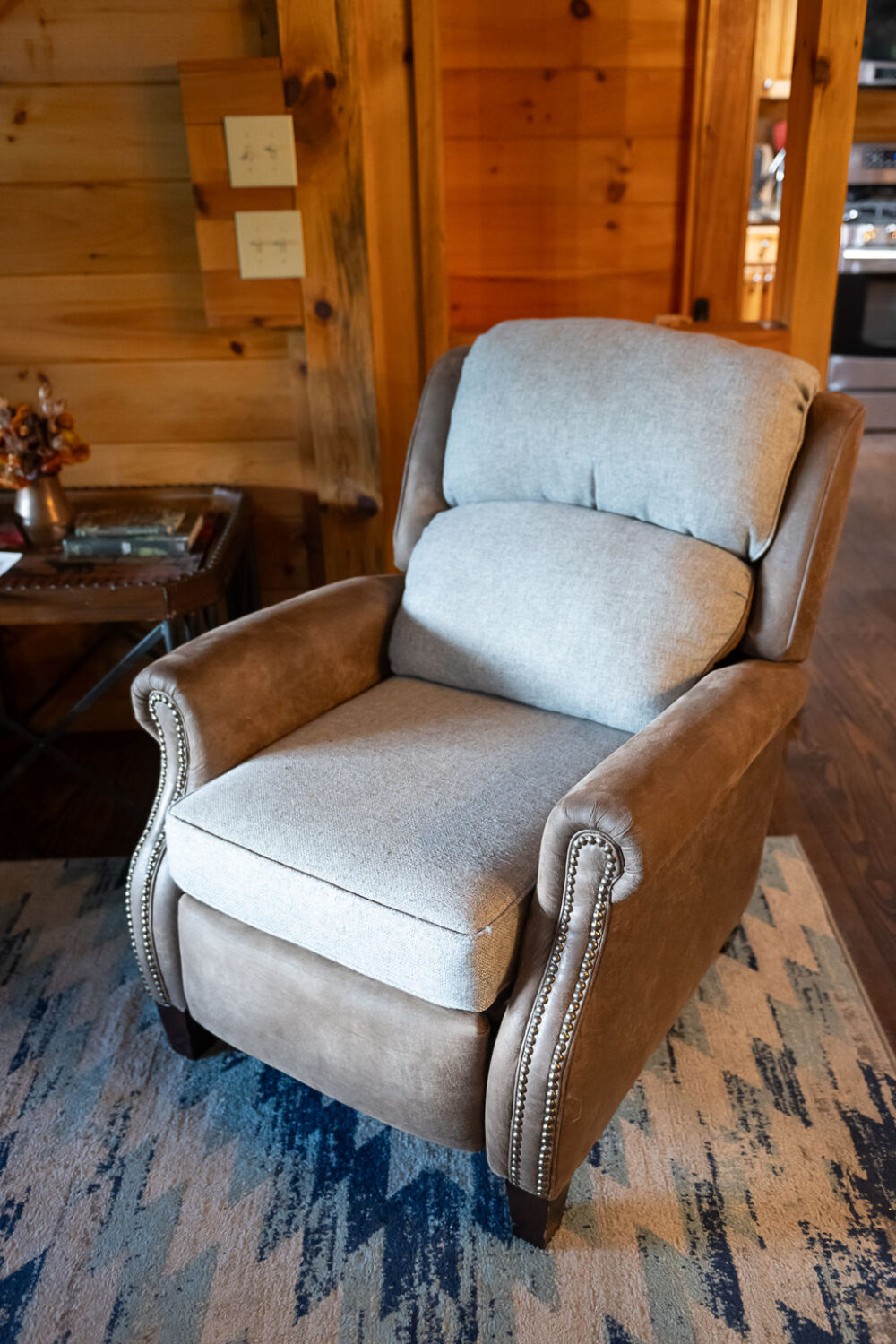 Secondhand Recliner
Behold: The world's most comfortable recliner. Seriously, it belongs in Ripley's Believe It Or Not.
We inherited two recliners and a matching sofa when we bought the cabin, and unfortunately, all three were covered in the loudest, ugliest red deer print you've ever seen. A local upholstery wizard recovered the cloth portions of all three for us at a phenomenal price, and he graciously did all three in our house so that we didn't have to lug around all that furniture.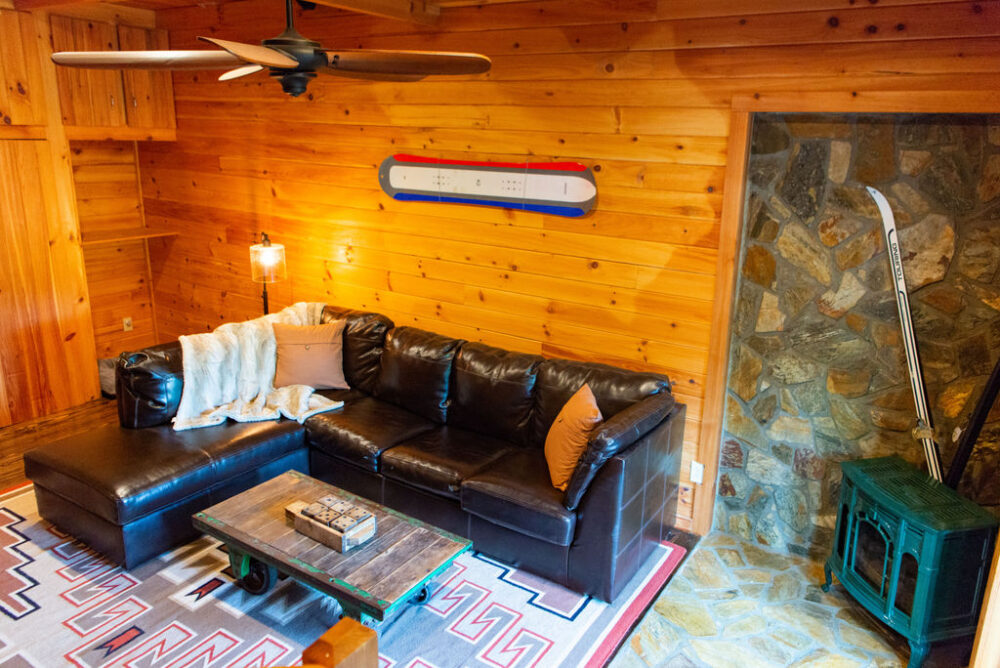 Thrifted Snowboard and Skis and Antique Store Coffee Table
Welcome to the man cave! The cabin's basement reflects more of my husband's sporty interests and adventurous personality, so we used vintage skis, ice skates, snowboards, and sleds to decorate the TV wall and lounge area.
The coffee table came from a really cool antique store in a nearby town, and I believe it's repurposed from industrial materials.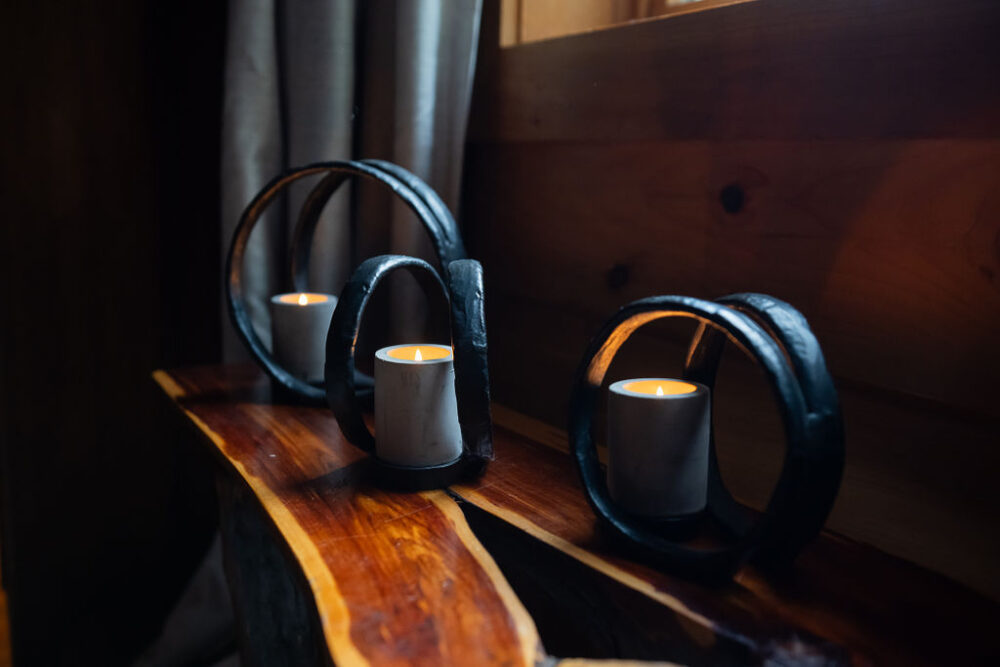 Thrifted Pottery Barn Cast Iron Candleholders
I found two of these candleholders about 12 years ago, and I was thrilled when I recently stumbled on a third matching one! I love the rustic industrial feel, and the cast iron theme carries throughout our cabin. I believe I paid $3 for each one.
Garage Sale Coffee Table
My husband and I stumbled on a garage sale in the middle of nowhere during the Covid supply chain crisis, which was great because we 1) solved our coffee table problem for a whopping $20 and 2) the cast iron legs tied into our other decor, and the metal studs complemented the arms of the recliners.
Antique Store Jelly Cabinet
Did I mention how the built-in storage in our cabin was designed for Polly Pocket? That includes the kitchen: there's no pantry. We snagged this really cool jelly cabinet at an antique store, and the extra storage it provides is essential to keeping a happy home. While initially, I hated that it's red, I sort of forget about that part now, and we've tied tiny warm accents into the bar cart (pictured below!) next to it.
The L-shaped wine rack above the jelly cabinet is also a thrift store find. We loved it because it fit perfectly atop our cabinet, and my husband's name starts with L.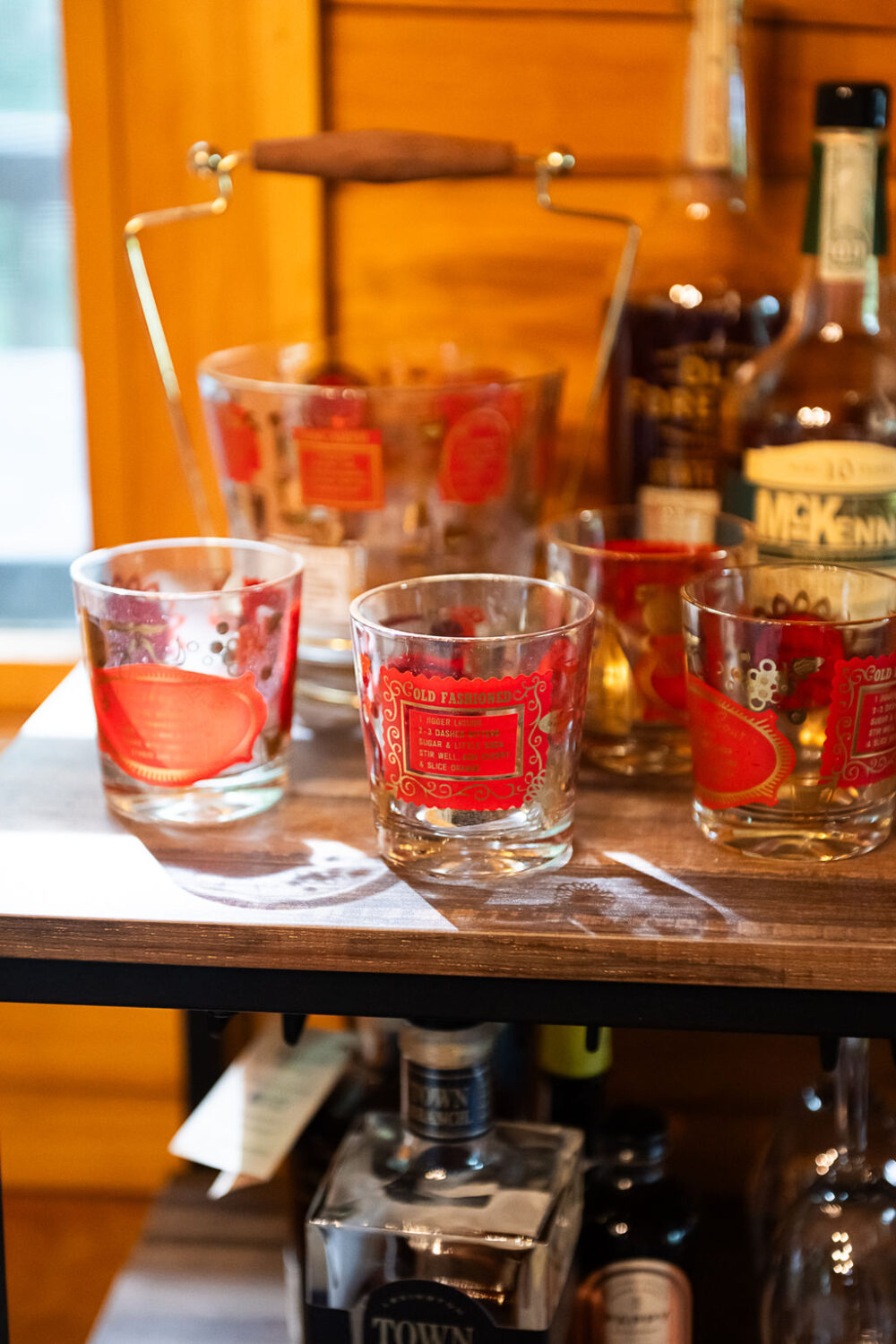 Antique Cocktail Glasses
Hands down, my favorite vintage accents to shop are antique barware. I found these treasures at an antique mall, and I love that there are recipes right on the glasses. I found the matching ice bucket later on and purchased vintage arrow cocktail picks on Etsy (not pictured) to finish out the set. We get so many compliments on them, and I swear bourbon tastes better from a vintage tumbler.
Do you have vintage home decor or thrifted furniture you couldn't live without? Tell us about your beloved thrift store finds in the comments below!
All photos via Reese Moore Photography
If you enjoyed Decorating from Thrift Stores: How to Use Secondhand Finds in Your Home, you may also enjoy:
Sustainable Living Tips: How to Style Thrift Store Finds for Elegant Regifting
How to Make a Gallery Wall From Thrift Store Finds
Tips for More Successful Thrift Store Shopping
About the Author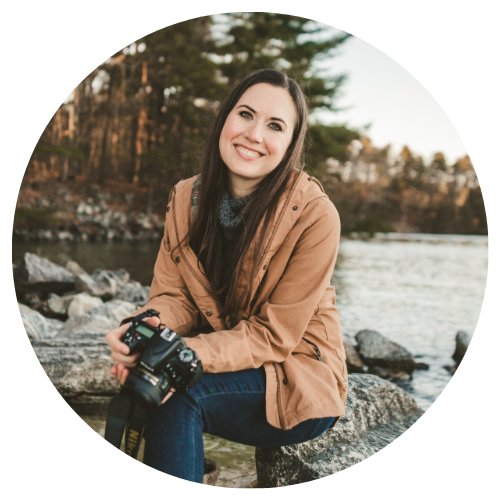 Reese Moore
Reese Moore is a photographer, content creator, and pickle connoisseur who divides time between Charleston and Lake Lure. When she's not behind the lens shooting stunning images for Reese Moore Photography, Reese loves to spend her time wandering the woods with her dog Gatsby or adventuring with her husband Logan in their Airstream Basecamp.