Oh, the never ending dance trying to eat healthier and more wholesome food.
Our efforts to eat more nutritiously compete with time, cost of healthier food options, lack of knowledge about what we're really eating, and limited motivation to fight a seemingly never-ending battle, among others.
Nonetheless, our family takes the approach that every little bit helps in making strides toward healthier living.
Our family doesn't eat a lot of carbs. I suppose that ignores the giant bowl of egg noodles with butter and Parmesan cheese I had for lunch (#fail), but truly that's a rarity. While we normally eat fruit, cheese, eggs and leftovers for breakfast, this past weekend I made a batch of blueberry banana muffins to carry us through the week. I shared with you a similar recipe a couple of weeks ago. This time, however, I tried a new muffin recipe that used coconut oil.
I've been curious about coconut oil and its cousins, like coconut milk and coconut flour. I jumped at the chance a little over a week ago to receive a free jar of coconut oil in exchange for a free trial of Thrive Market. (That doesn't sound like a bad trade-off…)
For those new to Thrive Market, imagine Costco meets Whole Foods online. Thrive sells organic, natural, fair trade, and "clean eating" types of foods. After paying an annual membership fee, members receive products at discounted prices compared to pricing at similar brick and mortar stores like Whole Foods (a place I frequent at least once a week, often more). While one certainly couldn't make it their only grocery shopping outlet, I really like that it brings together many (sometimes) hard-to-find products into one place. Also, anything online is my jam!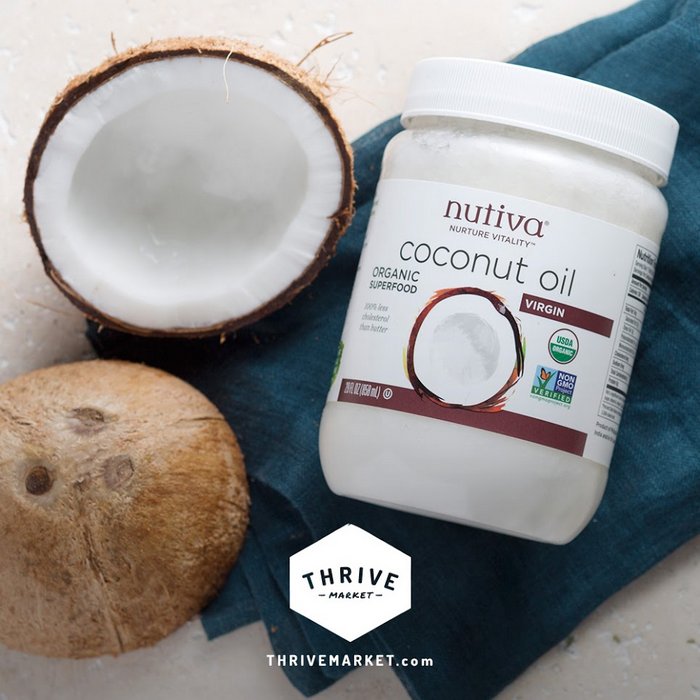 I digress… back to my muffins.
Over the weekend, I headed to my Pinterest account in search of a good recipe to try out my coconut oil. I landed on these blueberry banana muffins made with whole wheat, oats and coconut oil (among other things) that were perfect for the nearly brown bananas ready to be used for something other than eating plain. My boys love blueberry banana muffins, and this option offered a good comparison between a recipe coconut oil and the more traditional recipe I made not long ago.
After baking them and, of course, eating them, I didn't notice a difference in taste. There's definitely no coconut flavor, which gave M some serious reservations when I told him about my plan. I'm now on the hunt for a few more test recipes to see how this trendy ingredient treats my cooking skills.
Cross This Off Your To Do List: Have you tried coconut oil? If you have and love it, check out the offer from Thrive to get a free jar. If not, and I've piqued your curiosity, grab the jar because you've got little to lose.
I'm learning more about it myself and enjoy having the jar of coconut oil to test out as I explore the many ways it can be used (Hint: Its uses reach far beyond the kitchen).
If you haven't explored coconut oil much, consider checking out the resources below which offer more details on the increasingly popular product (especially among nutrition junkies and clean eating gurus). I've included both supporting and dissenting opinions, as its pros and cons don't yet have sufficient evidence for strong medical conclusions.
Let me know your thoughts in the comments. Great recipes? Share links. Good resources? Share those too.
23 Health, Fitness and Weight Loss Benefits of Coconut Oil
Health Benefits of Coconut Oil
Why Olive Oil Might Be Better, For Now