Weekend Update #2 | Apples + Hikes + Compost Bins
Every few weeks I share a little peek into real life lately. Check out more of our Weekend Updates.
Fall is in full swing, and I'm here for it. I love the crisp mornings, crunchy leaves, and golden colors everywhere. Here are a few updates from the last few weeks as we put on our jackets and suit up for the next season.
Apple Picking at Linvilla Orchards
The boys had a weekday off of school while my sister was visiting from San Diego. We took the opportunity to visit Linvilla Orchards on a quiet Thursday morning and pick apples from some of the final bunches ripening before winter sets in. We used some of the apples to make homemade applesauce. It's an easy recipe that takes inspiration from the homemade applesauce my grandmother used to make.
Hiking Around Our Home
After spending a good chunk of our weekend bundled up in hockey rinks, my sister and I spent an hour and a half Monday morning meandering through the woods not far from our house. The golden rays of the morning sun peaked between fall's red, orange, and yellow leaves adorning most of the trees.
The fallen leaves on the forest floor crackled under our shoes while we caught up on life's latest. I love crisp fall mornings, and I really need to get out and soak up more of the season like this. I often find myself buried in my to-do list hoping to get a few more things checked off. But it would probably behoove me to embrace the serenity outdoors a bit more often.
I'd love to know how you enjoy the fall season with your family. Although winter is nearing, there are still plenty of great fall days left to enjoy. In addition to hiking and picking apples, here are some ways we spend the fall with family outdoors.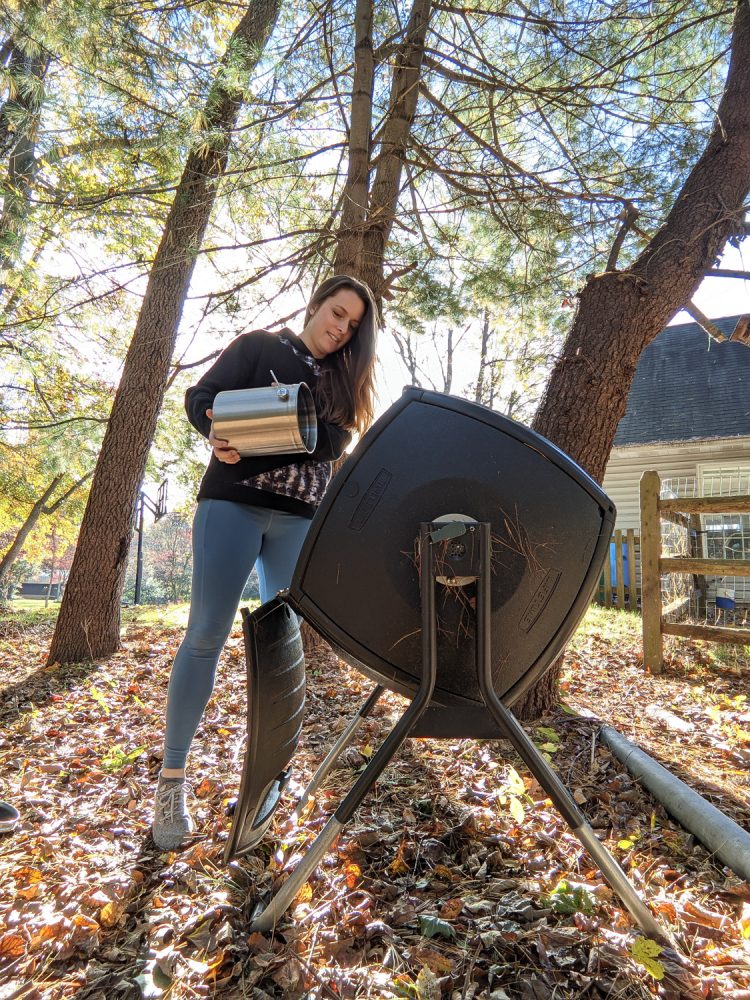 Feeding All The Compost Bins
I'm a little obsessed with composting, and as a result, have many types of compost bins around my home. Lately, I've been particularly diligent about feeding our food scraps to the Subpod and our tumbler composter.
For me, both of these composting systems have required a bit of a learning curve. I've had each for 12 to 18 months, and I feel like I'm just getting into a groove using them now. I need to put together some posts about how to use the Subpod and how to use a tumbler for composting over on WasteWell.
To help highlight much of the information I share about how to compost at home, I'm planning to move a lot of the information I've shared in the past about composting over to the WasteWell site. I hope that by giving all of this beloved information its own home, it can be more useful and help more people learn how to compost at home.
If you follow me on Instagram, and I hope you will @honestlymodern, you've seen that I have been showing off the food scraps that are heading out to the compost bin. Would you show off your scraps? I'd love to see what you're composting.
Share a photo or video of your food scraps or of you putting your food scraps into your compost bin and use hashtag #ShowOffYourScraps so we can encourage more people to compost at home and normalize The habit that food scraps should not end up in the landfill.
Pool Before School
We recently finished a screened-in porch addition to the back of our house. We included space for an outdoor dining area and an outdoor pool table. Despite the fall weather, we've been using it almost every day (especially the boys).
We eat dinner out there some days, even if I'm wrapped in a blanket while they think I'm a wimp. And the boys have been playing pool in the crisp morning air before heading to the school bus. The view with fall's color leaves as a backdrop is pretty amazing.