Sustainability Side Hustle | Q+A with Recycled Yarn
As a part of our Sustainability Side Hustle series, we are interviewing people passionate about our planet and who have explored their own skills and talents to share with their community. As our planet continues to suffer under human-caused climate change, pollution, and overall environmental degradation, we hope more people find pleasure and financial fortitude in a sustainability side hustle or small business.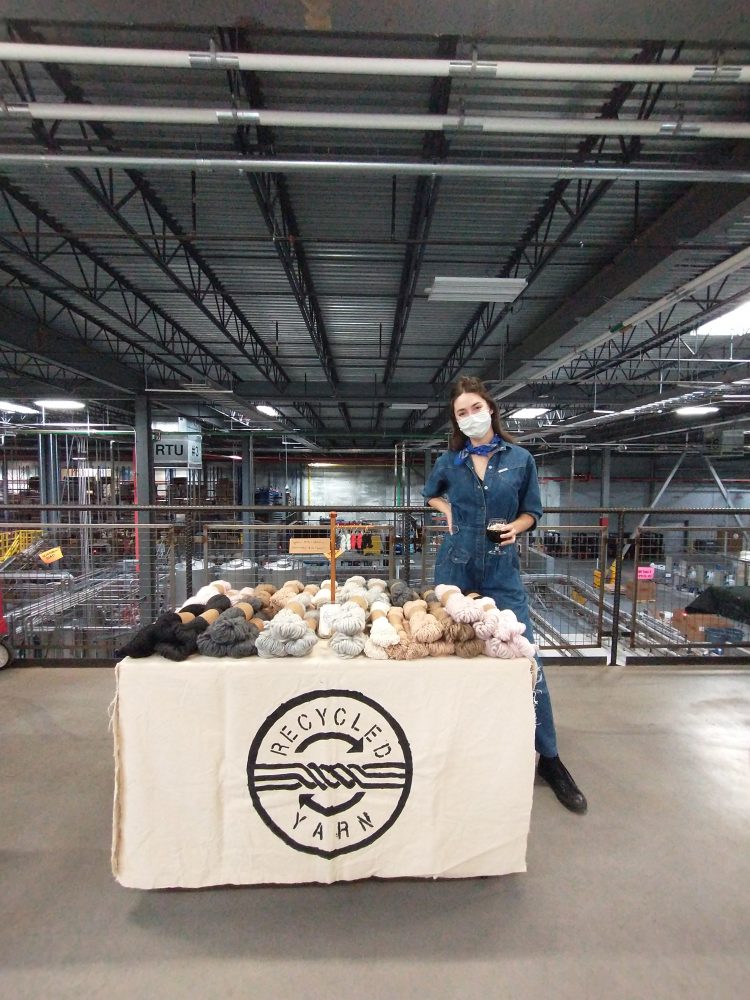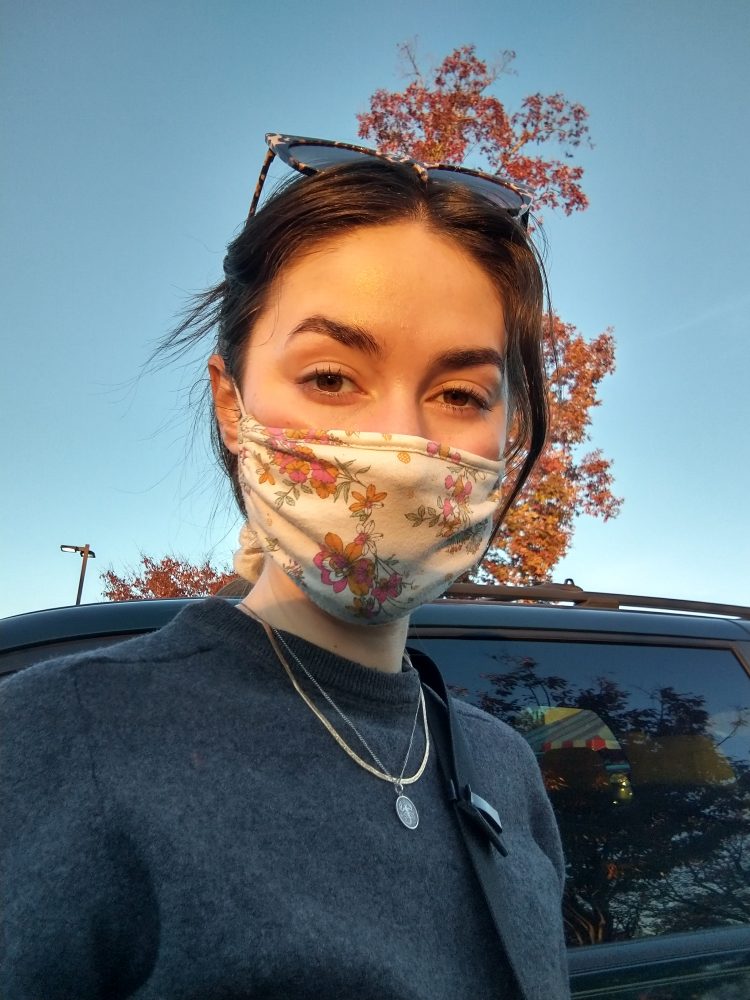 Misty, the owner of Recycled Yarn, started her business of unraveling yarn with the knowledge she gained about fiber and textiles from her years in college. With her education and the skills she learned while working with multiple local business owners, she took the leap to start a career in her passion project. As responsible practice for fiber artists, she focuses on sustainable reuse of unwanted fashion items, a method that is friendly to the environment as well as the plants and animals from which the fibers came.
What is Recycled Yarn?
Recycled Yarn is a business that provides 100% natural fiber knitting and weaving yarns procured by unraveling and repurposing fibers from old sweaters, blankets, and other knit materials. I sell these repurposed yarns in whole skeins of recycled sweater bundles.
How does Recycled Yarn work?
I source most of the recycled yard from thrifted garments. In practice, I start my search for yarns to repurpose by visiting thrift shops and flipping tons of tags to find a garment with the perfect fiber content and construction combination. Then I take the garments back to my studio to carefully and completely unravel them.
To ensure ethical sourcing and low waste processing methods, I recycle each sweater by hand. Finally, I post the skeins of recycled yarn online for sale!
How and why did you start the business?
I began recycling yarn in April 2017 primarily out of necessity. After graduating from Virginia Commonwealth University School (VCU) of the Arts Craft / Material Studies program with a focus on fiber and textiles, I planned to continue weaving on a large scale and needed high-quality wool in large quantities.
With a void of yarn stores in my area and on a recent college graduate budget, I experimented and thrifted a large men's L.L. Bean chunky knit 100% wool sweater. After unraveling it, the sweater produced around 1,000 yards of yarn and I thought, "Hey, I might have something here".
I fell for the process of recycling yarn and supplying creative and talented makers with a medium with which they're inspired to create something wonderfully new. I am proud of the product and of the things crafters make with the yarn. To date, I have recycled over 2.2 million yards of yarn.
Did you know how to take apart a sweater? Did you make any mistakes?
My experience with fibers along with my formal education gave me a good foundation for understanding the construction of knit garments before I experimented with that L.L. Bean chunky sweater. But I've had plenty of messy projects along the road to success.
Through much trial and error unraveling over 2.2 million yards of yarn, I have learned which qualities to look for and avoid in thrifted pieces. I know which types of sweaters have worked well in the past and which look like they'll work but are actually a mess to unravel. For all my sourcing, I make sure the sweater is 100% natural fiber and that its construction lends itself to being unraveled.
How and where do you shop for the sweaters you recycle?
Using unworn or unwanted items is important to my mission of redirecting discarded material back into circulation and preventing it from going into the trash. Sweaters are the most common knit I unravel, although I have also unraveled blankets and afghans.
I source most pieces at secondhand clothing stores. I choose sweaters made of natural fibers in any combination. I look for natural plant fibers like cotton, linen, and hemp as well as natural animal fibers like cashmere, alpaca, and merino wool. I use no acrylic, elastic, spandex, or any other synthetic or manmade materials, even if they are mixed with natural fibers.
I also accept sweater donations, although they must meet my natural fiber content parameters. I ask donors for pictures before accepting their garments.
Where do you do the deconstruction of sweaters?
As with most small businesses, Recycled Yarn started in the spare room of my apartment. Eventually, I outgrew that room and found the perfect studio space at Artworks in Richmond, Virginia's Manchester neighborhood. I enjoy spending as much time as possible in my studio and plan to remain there for the foreseeable future.
Do you sell purely online? If so, why? If not, why?
The Etsy shop is Recycled Yarn's main presence. Etsy allows me to ship worldwide and share this sustainable product with a broad audience. I also attend craft shows in Richmond in the cooler months, or "sweater season" as I like to call it, where I connect with my community and fellow local makers. I am passionate about furthering the conversation and action toward sustainable creative pursuits. Between the virtual Etsy shop, local craft shows, and social media, I cast a broad net to engage with folks from all over.
Did you ever think or want this to become more than a side-hustle?
Recycled Yarn is my full-time pursuit which is an absolute dream, and I intend to continue growing it for the foreseeable future. I feel pinch-me lucky every day that I get to do this.
I have only ever worked for local businesses. Perhaps seeing the leaps of faith those small business owners take on a regular basis in combination with my coursework in craft and entrepreneurship I took through VCU gave me the experience and confidence to pursue this passion project and turn it into my full-time career.
I find success in enjoying every day. I follow a very intuitive workflow that I credit for avoiding burnout, and my momentum behind this project only builds. Through the years, what I put into the business and what I get out of it have been so rewarding. Finding fulfillment in something that also meets my financial needs consistently reminds me that I'm in the right place and investing my time and energy in the best way for me.
What are some difficulties you have run into on this journey?
I anticipated the seasonal nature of knitting to present a challenge for Recycled Yarn. While there does tend to be more interest in weaving and natural yarn during the colder season, I love that true knitters find a way to knit year-round. I even get photos of folks knitting with Recycled Yarn at the beach!
Additionally, I sell internationally from my Etsy shop. The geographic dispersion of my customers helps counter seasonality as well.
I've also come to realize that my previous work experience helping other local, small businesses prepared me for the feast and famine nature of growing a small business. Those experiences and my upbringing have helped me hone the flexibility and resourcefulness that carry me through the ebbs and flows of owning a seasonal small business.
What has fulfilled you the most on this journey?
The direct correlation between what I put in and what I get out provides great satisfaction in my work.
What does a typical week look like for you?
I spend a lot of time in my studio at ArtWorks, hitting local thrift stores and taking before and after photos of the sweaters and the yarn they produce for posting on Etsy and Instagram. I also spend time on the "back office" side of the company doing things like bookkeeping.
What are some ways you have marketed your business?
I have benefited from connecting with SCORE for business advice and believe that word of mouth is the best form of marketing. I have a modest social media presence because I spend most of my time actually unraveling the sweaters!
How does your recycled yarn compare to new yarn?
Nationwide craft stores sell primarily acrylic yarn. To find really great quality yarn, and particularly yarn made from natural materials like the yarn that I sell, you need to visit a yarn store. In both of these markets, my pricing structure keeps my yarn bundles very competitively priced, which I see as a win/win.
When going against the grain when it comes to old (reuse) vs new, how do you communicate the value and worth of the work you do?
Recycled Yarn is in a unique position to highlight the concept of the perceived value of a clothing item. A new cashmere sweater from a brand-name clothing store may sell for $100. The owner donates it to a secondhand store for $0 before I purchase it for around $6. With just my investment of time and care, I transform that same material back into yarn that sells for something like $50.
Using the lens of value to examine this practice, it seems silly how the exact same material is assigned such wide-ranging price tags, depending on its retail context. To ground that subjectivity, I do not inflate my prices for the perceived value of certain fibers over others. Rather I stick to a formula to price fibers based on my costs to unravel and prepare them for resale. For example, I sell cotton and alpaca for the same price if I spent the same to purchase the thrifted sweaters and time to prepare the recycled yarn.
Because my pricing and quality are similar to more traditional virgin yarn products, I don't often have to justify to customers why it's worth purchasing recycled products because they aren't giving up much in terms of price or quality.
Who or what has been your greatest resource in the sustainability community?
My go-to sustainability guide is my exceptionally resourceful mother. The values she lives by and instilled in me growing up inform the decision-making that goes into how Recycled Yarn operates. The creativity of the fiber artists I've met through Recycled Yarn also inspires and motivates me to continue. My end product serves as someone else's raw material and through this, a collaborative relationship is built – a relay of handcraft.
Most sustainable businesses aren't seen as the default solution to a problem, they are seen as an added expense to living a "sustainable lifestyle". Have you experienced this in your business?
In an effort to combat the tendency of sustainable brands to be really expensive, I am mindful of maintaining a pricing structure that sustains the business but also keeps costs as low as possible for customers. I want Recycled Yarn to be an ongoing resource for fiber artists to choose from, not just a single splurge purchase.
I strive for them to feel good about what they're using in handmade gifts for loved ones. To be sustainable, a product must be affordable in such a way that people can continue to purchase it as part of their everyday lives within their budgets.
If someone wanted to replicate this business in their community, how would they go about it?
The heart of Recycled Yarn is the notion of repurposing what already exists in the world to better function in and serve our lives now. Internalize the idea that everything you need is already out there. I recycle a non-traditionally recyclable resource, and this logic can be applied to a whole host of pursuits.
What's already out there that could change form to better function in our lives? How can it be transformed to serve a new and different purpose? What's something you need that you can make yourself? How can a material on its way out be preserved and made useful to yourself and others?
We can recycle more than paper, plastic, and glass. We can find creative reuse for things you'd never put in the recycling bin – like a wool sweater. I hope to encourage creative problem solving to incorporate what's already in circulation in a solution.
What do you think the future of fiber recycling could look like? How do we get there?
This business is just a single offshoot of fiber recycling efforts happening across the globe. Many businesses have their own unique takes on channeling their products' life cycle, for example, Eileen Fisher's Circular by Design clothing recycling program, Patagonia's repair services, and even H&M's Looop machine. Creative reuse ventures are wide-ranging and there are certainly more to come. I have my eyes peeled for a truly scalable solution.
I believe millennials, and to an even greater extent, Gen Z, care about actionable steps they can take to implement a more earth-friendly lifestyle. I've seen this through the unmasking of fast fashion and the circulation of information on social media about the human rights violations involved in the mass production of "low-cost" clothing sold here in the US.
The terms capsule wardrobe, zero-waste, and no-buy come to mind, all of which are anti-consumerist at heart. For these reasons, I believe there will be a snowball effect of creative alternative solutions to supporting big exploitative clothing brands.
Where else can we find more information about you?
Check out my store on Etsy and see my work on Instagram.
Thank you Misty for being a part of this series and giving such great insight into your journey!
All photographs courtesy of Recycled Yarn
About The Author
Rupa Singh
Rupa Singh is an ex-social entrepreneur and mom of three kids connecting them to their South Asian (Indian) roots + sustainability. Organizational wife to an altruistic architect. Advocate for low waste + thoughtful consumption. Continually unlearning + learning. Her bullet journal + audiobooks + morning ritual feed her spirit.