Peace by Piece | Summer Dresses
Welcome to our Peace by Piece series where we use individual outfits to break down the good, the bad, and the ugly of fashion's impact on the environment and our communities.
Fashion is one of the most significant contributors to environmental destruction and carries the weight of labor inequities around the globe. It's also a really important part of our everyday lives. Not only is it a great form of expression, but we also need to get dressed every darn day.
Fashion matters. Fashion has power. Let's use fashion to do good for our planet and our people.
When I walk into my closet in the summer, the first thing I reach for is a dress. It's hot (I mean humid hot in Richmond, VA). I have about two minutes to put something on as I rush to get ready last after all three kids are set, we've packed up everything we need, and we are going to be late. A dress is so simple – just one choice – no stumbling over matching tops and bottoms.
My reason to shop for summer dresses
For the past few summers, I've been nursing my third kid. While I really love breastfeeding, it took its toll on my wardrobe. My body has definitely changed as my family has grown to include three kids, and the changes are never the same with each child.
All three of my kids were summer babies. Yet despite the season, the clothing I wore postpartum after the first two kids did not fly with my third child. I wore no dresses. Wearing a dress during a season of breastfeeding is really challenging, a logistical hassle in private at best. I could pull the dress down at times. But my third child nursed for a good while, and I was usually running around with my two older girls. I didn't want to be so exposed for so long, and I hated the nursing cover-ups. So sadly, dresses were deleted from my wardrobe for a time. 🙁
Until this summer! Free from nursing, I could wear dresses again. But almost everything in my wardrobe no longer felt right. They definitely didn't fit the way I wanted them to.
Too tight in places that have changed shape.
Too short for what I am comfortable wearing now.
Never fit properly in the first place and definitely didn't now.
Too worn from previous uses.
I've aged, and my sense of style has changed.
I was so excited to get into a dress, so I went shopping! With many years passed since I invested in new dresses, shopping in person was a priority for me. I had to try things on to see what types of dresses would work well for me now.
Shopping secondhand
I always start my shopping expeditions in search of secondhand clothing. I hold dear the value of choosing pieces already in circulation instead of consuming new items. Richmond has a few secondhand shops I love, and they curate items really well! I knew this could be the first of several visits because there's definitely some luck with secondhand shopping. You never know what you'll get, and patience pays.
In my community, I always hit Buffalo Exchange, Clementine, and Ashby to begin my secondhand shopping searches. These are my favorite local options, but there are many great secondhand shops in many cities.
Although it can take a bit longer and require a few more trips, I've come to love secondhand shopping. I love the thrill of finding the one thing that is exactly what I am looking for.
I love trying on a bunch of things. Even if I find out that they don't fit and I can't just swap the size, I go back out there and pick more things. This experience helps me really learn about my body type and my style sense.
I value quality over quantity now. I know I will come home with less than I wanted. I know I'll have to go back out there. I know it's not a quick shopping haul. I used to hate spending hours trying on clothing to only get one thing, but now I know that I worked hard to find that unicorn piece and it means something to me, so it will stay with me longer.
Lastly, I know if I fall in love with something and it doesn't fit, I can always write down its details (brand + style number + size), come home, and look for it secondhand online. My favorite place is Poshmark.
Here are my beloved new-to-me dresses to make this summer easy breezy!
Dress 1 | From Universal Threads and made in Vietnam, I purchased this dress for less than $12.
I am short (5'-1") and usually, I don't go for long dresses, but it's just what I feel comfortable in now. This dress came home with me, but it really didn't feel good until I realized I needed the correct bra for it (the story on the bra is below). I loved the color, the flowy shape, and the texture of the cotton gauze fabric.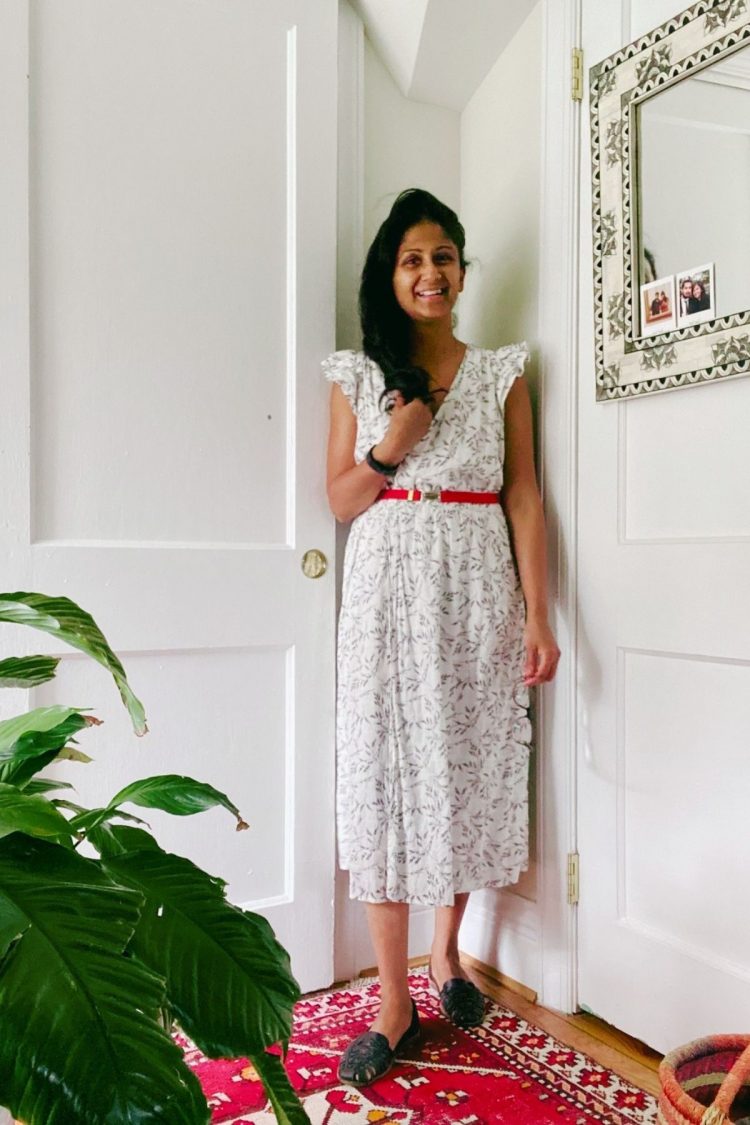 Dress 2 | This dress from A new day was made in Indonesia, and I purchased it for less than $12.
Again it's long. I was looking for midi dresses. This one fits just a bit big and was missing the belt, though it still had the belt loops. I felt good in it and I liked the simple black flower pattern, so I purchased it despite the minor size concern. I had to wear it a few times to figure out how to make it feel perfect. Adding the red belt and right bra did it.
Dress 3 | This Shein dress was made in China. Yet another dress I purchased for less than $12.
Typically, I only like to wear cotton. I've always been drawn to this natural material. This dress, however, is not cotton; it's 100% polyester (a synthetic fiber made from petroleum byproducts). Besides just loving cotton on my skin, natural fabrics don't shed microplastics into our water system.
The duality here is that buying second-hand keeps this synthetic dress in the fashion cycle. It's not the perfect sustainable material, but it works for my body and my lifestyle. Otherwise, it may have ended up in a landfill or sent to another country to pollute their spaces.
I saw this dress and immediately thought about being on a boat. I doubted it would suit me but chose to try it on anyway. So often in secondhand shopping, you just don't really know about a piece until you put it on. I loved the fit. It slips right on and falls just the perfect distance away from my body, enough so I can bear that it's not cotton.
Dress 4 | This A new day, made in Indonesia, made its way into my wardrobe for $20.
This dress is NOT secondhand. I had to purchase this new item at Target. I got into a situation where I needed to be somewhere and didn't plan properly, therefore I couldn't go home and change.
I rushed into Target and took my time finding something I knew I would choose over and over in my closet. Fast fashion is only fast when we don't value the pieces in our closets. I knew this piece would last and I would love it for many wears, so it felt right for me and aligned with my sustainable style values.
I also needed a bra (this is the bra from Dress 1). The dress and bra were not 100% cotton but were soft enough to feel like it. I don't buy new clothes often and I only buy cotton for the most part, but sometimes you get into a bind.
I'll add this to my summer dress collection that I plan on keeping for a while. Also, I can definitely wear this dress in the fall, maybe with a mock turtleneck underneath it. I love that it extends multiple seasons, giving me even more chances to wear it.
Dress 5 | I've had this Mata Traders dress, made in India.
I can't remember how much I paid for it because this is the one dress where I shopped in my existing wardrobe to re-energize my summer style. This dress lived in my closet, but I never wore it. It felt too loud and with too much pattern to wear for an everyday occasion. I thought I had to reserve it for an event. Then I saw it with new eyes and knew it was right for this season in my life. Now it is in rotation. 🙂
Sustainable style choices that work for you
The more people can see secondhand in other people's lives, the more it becomes acceptable as an option rather than defaulting to new. I talk about where I got my clothes. I tell people exactly where to go to find sustainable options. I share how much money they can save and how fun it is to find something "original", rather than sifting through a rack of the same thing in multiple sizes.
The three local secondhand shops I visit feel like "new items" stores because they are well-organized, everything is labeled, and they treat the clothes with value. It makes a huge difference in worth when the retailer respects the clothing, no matter new or old.
Sustainable style has so many different perspectives and can look different for different people and different items in your closet. In my case, Dress 5 came from a Fair Trade brand specifically focused on ethics throughout their supply chain. I also shopped my own closet to reimagine something I already owned.
Dress 4 was bought in a rush and new, but it was mindfully chosen. The longevity of the dress was a huge consideration before buying it.
The first three dresses have "fast fashion tags" but become sustainable when we slow down the cycle of use for these items. The original owner cared for them well and passed them along to a secondhand shop instead of tossing them in the trash. They are made well enough that they will last for many wears. And I fell in love with them, giving each dress another life in my wardrobe.
Each of us can find different avenues for making more sustainable style choices that work for our budgets and styles and that are accessible in our own communities.
What percentage of your wardrobe is new to you? What are some of your favorite secondhand pieces and places to shop? What are some new pieces you own that you'll keep for a good while? Anything new or new to you that you'll pass along to your kids? Let me know in the comments!
About The Author
Rupa Singh
Rupa Singh is an ex-social entrepreneur and mom of three kids connecting them to their South Asian (Indian) roots + sustainability. Organizational wife to an altruistic architect. Advocate for low waste + thoughtful consumption. Continually unlearning + learning. Her bullet journal + audiobooks + morning ritual feed her spirit.