Family Vacation Guide: Chimney Rock, North Carolina
Are you planning a trip to Chimney Rock, North Carolina? Read on for insider tips on the best things to do in Chimney Rock, travel tips, local restaurants, Chimney Rock lodging options, and the best hikes near Chimney Rock, NC.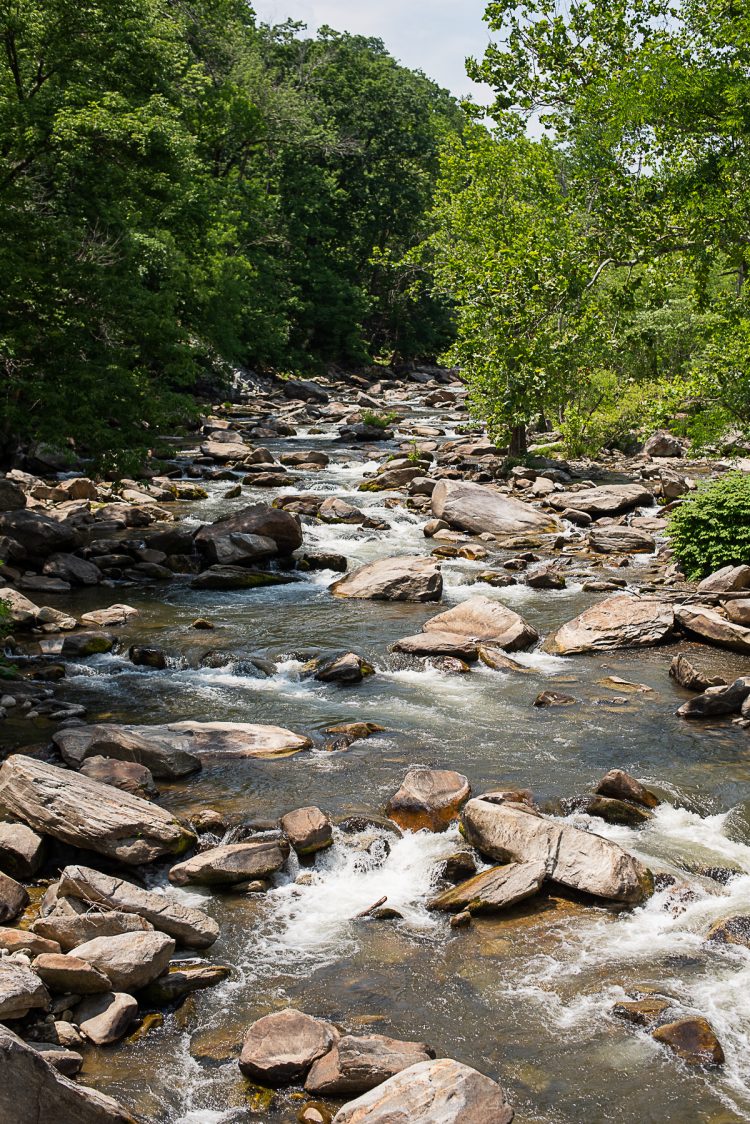 Planning Your Chimney Rock, NC Vacation
The town of Chimney Rock is nestled along the Broad River just outside the gates of the state park for which it's named. Chimney Rock's ongoing popularity as a family vacation destination is thanks, in part, to its scenic and convenient locale, as well as the numerous opportunities to enjoy nature safely with your children. And what better way to jumpstart the next generation of environmentalists than fostering a love of the outdoors?
Now, if you're from a larger city, it can be easy to confuse Chimney Rock and Lake Lure. The towns are a whopping 1,000 feet apart by my estimation (a scant 1 mile by Google's estimation), but each has a unique personality and activities. (Did you miss our insider's guide to Lake Lure?) Because they're so close, you may want to skim both guides if you're in town for longer than a weekend.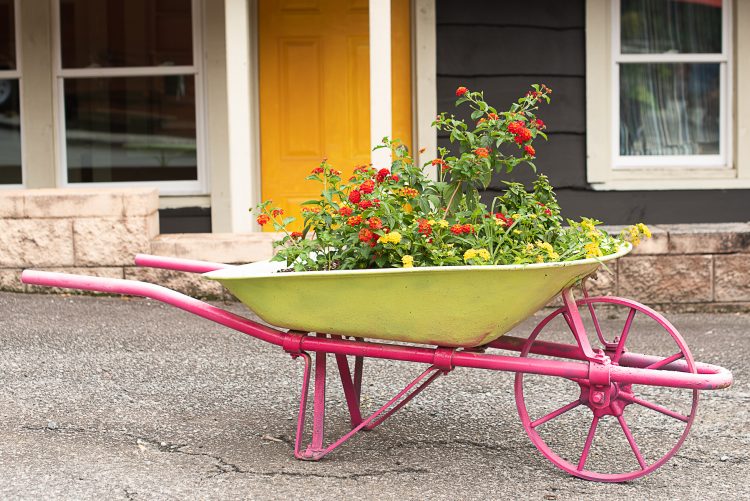 Things to Know Before Visiting Chimney Rock, NC
Chimney Rock, like the neighboring town of Lake Lure, is a seasonal community. While the state park itself is open year-round at this time, many of the restaurants will shift to weekend-only service or may shutter their doors completely from December to March. It's still beautiful in the winter, but you'll want to arrive with a meal plan and start your trip with a grocery run to the Ingles in Lake Lure.
Spring is a gorgeous time to visit the park, do some hiking, and photograph wildflowers. Summers are earmarked by opportunities to hear live music, U-pick blueberries, blackberries, and flowers, and outdoor activities. The fall foliage in the area is unsurpassed, and you'll want to take in the sweeping vistas from some of the local hikes. You may also want to make the short trek to Edneyville's many apple orchards, pumpkin patches, and the scariest "Haunted Farm" I've ever been to.
Are you planning to work during your trip? Plan carefully. This gorgeous slice of wilderness notoriously escapes the grasp of many cell phone service providers, and mice obviously power the Internet here.
Driving and Parking During Your Chimney Rock Vacation
Though you may feel like you've successfully "gotten away from it all," even little Chimney Rock experiences traffic outside the gates of the state park during peak season. Parking in Chimney Rock Village can get competitive on weekends in peak season.
As someone who spends half her time in those mountains, I recommend a vehicle with 4-wheel drive. If you're exploring the area, you'll inevitably encounter steep, unpaved roads, take curves in questionable weather, and need to park in less-than-ideal conditions along the sides of trailheads.
Groceries, etc. for your Chimney Rock Vacation
There is only one grocery store: Ingles on Highway 9. It is also the only pharmacy. There are several seasonal fruit stands on Memorial Highway, and Edneyville's farms are a short drive if you are keen on shopping for local food. The Lured Market has a curated market of gourmet essentials, including cheese, eggs, milk… and wine.
Exciting Things to Do in Chimney Rock, NC with Kids
Chimney Rock is a small town but don't let that fool you. There are lots of things to do in Chimney Rock with kids on your nature-inspired family vacation.
Despite the entry fee and the side-eye I give any trail system that boasts an elevator, Chimney Rock State Park is a must-visit. Think of it as a "choose your own adventure" hiking excursion that ranges from "oh-my-God-I'm-spending-the-rest-of-the-day-eating-pizza-on-the-sofa-I-earned-it" to "well, that was nice." I've literally seen serious backpackers huffing and puffing with their training packs at the same waterfall vista as a slightly awkward Tinder date where one party was rocking espadrilles. Thank heavens for that shuttle and elevator.
The Four Seasons Trail is a solid workout with a lot of stairs, but my sister's three relatively athletic kids (ranging in age from 13 years to 8 years) took it in stride. The Hickory Nut Falls Trail is a gentle hike (or walk, I might call it a walk) that intersects the end of the Four Seasons Trail to offer gorgeous waterfall views. The Outcroppings Trail (or elevator) takes you out on Chimney Rock, and the views are really worth the hype. Get ready to take some selfies, y'all.
The only trails I haven't personally done in Chimney Rock are the very kid-friendly Great Woodland Adventure Trail (.6 miles) and the Skyline Trail (the additional 2.2 miles was more climb than I had snacks for that day), which is supposedly breathtaking.
Chimney Rock State Park also offers kids a fun, approachable introduction to local wildlife in the Animal Discovery Den and through ranger-led Animal Encounter events. Other gems on the event lineup at Chimney Rock State Park include guided hikes and Yoga with a View.
Hiking Near Chimney Rock
If you're not a regular hiker, let me introduce you to my best friend: the AllTrails app. AllTrails is my go-to for selecting new hikes, and it lets you search by proximity to your location and filter by altitude, length, difficulty, and views.
Do you want a reasonable, kid-friendly hike in Chimney Rock that presents interesting terrain, an easy, flat parking lot, no entrance fees, and some semblance of a bathroom? Hit the Rumbling Bald Loop.
Are you up for a challenge ending with unforgettable views (without the crowds)? Party Rock is one of our favorites for Chimney Rock hiking. This 2.3-mile hike is pretty much straight uphill, and it ends with sweeping views of the valley from the opposite side of Chimney Rock State Park. Always bring water, don't forget to wear protective clothing and DEET in the summer, and keep kids under close watch at the top: there is no guardrail.
If you're willing to drive 15 minutes or so, the Florence Preserve offers some really amazing hiking opportunities, including Little Bearwallow Falls. Parking can be competitive on weekends during peak season.
Check Out the Shops at Chimney Rock
The shopping in Chimney Rock… rocks. And by that, I mean literally, almost every store in this eclectic town sells rocks. Whether you just have a passion for pebbles, a mystic crystal collection, or a desperate need for another pet rock, they've got you covered in Chimney Rock (in spades).
The diverse assortment of stores is worth a wander, particularly on a rainy afternoon. You'll find everything from knight helmets and dragon statues to hand-carved birdhouses, locally made soaps, incense, Dirty Dancing and Last of the Mohicans memorabilia (both were filmed nearby), and keychains.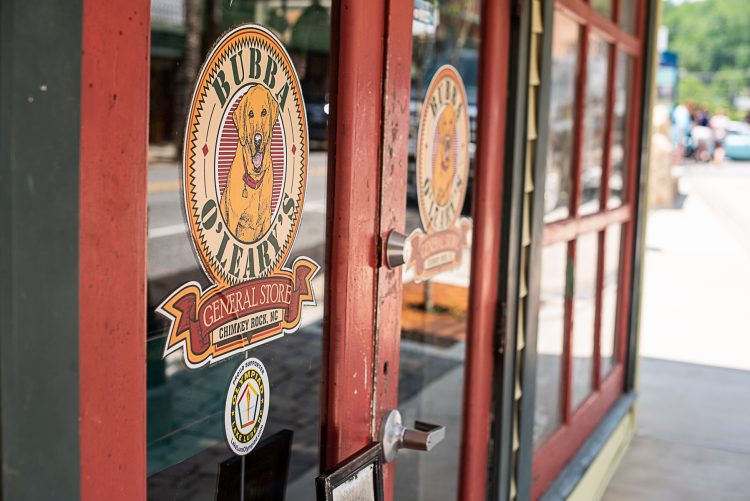 The stand-out is, hands down, Bubba O'Leary's General Store and Outfitters. A nostalgic, thoughtfully curated selection of kids' toys will take your family back to simpler times, and the outfitters' section offers a range of clothing and goods to satisfy the hardcore hiker and casual outdoorsman.
Play Mini Golf
Have you ever played mini golf with cascading riverfront views? The Broad River Inn offers 18 holes of beautifully landscaped putt-putt golf on 400 feet of the Broad River, and it is one of the most fun things to do in Chimney Rock, NC. Our family goes at least once a summer, and it's a crowd-pleaser for ages 7-77 (and counting).
Chimney Rock Country Fair
Easily the most colorful attraction in Chimney Rock, the Chimney Rock Country Fair consists of historical amusement park rides, such as a carousel, miniature Ferris wheel, and train. The Country Fair rests just on the west end of town with easily accessible paid parking.
Stroll the Riverwalk
Chimney Rock's Riverwalk is a beautiful winding path that runs along the roaring Broad River. The park has informative signs and opportunities to walk out to the river, but keep an eye out for snakes and beware of the swift currents. Several wooden bridges offer impressive views of the stunning scenery, and your kids will love the sound of the rushing water.
Go Gem Mining
Gem mining is one of the best things to do in Chimney Rock with kids, especially on a rainy day. The gem mine sits on the Broad River, which just adds an "authentic" note your littles will love as they sift through the sand and pebbles in the water trough. It's also an opportunity to teach them about rocks and minerals. Don't be shocked if they want to run out and strike it rich on the river's shores after the gem mine!
Support Local Farms: Farm Tours and U-Pick Blueberries, Blackberries, Apples, Pumpkins, or Flowers
Supporting small farms and local agriculture is vital to improving local economies and reducing the food miles, and it also is a fun, family-friendly activity.
Hickory Nut Gap Farm is a short drive from Chimney Rock, and they specialize in humanely-pasture-raised meat and sustainable and regenerative farming. Support the farm by picking up some tasty artisan treats or book a farm tour to delve into the history of the farm, the daily operations, and the importance of pasture-raised livestock.
Keep an eye out for opportunities to pick strawberries in the spring, blueberries, blackberries, and flowers in the summer, and apples and pumpkins in autumn. (Did I mention that Stepp's Apple Orchard has an apple cannon?) Then spend quality time in the kitchen with the kids making jam or an old-fashioned pie!
You can dry the flowers to make dried arrangements to enjoy throughout the year or give as gifts, or try your hand at weaving flower crowns. More delicate blooms may lend well to pressing between book pages for crafts at a later date.
Visit Lake Lure, NC
Though it's but a mile away from Chimney Rock, Lake Lure offers a different array of restaurants and adventure activities. Plan a beach day in the mountains or book the experience of your choice for a day on the water. Read all about the best things to do in Lake Lure, from ziplining to wakeboarding, in this Lake Lure family vacation guide.
Try Rock Climbing
Take your workout outside! The Chimney Rock State Park Climbing Access (mentioned above as the Rumbling Bald Loop Trail) features world-class bouldering and rock climbing. Learn the basics of climbing, bouldering, and rappelling on the mountain with the Fox Mountain Guides and Climbing School. No experience or equipment is necessary for the 2-hour, half-day, or full-day experiences, but all participants must be at least 6 years of age.
Kid-friendly Attractions within 30 Minutes of Chimney Rock
Old Cider Mill
Charm and locally made goods abound at this quaint, iconic store in Bat Cave, a mere 5 minutes from Chimney Rock. Pick up a gallon of cider, some homemade pickles, and a Bat Cave t-shirt at the Old Cider Mill.
Do your kids need a break from their immersive vacation in nature? Do you need a trip back to your childhood? The Appalachian Pinball Museum in downtown Hendersonville is a quick 30-minute trip. With 80 games to play, you can easily spend an afternoon. The pinball machines range from old-school vintage pieces to flashy, contemporary games.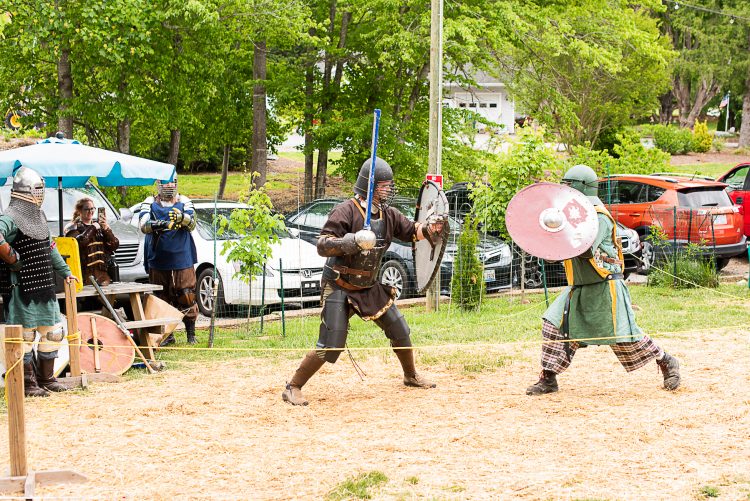 Did I just list a brewery as a kid-friendly attraction? Yes, yes, I did. How many times are you supposed to listen to Baby Shark this trip and maintain your sanity? (I jest, I jest. Please drink responsibly.) Whistle Hop Brewing Company is the light at the end of the 27-minute windy, tree tunnel of a drive between Chimney Rock and Fairview, and you won't be disappointed.
This adventurous craft brewery resides in a 1969 Northfolk & Western Caboose and 1941 Southern Railway Boxcar. (How's that for repurposing?) The sprawling grounds, however, are where it's at.
Challenge your kids to a 6-hole round of surprisingly challenging mini golf while sipping a Fruit Loops Milkshake IPA, or duke it out in the Disc Golf Connect Four with an ice-cold Raspberry Creamsicle Ale. There's also a mini-bowling lane, a slide, live music, food trucks, and even occasionally goat yoga or an eclectic medieval-themed festival complete with bounce castles and handcrafted clothing (yay, slow fashion!). The last time we were there, we literally rolled up to dudes in sink tunics wielding lances in a tournament.
This is the best $10 per person you'll spend in the mountains. Kids and adults will have a blast as their tube shoots down the Green River, bounces over rapids, and careens off rocks. (This ain't a lazy river, y'all.) Crate the fam down to the beautiful, historic town of Saluda, slather on the sunscreen, and grab a tube with one of the many companies in the area. The minimum height for tubing is 42" tall, and the company will shuttle you back to your car at the end.
Recommended Restaurants in Chimney Rock
The new kid on the block, the Chimney Rock Smokehouse features a menu of flavorful Southern BBQ. Among the expected (and delicious) brisket and pulled pork platters, you'll also find gems like the heirloom tomato sandwich, smoked shrimp po' boy, and tasty salads.
An original stagecoach stop dating to 1831, the Stage Coach Restaurant and Bar is housed inside the Broad River Inn and next to the mini golf course. The "mountain-style" pizza and artisan sandwiches are a great way to refuel and recharge before your next adventure.
Head to the Old Rock Cafe for a solid menu of no-frills sandwiches. Located just to the right of Chimney Rock State Park, this straightforward restaurant overlooks the Broad River and Riverwalk. They get bonus points for a kids' menu, dog menu, compostable straws and glasses, and monthly live music events benefiting local environmental and community-centered non-profits.
Overdue for a Date Night?
You'll enjoy a quiet night of traditional upscale dining at the gorgeous Esmeralda Inn. (We like to put our feet in the hot tub and listen to the sounds of the river after dessert, shhhhh.) Stop by the Burnt Shirt Tasting Room and relax on the patio with mountain views and live music; the menu rotates seasonally, but you should try the trout, beets, and brussel sprouts if they're available. In terms of atmosphere, it's hard to beat the Hickory Nut Gorge Brewery's rustic deck overlooking an untouched expanse of the Broad River. Keep an eye out; we've seen plenty of wildlife from this vantage point.
Note: These establishments also welcome children, but every family vacation calls for a date night, right?
Best Places to Stay in Chimney Rock, NC
Amazing rentals (and less than stellar hideaways) exist all over the Western North Carolina mountains. Check Airbnb and Vrbo for convenient places to stay, but note that if you're looking for someplace with amenities (private late, nature walk, golf course, Lake Lure access, etc.) you'll want to check out the in-depth lodging section of our Lake Lure guide.
Are you more of a hotel person? The Esmeralda or Broad River Inn may be a great fit, and the Esmeralda also offers several private cabins. There are also several adorable motels that run along the Broad River.
Finally, the Hickory Nut Falls Campground offers RV sites, tents, and a few cabins.
Know Before You Go: Kid Safety for Chimney Rock, NC
The Western North Carolina (WNC) mountains are a gorgeous place to explore the outdoors, but it's essential to remain mindful of your surroundings. Not all hikes utilize guard rails, so keep a close eye on children.
Respect no swimming signs, even if it looks safe to the untrained eye. Keep an eye out for wildlife, especially snakes, coyotes, and bears. Snakes, particularly, like to hang out on the rocks by the river during the summer. While most snakes in the Chimney Rock area are harmless, copperheads, timber rattlesnakes, and water moccasins can be found in the area, so it's best to give all snakes the right of way.
And last but not least, ticks are particularly prevalent in summer. Be sure to pack a DEET-based bug spray and protective clothing if you'll be hiking or walking through tall grass or wooded areas.
Most importantly, have fun exploring the wilderness with your loved ones. This special area offers so many opportunities for making memories and expanding your horizons.
If you enjoyed Family Vacation Guide: Chimney Rock, NC, you may enjoy:
Family Vacation Guide: Lake Lure, North Carolina
Where to Find Secondhand Hiking & Outdoor Gear
28 Green Travel Tips For Eco-friendly Road Trips with Kids
About the Author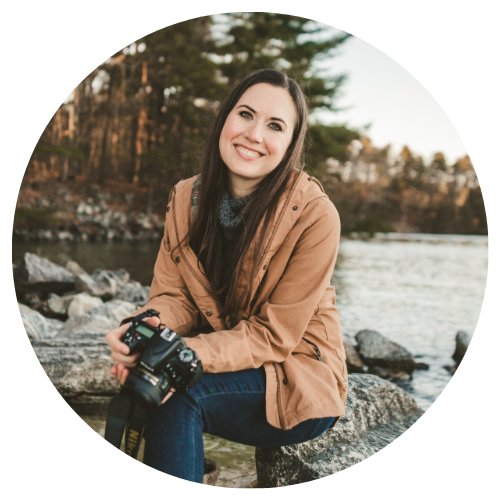 Reese Moore
Reese Moore is a photographer, content creator, and pickle connoisseur who divides time between Charleston and Lake Lure. When she's not behind the lens shooting stunning images for Reese Moore Photography, Reese loves to spend her time wandering the woods with her dog Gatsby or adventuring with her husband Logan in their Airstream Basecamp.