Perfect Valentine's Style: Desk to Dinner Date
Check out more Valentine's Day posts for style ideas, date ideas, and fun desserts to try!
Got plans for Valentine's Day? If you do, sweet (no pun intended)! If you don't, join my club. I'm not a party pooper, but I'm also not huge on holidays. We never made a big deal of them growing up, so I guess it's really just all I know. In effort to be a bit more festive, I thought I'd share an outfit that I think transitions quite well from a day at your desk to a dinner date with your, well, date.
I relied on the same outfit formula for both combinations:
Burgundy Oxblood Sangria Marsala Sweater Dress + Gray Jacket + Black Tights and Booties
Sorry about all the crossed out colors. Just trying to keep up with the Pantones' over here.
After a long day at the office, I'm inevitably running late to pick up the boys from daycare because I got stuck in a meeting. We had to get an early dinner reservation because, of course, we live in "Trendy Restaurant Central" and every reservation for a normal dinner date time was booked when we tried to schedule something MONTHS in advance. I rush home and have just enough time to get myself ready which, because I'm such a fabulous outfit planner, requires only a switcheroo of the jackets.
My fitted sweater dress holds on by its fingernails to enough conservatism for the office with a high neckline, long sleeves, a blazer, and sufficient length (not to mention the tights). Said sweater dress gets an edgy overhaul when I toss the blazer to the back of my closet in exchange for a moto jacket. Remove aforementioned moto jacket and M likes the look… a lot! And that clearly means I've nailed the Valentine's Day dinner date attire.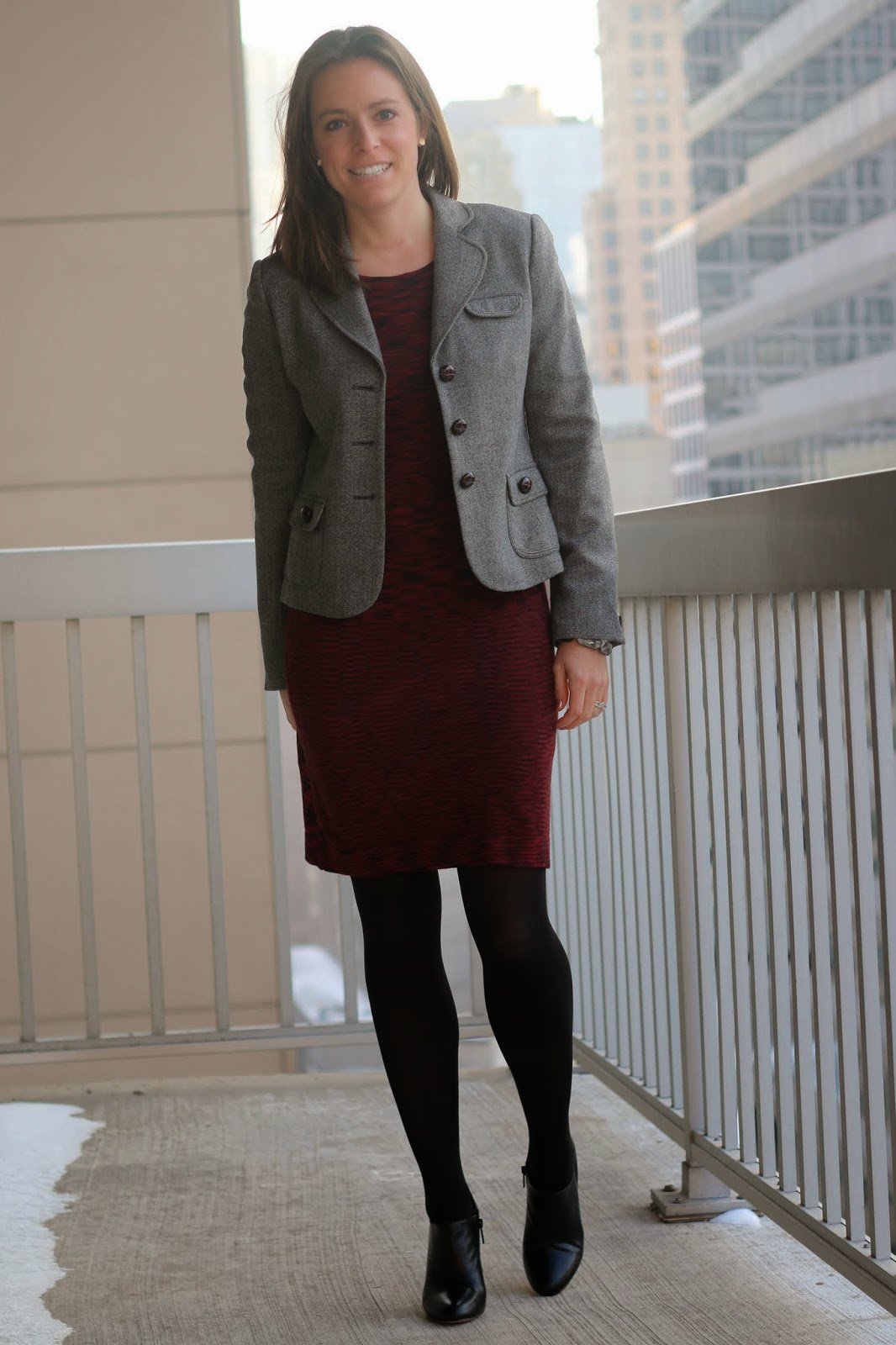 Blazer – Banana Republic (via Savers); Dress – Tart (via Nordstrom Rack); Jacket – Express; Tights – Target;
Shoes – Saks Fifth Ave Black (via Saks Off 5th); Bracelets – Chicago artisan, vintage, 100 Good Deeds, Clutch – old