Sustainable Beauty: An Honest Review of Activist Skincare
Looking for a simple and sustainable skincare brand? Check out this honest review of Activist Skincare for all the details on the last six months of trying out the full line.
Use code HONESTLYMODERN or this link to get 15% off your first order.
HEADS UP: Enter to win $150 worth of Activist Skincare products over on Instagram through July 23, 2023.
This post contains affiliate links.
I've been on the hunt for sustainable skincare for a while now. I'm not a beauty buff or skincare influencer who loves to try all the products and compares the intricate differences between each item. Despite growing up around a lot of skincare and makeup because my mom sold it for a living, I'm pretty basic when it comes to skincare. I want something that's easy, keeps my skin clean, and doesn't generate a ton of waste.
If you're looking for the latest in anti-aging serums and trendy products, I'm not your girl. I feel like I need a science degree to understand all the ingredients, combinations, and benefits many brands offer. But if you want something simple and effective that doesn't involve a gagillion products or mountains of waste, you're in the right place. Let's talk about Activist Skincare.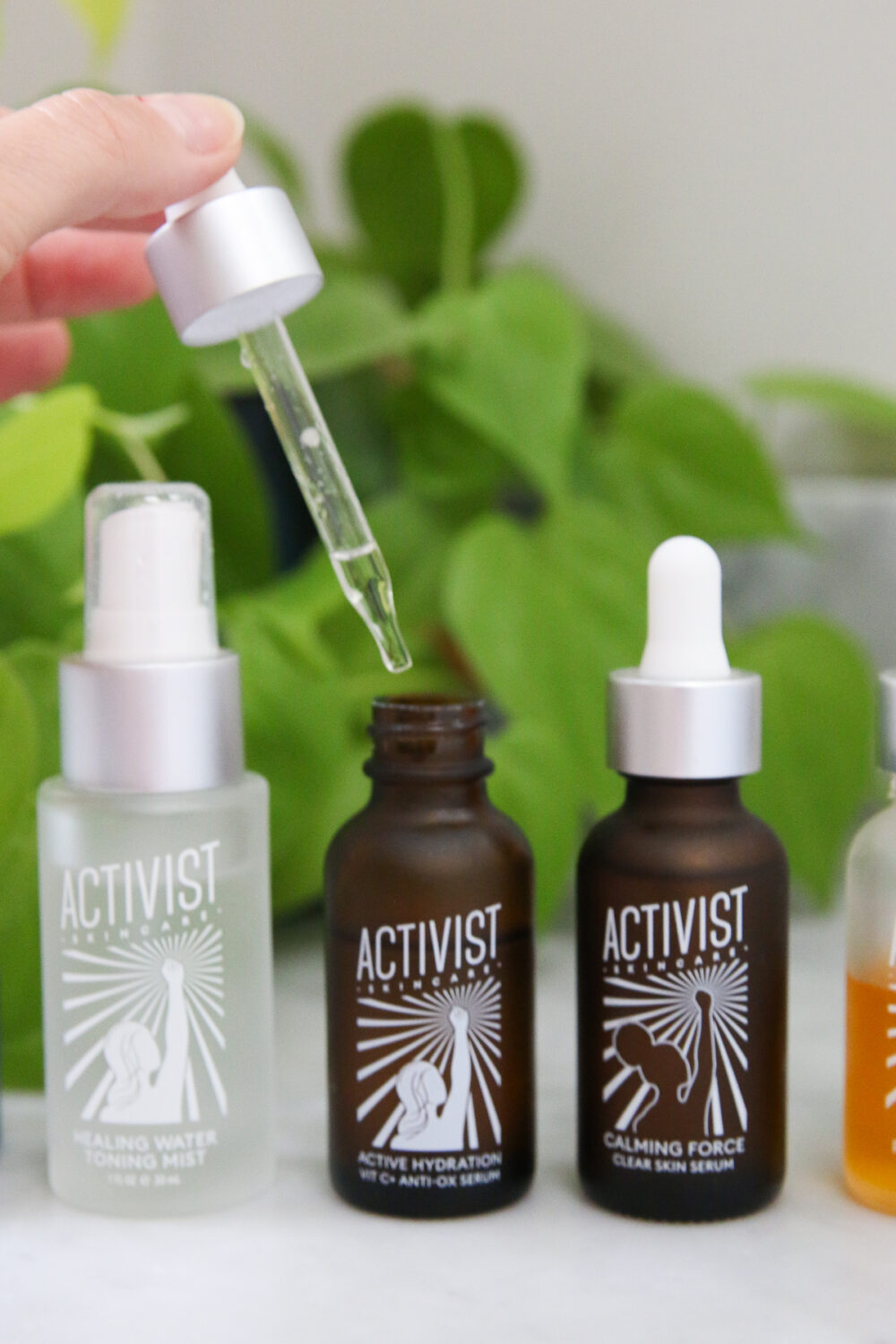 About Activist Skincare
I discovered Activist Skincare about six months ago, and it immediately stood out to me among many other sustainable beauty brands. Some brands have so many products that I can't figure out what's right for me and worth investing in. Many of them also come in single-use plastic containers which feels really off-brand to me. Sustainable in single-use plastic? I think we can do better.
Activist Skincare, however, has a smaller line of products (by design) that felt manageable to understand. Their packaging makes so much sense! The products are not cheap but also not outrageously expensive in my opinion. (Skincare in general is expensive, so I'm comparing it relative to other similar skincare brands.) And their refillable Trial and Travel Kit made testing out the products feel so much more accessible.
All of these factors made Activist Skincare stand out to me in a crowded sustainable beauty market, and I've been using their products since then.
The Refillable Trial and Travel Kit is Great!
The Trial and Travel Kit is my favorite part of the brand offering. For those who are new to Activist Skincare or simply want to sample their products before committing to full-size versions, Activist Skincare offers a Refillable Trial & Travel Kit.
Priced at $50, this kit includes samples of all 7 of their products: 3 cleansers, 1 toning mist, 2 serums, and 1 face oil, all packed in a travel bag with a how-to card. The glass and metal containers hold a 2-4 weeks supply of each product, making it the perfect way to test out their skincare routine and see if it works well with my skin.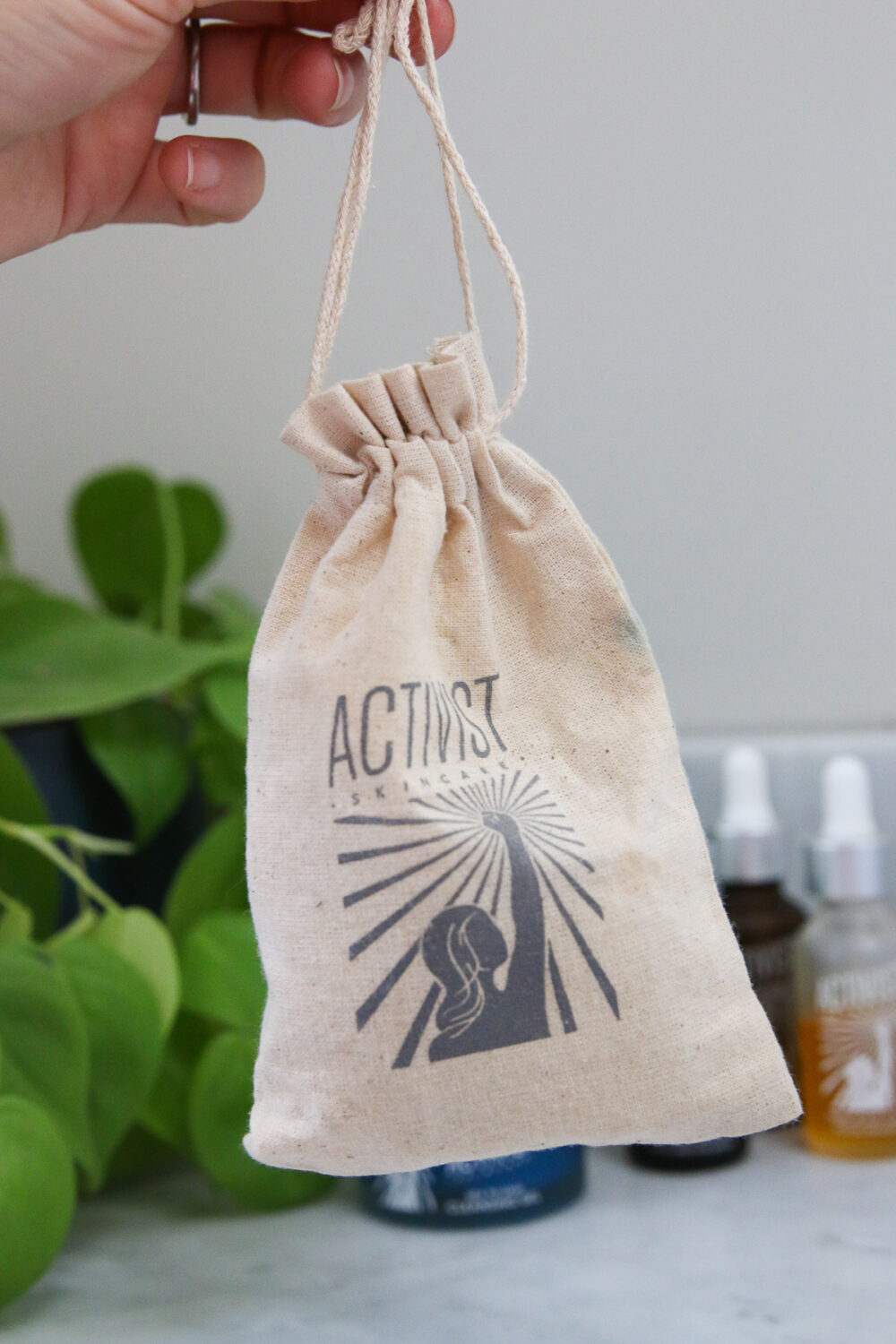 When trying other brands, I often feel like the samples are too small to test before knowing how they will react with my skin. And the full-size products are so expensive that it's intimidating and pricey to buy them without knowing if they will work.
The Trial and Travel Kit felt like the perfect combination of getting to know the brand at the right price. And I loved that, because they were refillable, I could use them as travel-size containers for the future if I ended up liking the brand.
Watch me refill my Trial and Travel kit over on Instagram!
What Makes Activist Skincare Sustainable?
Activist Skincare is a brand that stands out to me among skincare lines for its dedication to eco-conscious practices and sustainability. It is a skincare brand with a mission to not only provide effective and high-quality skincare products but also to make a positive impact on the environment.
Here are several considerations that make Activist Skincare unique and appealing to those interested in eco-conscious skincare.
Natural and Sustainable Ingredients
Activist Skincare prides itself on using natural, plant-based ingredients sourced sustainably. They avoid harmful chemicals and artificial additives and prioritize organic ingredients whenever possible. This ensures that their products are gentle on the skin and minimize negative impacts on the environment.
On their site, they share much more in-depth information about the types of ingredients they include and intentionally exclude from their products. Each product includes a detailed listing of all the ingredients in the product.
Their Ingredient Information page shares more specific details about how they source many of their materials. To the extent possible, they use organic ingredients manufactured in the United States made by certified growers and producers to ensure proper transparency and reduce the carbon footprint of their products.
While a serial beauty product reviewer could probably go on and on about the efficacy and sustainability of their ingredients, I don't have the expertise to make heads or tails of a lot of that information. The simplicity of their product line was one of the features that drew me to the brand. If you'd like to get more specific details on the ingredients in each of their products, head to their site to check it out.
Minimal Packaging and Recyclable Materials
I think the packaging scheme that Activist Skincare uses is one of the areas where they shine. So much about their packaging makes so much sense. While many brands ship products in heavy single-use glass containers with plastic pumps and call the glass sustainable, single-use glass is not sustainable at all. It's heavy. It takes a lot of energy and transport to recycle and remake it. And much of it doesn't get recycled anyway.
Activist Skincare built its packaging around reusing glass bottles. There's no shipping them around the world or deconstructing and remanufacturing new glass from old. Instead, you purchase lightweight refill packages, made from thin plastic and aluminum, that come in recyclable or compostable brown cardboard envelopes. These envelopes are tiny enough to ship through standard mail and fit into my mailbox.
Additionally, the subscriptions come with a small funnel to refill the glass bottles so it's not a messy process trying to squeeze product into a small glass container.
Furthermore, Activist Skincare does not use additional outer packaging, like cardboard boxes, which many other brands may use. By eliminating this packaging, they not only save resources but also reduce the overall waste produced by their products. For padding and protection during shipping, Activist Skincare opts for recycled paper instead of traditional plastic bubble wrap or foam peanuts.
Instead of defaulting to the status quo of packaging in sustainable beauty, the Activist team took a step back and questioned the norm. A zero-waste culture often dismisses any use of plastic as bad. But as they lay out in their FAQ, the carbon footprint of the refill packets is significantly lower than that of the single-use glass containers with their plastic accessories common in the industry.
There is a Terracycle recycling program available for the refill packets, but I suspect most people won't use it. On a side note, I'm not certain Terracycle is always the best option. They've had questionable reports on how much of their product inflow they actually recycle, and the recycling model puts a lot of the onus back on the consumer to take tedious steps to get their waste to the right place. This just isn't realistic or sustainable. Even without consideration of the Terracycle recycling option, however, the refill packets prove to be a more sustainable option, and they're really easy to use.
Cruelty-Free and Vegan
As an eco-conscious brand, Activist Skincare is committed to being cruelty-free and vegan. They do not test their products on animals, and all their formulations are free from animal-derived ingredients, making them suitable for those who prefer ethical skincare choices.
I'm not vegan, and I do use some other types of skincare products that include animal by-products. I have a skin moisturizer, for example, made from tallow that's a by-product of other processes and would otherwise go to waste. I don't think skincare has to be vegan to be sustainable. But I know it's an important aspect of many sustainable skincare products and a priority for lots of people.
Transparency and Ethics
The brand values transparency in all aspects of its business. They are open about their sourcing, production processes, and ingredient lists, enabling consumers to make informed choices. Activist Skincare is also committed to ethical practices throughout its supply chain. You can check out the brand website for a lot more details on how they source their ingredients, how they calculate their carbon footprint reductions, how they assess the ingredients in their products and much more.
Supporting Environmental Causes
Beyond creating eco-conscious products, Activist Skincare actively supports environmental causes and initiatives. They are a member of 1% for the Planet and have formally committed to donating at least 1% of their revenue each year to environmental charities and organizations that align with their mission. Some of these organizations include Earthjustice, Outdoor Afro, Rainforest Trust, and others.
Effectiveness and Performance
While being eco-conscious is a significant focus, Activist Skincare does not compromise on product effectiveness and performance. Their formulations are carefully crafted to deliver results, catering to various skincare needs without compromising environmental values.
After using the products for several months, they work well for me. Despite that, I hesitate to ever comment on the effectiveness of skincare products because I feel that they are so unique to each person's skin. That's why I love the Trial and Travel Kit so much. You can test it out on your own without buying the whole kit and caboodle to find out if it's compatible with your skin.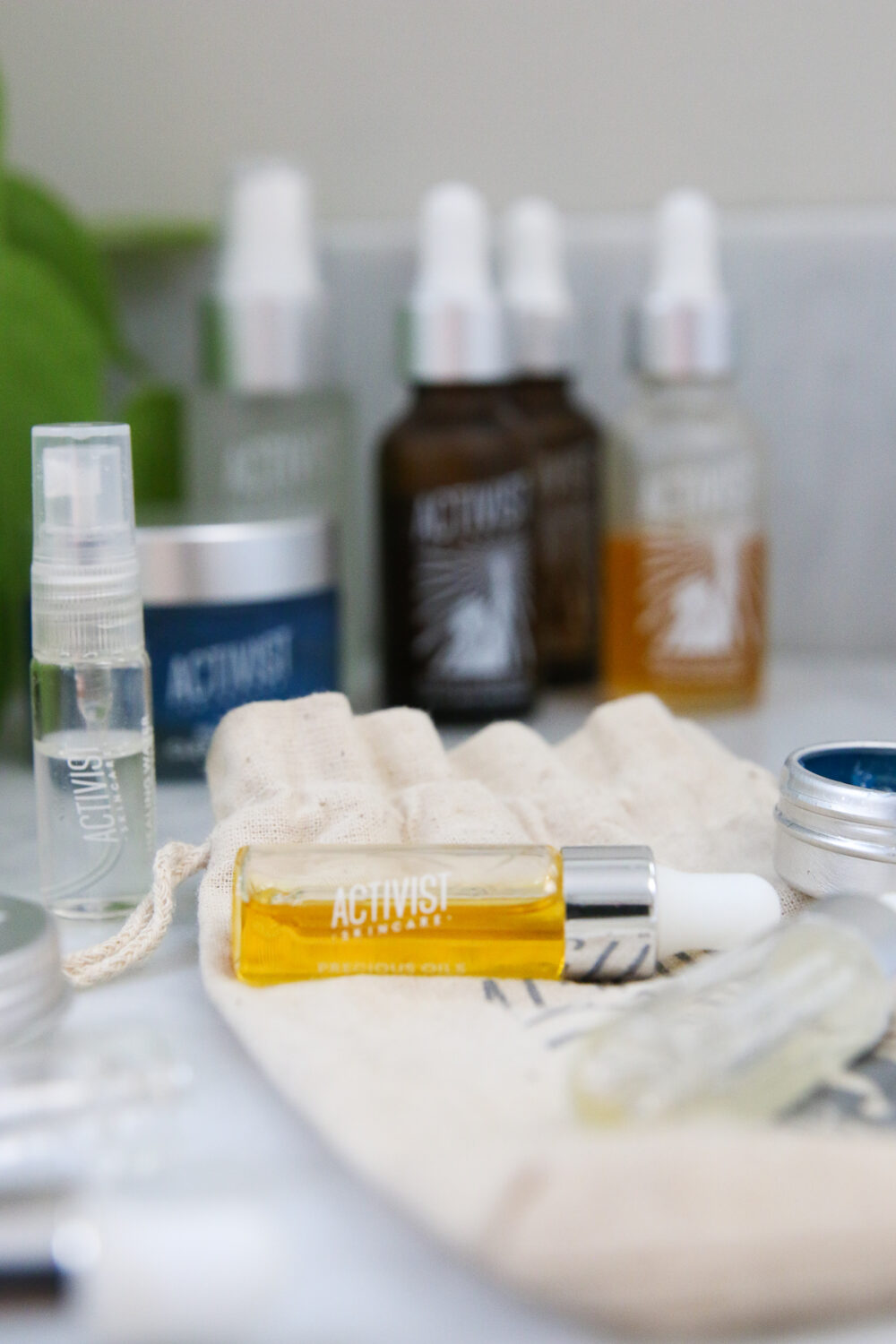 Activist Skincare Products Overview
Activist Skincare has a small, highly-curated line of products, which is one of the things I like about the brand. They offer three cleanser options (based on skin type), a toner, two serums, and a moisturizer.
While they offer a brief quiz to help you determine which products are best for your skin, I appreciated that I could try the entire line by purchasing the Trial and Travel Kit and test products for myself before ordering full-size bottles of anything. I had enough product in the trial sizes to use everything for a couple of weeks before deciding which options I liked best for my skin.
In addition to skincare, they also sell a tinted mineral sunscreen (in a stick or a cream) as well as a few beauty products from Axiology, another sustainable makeup brand.
After trying out all of the options, I now use the following items almost daily:
The cleansing gel and the toning mist had pretty strong scents the first time I used them. The cleansing gel has a citrus scent while the toning mist has a strong cucumber scent. They don't smell "chemically" at all; I actually really like the scents. But I was surprised when I first used the products by how strong they were, though the smells are less noticeable after getting used to them.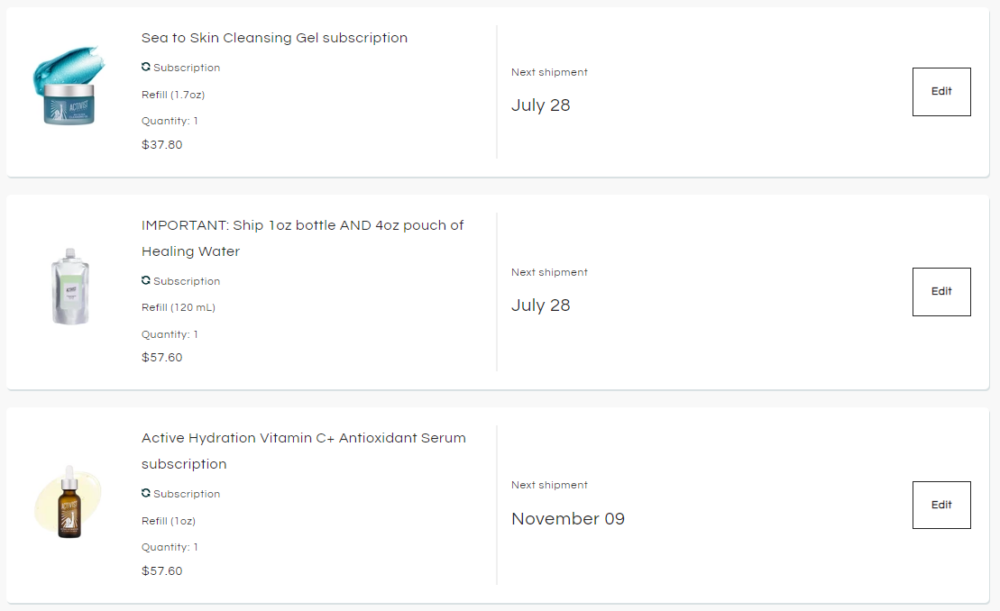 Subscription Options
Activist Skincare offers a convenient and easy-to-use subscription service for its skincare products. By subscribing, I save 15% on my orders and ensure that I always have my favorite products on hand. I can choose the frequency of the deliveries, and I can adjust it based on how much product I need.
I'm not often a fan of subscription services, particularly when they increase consumption unnecessarily or make it difficult to pause, delay, or cancel product shipments. But Activist Skincare makes managing the subscription easy.
A few days before products are scheduled to ship, I get an email and a text message reminding me about the upcoming shipment. Then I can modify or delay any shipments using a few text prompts on my phone or by signing into my account online.
Just last week, I had a refill scheduled for the cleansing gel but I wasn't ready to reorder, so I delayed it a few weeks and now I will get just what I need when I need it.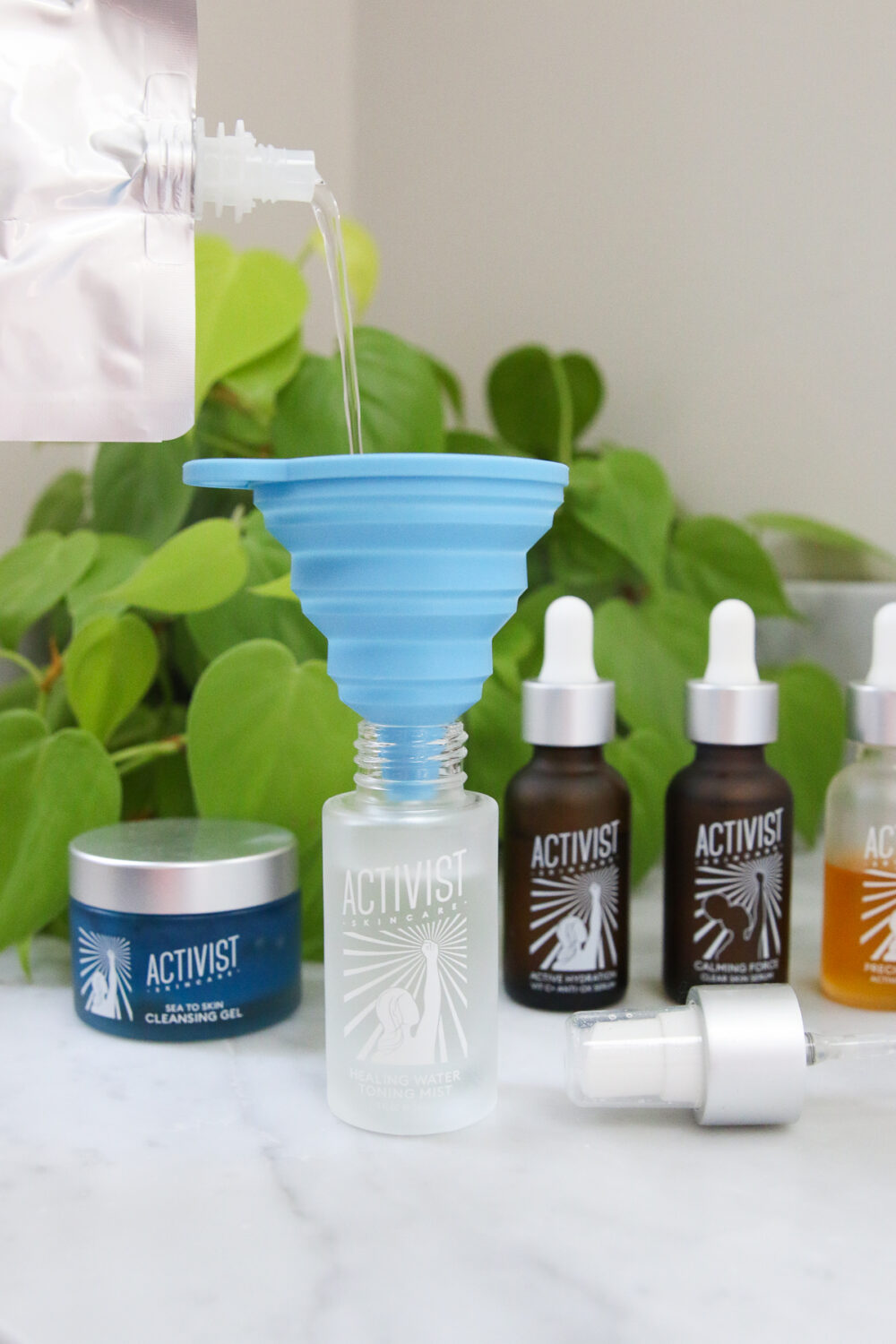 So what's the verdict on this honest Activist Skincare review?
I'm a big fan. If you're in the market for a simple skincare regimen that's truly committed to sustainability, definitely give Activist a try. Start with the refillable Trial and Travel Kit and get 15% off for new customers with code HONESTLYMODERN. Then you can decide if you want to make the full investment for yourself.
While I am an affiliate for the brand, I didn't become an affiliate until after I used the products. I purchased them on my own with no relationship with the brand before deciding to recommend them.
If you have any other questions, I'm happy to answer them in the comments – or you can DM me on Instagram at @honestlymodern if that's easier for you! Let me know what you think if you've tried them!
If you like sustainable beauty, you might also like
2-Ingredient DIY Sugar Scrub Recipe
Simple Homemade Bath Soak Recipe with Dandelions
Sustainability Side Hustle | Q+A with Madam J
About The Author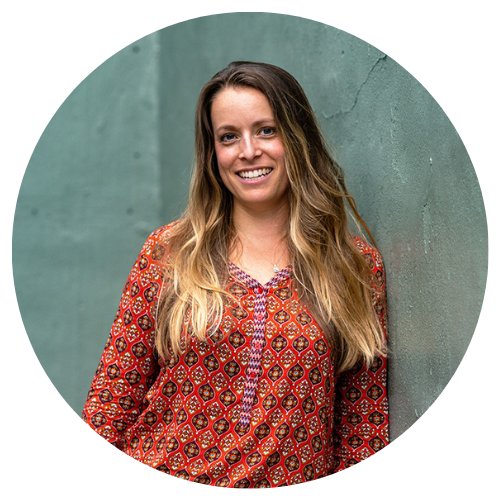 Jen Panaro
Jen Panaro, founder and editor-in-chief of Honestly Modern, is a self-proclaimed composting nerd and an advocate for sustainable living for modern families. In her spare time, she's a serial library book borrower, a messy gardener, and a mom of two boys who spends a lot of time in hockey rinks and on baseball fields.
You can find more of her work at Raising Global Kidizens, an online space to help parents and caregivers raise the next generation of responsible global citizens.