Easy Budget Bathroom Makeover Using Thrift Store Finds
Are you looking for budget bathroom makeover ideas? This small bathroom makeover uses secondhand finds for a new look that's quick, affordable, and almost effortless.
Confession: The only thing that keeps me going to the gym is Joanna Gaines.
I could care less about having buns of steel, but Joanna Gaines is constantly on my gym's TVs during the day, and nothing is as satisfying to me as watching her style a space with her trademark blend of old and new. Other people's heart rate spikes due to interval training. Mine is because Joanna Gaines said those magical words, "old books."
So, when I was visiting my parents recently and noticed their guest bathroom could use a little TLC (or HGTV), it was time to channel my inner Joanna Gaines and go thrifting.
Too often, people shy away from thrift stores because it can be overwhelming to know where to start, how to visualize thrift store finds in their home, and how to spot a diamond in the rough among the secondhand chaos lining the shelves.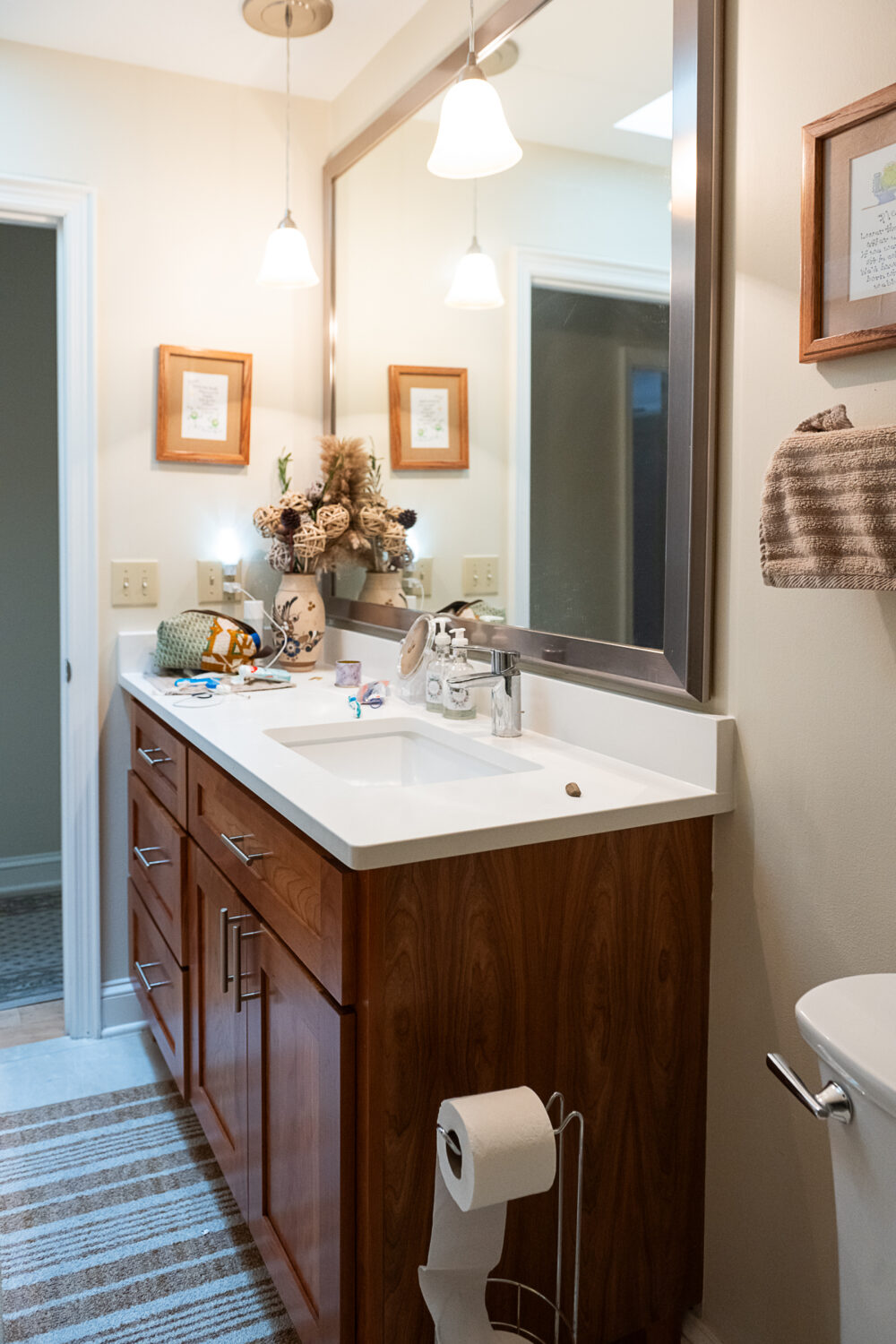 While I know those aspects of thrifting can be overwhelming, thrift store shopping is basically just treasure hunting! In no time, you'll fall in love with that little rush you get from finding an amazing deal or one-of-a-kind accent piece. Additionally, one of the best parts about secondhand shopping is that it's guilt-free. When you shop new-to-you items:
You're spending a fraction of what you would have if you purchased these things new from the big box store.
You're engaging with the cycle of supply and demand in a way that benefits the planet.
You're supporting the secondhand goods market.
You're breathing new life into antiques and discarded pieces.
This budget bathroom makeover uses thrift store finds, a couple of estate sale steals, and greenery clippings from the yard. I firmly believe there's at least one terrific bargain or unique find in every resale store… you just have to look hard enough!
Today, I will break down this small bathroom makeover using thrift store finds into bite-size pieces and give you some of my favorite tips and tricks for locating gorgeous secondhand gems!
Getting Started on Your Elegant Budget Bathroom Makeover
Realistically assess your space.
What features in your bathroom are there to stay? Does your vanity have a strong look that you'll need to work with rather than against? Does your tile set the tone? If you're the proud owner of an ornately carved vintage vanity, an urban industrial makeover may be a really hard feat to execute well. Take note of what colors, fixtures, and textures are there to stay, and then think about how they could be taken in a new direction.
My parents' guest bathroom features a simple vanity and warm neutral tones, which offered me lots of creative license but probably would have clashed with some cooler shades.
What are your practical goals for your budget bathroom makeover?
Are you on the hunt for a new lighting fixture? Would some additional hooks change your space? Do you need storage or organizational pieces to change the flow of the room?
My small bathroom makeover was, in some ways, straightforward because it mostly needed a cosmetic overhaul, some cute practical storage… and an additional mirror since three ladies are sharing it this summer.
Visualize or mood board your new look.
Pinterest is an amazing and free visual resource. With a couple of keystrokes, you can check out endless creative storage solutions, new looks, and interior design trends.
I quickly gravitated towards bathrooms with cute storage, candles, and a well-defined color palette. I pinned looks that felt fresh and contemporary but not so trendy that they wouldn't match the rest of the house or would be out of style within a year.
Decide how much time you have to commit to this project.
The danger in Pinterest for me is that the DIYs fire up my imagination while my work calendar, the pile of dirty laundry, and my to-do list are screaming, "PUT THE CHALK PAINT DOWN."
Be honest with yourself: How much time do you have to devote to fixing up project pieces? Is it more important to truly make your finds your own or do you need to finish the bathroom makeover in a timely manner?
While I love a good fixer-upper, this is not the season for me to take on more than I have on my plate already, so I had a strict "no project pieces" rule for my thrift store finds.
How to Spot the Best Thrift Store Finds
Decide what must-have pieces you're looking for.
Make a shopping list if you think it will help you stay focused. Do you need large baskets for towels? Hooks for robes or clothing? Does your mood board call for a decorative tray?
Because the tile, countertops, and warm wood vanity set the tone for my budget bathroom makeover, I made a list of the thrift store finds I was looking for:
A few glamorous and eye-catching vintage glass pieces that are also functional. Cut crystal candy dishes and sugar bowls with lids make wonderful storage containers for Q-tips, jewelry, and makeup removal pads.
Some stylish brass accents.
Warm wood or wicker pieces.
Things that were clear, warm wood tone, brass, cream, or green.
A couple of larger statement items.
A tray to define the space.
Pick secondhand venues that align with your goals above.
If you hope to replace lighting fixtures, tile, or a vanity, you'll likely want to hit a Habitat Restore or an architectural salvage shop.
If you're less concerned with price and more concerned with one-stop shopping, an antique mall might be a great fit.
If you're on the hunt for some glamorous antique glass, your odds will be better at an estate sale or thrift stores in areas with a mixed-age demographic – so skip the thrift store sandwiched between endless rows of high-end, freshly built condominiums and juice bars. (I do adore a juice bar, however.)
Look for pieces that "spark joy" but are also functional.
I have a lot of gorgeous secondhand finds in my home, many of which I've had and loved for years at this point. My favorites that have stood the test of time, however, are all pretty, unique pieces that also serve a purpose. I almost never buy vintage or household items for the sake of just being "decor."

You could fill your bathroom makeover using thrift store finds like angel figurines and "live, laugh, love" signs, but you may ultimately enjoy your space more if that figurine is on top of a ceramic jar that contains cotton swabs or if that sign is attached to a wicker storage basket filled with hand towels.
Thoroughly assess your items for damage.
Inspect trays for scratches, run your fingers along glass items to feel for chips, and open any boxes, jars, or canisters to assess the condition of the inside. Unfold towels, shower curtains, or bath mats and carefully check for stains or rips, and give cloth items the sniff test (I'm serious).
Not everything you purchase needs to be perfect, but you'll be happier if you make an informed decision prior to purchasing.
Select a few unique or surprising pieces to add interest or texture to your small bathroom makeover.
Don't be afraid of picking up a few fun or surprising items. If you love it, other people will too! Selecting several pieces with unique quirks will add character and ensure the bathroom is truly yours.
Did I set out to add a deer head to the guest bathroom? No, but am I thrilled that I did? Absolutely. Was my teeny tiny brass vase a $0.50 impulse buy? Yes, and it added the perfect amount of whimsy and sparkle to that corner.
Don't be afraid to get creative if you can't find what you're looking for.
The beauty and challenge of sourcing bathroom makeover items from thrift stores is that you never know what you'll find, so flexibility and creativity are key.
I never did find the giant gold tray of my bathroom makeover dreams. I had pictured a giant, over-the-top statement piece, but it wasn't in the cards (and by that, I mean resale stores), so I rifled through the kitchen section one last time and found this large, distressed wood cutting board. It's perfect, and it makes the bathroom feel warmer and more approachable than a formal antique tray would have.
Remember that statement vases are great, but sometimes brightly colored water pitchers and teapots are better. Soap dishes are lovely, but so are vintage candy dishes. Toilet paper holders are practical, but the right wooden crate or basket offers just as much storage and can be a conversation piece as well.
And, last but not least, make sure you have fun with your budget bathroom makeover. There are infinite combinations and variations, and you may end up building on your original ideas or swapping items out as time goes on.
Do you have a favorite thrift store find? Tell us about it in the comments below!
All photos via Reese Moore Photography
If you enjoyed Easy Small Bathroom Makeover Using Thrift Store Finds, you may also enjoy:
10 Tips To Stay Safe When Using Facebook Marketplace
Sustainable Living Tips: How to Style Thrift Store Finds for Elegant Regifting
How to Make a Gallery Wall From Thrift Store Finds
About the Author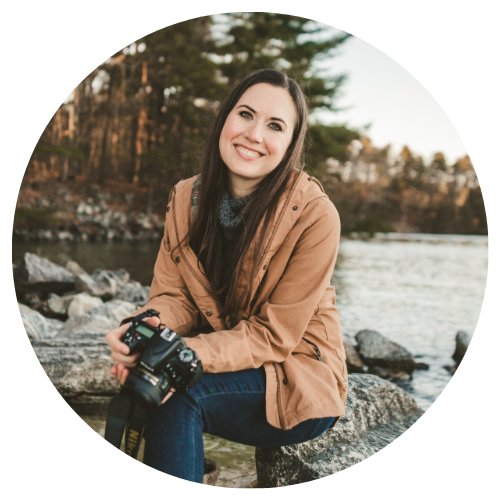 Reese Moore
Reese Moore is a photographer, content creator, and pickle connoisseur who divides time between Charleston and Lake Lure. When she's not behind the lens shooting stunning images for Reese Moore Photography, Reese loves to spend her time wandering the woods with her dog Gatsby or adventuring with her husband Logan in their Airstream Basecamp.