5 Fun Thrifted Fall Tops to Fall for this Season (and 5 Tips for How to Find Them)
Curious to try your luck at finding a few tops at the thrift shop? Check out these five thrifted fall tops and five tips to find thrifted tops at your local charity shop.
I've really been feeling uninspired by the clothes in my closet lately. I'd fallen into a habit of wearing leggings and sweatshirts nearly every day. While comfy, they also don't really inspire me to show up at my best or feel great about how I present myself. I really wanted to consistently feel "put together" and the spandex and hoodies were not cutting it.
If you're not convinced that I'm being honest, a fellow parent on my son's hockey team once commented (on a day I wore jeans to the rink), "You're wearing jeans! I didn't even know you owned them!" She wasn't wrong. And there's nothing wrong with leggings and hoodies. I just wanted a change for myself.
I don't keep up with the latest trends, and I've grown to have little interest in visiting the mall. But I love snagging a good score from the shelves of a thrift shop; it's just so serendipitously rewarding.
After over a decade of shopping at thrift shops and wearing mostly secondhand clothes, I've honed my skills in scanning the racks and skipping over the scraps of the collection of clothes in a charity shop. I have an idea of what to look for and how to find it relatively quickly (and also know what types of things I'm unlikely to find secondhand).
5 Thrifted Fall Tops to Fall For This Season
With fall well underway, a wardrobe refresh feels fitting with the change in seasons. I stashed away my shorts and tank tops and sought sweaters and denim to stay warm. If you're looking to give your closet a little secondhand glow-up for fall, here are five styles of thrifted fall tops that are generally easier to find in good condition in secondhand shops and a few tips on how to spot them.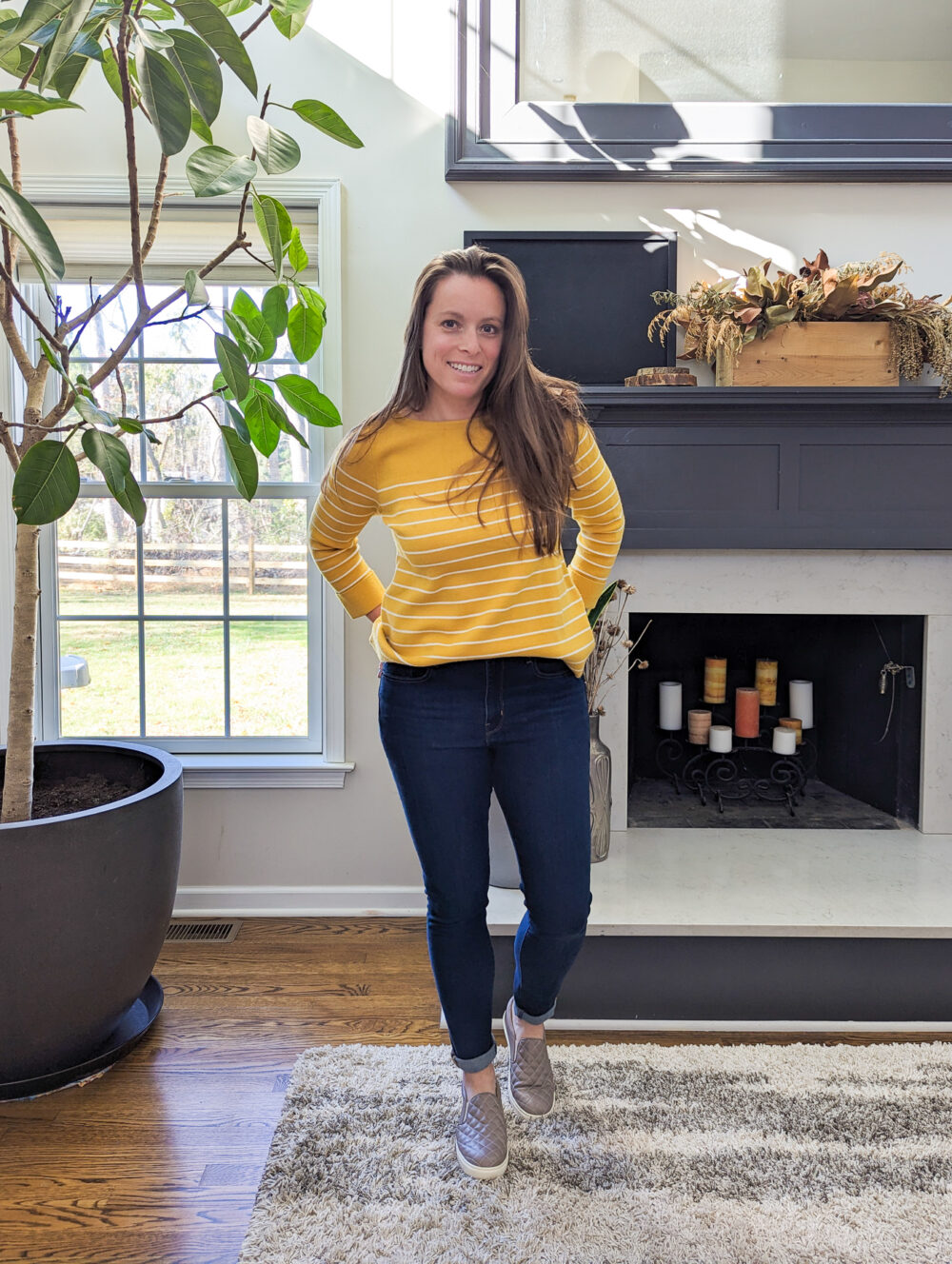 Simple Sweater
Classic clothing styles, like simple sweaters, are often easier to find in thrift shops, primarily (I suspect) because they can be a few years old and still feel fresh. Although the original owner tired of wearing a piece, outgrew it, or moved on from the style, it's still fashionably relevant.
Simple sweaters also tend to be basic pieces paired with other trendier items, so they can refresh your closet when paired with one or two more short-lived trends. You can look for both thin sweaters or chunkier options, depending on your needs. Both tend to be available.
I often look for classic sweaters as the season cools. I check fabric quality and brand tags to find something that feels like it will last and feel polished with other things I own. Because people tend to wear sweaters less often or to more upscale activities (i.e. it's not their go-to apparel item for getting sweaty or playing in the dirt with their kids), even secondhand options are often in pretty good condition.
I recently found this gold and white striped sweater from Tahari (a great brand) in great condition at a Goodwill store in my community for $6.99. It's a color toward which I often gravitate, and the fabric of this sweater has a soft hand feel. The color and elevated fabric are easy to spot as I scan quickly through the long racks in a thrift shop.
I've also recently found a black and white striped sweater made of wool and cashmere from Vince, a cashmere sweater from Henri Bendel in like-new condition, and a gold sweater from Madewell that is cozy and comfy!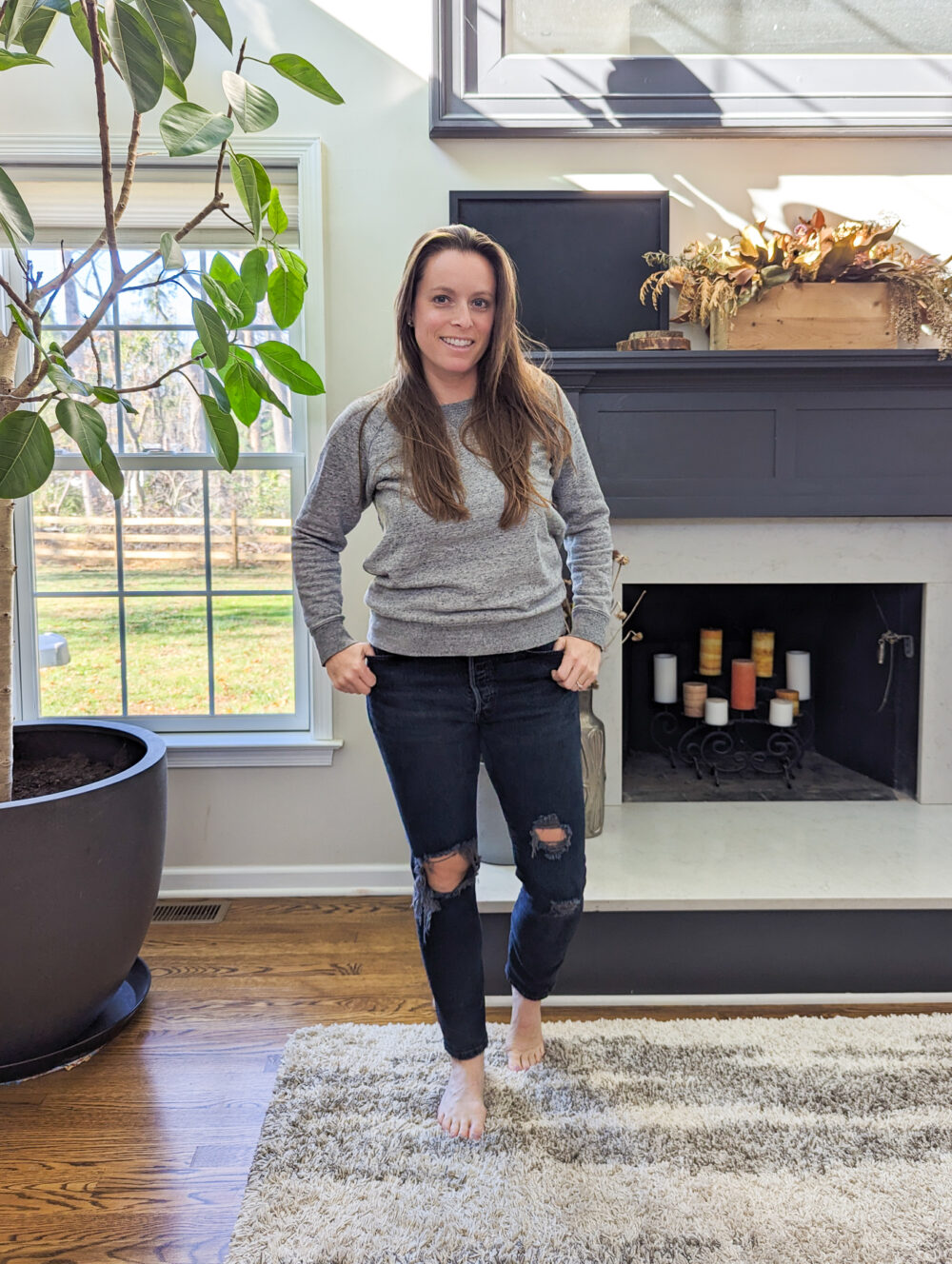 Cute sweatshirt
We all need a good, flattering sweatshirt or two, right? This is another type of item I can often find in thrift shops. For me, I'm not all that particular about them. It's important that I like the color and design and that it's good quality, but I'm pretty open to styles and colors when I think generally about filling this "wardrobe gap" and adding a sweatshirt to my thrift store wish list.
Simple sweatshirts (that aren't frumpy, super dated, and loaded with logos) often pop up on thrift store racks. It's an item I usually have confidence I can find (sometimes I find too many of them and get a little carried away in the dressing room).
While they may be in the long-sleeved top section, you might also look for them in the activewear section. I've found some great little sweatshirts hiding among the running tops and leggings in the last few years.
I've been wearing this gray sweatshirt on repeat since I bought it. It has a nice fit that feels super comfortable without feeling sloppy.
Patterned blouse
There are about one billion blouses on thrift store racks. Honestly, most are wildly outdated. And many are classic style button down shirts that (in my opinion) are better for using as fabric wrapping scraps than everyday shirts. But a super quick scan through the fabric can often bring to light some real gems!
Blouses are another item that people tend to wear during events and times of their lives that are less taxing on the clothes. They wear them to fun dinners or while sitting at a desk job, but they don't put them through the gauntlet of messy life. That means they are still in really solid condition by the time they're donated. Even the classic button down shirts are in great condition, despite not being as popular as they once were.
Don't be afraid to make super simple modifications to a blouse to make it better. I'm not suggesting you plan to take on massive DIY projects if sewing isn't in your skills arsenal. But I have two blouses that I purchased recently that had useless ties hanging down from the neckline.
I didn't want the ties, so I just cut them off carefully with regular scissors. You can't even tell. Don't let something so small deter you from investing in an otherwise really great item that you can breathe new life into with your own style.
Puffy vest
I think I see a few of these on the racks every time I sift through jackets section, and the puffy vests are often in really good condition. I suspect they are an item that many people own and don't really wear that often but then tire of storing and donating after just a few uses. It seems a little wasteful, but that's to our benefit if we're willing to scan the racks to make it our own.
I'm not sure a puffy vest is especially on-trend as a fashion item these days (though I wouldn't really know because my knack for style is next to nothing), but they are really practical for staying warm on chilly fall days as an alternative to heavy coats. They're great for hockey rinks too for all the hockey moms in the house. I love that they don't feel nearly as bulky as a full jacket but still provide a lot of warmth.
If you're looking for an extra layer to take on the cooling temps of fall before full-on winter sets in (or you live in an area that doesn't really get deep winter cold), pop into your local thrift shop and scan the light jack section for a puffy vest that might fit your style.
Even if you only wear it a couple of times like its previous owner likely did, you extended its life and kept it out of the landfill a little longer. And you only paid $5-$10 for the thing, so it's a much better ROI than I bet the original owner got. You can't complain about a buck or two for price per wear.
I found this green, hooded vest at Goodwill a couple of weeks ago. It was actually on the rack near the dressing rooms where people put these they try on but decide not to buy. It apparently didn't work out for someone else and ended up being my victory. I will definitely be wearing this as the weather gets colder.
Light dressy jacket
As goes the puffy vest, so goes the light dressy jacket – think leather jacket, denim jacket, or something upscale casual. People have them, wear them periodically, and just don't use them anywhere close to their useful life before tiring of them and wanting something fresh. They also wear them in settings that are pretty light on wear and tear (like the blouses). That means they're often in great condition on thrift store shelves.
Light dressy jackets are bulkier than most shirts and sweaters which means they're more spread out on thrift store shelves. This makes it easier to scan quickly and decide if there's anything that strikes your fancy.
Best of all, if you do want to try something on, you don't even need to find a fitting room. You'll be wearing it over regular clothes, so you can try it on right in the aisle to see if it fits.
As a heads up on buying secondhand jackets, be sure to check the inside seams and the pockets for holes. They might be small things you can easily fix with a needle and thread.
I bought a great black coat secondhand and ended up mending a tiny hole in one pocket. It was really easy to do, and because it was on the inside of the pocket, I didn't care about how it looked. No one would see it. But know what you're committing to before you buy.
Tips to easily find good-quality tops at thrift stores
It's no secret that thrift shops can be pretty overwhelming, especially if you're new, don't have a plan in mind, or don't have hours to spend perusing for the sake of the adventure. If you're thinking about trying to find a couple of fun fall tops from the thrift shop this season, let's talk about some quick and easy tips to make that effort smoother and more efficient. Here are 5 tips to find tops at the thrift shop.
Scan racks for good fabrics on the hanger
Do NOT (I mean do NOT) feel obligated to touch and examine every shirt on the racks. You will get bored and frustrated so quickly. It's a total buzzkill of a habit (at least to me).
Instead, slowly walk down the racks and scan the fabric of the sleeves as you pass by. If you want, you can run your hand down the rack as you go (but it's not necessary). Only stop when you find a fabric you really like – the color, the feel, and the quality all look good to you.
You'll learn pretty quickly that many of the shirts are thin or worn out. And many are made of cheap polyester materials that feel itchy or uncomfortable to the touch (especially when you wear them all day). Those types of fabrics aren't going to make you feel like you found a diamond in the rough. Don't even worry about trying them on.
And don't worry about missing something. You'll have far greater success learning how to shop at thrift stores if you accept that a quick scan will land you most of the great gems even if you don't have a perfect hit rate.
Check labels and materials for familiar brands and high-quality fabrics
Once you've found a fabric that catches your eye, check the label. Look at the brand. Do you recognize it? That's not the "be all, end all" of quality, but it can give you a general idea of whether or not the piece is made well and made to last. Knowing the brand can also help you determine if it will fit you (before you try it on) if it's a familiar brand and you know how their sizes fit your body.
Look at the materials. Fabrics like rayon, nylon, and polyester blends are all synthetic fibers (plastic actually) that are by-products of oil. That doesn't mean they are bad. But if you can find tops that are natural fibers like cotton, wool, or linen, they'll probably last longer and wear better. From time to time, I've even found 100% cashmere shirts hanging out on Goodwill racks. What a score!
Inspect seams and inside pockets
Before adding the item to your basket to try on, give the piece a quality inspection. Look for stains, rips, or small spots that will deter you from wearing it. If there are pockets, be sure to check the inside of the pockets for holes. If you're willing, you can mend a small hole (especially one that's out of site) but don't buy something expecting to mend if you're not likely willing to actually make the time to do it. It's a waste of money.
Also, be sure to check the seams from the inside. The quality of the stitching is one of the best indicators of the quality of production. Cheap clothes LOOK cheap, especially when it comes to construction. Seams should be straight and tight. Loose or crooked seams are an indication that the clothes are probably going to fall apart after just a wash or two.
That's not to say you should skip everything that's of mediocre quality at a thrift shop. There are reasons to buy pieces like that. But know that if you're looking for something that's going to fit well and last (and be a great investment, even if it's only a few dollars), the quality of construction will tell you a lot about the future of the item.
Focus on specific colors if you have favorites
Many thrift shops sort shirts by color and size. If you have favorite colors toward which you tend to gravitate, hit up those color sections first. You better believe I always spend more time searching the golden and yellow sections than the brown ones. I just don't wear brown much.
If you don't wear pink, for example, walk right past the section and save yourself time. Sure, you may miss something. But like I said earlier, don't let perfection (of finding every single amazing item) get in the way of good (finding a handful of really great items that are more than enough to refresh your wardrobe).
Don't skip the jacket section, especially this time of year
There's a reason two of the five items I mentioned are hiding out in the jacket section of the thrift shop. It's a place with a lot of potential.
If you're just dipping your toes into thrifting, maybe consider popping into your local thrift shop JUST to look at jackets. Hit up the rack and head out if you don't find anything. It's a great way to dabble until you get more comfortable sifting through other sections.
Go with a goal in mind
No matter how experienced you are at maneuvering through a thrift shop, go with a goal in mind. If you're an experienced thrifter, you might have a long wish list and can knock out a bunch of items at once. Just last week, I visited a new Goodwill and left with an entire cart of things I actually needed and knew how I would use!
If you're newer to secondhand shops, start small. Visit with just one or two items on your wish list and skip the rest of the sections. Don't be overwhelmed by the messy electronics section (it's always a bit of a disaster) and focus on the task at hand.
Are you ready to try thrifting for fall tops you can fall in love with this season? If you've got other questions, be sure to let me know, and I'll do my best to answer them.
P. S. Don't forget to look for that ugly Christmas sweater if you need one this season. The thrift store has more than enough!
If you like this post about thrifted fall tops, you might also like
3 Different Ways to Try Sustainable Style
15+ Easy Sustainable Style Tips for Beginners
7 Tips To Find Great Secondhand Handbags
About The Author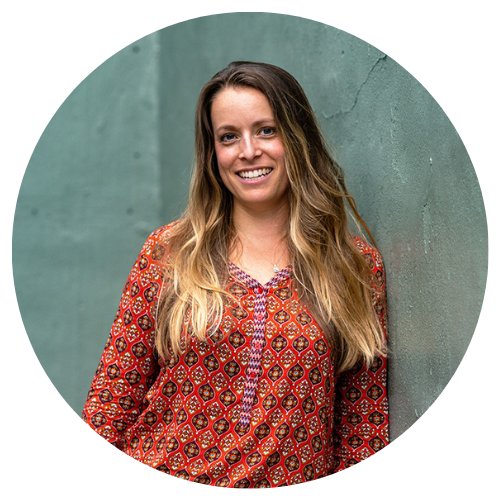 Jen Panaro
Jen Panaro, founder and editor-in-chief of Honestly Modern, is a self-proclaimed composting nerd and an advocate for sustainable living for modern families. In her spare time, she's a serial library book borrower, a messy gardener, and a mom of two boys who spends a lot of time in hockey rinks and on baseball fields.
You can find more of her work at Raising Global Kidizens, an online space to help parents and caregivers raise the next generation of responsible global citizens.