Skinny Pants @ The Office ~ Business Casual Refashion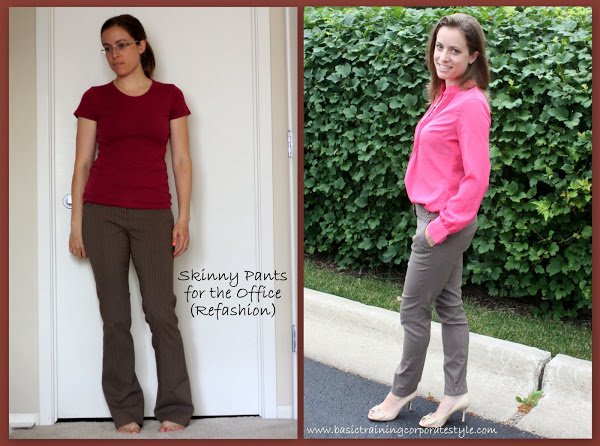 Years ago, I wore these as flared pants to work regularly with flats. A baby bump left them to collect dust in my closet for over a year and nearly sent them to the donation box on many occasions. But stumbling upon Merrick's tutorial for "skinnifying" pants saved these from a new life in someone else's closet and, instead, brought them a new life in my closet.
I love how they turned out! My sister, who currently lives with us while she completes her summer internship in Chicago before returning to California to finish college, did a double take the morning she saw me first wear them. 'Skinny pants for work? They make those?' I don't really know if someone else makes them for work, but I do! (Update: These are all over the office now, but they weren't when I first wore them.) I enjoyed wearing them because they felt fresh and modern despite initially being quite outdated. Who doesn't love reviving an old and tired piece from their closet?!
Have you refashioned any professional clothes recently? I'd love if you shared any ideas in the comments below.
Blouse – Target; Pants – Refashioned; Shoes – Guess