What To Wear in a Heat Wave??!
Summer style is rough. Sundresses and sandals are fun. But as moms, running around everywhere and up and down on the floor with kids, sundresses aren't always practical. So how do we step up our summer style without sweating it out (especially in these recent heat waves)?
I love dressing up my absolute favorite t-shirt, this American Giant v-neck, with simple accents to make a easy yet cool style statement (no overheating required)
Simple Jewelry ~ Adding your favorite pair of studs or a simple pendant necklace makes such a big difference. It's actually kind of crazy how much of an impact this has. During summer, I prefer simple earrings. Sometimes even a necklace hanging down on my shirt can make me feel hotter than necessary (gross…).
Light Make-Up ~ It doesn't take much to wake up with sleepy eyes and a tired face. I can only speak for myself, but I definitely fight these beauty battles at times. No need for a drawn out make up routine full of heavy products, but add a bit of tinted moisturizer with sunscreen, light eye color and mascara, and a bit of blush. You'll look complete and ready for the day.
Statement Shoes ~ Heels amp up an outfit big time but, let's be honest, they are far from everyday mom friendly. Invest in one pair of amazing canvas shoes or sandals. I love these black and white Bucketfeet shoes (in the photo below) as well as my Chicago skyline Bucketfeet shoes (above). You could also opt for something like these camel sandals from Nisolo I wore recently.
Finishing a simple outfit with a pair of stylish shoes makes the look appear complete and intentional (and not like you're on the way to the gym or headed home to take a nap).
All Bucketfeet shoes are designed by independent artists and are works of art in and of themselves. I wear both of my pairs regularly. The sandals from Nisolo are ethically produced by artisans in Peru. So both shoe options offer stylish alternatives with more thoughtful components of production.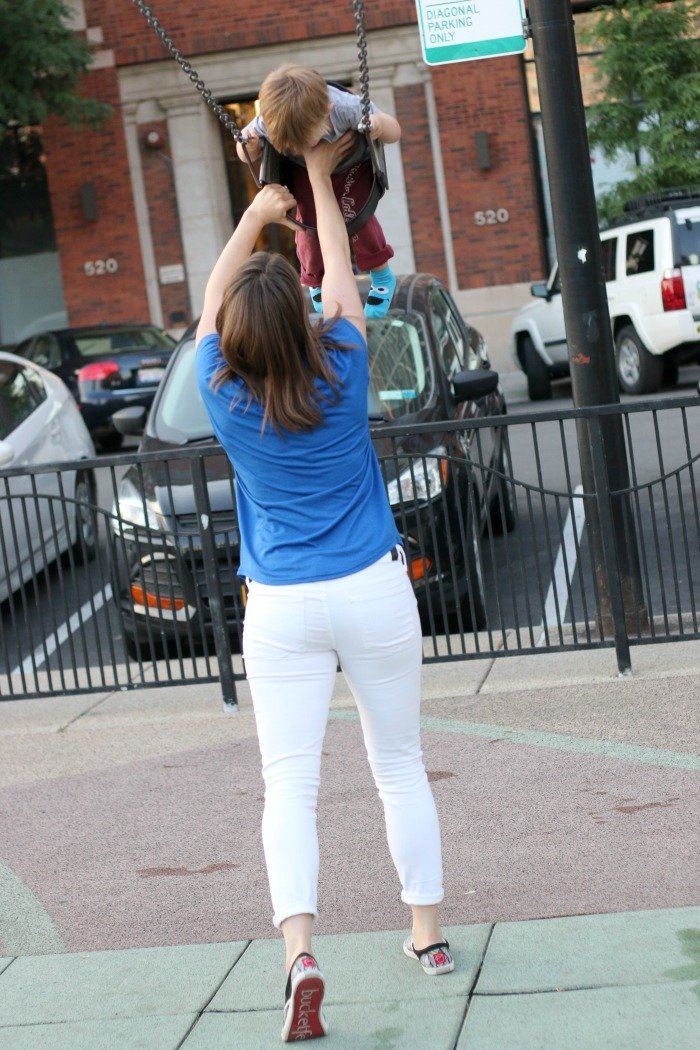 White Jeans ~ Grooaann. I know. They can be hard to find. But once you find the right pair, they're basically magic. Magic, magic, magic. I even wrote a letter to my white jeans once.
I picked up mine from the Salvation Army, but I also own a pair of jeans from Industry Standard. I know these white Made in the USA option are high end without a fancy price tag (it's possible when you cut out the middle man!).
Our warm summer isn't going anywhere anytime soon. Some days, I'm hanging out in gym shorts or cropped yoga pants while I try not to melt. But when I need to step up my style game, these four tips do the trick.
Stay cool!