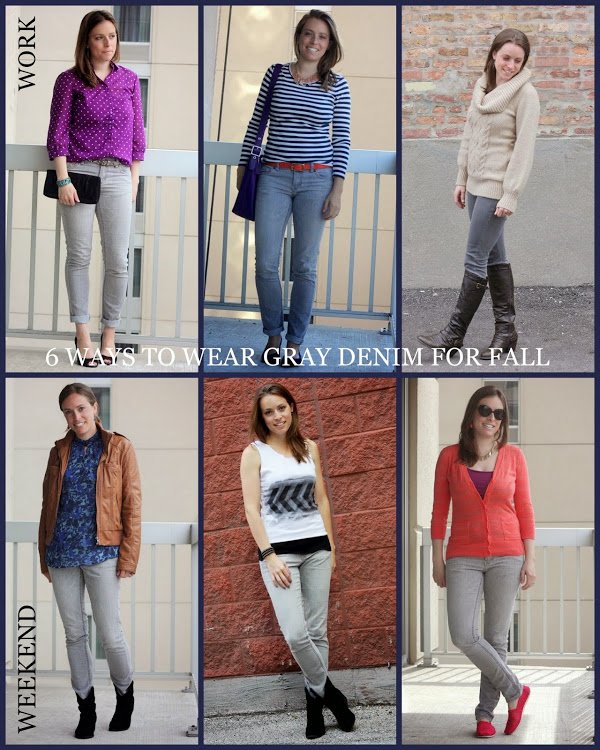 Gray jeans top the trend list for fall. I've had a pair that's been covering some serious ground in my style cycle over the last couple of years. And as long as they remain clean and neat (read: no holes, raggedy hems, etc..) and I dress them up appropriately, I can pull these off on a Casual Friday in my office. So before fall passes us by which, let's be honest, will be in about three blinks here in Chicago, I rounded up a collection of ways to rock that gray denim in and out of the office.
It can't be stressed enough how much I love transitioning clothes from work to home and vice versa.
Not everything transitions well. Can you imagine how much I'd love covering my favorite Kate Spade dress or precious "diamond in the rough" thrifted Boden dress in baby spit up? I'll pass.
And surely I'd be wise not to wear white around the little guys, particularly when our two year old son has a serious sweet tooth for anything chocolate. (I might have to take genetic credit for that… moving on.)
But my gray denim jeans tell a different story, one of a very versatile existence. You can see all the ways I wore them to work, on the weekends, and out with friends above. And when I do spice up my yoga pants and tank top uniform for days I'm home with my boys, my gray denim often gets called to duty in gets up similar to this super simple combination. They're comfortable and easy to wear when I'm down on the ground playing with my little guys and easy to throw in the wash when they endure, yet again, another encounter with something just plain gross. (I have two little boys. It's really just inevitable.)
So here's an ode to my gray jeans that have been so good to me. Do you have a workhorse like these in your closet? Have you taken a moment to thank them for all they do for you? And if not, is it really that much to ask? I'm sure they'll appreciate it!
Tank and T-shirt – Target; Jeans – Target; Shoes – Keds via DSW