11 Tips to Enjoy Taking Toddlers to Restaurants
This shop has been compensated by Collective Bias, Inc. and its advertiser. All opinions are mine alone. Thank you so much for supporting brands that support this blog! #BuffaloWingsAndRings #CollectiveBias
Before having babies, M and I taste tested many of the new restaurants that regularly popped up in our neighborhood and throughout Chicago. Now with a baby (J just turned 1) and a toddler (T will be 3 soon), getting out to restaurants isn't exactly the breeze it used to be. Despite the additional effort and planning it takes to get our boys out to a restaurant, we've made a point to check out a few places. We certainly haven't frequented new joints as often as used to (or as we'd like), but we've compiled a decent bag of tricks that makes taking our little guys out for a meal in public not entirely horrible.
We used to hit up some pretty swanky spots on our adventurous Friday and Saturday nights. While that's no longer our M.O., we've successfully taken the boys to some fancier restaurants than one might expect, including a classy Italian spot not long ago.
Most recently, however, we stuck to a more comfortable setting and grabbed some baseball-inspired snacks and boneless buffalo wings at Buffalo Wings and Rings. The restaurant is (you guessed it) a wing bar in Chicago's Bridgeport neighborhood, an area we hadn't really explored much. They have several locations around the country, including three in Chicago and the surrounding suburbs. But it's a new spot for us, so we looked forward to checking out a new menu.
When we arrived, our server offered tastings of any of their dozen or so sauces. I liked that we could try them out before ordering a bunch of wings doused in the goodness. We ended up ordering 15 boneless wings, 5 each of Bourbon BBQ, Peach Jalapeno, and Buffalo. We liked the Bourbon BBQ the best, which made sense considering Buffalo Wings and Rings won Chicago Wingfest with that sauce. We loved the fresh food and agreed with the Wingfest experts that the quality surpassed some of the other wing joints we'd visited recently.
We also ordered Deep Fried Pretzel Bites from their limited-time menu inspired by the beginning of baseball season. While these certainly aren't winning any awards for healthiness, we did enjoy and eat almost the entire portion.
Although we love trying new menus, taking toddlers to restaurants has a way of ruining the entire experience if not planned properly. Through plenty of trial and error, we've rounded up a checklist of sorts that we keep in mind to help ensure a smooth meal at just about any restaurant. Hopefully, if you've got little ones in tow, you'll find at least a few of these tips helpful!
11 Tips to Enjoy Taking a Toddler to a Restaurant
Visit regularly. Part of well-behaved children at restaurants results simply from experience. They are more likely to be well-behaved if familiar with the setting and the social expectations. (This one's good for Mom and Dad too!)
Pack the right "equipment". Bringing a few optimal dining tools can make such a difference! You don't need your whole kitchen, but a sippy cup, small fork or spoon, and even a sharp knife (depending on the restaurant) can make the meal so much more enjoyable. While the sippy cup and small utensil might seem obvious, we've found some restaurants don't have great knives. This makes cutting food into small bites for J a tedious and annoyingly time-consuming process. Thus, our own reliable knife comes to the rescue.
Request the right table. Sit outside to drown out so loud noises or fussing. If inside, ask for a table off in a corner (it's better for all patrons so the hosts are generally happy to accommodate this request). Most often, a booth is better than a table. It keeps the little ones "cornered in" when they're not in a high chair.
Order something easy to eat. You'll most likely be bouncing between your meal and theirs, so order something that's fairly easy to eat. Messy options like ribs or crab legs will certainly lead to frustration.
Bring a book or small toy. Pretty straightforward on this one, just be sure it's not loud and won't bother other patrons.
Make up a game. We play various games and opted for Paper Football this time. Scroll down for the simple rules and a tutorial about how to make the football and how to play the game.
Don't be afraid to order special items. It's ok to order off the menu. We rarely order from the kid's menu. (I think we did once.) We try to find something on the standard menu that the boys like and is simple enough for them to eat (though one might be surprised what kids will eat when offered a variety of interesting food). When we can't find something suitable, we special order. At the Italian restaurant I mentioned earlier, T requested noodles with butter and Parmesan cheese. It wasn't specifically on the menu, but it's definitely in their wheelhouse. At a bar, we might order a plain hamburger or a chicken breast, items they certainly have in the kitchen that are part of their more robust menu offerings.
Plan an activity after dinner. Maybe it's a special dessert or possibly a trip to the park? Regardless of your preference, have an activity after dinner for the kids to look forward to (something maybe, just maybe, you can use as leverage for good behavior or good eating). Who ever said parenting didn't involve a little bit of bribery?
Visit at off hours. Avoid rush hour or peak times like Friday and Saturday evenings. Instead, hit up your favorite restaurants for an early weekday meal (maybe on the way home from school or daycare). If weekends are more your jam, be the first in for an early lunch or stop by after the kiddos naps for an early dinner. Smaller crowds allow restaurant management to be more flexible and accommodate special requests (like that certain table or the off menu order). You also have more leeway for less-than-perfect behavior.
Bring wet wipes and embrace the mess. The little guys will certainly leave a mess on the table and the floor. They probably will also get sticky, so have a few extra wipes in your diaper bag. It's not that big of a deal if they leave a mess that requires just a quick sweep to clean up all their crumbs. If you're really feeling guilty though, leave a slightly larger tip for the server. I'm sure that will make up for it.
Don't be shy to request the check. If your little ones are anything like ours, they hit a wall. Hard. And without much notice. When they do, it will be time to leave quickly. We often reach out to the server to request a check earlier than they anticipate. Sometimes, we ask for the check just after receiving our food so it's ready to go when the boys "come crashing down."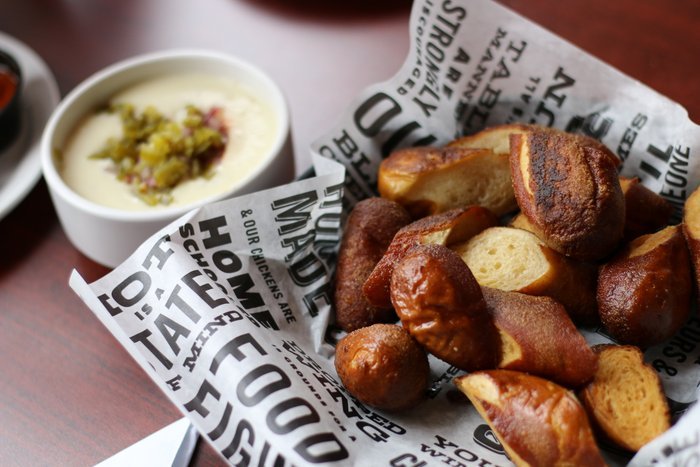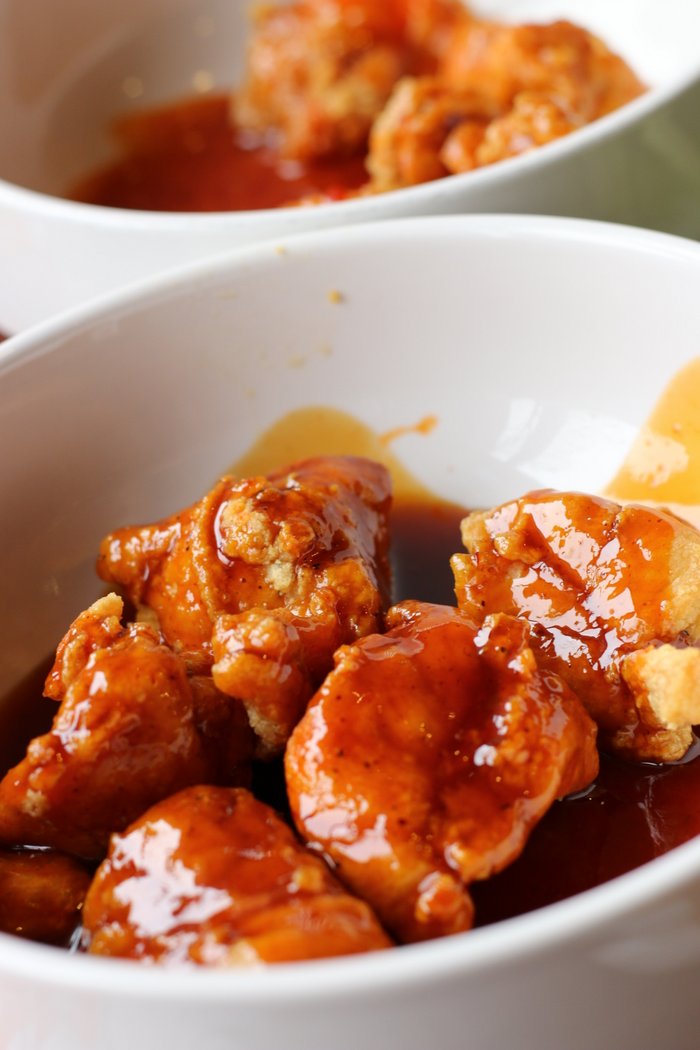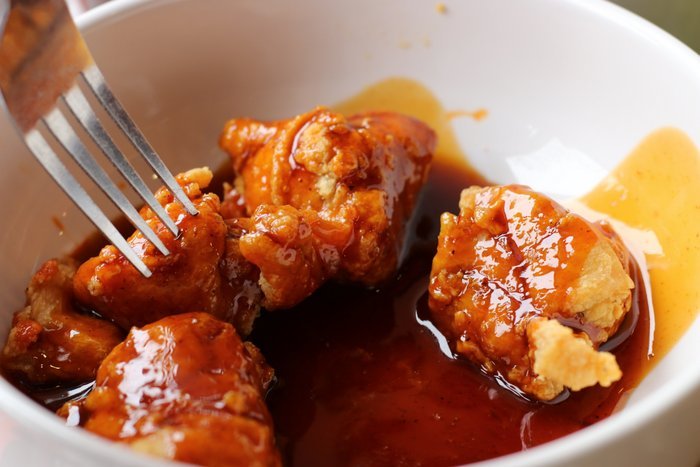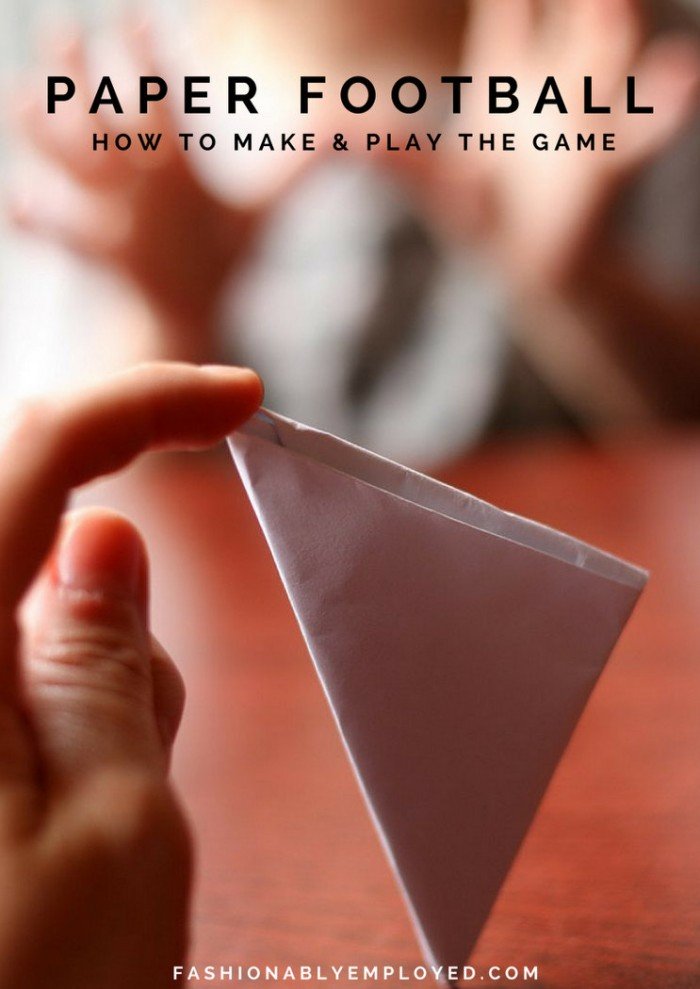 While we waited for our food, the boys played one of M's made up table games. M makes up all sorts of great games. He's actually quite good at it. We find that simple, unobtrusive table games can make waiting for our food a far more pleasant experience.
How To Play
One of our favorite games, a modified version of paper football (I suppose), requires nothing more than a sheet of paper. We used an 8 1/2″ x 11″ piece of paper. A standard children's menu would work fine too. Folded up into a triangle, the paper triangle is the "football."
Opponents sit across the table from each other. In turn, each player slides the paper "football" across the table attempting to leave the paper football hanging off the edge of the table without falling off.If successful, the player that slid the game piece receives six points. Then, that player has a chance to flick the "football" through uprights (created by the opponents hands as shown below) and earn one additional point. Then the opposing player receives their chance to score. This continues, players taking turns, until one player reaches the set number of points agreed upon to win before starting the game (or until the food comes, which generally comes first).
How To Make The Paper Football
Step 1: Fold the paper in half, the long way, and then in half again. Take the bottom right corner of the paper and fold it across to touch the left side of the folded paper. What originally was the bottom edge of the folded paper should now lay on top of the left edge of the folded paper. Continue folding diagonally (to create overlapping triangles) until you've nearly reached the top of the paper.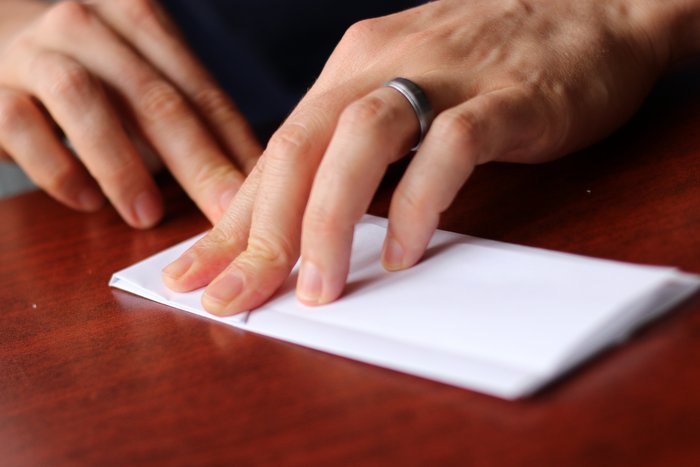 Step 2: You should be left with a folded paper that looks like the photo above. As shown below, fold over the top corner on the shorter edge of the paper. Ultimately, you're just trying to fold the rectangle on the top inside the overlapping triangles so it stays closed. The photos probably provide more helpful guidance.
Step 3: Set the paper football on the table. On a clean, dry table, push the paper football across the table towards your opponent. Each player attempts to push the football hard enough to have it stop while a portion of the football hangs off the table without it falling off the edge, as shown below.
Step 4: When a player successfully completes Step 3, they receive six points. They receive the paper football back and have a chance to earn one additional point. Their opponent creates a small field goal using their hands, as shown above. Stand up the paper football on a corner and give it a flick. If the paper football successfully goes through the uprights, the player earns one more point.
Step 5: The second player receives a turn to do the same.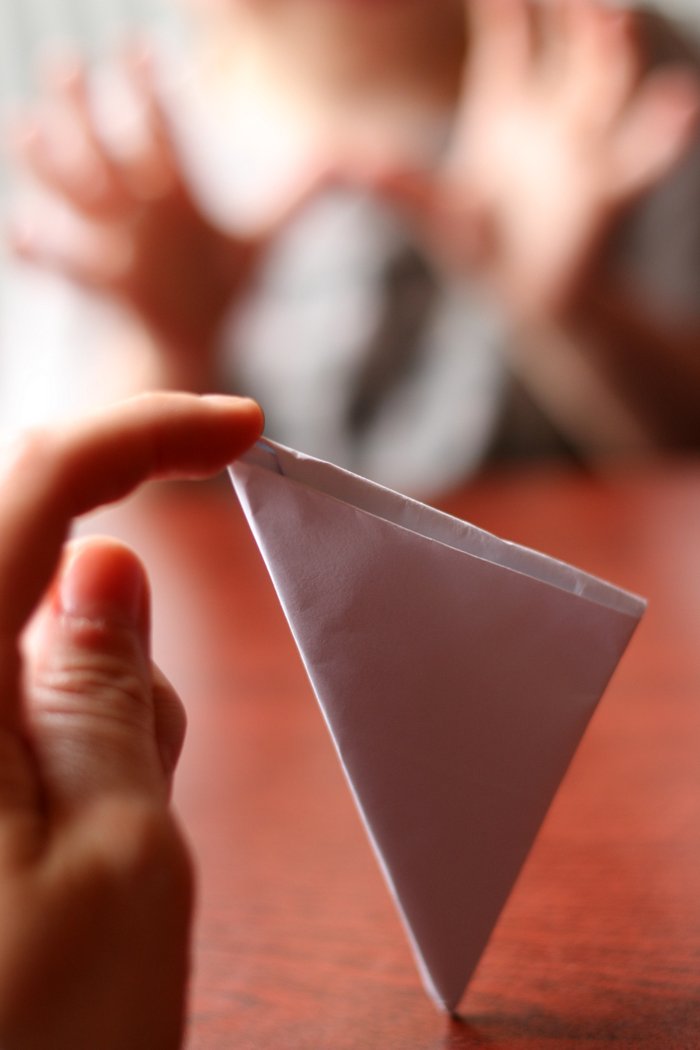 The game is very quiet and quite fun. Undoubtedly, the field goal attempts can land off the table on occasion. If you're in a crowded restaurant or have someone sitting close behind you, this may not work. In that case, you could easily stick to the first half of play and skip the field goals (although I think this is the most fun part).
Let me know if you give it a try or have any questions. We don't have perfect boys at restaurants (not at all!) but having a good plan and a little entertainment makes all the difference in enjoying a meal where someone else cooks and cleans the dishes. Do you have any great tips for taking little ones to restaurants? If so, I'd love to hear in the comments.
Also, if you know a friend who has kiddos that might find this helpful, be sure to share the post with them on Facebook, Pinterest, Instagram or wherever your heart desires! Happy Eating!