25 Tips For Sustainable Travel With Kids
Looking for sustainable travel tips for family vacations? Check out these tips and ideas to make your family travel adventures more eco-friendly.
This post contains affiliate links.
Traveling as a family can be so rewarding. For us, we travel to see family in different parts of the country. We travel to explore new places together and learn about new cultures. And we travel as a family to spend quality time together away from the daily grind.
Although I'm not sure why it feels so different, being away from home together helps get us all out of silly ruts sometimes. We travel with kids for so many different reasons, and I bet you have a few of your own special reasons as well.
For those of us with a hankering for protecting the planet, however, traveling is a double-edged sword. There are so many benefits and amazing experiences to be had, but traveling has a hefty environmental impact relative to most of our everyday living activities.
Planes and cars spew carbon emissions. Travel often results in more waste, like single-use plastic and food waste. And sometimes we even need to buy clothing and accessories for unique climates, environments, and occasions.
So what's a traveling family to do? You could give up travel entirely to limit your carbon footprint. This is a noble cause, but one that I understand many people, myself included, are not ready to tackle. There are, however, many tips, swaps, and habits we can practice to achieve more sustainable travel with kids and reduce the carbon footprint of family vacations. Let's dive into some ideas for more sustainable travel for families.
25 Tips For Sustainable Travel With Kids
Choose Sustainable Lodging
One of the largest expenses and likely largest carbon footprints related to lodging relates to lodging. To the extent possible, consider choosing a more sustainable alternative during your planning process.
Rent a room or apartment
A hotel is great for a quick one or two-night stay for one or two people. But if staying for several days or with a large group of people, consider the benefits of renting an apartment or house in the area from a company like Plum Guide or Airbnb.
Plum Guide and Airbnb both offer apartments and home rentals for vacation, but Plum Guide specializes in high-end and luxury homes. They differentiate their listings by inspecting each one in person before approving and including it on their site, so you know that each property will be lovely and just as expected based on the photos and description on their site.
There are even a growing number of eco-friendly hotels and bed and breakfast options. Some seem to be more greenwashing than others, so do your research. But it's worth an investigation.
No matter which platform you use to rent a house or room, with access to a kitchen or kitchenette, you can save lots of money and will often reduce single-use plastic and food waste by preparing some meals at home instead of eating out each meal. Breakfast is especially easy to eat at your rental property, and will save you lots of money and time grabbing a quick bite to eat before you head out for the day.
Stay with friends or family
If there's space and you can survive it, stay with friends or family. Save money on renting a space to stay while also reducing the carbon footprint of your lodging. There's no additional carbon footprint when your friends or family already consider it their home.
Prepare Your Home To Be Away
While not part of the actual vacation, there are many things you can do before you leave to reduce waste and energy usage.
Use or freeze food before leaving
For example, use up the food you have or store leftovers in the freezer while you're gone. It might be nice to have a few things to pull out of the freezer that are ready to eat when you arrive home before you've made it to the grocery store to refill the cabinets.
Adjust your thermostat for reduced energy usage
Turn down your heat or air conditioning (depending on the time of the year) to use less energy while you're away. Be careful not to turn down the heat too much so that pipes freeze, but changing the temperate management just a few degrees can save a lot of money and resources not use heating or cooling appliances in a home where no one is living.
Close the blinds
Natural light is lovely, but we don't really need it when we're away. Window blinds help keep heat inside during the winter and reduce the heat entering the house during the summer. Keeping the blinds closed should help limit the amount of energy you need to use while away to manage the internal temperature of your home.
Pack Thoughtfully
Sustainable travel definitely benefits from intentional packing; bring only what you need but not much more. A few things (like water bottles and snacks) can really reduce waste, but there's nothing worse than lugging around a bunch of things you never need.
Pack light
Chances are, you probably don't need it. Pack light. Plan to mix and match and re-wear your clothes. And plan for what you expect to happen, not all the things that could possibly happen.
Light luggage makes it easier to walk and use public transportation. It also increases energy efficiency for cars and planes. Even if the difference you make is small, lighter luggage for all passengers will add up. And truly, light luggage is just more pleasant to manage.
Packing light also means less laundry when you get home, a win for the planet and for our sanity.
Bring reusable water bottles
For the eco nerds, this is probably pretty standard fare. But given how many disposable plastic water bottles we used collectively every day, it needs to be said time and again. Please bring your own water bottles. They are more convenient. They keep your water colder for longer. And they're just plain better.
I'm sure there's an exception or two, but by and large, if you can afford a family vacation, you can afford to bring a reusable water bottle. Ditching single-use plastic water bottles won't save the planet alone, but it's a darn good place to start.
Pack your own snacks
Whether they're in a fancy stash, reusable bag, a pretty bento container, or a boring zip-top plastic bag that you rinse and reuse on repeat, pack a few snacks of your own for the road. You can buy snacks in bulk or without packaging far easier at home than you typically can while traveling. And for every parent who gets hangry or has a child that gets angry, it's just good sense to have snacks on hand.
Bring towels and napkins to clean up messes
Cloth hand towels are perfect to clean up messes (inevitable with kids). You can also bring along excess napkins you receive from takeout orders or other experiences. Because we choose reusable dishcloths at home, we rarely need the napkins included in takeout orders, but car trips are the perfect time to use them up.
Pack zero-waste eating kits
Limit single-use plastic by bringing your own zero-waste kit of utensils, straws, and other accessories you may need for meals and snacks. Not only will this help you reduce waste, but you also have all the items you need on hand and don't have to worry about locating and purchasing them on the road.
Borrow or buy secondhand clothing, gear, and equipment
The extent you need special clothing and equipment for your trip, like outdoor clothing, special boots, or other things for your travel, start by searching for those items secondhand or borrowing them for friends. You can find so much good stuff at various secondhand markets (or in your friends' closets). This will be especially true for items you may only use a handful of times for a particular type of vacation.
Check out our secondhand shopping resource guide for loads of information on how to navigate secondhand markets, tips for finding a variety of specific items, and much more to help you find most of what you need without buying new.
Borrow activities for downtime
If you don't already have plenty of books, games, or other activities for travel days and downtime, consider borrowing them from a local library or friends. You also might consider requesting to borrow items from neighbors or in a Buy Nothing group. So many coloring books, sticker activity books, and more sit on shelves without getting used and make great travel activities.
Lastly, don't skip the audiobooks! Audiobooks are great for kids and totally count as reading. Almost all libraries have physical audiobooks, and many libraries have digital versions as well as ebooks. Check out the Libby app on your phone or tablet to use these types of materials even when you're away from home.
If your kids aren't audiobook fans, try one of these ways to get kids hooked on audiobooks. And if those don't get them excited, podcasts are another good option for travel entertainment for kids. Check out these 20+ Great Podcasts for Kids. In our family, podcasts are always a win with the boys.
Utilize the Sustainable Living Social Structures At Your Destination
Wherever you go, someone else probably already lives there and chooses sustainable living options for their everyday lives. To the extent possible, make the most of the green living options your destination already has.
Choose lower carbon emission transportation options
There are many factors to consider when searching for the lowest greenhouse gas emission transportation option. Aside from flying, trains and other shared transportation options like buses will almost always have lower carbon emissions than flying or driving.
If these options are available to you, seek them out. Trains, in particular, offer a unique way to see your surroundings as you travel between destinations. Many trains, especially in Europe, are often less expensive and faster than alternative transportation modes as well.
Contrary to conventional eco wisdom, however, driving is not always a better option than flying with respect to allocable greenhouse gas emissions. Data from the United States Environmental Protection Agency and the International Council on Clean Travel, along with other researchers, conclude that the analysis of carbon emissions from flying versus driving depends heavily on factors such as the plane model, the vehicle model, the distance traveled, and the number of passengers participating in the trip.
Check out the analysis I did when I took a deeper dive into the question of the carbon footprint of flying versus driving in the face of several upcoming family travel commitments. You might be surprised that flying seems to have a lower carbon footprint than driving in a handful of circumstances.
If you're renting a car, choose an electric car if it's available and within your budget. Be sure you understand how to find charging stations around your destination. But as long as you're comfortable with the charging infrastructure, you could save money charging the battery instead of paying for gas.
Travel by public transportation, scooters, bikes, and your feet
While at your travel destination, opt for simple, zero-carbon transportation modes like scooters, bicycles, and walking as much as you can. Not only are these options great for the environment, but they're great for your physical health and they are such an intimate way to get to know the place you are visiting.
Alternatively, use public transportation options like trains, subways, and buses if they are available. These are especially useful in urban areas and can make it much easier to get around town. Using public transportation is also a great skill for kids to learn generally. Here are 11 tips to use public transportation with kids while traveling.
Stay in one destination
It's tempting to hit up a bunch of places while you're traveling. After all, you might not have a chance to get back, especially if you're a long way from home. But staying in one place for a longer period of time is often less stressful, allows you to see and experience the culture more intimately, and reduce the carbon emissions from travel between destinations.
Support local businesses
Chain restaurants and big box stores are tempting because they are familiar. Skip the spots you can find at home, and support local shops and businesses while traveling. Keeping tourism dollars in the local community is a significant boost to the local economy. It's also a great way to connect with people from the area and learn more about the culture and local gems.
Don't be afraid to ask the employees for other recommendations like good local restaurants or fun shops to check out. They'll most likely be stoked to share their recommendations and promote their local small business counterparts.
Visit local parks and playgrounds for entertainment
Most kids love checking out new parks and playgrounds, and there are some amazing playgrounds in so many locations. Find a local playground when you're ready for a play break (it's a great way to keep travel more relaxing with kids too). Playgrounds are an awesome way to enjoy entertainment for free and without any eco-footprint and get a dose of local culture.
You can search for playgrounds using Google Maps. They often have photos of the playground built into the Google Maps interface, so you can see photos of nearby playgrounds and decide which one best meets the needs of your children depending on their age and interest.
Check out the local library
Don't limit your library use just to your home library. You can use libraries while you're traveling. Public libraries are public meaning anyone can use them. Stop in to read in the air-conditioned space on a hot day. Check the library calendar of events to see what they might offer while you're visiting. Librarians love sharing their space with neighbors near and far.
Hike in a local park
Consider finding a park or hiking path to explore the best of nature in the area. Even a 20-minute hike is a fun reprieve and offers a breath of fresh air. Here's how to find hiking trails wherever you are.
Avoid activities that exploit animals
There are tons of fun activities for kids related to animals. Many zoos and aquariums can offer lots of opportunities for learning and seeing new animals. But skip the adventures that put animals in abusive or unsafe conditions and don't respect their needs. It might take a little research to gather information on your planned animal-related activities, but it's a great lesson for the kids as they learn to respect all living things in nature.
Reduce Waste While Traveling With Kids
Travel inevitably seems to generate more waste than the daily ebbs and flows of being at home. But here are a few ways to reduce waste while traveling with kids.
Skip the souvenirs and tchotchkes
Standard souvenirs won't store your memories. Take photos. Immerse yourself in the moments. Enjoy your company and your new destination without worrying about knick-knacks to remember your vacation.
If you find something you need that you know you will use over and over again or enjoy for a long time, invest in that special item that you will savor. As an example, I recently traveled to London with my son. We went to Wimbledon during our trip. He asked for a souvenir from the event, and we decided a beach towel would make a great choice because he could use it many times (and he needed a new beach towel anyway). Win-win.
Many of the souvenirs in tourist trap souvenir shops are poorly made by underpaid laborers. Save your money for something that will bring you more joy and leave the world with less waste.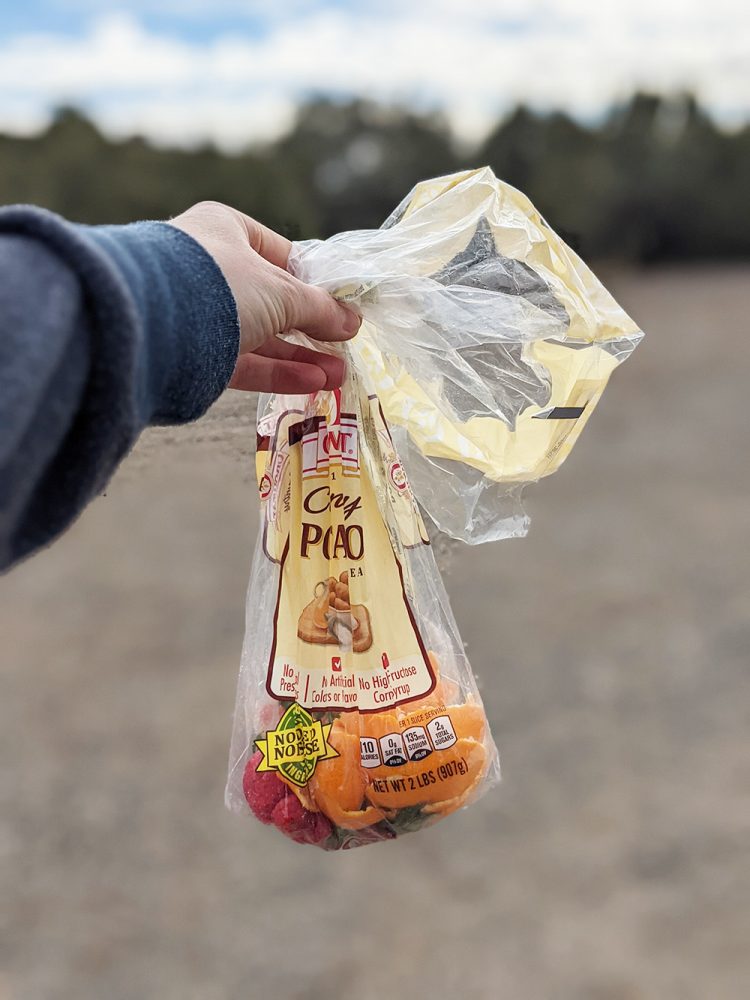 Compost your organic waste
You may be able to compost even when you're on vacation. Look out for municipal compost bins and collection boxes. More and more cities separate organic waste and have drop-off sites for organic waste.
If you can't find municipal composting where you travel, check out the ShareWaste app and find a compost host near your destination. ShareWaste is a free, global app that is easy to use. People around the world sign up to be compost hosts and accept food scraps and other organic waste from compost donors. You can be a compost donor to a ShareWaste host even for a single visit while vacationing.
Two years ago, my extended family and I spent Christmas in Arizona and shared a rental house. We found a ShareWaste compost host not far from where we stayed. We froze the food scraps throughout our trip, and on the last day we made a quick stop by the compost host location and dropped off all of our food waste.
If you are driving to your destination, you may even consider bringing a compost bucket. Last year, we spent a week in Lake Placid, New York, with friends, and I brought a WasteWell bucket to collect our food scraps throughout the trip.
Not only could I bring home the food scraps and compost them when I returned, but it was also a great conversation starter to discuss composting with our vacation buddies. Then pat yourself on the back for being an eco-influencer and quietly leading by example.
Leave no trace (in nature and everywhere)
Although the Leave No Trace principles are designed for hiking and being in natural spaces, it's a good principle to keep in mind no matter where you're traveling. Make sure your trash and recycling end up in the proper receptacles. Respect wildlife and local green spaces. Don't take things that don't belong to you (especially things that belong in nature). It's pretty simple, but it makes a big difference.
P.S. Interested in going hiking and not sure how to find hiking paths in your vacation destination? Check out this guide to finding hiking trails wherever you are as well as these tips about where to find secondhand hiking gear.
Learn About the Local People & Environment
Beyond just seeing the tourist sites or sinking into a beach chair, take some time to learn about the places you visit.
Use travel as a chance to learn about climate action in other communities
Different communities have taken vastly different positions on climate action; some are more progressive while others leave much policy on the back burner. Also, the climate action that makes sense in a particular place might be unique to its geography, climate, and culture. Check out this list of nine ways to teach climate education to kids while traveling for more specific ideas.
Learn local recent and Indigenous history
Take some time before or during your trip to learn about the local and Indigenous history of the place you are visiting. Not only does this offer insight into the culture and background of the location, but it also extends respect to the people's home you're calling your own for the duration of your travel.
While tourism can be helpful to some communities, it also displaces others. Learning about the history of the location can help you more appropriately respect and appreciate all that a place and its people have to offer.
For example, we are headed to Glacier National Park soon. Glacier National Park has a long and tumultuous history with the Blackfoot Native American tribe. The Blackfoot tribe offers a tour of the Going To The Sun Road that not only financially supports the community but also highlights the history and culture of the tribe. Consider looking for travel alternatives that both support and celebrate the Indigenous history and local culture.
Sustainable Travel Is Kind of an Oxymoron
In the end, travel isn't really sustainable in and of itself. The most sustainable travel is the travel you don't do or the staycations you enjoy at home. Travel is not generally a regenerative practice that restores and heals the planet. Traveling and related activities inherently consume resources in most cases.
However, connecting with other communities and getting to know different people and cultures can help bring us together to work better towards common goals. It can expose us to new places and help us appreciate what different people and areas bring to a biodiverse and culturally-diverse Earth.
What other ideas can you offer for sustainable travel for families? Do you have favorite tips and tricks to reduce waste, limit your carbon footprint, and leave the planet better than we found it after exploring new places?
If You Like Sustainable Travel For Families, You Might Also Like
Sustainable Family Travel | Flying vs. Driving vs. Staying Home
20 Travel Tips for Active Kids Who Love Sports
Can You Take a Family Roadtrip in an Electric Vehicle?
28 Green Travel Tips For Eco-friendly Road Trips with Kids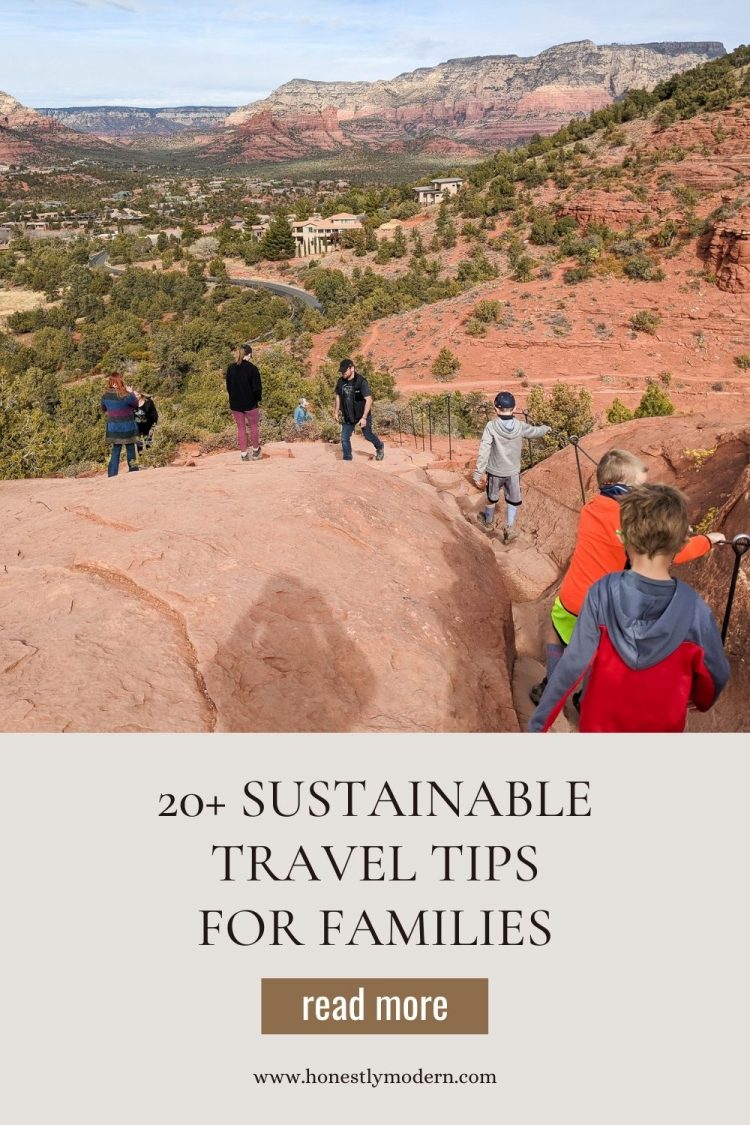 About The Author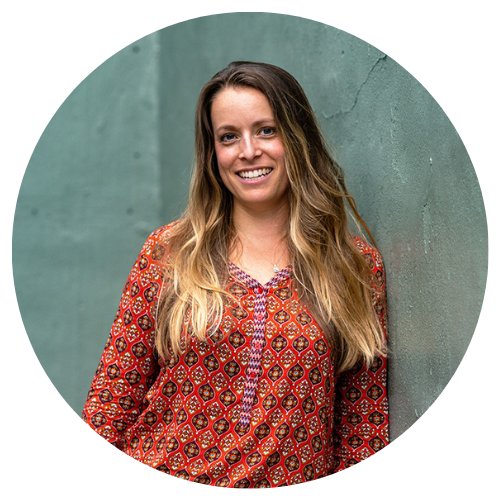 Jen Panaro
Jen Panaro, founder and editor-in-chief of Honestly Modern, is a self-proclaimed composting nerd and an advocate for sustainable living for modern families. In her spare time, she's a serial library book borrower, a messy gardener, and a mom of two boys who spends a lot of time in hockey rinks and on baseball fields.
You can find more of her work at Raising Global Kidizens, an online space to help parents and caregivers raise the next generation of responsible global citizens.