Orange Patterned Fall Blouse Styled 3 Ways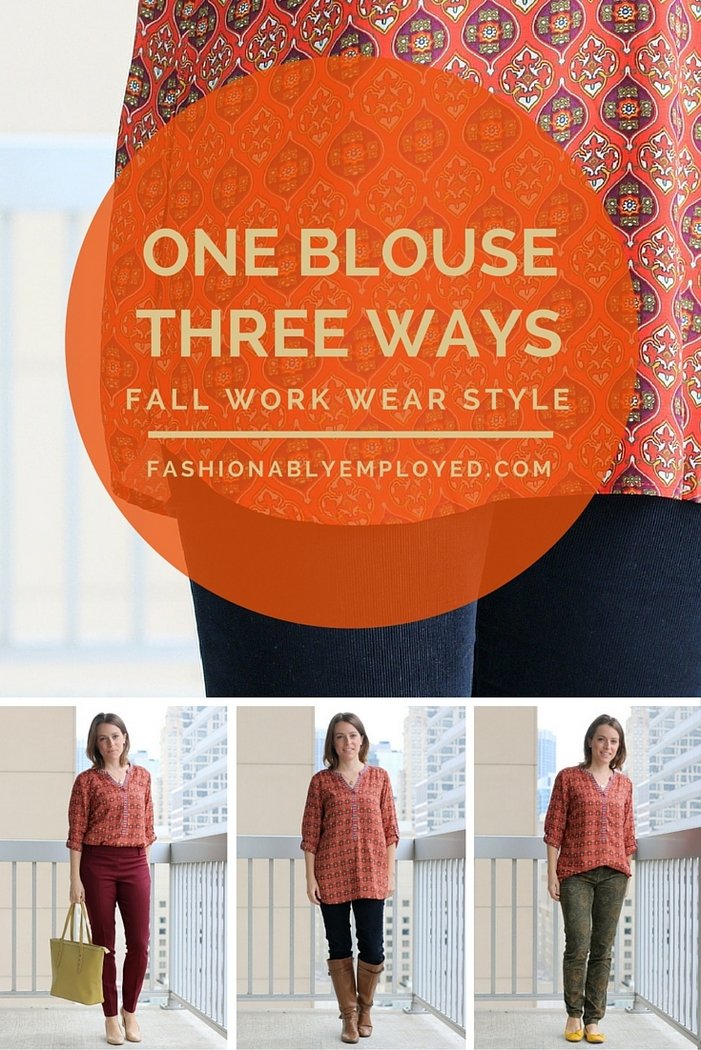 So you just got a new blouse that's perfect for fall and you want to wear it every . single . day.
That'd be weird. And maybe gross.
Nonetheless, let's chat about three ways to wear that blouse to work, on the weekend, and out with friends, provided it's not three consecutive days without washing.
Pull Colors from the Pattern
For the office, I tucked the blouse into a pair of work pants. The burgundy pants complement the blouse as I pulled the color from the detail of the blouse's pattern. You can see below the bits of burgundy hiding out in the fabric.
In even smaller doses, I pulled the chartreuse from the blouse as well to add a contrasting yet complementary pop of color with the tote bag.
Pattern Mixing and Flats for the Weekend
Running around with my boys, I definitely want something simpler for the weekends. Olive acts as a great neutral, especially for fall. The pattern in the pants is subtle enough that it doesn't compete too harshly with the strong pattern in the blouse.
Further, everything in this outfit can be tossed in the wash. So at day's end, when it's covered in breakfast crumbs, chocolate and all the other (more disgusting) things my boys will wipe all over me, no hearts are broken over ruined clothing.
It's also super comfortable for running errands, playing at the park, or whatever other casual activities the weekend might bring.
Boots & Corduroys
While the high-fashion world might be trying to nix the skinny jeans and boots trends, it's not going anywhere this season for the regular ladies of the world (at least not my world).
However, corduroys are pretty popular (and very comfortable). A simple neutral navy corduroy pant under your favorite fall boots and you're rockin' something stress-free yet snazzy enough for dinner with girlfriends.
Now go check your closet to see if you can make any of these work for you!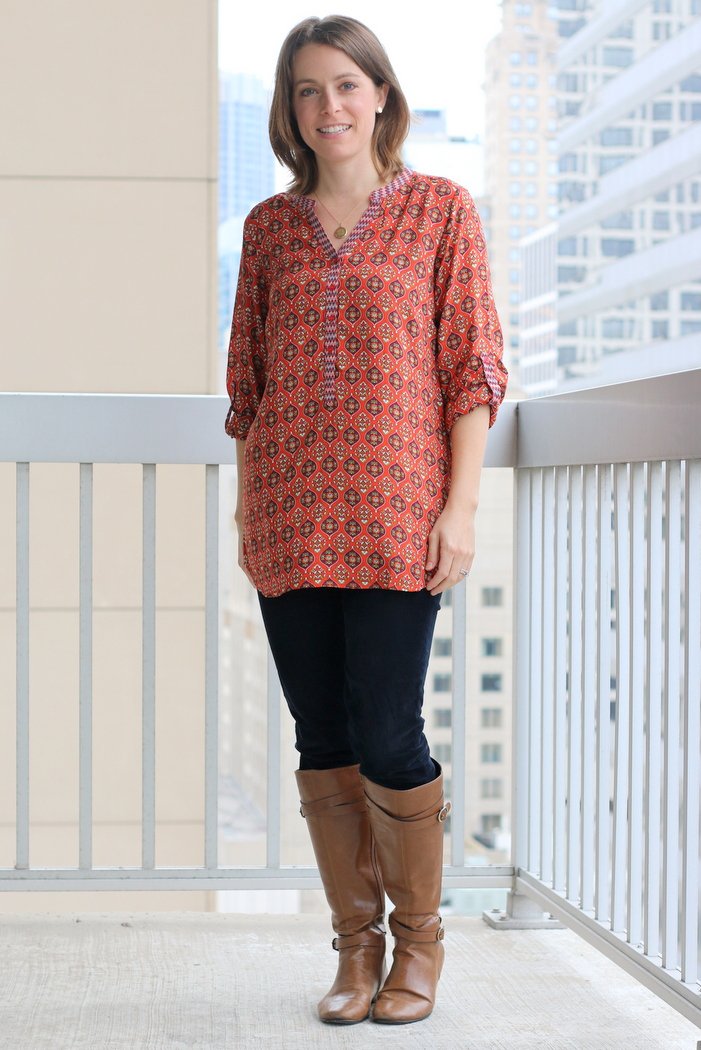 Blouse – Grand and Greene | Maroon Pants – JCrew (thrifted via thredUP) | Olive Pants – Free People | Navy Corduroys – Adriano Goldschmeid (thrifted via Salvation Army) | Bag – Susu Handbags | Nude Heels – Target | Boots – Aerosoles | Flats – Franco Sarto