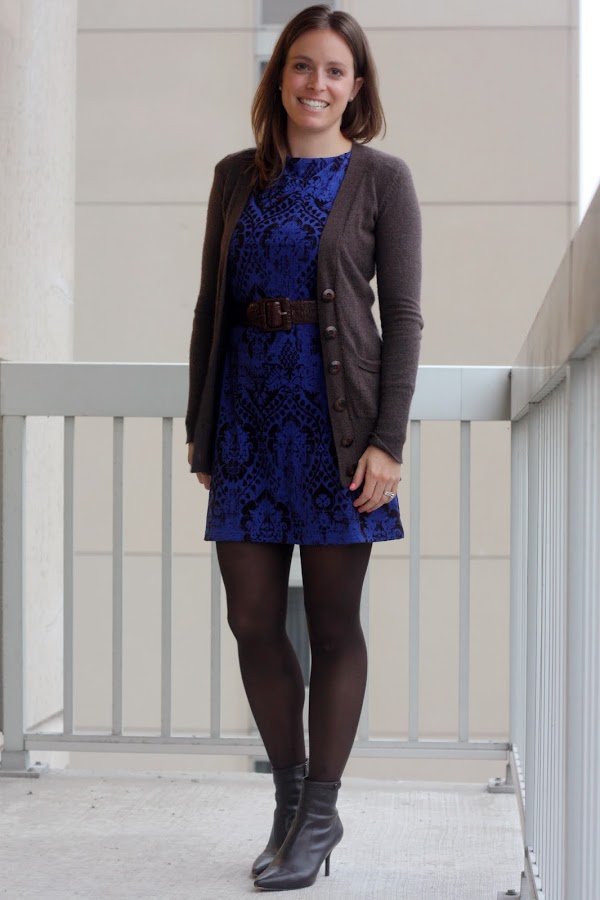 Every once in a while, and particularly when I perform my periodic closet cleanout exercises, I stumble across something in my closet that needs just a little TLC to go from drab to fab. This dress, that I purchased from a sample sale site eons ago, jumped out at me as one of those pieces a few months back. I loved, loved, loved the fabric. But it had these absolutely hideous sleeves that wouldn't flatter any shoulders, let alone my rather broad shoulders that have been great for sports but not so much style. I hung it in the "refashion" section in my closet and, as usual, it sat there for months.
The dress and I waited for some free (uninterrupted by children, work, family or other personal needs) time to magically show up on my calendar. As I anticipate you already guessed, we waited a long, long, long time. This dress was not happy with me. It had already been held captive in the dark dungeon-like corner of my closet for many years. And it's patience for receiving a little love and attention was waning rapidly.
So like any responsible dress owner would do, I continued to procrastinate attacking the real problem project and instead bought myself some time by covering the aforementioned horrid sleeves with a sweater. (Note to self: This dress gave you no bonus points for this solution. You found a short term solution but ignored the real problem. The dress saw right through your transparent-as-glass antics.)
Ok, fine. I didn't cure cancer or solve world peace. In fact, I didn't even fix the darn sleeves on this dress. But I patched up my problem with a band-aid (a.k.a. this brown cardigan I love so dearly) and have committed to making time to show this dress some love very soon!
P.S. I couldn't decide if I liked it with or without the belt, so I tried both…
Dress – Eva Franco; Cardigan – Akira; Belt – old; Tights – Target;
Booties – Via Spiga (via Nordstrom Rack)