One Easy Trick to Reduce Seasonal Decor Clutter
Looking for simple and clutter-free seasonal decorating ideas? Here's one idea to add a little festive touch to your home without stocking up on off-season clutter.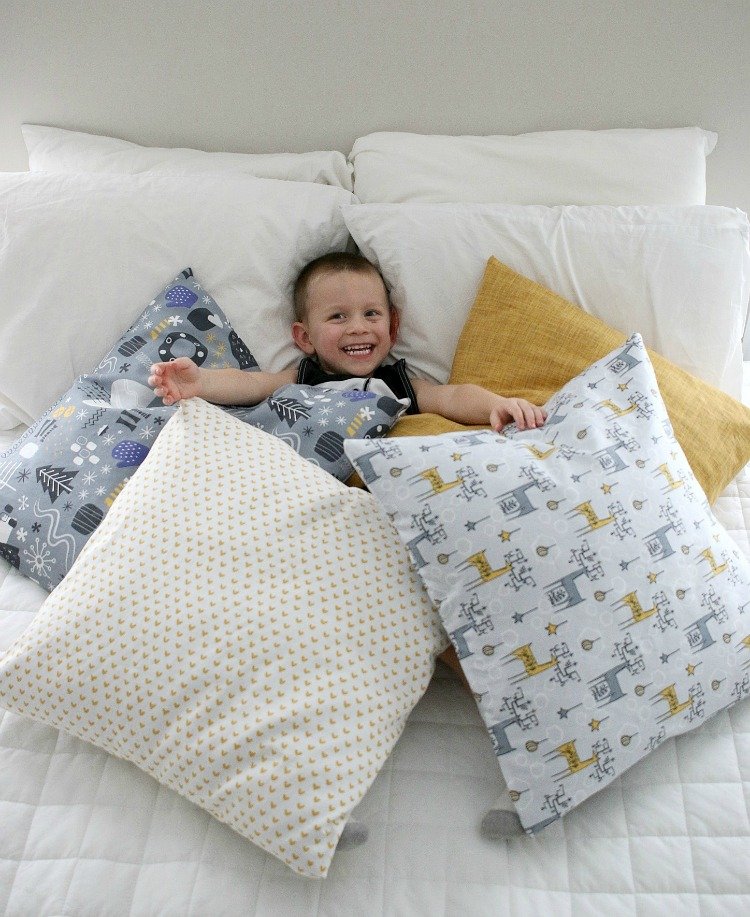 While seasonal decorations feel festive and happy, they also create so much clutter that kind of drives me nuts. In season, I hesitate to put up too many decorations because they take up space, collect dust, and require effort to take down. Out of season, they consume precious storage space.
It might make me sound like a bit of a Scrooge, but I'm owning my minimalist decoration preferences.
In past years, I've bypassed nearly all decorations. This year, however, my boys expressed much excitement about decorating the tree and appreciating some evidence of holiday spirit in our house, so I was a bit more thoughtful about adding elements of decor to our home that felt comfortable, simple and stress-free.
Pillow Covers For the Simple Seasonal Decor Win
Without a doubt, I felt most proud about the quick and easy holiday pillow covers we made together. I love that the pillow cases brought a touch of holiday spirit and extra color, didn't add any extra space-consuming objects to our home and store so easily out-of-season. I totally dig that I can create a collection of pillowcases for various seasons throughout the year and swap out covers on our throw pillows to match whatever season is upon us.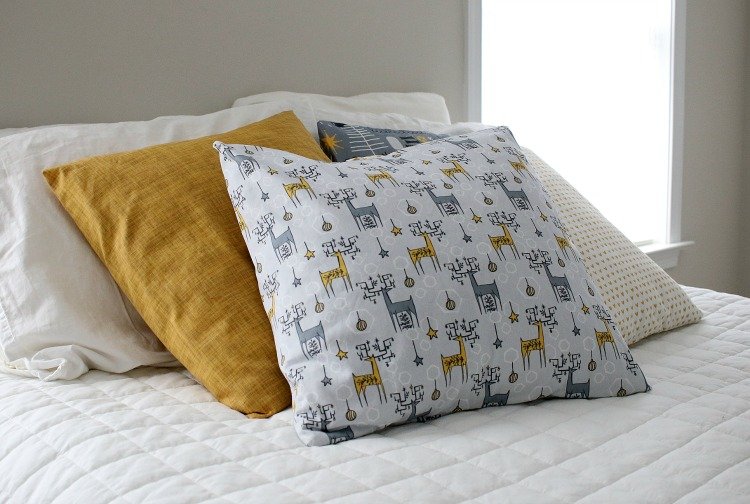 I also enjoy making the pillows with the boys. After picking out four different fabrics that coordinated with each other, matched the existing color scheme in our house, and included more modern holiday elements (kitchsy Christmas things aren't my jam), the boys and I spent a morning whipping up the four pillowcases. Then they spent the next 30 minutes jumping on the bed and burying themselves in the pillows. What else would I expect?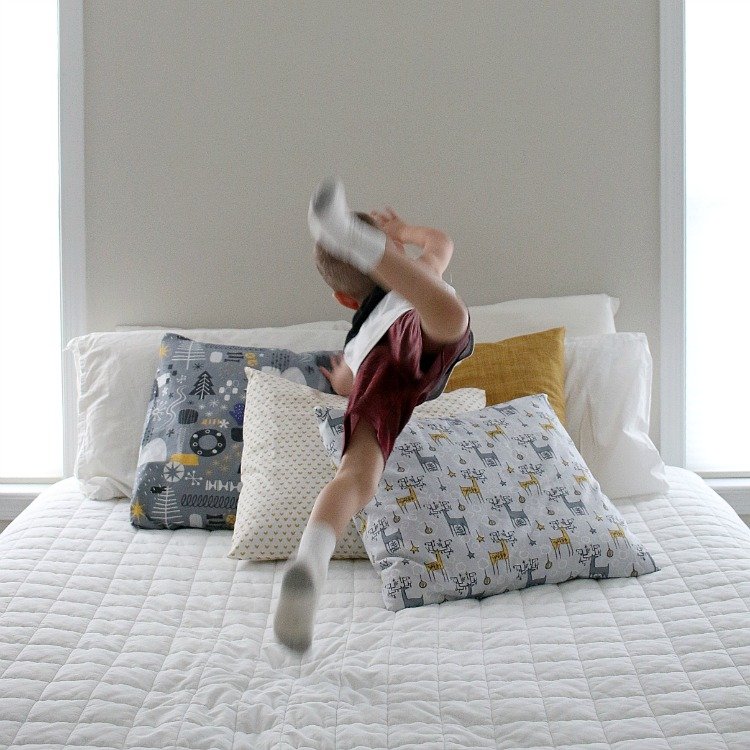 I ordered the fabric from Spoonflower, which I love. They have thousands of fabric patterns designed by independent designers so the selection is enormous and there are lots of different styles. Each order is custom printed, and the fabric quality had been great in my experiences My sewing skills are very beginner, so I stuck to easy-to-use fabrics for the handful of projects I have created, but I've been totally happy with my purchases.
For upcoming holidays, I expect I'll make some additional pillowcases. I've already started digging around the Valentine's fabric designs and found so many great options.
I'd love to hear what simple and clutter-free holiday decorations ideas you have.

Want to make your own? They're quite easy and perfect for a beginner sewer.
Easy Steps to Make Your Own DIY Envelope Pillow Cover:
1. Measure the height and width of the pillow you want to cover.
2. To determine the size of the fabric, measure 2 inches taller than the height. For the width, multiply the width of the pillow by 2 and then add another 6 inches. Cut fabric.
3. With the right side of the fabric facing down, fold the ends (short sides) over 1/2″ and press. Fold 1/2″ again and press to create a double hem.
4. Sew 1/8″ from the inner seam to create a hem along the side edges of the pillow cover (where you folded over the edges).
5. Lay the fabric right side up. Fold the fabric over from both the right and left sides, so right sides face each other and the edges overlap 4 – 6″ near the middle of the cover. Be sure that the width of the pillow cover, when the edges are folded over, matches the width of the pillow. Pin the edges together.
6. Sew along the top and bottom edges to create the envelope cover, and then turn the pillow cover right side out.
7. Stuff pillow inside the cover and you're set!