7 Tips to Reduce Food Packaging Waste
Last month in our Waste Free in 2023 Challenge we tackled the bathroom. Now it's time for the kitchen, and this is part 1 of a three-part series. Let's dive into 7 tips to reduce plastic packaging in your kitchen.
This post is part of our Beginner's Guide to Going Waste Free in 2023.
Are you curious about reducing your waste and living more sustainably but aren't sure where to start? You're in the right spot. In a world buried in overconsumption, reducing our waste is one of the best places to explore more eco-friendly living. We're so glad you're here and hope you stick around for our Waste Free in 2023 challenge.
Whether your goals are big or small, we all start at the beginning. Maybe you've set yourself the lofty goal of creating only a mason jar's worth of rubbish in 2023. Or maybe you're just tired of lugging a heavy trash barrel to the curb once a week and want to start somewhere.
Either way, thank you! We need everyone doing a little bit, and the fact that you're here and ready to take action is awesome.
This guide is aimed to be a 'Beginner's Guide to Reducing Waste' with small, actionable steps to create sustainable living momentum in every room in your home. Once a month, we focus on an area or event in everyday life and provide related tips to reduce waste. We'll cover everything from each room in your house and garden, to travel and celebratory events.
Although we call it the Waste Free in 2023 challenge (the rhyming name was catchy), we don't expect with our current infrastructure and systems that it is possible to create no waste at all. "Zero Waste" can be seen as unattainable or overwhelming perfection.
If you can fit all your trash in a mason jar, fantastic. For most of us though, that's not realistic. So be kind to yourself. Set realistic goals that are sustainable for you and your family. Start reducing your waste in the ways that feel most accessible to you. And come along with us on the journey to incorporating more low-waste habits into your everyday life!
7 Tips to Reduce Food Packaging Waste
Plastic tubs, soft plastic packaging, cardboard food cartons, tetra paks, glass jars, and tin cans. One simple meal can create a whole heap of trash (before you even look at the waste from veggie scraps or leftover food from people's plates).
A few years ago I started leaving all the packaging waste from meal preparation on my countertop while preparing the family dinner, and it shocked me just how big a pile of rubbish I collected by the time I was ready to dish up. Since then I've made a few simple swaps in the way I shop which have cut that waste pile down to almost nonexistent.
To keep it simple, let's split kitchen waste into three areas: packaging, food prep scraps, and food waste.
Here's a look at how you can minimize kitchen waste from packaging. We will dive into food waste and food scraps in the next couple of weeks. Remember we need progress not perfection, so be kind to yourself and try one or two that resonate most with you.
7 Tips to Reduce Food Packaging Waste
Just. So. Much. Packaging. Packaging is one of the reasons why I firmly believe zero waste is a myth, an eco-stick to hit us over the head and make us feel bad or give up. Until the supermarkets and supply chains ditch single-use plastic, it will remain incredibly hard for customers to cut out packaging completely. In 2019, United Kingdom (UK) supermarkets created just shy of 900,000 tonnes of plastic packaging according to Greenpeace, a slight dip in 2018 but not enough progress, unfortunately.
The good news is we are seeing some legislation coming in. The UK implemented a plastic packaging tax in April 2022, and some supermarkets pledge to halve their plastic footprint by 2025. The UK plastic packaging tax increases the cost of virgin plastics. This financial consequence has led to an uptick in suppliers looking at recycled plastic as a packaging alternative. It's one example of how legislation can effectively change the behavior of large corporations for the benefit of the planet.
Beyond waiting for legislation and regulations to force change, how do we reduce packaging and stop our kitchen bins from overflowing after each meal?
Cook fresh
Avoid pre-made and pre-packaged meals, fruit, and veg. Maybe try a meatless meal and avoid all the plastic (usually non-recyclable) trays in which most meat is packaged. I'm not saying go veggie, just give meat-free Mondays a go for a month and see how much difference it makes to your waste, your wallet, and your stomach.
If you can't avoid plastic for meat, pick white plastic packaging over black plastic or styrofoam/polystyrene. The latter two aren't recyclable, and by demonstrating a demand for recyclable packaging (and rejecting those that aren't), you're showing businesses what you want to see more of.
Shop naked!
Not you, obviously, but your fruit and veg! Buy it loose and without a bag, or take your own small reusable produce bag. Yes, loose mushrooms on a conveyor belt at the checkout can look a bit weird the first time you do it. But no one else will notice (or care!).
Compostable produce bags only compost down if you put them in a compost bin. They take new resources to make and transport, so ditch them altogether or reuse them over and over again. If you have a refill store nearby that sells food, why not pop in and see what they offer? That old jam jar can be reused when you buy your popcorn kernels in bulk without and buying anything new!
Buy bulk
If you have a bulk section in your supermarket, consider if you might be able to buy some of the items on your list from the bulk section in reusable bags. The containers can be whatever you already have on hand that works for the types of food or ingredients you need to buy.
Often, the market offers small bags you can use (that you can bring home and reuse again on another trip). I often can't write directly on the container, so I put the codes in a note on my phone while I shop and can pop them all into the checkout computer when I scan and pay for my groceries.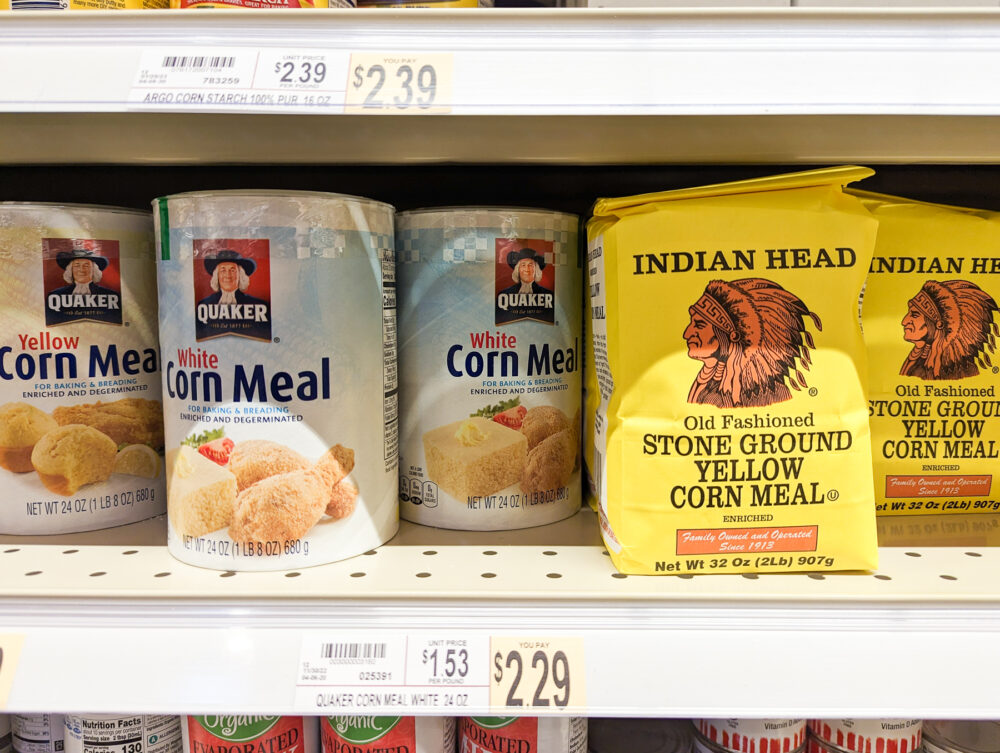 Choose glass, tin, or paper over plastic where possible.
Glass and tin materials are recyclable and don't degrade when recycled (like plastic does). This means that materials like glass and tin can be recycled time and time again. Plastic, on the other hand, can only be downcycled into lower-quality types of plastic. Over time, plastic is no longer suitable for recycling.
Most paper products are recyclable and/or compostable. There is a fairly strong market for paper recycling because there are many ways to use recycled material in new products. But you also can't go wrong with composting it if you have access to a compost system.
There are glass, tin, or paper alternatives for most products in your supermarket. They might just take a bit more searching. Like all new habits, once you've found them and know what you're looking for it will get easier. As a bonus, if you pick glass jars. you can then save money by reusing them for funky-looking containers in your pantry cupboard or for when you try out your local refill store.
A quick mention of coffee pods here. Single-use disposable coffee pods are usually not recyclable due to the mixed materials in them (though some are specifically designed to be compostable). See if there is a reusable filter available for your coffee machine. It offers the same great coffee, less waste, and it's cheaper in the long run meaning you enjoy your choice of coffee without a side portion of plastic!
Ever wonder how your supermarket compares to other supermarkets with respect to the amount of plastic packaging they have on their shelves? Check out how your supermarket stacks up for plastic:
Check USA Stats | Check UK Stats
Plastic to Preserve Food
It's worth noting that sometimes plastic packaging plays an important role in preserving food. Many food items last much longer when packaged in certain types of plastic. As with many considerations in sustainability, there are almost always trade-offs.
If certain types of plastic packaging help food last longer for you so you reduce food waste, then that packaging might make sense for you. But to the extent you can grocery shop using the tips above without increasing food waste, you might be surprised how much less packaging you generate with a few small new habits.
Shop farmers' markets
Farmers often sell their produce naked and directly to customers at community farmers' markets. If you have access to a farmers' market in your area, bring your own bags so you don't need to take the plastic ones they occasionally offer. It might also be helpful to bring some small containers if you plan to purchase soft or fragile items like berries or tomatoes. Reused takeout containers make great berry containers.
Many farmers will also take back the containers in which they originally sold their products to you. When we shop at farmers' markets, we bring back things like berry boxes (if we need them) or egg cartons so they don't end up in the trash and the farmers' save money not having to always buy new ones.
Related Read: 9 Environmental and Economic Reasons To Support Local Business
Try an ugly produce subscription
Have you heard of ugly or imperfect produce boxes? If not, they are subscription boxes through which you can order produce at a discount that didn't make it to grocery store shelves. Oftentimes, the produce was the wrong shape or not pretty enough to land on food market shelves, but the food is still perfectly nutritious and wholesome.
In the United States, companies like Misfits Market and Imperfect Foods are examples of this. In the United Kingdom, check out companies like Oddbox, Earth & Wheat, or Wonky Veg Boxes. They ship the food from their warehouses (and some of it comes in plastic) so it's not a perfect solution. But many items do not arrive in plastic, and they help keep food out of landfills and other waste facilities.
Pick your own produce
U-pick produce is a fun way to purchase food locally and seasonally, and it often comes with much less packaging than produce from your grocery store. U-pick won't likely replace grocery shopping, but it's one step you might be able to try (and it's likely more enjoyable than a mundane trip to the grocery store). Here are a few more reasons why u-pick produce is one beneficial component of a more sustainable kitchen.
Bonus: Bring your own bags
While it's not specifically food packaging, bring your own bags to the grocery store if you can. Not only do plastic bags cause all sorts of trouble (and they aren't really recyclable), but reusable bags are much easier to use and hold more stuff! It's a win-win. Plastic bags are packaging, per se, but they are part of the vessel used to transport food from farm to table, so they're a bonus tip that's always a good choice.
Got any other tips to reduce plastic packaging in your kitchen? We'd love to hear them! Share them in the comments.
About The Author
Sarah Burgess
Sarah Burgess is co-founder of the social movement Just1bag2020, mother of two, and British Expat who spent four years living in the United States and recently moved back to the United Kingdom. Sarah spends her time promoting local sustainable change through small, easy-to-do actions that everyone can do to help out the planet. When not picking up trash and persuading others to do the same, Sarah and her family can be found travelling the world and experiencing everything this precious Earth has to offer.
About The Author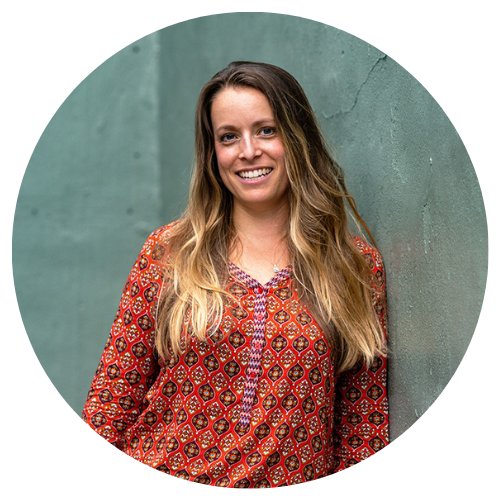 Jen Panaro
Jen Panaro, founder and editor-in-chief of Honestly Modern, is a self-proclaimed composting nerd and an advocate for sustainable living for modern families. In her spare time, she's a serial library book borrower, a messy gardener, and a mom of two boys who spends a lot of time in hockey rinks and on baseball fields.
You can find more of her work at Raising Global Kidizens, an online space to help parents and caregivers raise the next generation of responsible global citizens.