This is part of a series on successfully navigating the world of secondhand style. Stop over here to get started and see the rest of the series. Read on for more tips about how to make time for shopping at your local thrift stores.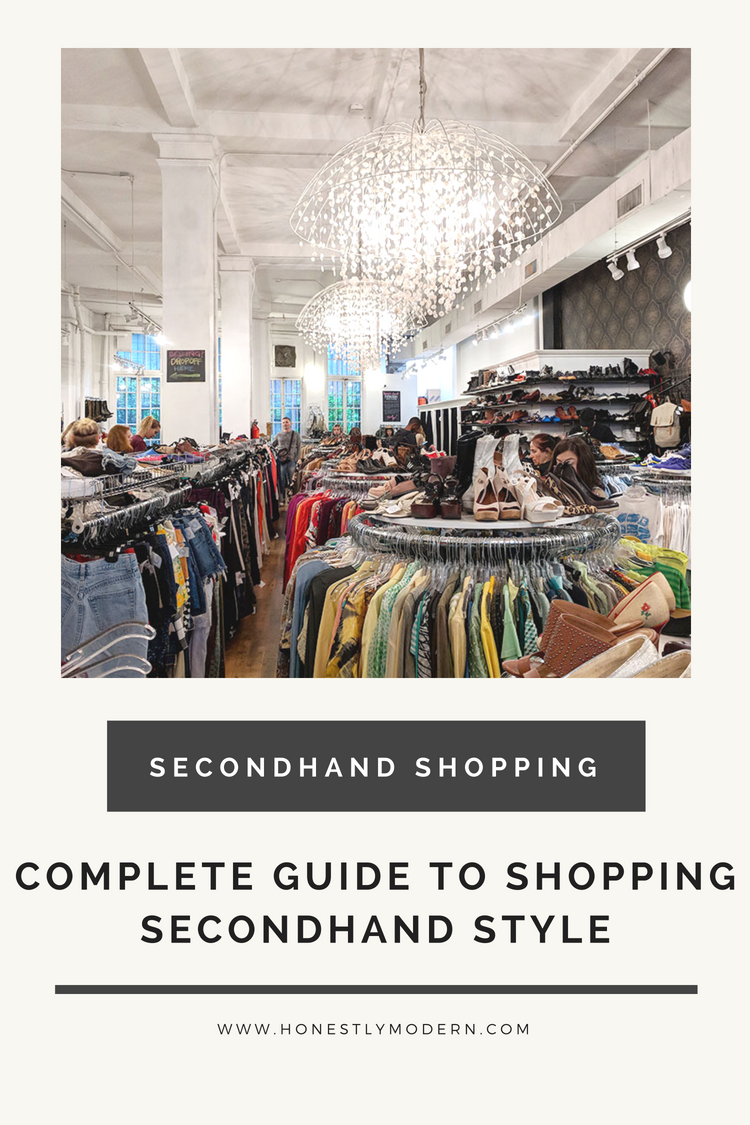 Finding Time to Shop Thrift Stores
Shopping secondhand can be time-consuming. Racks and racks (or pages and pages on the Internet) of individual items can be tedious to sift through. Online sites, like many mentioned in the Secondhand Style Shopping Guide, offer lots of filters to help you narrow down the selection and find the perfect gems. But the brick-and-mortar stores that often offer the lowest prices, still take a while to navigate.
Check Out Secrets To Finding the Best Secondhand Style from Online Resale Shops
For many of us, time isn't exactly a resource of which we have excess. I've been asked how, with two children, a full-time job, and myriad other of life's responsibilities, I find time to thrift shop. I agree it's not easy. But I also don't really "find" time, I "make" time. I set aside time on my calendar with intention and plan ahead to save some time to stop in a thrift store when it makes sense. Don't get me wrong, I don't skip preparing dinner for my boys or ignore my work responsibilities to peruse the secondhand racks. But I keep a mental note to be aware of opportunities and then plan them in my day when possible. (Note: I don't thrift all that often, maybe once per quarter on average.)
So without further ado, here are some tips to help you make time for thrifting!
Make it a date with a friend ~ Skip lunch or brunch and use the money otherwise spent on food for shopping. You might be surprised what the cost of lunch can buy you at a thrift shop!
Plan for it ~ Set aside time in your schedule for a trip to the thrift store. Communicate with your partner ahead of time to set expectations. If it requires a sacrifice or commitment from your partner, like watching the kids while you're out, commit to return the favor. Give your partner an equal amount of time for themselves to do what interests them.
Start online ~ The internet has many online thrift or secondhand stores, a slew of which I included in the Secondhand Style Shopping Guide. Without travel and limited store hours, it's easier to find time outside of the traditional business hours to scour their collections. Additionally, many of the online outlets are more "consignment" in nature. While prices may be slightly higher, their collections are more curated and far more easy to search. Finding that perfect item on your wishlist involves checking a few "filter" boxes and not sifting through racks for hours to determine whether or not they even have something matching your needs. Here are some tips and secrets.
Stop on you way home from work and forego the TV show you planned to watch ~ Consider reallocating your time to something slightly more productive and marginally more active. Thrifting isn't a workout; I'm not even about to suggest something so silly. But it's also not sitting on your couch.
If TV offers your mind a chance to veg, thrifting can probably provide the same disconnect. Consider why you watch those shows. Can the benefit or reprieve they provide be garnered elsewhere?
(Disclaimer: I'm clearly the opposite of a TV addict. I have never loved TV, not even as a kid. I never liked cartoons. I never watched prime time series growing up. And I still can't list more than about three prime time shows on today, not to mention I don't know the day and time of even one single show currently running. So if you love TV and hate this suggestion, I can't relate but I'm definitely not judging. I can only encourage ignoring this option and trying some of the others. Ha.)
Go while on vacation ~ I love checking out thrift stores in new areas. New communities offer a different donor base that might be donating things I wouldn't otherwise find in my hometown shops. Also, many people dedicate time on vacation to relaxing activities like shopping or just make time for doing "not a whole lot" no matter what that is. So on your next trip, presuming it's not a tropical beach or remote campsite, do a little research before your visit to find a thrift shop or two in the area. Plan to stop in and see what they have to offer. This online thrift store directory that can help you locate a shop in your vacation area. Check out my thrifting adventures in New York City.
I hope at least one of these resonates with you! Don't forget to head back and check out the rest of the Secondhand Style Guide series.