Fun & Low Waste Halloween Trick-or-Treating
Are you planning to trick-or-treat for Halloween this year? If so, check out these fun low waste ideas for Halloween trick-or-treating.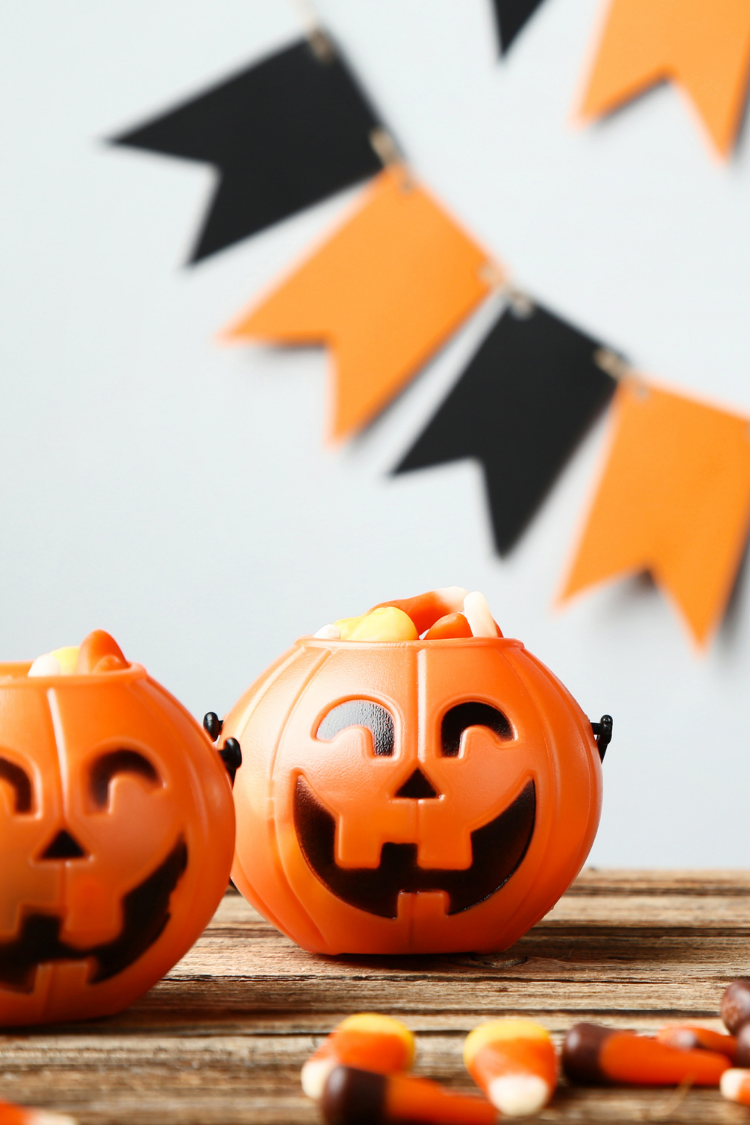 It's October and it's on everyone's mind. Can we trick-or-treat for Halloween during a pandemic? I expect some municipalities will prohibit it. Others will make no authoritative decision about it. And families will trick-or-treat this year in a variety of ways no matter where they live or what their municipality specifies.
To be honest, Halloween trick-or-treating is pretty low on my list of concerns right now. We have far bigger dilemmas and traumas in our country and the world today than walking around outside to collect candy from neighbors. I'm not even going to list them, because I'm pretty sure you can whip up a handful of more pressing matters than candy collection no matter your political priorities or leanings.
That being said, I do think it's important to consider how we can make Halloween trick-or-treating as safe as reasonably possible for those who choose to participate. As always, I'm also always on the hunt for tips to reduce our waste each and every day, holiday or not.
Low Waste Halloween Trick-or-Treating While Social Distancing
As for Halloween celebrations, the United States Center for Disease Control has offered some guidance related to Halloween festivities that suggest we can participate in certain types of Halloween activities, provided we follow proper social distancing practices. Halloween trick-or-treating while social distancing may look a bit different than what we're used to, but there are still ways to have some Halloween fun (and even limit waste while we're celebrating).
With the CDC guidance in mind and a bit of creativity, here are a few ways we might be able to let our kids enjoy Halloween trick-or-treating while social distancing and not leaving a trail of waste in our wake. If you're on the hunt for low waste and eco-friendly Halloween trick-or-treating tips while also practicing social distancing, here are a few ideas that might work for your families.
Leave Candy At The End of Driveway
To limit the amount of social contact, leave candy on a table at the end of your driveway or a bit away from your front door where kids might otherwise trick-or-treat. According to the CDC, the virus doesn't frequently spread via surface contact, so picking up bags handled by another person minutes or hours prior to being left on the table shouldn't pose a high health risk for most trick-or-treaters. Always use your own judgment, however, based on your personal health and circumstances. (I'm definitely not a doctor.)
Leave out candy like Junior Mints, Dots, and Milk Duds that come in cardboard boxes and can be recycled. You will likely have to purchase the bag of individually packaged treats in a plastic bag, but it's better than plastic on every single piece of candy.
For more ideas about eco-friendly Halloween candy to hand out, check out this list of sustainable and low waste Halloween candy for trick-or-treaters.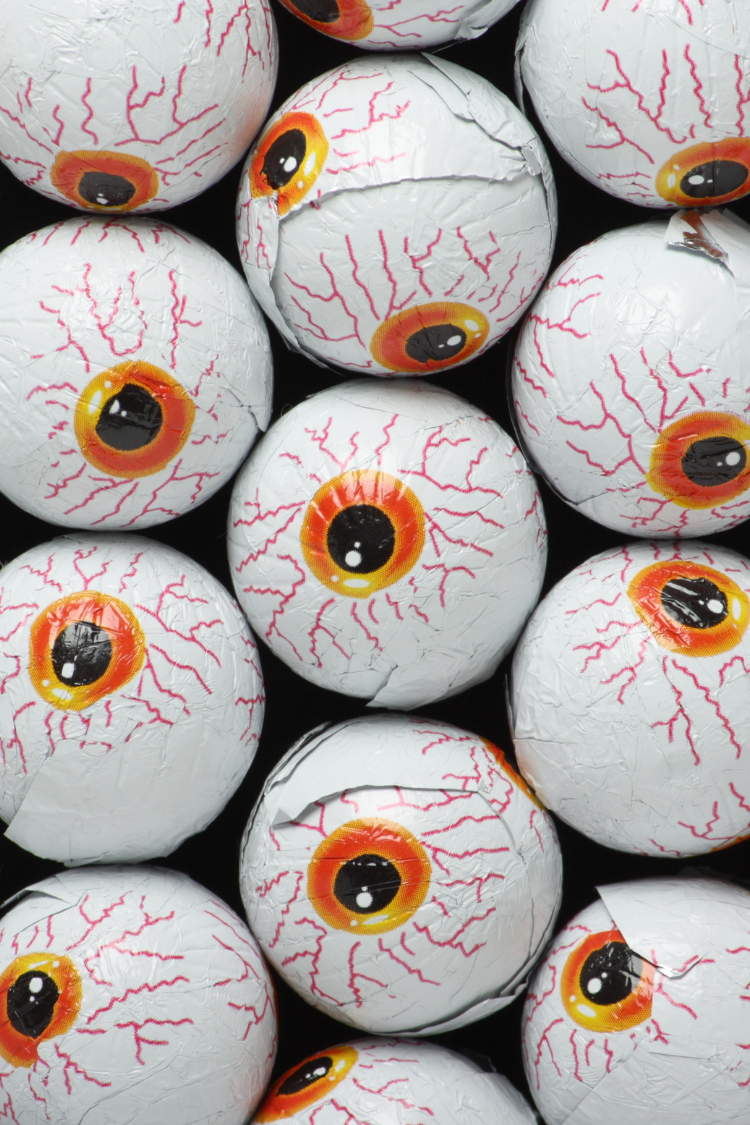 Package Treats Prior To Trick-or-Treating
If you're planning to give out more than one piece of candy, create pre-packaged goodie bags in small recyclable brown paper bags. Foil-covered chocolates like Rolos or bulk bin chocolate balls are better than many alternative Halloween candy options.
You can often find small paper Halloween treat bags on baking websites or in the dessert tool sections of craft stores. These paper Halloween treat bags are great examples!
Witch Bags | Happy Halloween Bag
Fill each bag with as many chocolates as you'd like. Similar to above, leave them on a table so trick-or-treaters can pick them up without opening your door to hand them out directly.
Host Your Own Halloween Candy Hunt
If you prefer not to walk through a neighborhood and collect candy from neighbors, consider hosting a Halloween candy hunt for your own family at home. It's like an Easter egg hunt with a Halloween theme. Invite a few close friends if you're comfortable.
Aside from reducing the risk of exposure to germs, you also have more control over the timing of the candy trek. Host your Halloween Candy Hunt during the day and don't worry about your little ones walking around dark streets or getting home late.
Because you're all family and friends, make low waste Halloween treats like puppy chow, cookies with Halloween colored M&Ms or icing, or chocolate-covered pretzels, and hide the candy inside containers or bags that you're comfortable with reusing. Homemade snacks often produce much less waste than store-bought candy.
I know this might not seem quite as fun as real trick-or-treating at other people's houses. But in the end, don't the kids really just care about the candy anyway?
Host a Halloween Candy Exchange & Fashion Show
Halloween is all about the costumes and the candy, right (at least for kids)? Host a fashion show to showcase costumes while maintaining proper social distancing between participants. Let each person walk down the "red carpet" and show off their snazzy Halloween costume to the attendees. This would be especially great if the weather is nice enough to host outdoors.
Line up candy buckets or containers along the fashion showcase walkway for each child participating. As each child shows off their costume, the child can drop a piece of candy in each bucket lined up along their walkway. It's a bit like the Valentine's Day version of Halloween candy exchange. Drop the candy in each person's bucket or candy box to enable social distancing.
You may even consider incorporating a competitive element, offering a prize to the winner with the best costume (most creative, scariest, etc…). Get creative with costumes and find a unique, affordable, and eco-friendly Halloween costume so your kiddos can win the extra prize!
In the end, kids still get to don their costumes and take home a bucket of treats without exposing each other to heightened virus transmission. A Halloween candy exchange and fashion show might be a good alternative to a traditional trunk-or-treat event as well as more traditional door-to-door trick-or-treating.
Watch a Halloween Movie With Homemade Treats
If you or your neighborhood is skipping Halloween trick-or-treating entirely, cozy up for an outdoor movie and enjoy some fun low and zero waste Halloween treats. Especially since the pandemic started, I know some people have invested in outdoor movie screen and projector setups.
If you haven't made the investment, try renting the equipment through a peer-to-peer rental site like Ruckify. You could also request to borrow equipment from a neighbor directly or through a Buy Nothing group. It's definitely worth a look or an ask before spending the money and buying more stuff to store in your home.
This year, my boys have already picked out their Halloween costumes (and we entirely avoided Amazon and the big box stores in the process). We plan to trick-or-treat with our boys, though they'll likely have to wear a mask and I doubt they'll be many homes opening doors to trick-or-treaters.
Like everything in 2020, Halloween will look different, but I think we can still find ways to enjoy the spirit of the holiday, show off costumes, and indulge in some sweets in an eco-friendly and safe way.
How do you plan to celebrate Halloween this year? I'd love to hear your ideas about safe and fun Halloween trick-or-treating ideas that work in your communities!