Easy Zero Waste Alternatives for Happier Travel with Children
If you have upcoming travel with little ones (or even without little ones, really) consider these zero waste travel alternatives. They're all pretty easy to follow and will save you money too. Go green for the environment and your bank account while in the air.
Let's face it. For most of us, air travel in general is about as fun as a barrel of monkeys. After being herded through security like cattle, we're rounded up and squished into an airplane like sardines. The whole experience is bearable, at best, if all goes off without a hitch. Add in weather delays, long lines, completely unreasonable airline ticketing and re-ticketing policies (am I right??!), and a whole lot of crappy airport food, and most of us are just happy to arrive at our final destination.
The family and friends and amazing experiences at the other end of the flight path make it all worthwhile, but air travel and long flights are not for the faint of heart.
Add young children to this equation and the game gets a whole lot more complicated. If you've traveled with young children, you know you're working around naps, bathroom breaks, eating schedules, explosion of pent up energy, and a range of other unexpected twists and turns.
Preparation and a Mary Poppins bag of 'spoons full of sugar' can make flights go down a whole lot easier. But what to put in that bag?!
With family living all across the country, our boys have spent a fair amount of time on airplanes. As a result of all those flights, we've learned to always pack a few things that make traveling with the boys (and sitting on long cross-country flights) a whole lot more enjoyable.
Before your next trip, be sure to pack the items listed below.
8 Zero Waste Alternatives for Easier Travel with Children
Bring Your Own Water Bottle ~ I know it's so obvious, but it's particularly helpful with kids. Like most children, I expect, my boys don't get thirsty ONLY when the flight attendants offer drinks. They also have a habit of spilling open cups of water on the floor (or on my bag, as the case may be). By bringing your own water bottles, you'll also save serious loot not buying outrageously expensive water at the airport. I have a Swell bottle that I really like (because it has a smaller mouth than some other brands). We also have small Hydroflask bottles that are the perfect size (12 ounces) for kids.
Wooden Memory Game ~ We love this toy for travel because it keeps the boys entertained for a while but it's also (almost) only one piece. Unlike a deck of cards that easily slides off a tray table, this game doesn't make any messes and pieces won't get lost. There are separate large cards inside the board so players can change up the memory boards, but the cards fit tightly into the card slot and have never come close to falling out for us.
Lunchskins Bags ~ A replacement for plastic bags, I love that I can carry trail mix, peanut butter and jelly sandwiches, chocolate covered raisins or yogurt pretzels and so many other snacks. I really like that the bags are soft and don't take up space once we've eaten the snacks. They are sold in velcro and zipper styles (we have both). I also find that I often use them for other ad-hoc needs throughout the trip.
ECOlunchbox Containers ~ Similar to the Lunchskins, these are often filled with snacks. I tend to use these for snacks that might otherwise get crushed in a full carry-on bag; I pack things like goldfish, grapes or strawberries, and cheese and crackers.
For better and for worse, snacks are a really great way to entertain and distract children while flying. We've found it can be an easy way to calm the boys down when they are upset too. Encouraging the boys to eat and drink during takeoff and landing also helps limit the ear pain from pressure changes.
Being holed up in a tiny airplane seat, especially when the seat belt sign is on, there aren't always a lot of options to calm a crying child. In this case, a container full of Goldfish is basically magic.
With respect to both the Lunchskins and the ECOlunchbox containers, having snacks on hand is so much easier and less expensive than relying on items available in airport shops or offered from flight attendants. Even if they're snacks like goldfish, chocolate covered raisins or yogurt pretzels, they're still often healthier than the alternatives available for purchase.
Drawstring Bag for Crayons ~ Ditch the little plastic bags for crayons or markers (that often end up with annoying holes in them) in exchange for small drawstring bags. You can buy them, but it's even easier to make them. We all have a billion old t-shirts lying around, and turning them into drawstring bags breathes new life into the t-shirts, saving them from cluttering our closets or our landfills. I've shared in the past a tutorial for a drawstring bag I made from an old t-shirt using a sewing machine and a no-sew drawstring bag alternative (also made from an old t-shirt).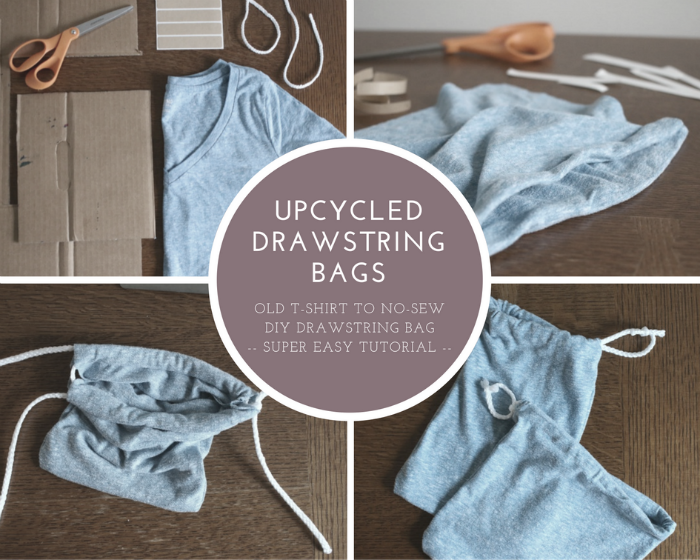 Leftover Printer Paper – Pack up printer paper that has already been used once and reuse the second side for drawing or coloring. When you're done, toss them in the recycling bin (unless, of course, they are works of art that belong on the refrigerator). Our boys also really like coloring books, so sometimes we bring our own. You can make copies of coloring book pages on the back of that aforementioned printer paper. We regularly make copies of coloring book pages, especially when they are pages both boys want to color.
Decline The Bag ~ When you do need to buy something in the airport terminal (we've all been there), decline the bag. Whatever you're buying will probably go in a bag you already have anyway.
Ditch Trinket Souvenirs ~ Just like most kids, my kids ask for all sorts of "junk" or trinkets in the airport or out and about while traveling. We don't typically buy traditional souvenirs because they are often poorly made and the boys don't play with them for long. When we do buy something, we've opted for books from a used book store, a coloring book, or a consumable.
On our last trip to St Louis with T, we bought this Ballpark coloring book from a local bookstore, this Berenstain Bears book from a used bookstore, and a piece of fudge from a tourist trap (yep… we did). I also took him into a candy store as a special treat, something we never do at home. When he asked for a t-shirt in the airport (that he definitely didn't need), it was much easier to decline his request when I reminded him of the other special treats we already had purchased.
A Little Preparation Goes A Long Way
Flying, especially with children, brings with it a host of uncertainties. Air travel also lends itself to a lot of small wasteful practices, like all those plastic cups and little napkins, that add up quickly considering how many people fly each day.
With a little bit of preparation, it's easy to make family travel more eco-friendly and easier on your wallet, all while making the experience a whole lot more enjoyable.
If you have upcoming travel with children, you might also like these related posts:
How To Make Air Travel With Young Children Easier
7 Easy Tips for Relaxing Travel With Kids
Tips for Traveling Internationally With Toddlers