Green Banking Alternative | Comprehensive Aspiration Review From A Current Customer [2021]
Have you heard about green banking alternatives? Do you know if your bank uses your money to fund fossil fuel projects? There's a pretty good chance they do, especially if you use some of the largest banks. If you're looking to live a more sustainable life, consider how your financial habits impact the environment. Aspiration is a green financial services entity that can help you manage your spending and saving without pumping money into fossil fuels.
Affiliate Disclosure: Thanks to Aspiration for sponsoring this post. This post contains affiliate links. If you open an Aspiration account, Honestly Modern may earn a commission. As part of this collaboration, I was not required to open an Aspiration account. I chose to open the accounts and use the products as described below for my own personal experience and preference. I am a current Aspiration customer and all opinions are my own.
Financial Advice Disclosure: This post is reflective of my own experience. I am not a financial advisor. Please be sure to check with your own financial advisor before deciding if any of these cash management tools are appropriate for you.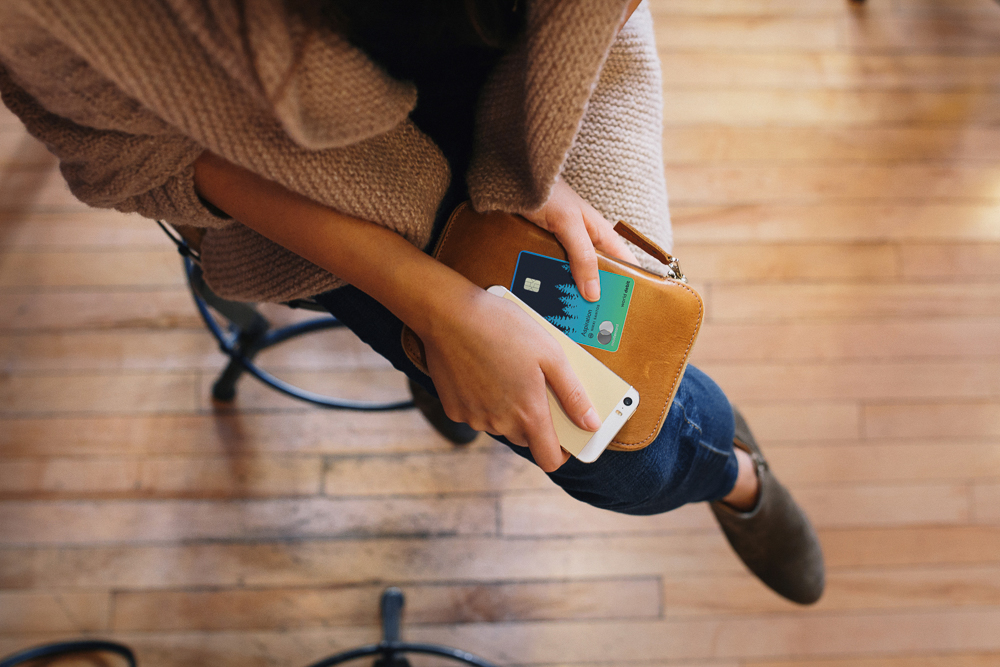 Many months ago, while searching for a green bank for WasteWell (the local curbside composting business I founded), I discovered Aspiration. While a handful of the largest banks invest hundreds of billions of dollars in fossil fuel projects each year, Aspiration is a financial services company that provides everyday cash management services without propping up the fossil fuel industry.
I was really intrigued by Aspiration's commitment to clean finance. While we make significant efforts each day to reduce the carbon impacts of our lifestyles, it's easy to forget the impact of how we chose to manage our money. Most traditional banks, and all of the largest banks, use customer deposits to finance fossil fuel projects around the globe. In fact, the top four banks alone invested $240 billion in fossil fuels in 2019 and nearly $1 trillion in this industry from 2016 to 2020 (the period since the Paris Agreement was signed at nearly 200 countries agreed to reduce carbon emissions). (1)
Without a concerted effort to use green banking alternatives, our deposits may finance the very fossil fuel projects we're striving to eliminate through other avenues of activism.
What Financial Services Products Does Aspiration Offer?
Aspiration offers several socially conscious and sustainable ways to spend and save so you can make money while making the world a better place. Some of their programs, like those associated with the Aspiration debit card, operate through customers' everyday transactions. Others tools provide options for more specific and directed giving. Aspiration offers all the basic cash spending and saving functions you've come to expect through an easy-to-use online platform and corresponding app.
Aspiration's core cash management options provide a green banking alternative to traditional banks that ensure your money is not supporting fossil fuel projects like pipelines and exploration. Aspiration offers Spend and Save accounts that let you save money and manage your spending while funding tree planting, offsetting carbon emissions from gas purchases, and assessing the impacts of your spending in the context of social and environmental justice considerations. They even have a Conscience Coalition of partner brands with social missions for which Aspiration customers get up to 10% back on purchases made with their Aspiration debit card.
How Is Aspiration Doing Good For The Community?
Aspiration strives to pay it forward and wants to do well for its customers and the world. They are a Certified B Corporation which means they have committed to balancing purpose and profit. They are legally required to consider the impacts of their decisions on their workers, customers, suppliers, community, and the environment. While this guides leadership decisions, it's particularly important because it ensures outside investors in the company are also committed to the cause.
Additionally, Aspiration is a member of 1% For The Planet. They pledge to donate 10% of their profits to environmental organizations and report such to the membership organization for compliance.
To support financial health for those in need, Aspiration pledges to donate ten cents of every dollar in profit to charitable activities that expand economic opportunity. Working with partners such as the Accion U.S. Network, America's largest provider of micro-loans, they help Americans transform their own lives through small loans that make a big difference.
They also make philanthropic giving easy for customers. Through the Spend account, customers can donate directly from their account to organizations that are vetted by Aspiration for a variety of different causes including clean water, poverty, education, the environment, human rights, and more.
Further, Aspiration offers a Plant Your Change program through which you choose to round up each purchase to the nearest dollar to fund reforestation efforts around the world. Aspiration Spend and Save customers can take advantage of this program using the Aspiration debit card. Even if you're not an Aspiration customer, you can link an existing debit card to the Plant Your Change program and help fund reforestation through your everyday purchases. (Visit plantyourchange.com for details on how to connect a non-Aspiration debit card to the Plant You Change program.)
Was Switching To Aspiration Easy?
Despite really liking Aspiration's mission and multitude of programs to reduce our family's carbon footprint, I had some significant hesitations about switching financial institutions. My husband and I have been together for more than 15 years, and our cash management strategy has evolved over that time to include a few different banks for different purposes. We've also developed a cadence of shared cash management responsibilities that is comfortable for us.
The prospect of opening a new account felt overwhelming. Updating autopay settings on several accounts and generally fiddling with a day-to-day cash management workflow that functioned well for our family seemed daunting (not difficult, just potentially annoying and with some bumps along the way as we got used to a new normal). Furthermore, opening new cash accounts wasn't a unilateral decision for me. I needed to get my husband on board. Shifting to a new financial institution would change some parts of our family's cash flow for which he was responsible.
At the same time, it felt silly not to make the move to a more green banking alternative when we invested so much time and effort adopting other new lifestyle habits on our continuous journey to be more environmentally conscious overall. While changing banks can be a nuisance, it's certainly not hard in terms of truly hard things in life. Shifting to clean banking was worth the effort for us.
Adding Aspiration Into Our Financial Management Mix
Ultimately, we decided to add Aspiration into our spending and saving mix over time. We opened Spend and Save accounts that currently replace some of our financial management habits but don't replace all of our banking tools. I've shared more specifically below which tools we are using and why we chose each of them. Hopefully, over time, we can slowly transition more assets to Aspiration and take advantage of a growing portfolio of financial service products.
For us (and for many families), shifting to more eco-friendly lifestyle habits is an ongoing process that takes many years and iterations. We took the same approach with the transition of our financial services. Choosing to slowly adopt Aspiration cash management tools has significantly reduced the anticipated stress of a rush to replace old habits with new ones.
Is Aspiration's Account Opening Process Easy?
Yes! Aspiration is designed to be used primarily online and through an app on your phone. The account opening process is super easy and really quick. I answered a few questions to submit an application. The review and approval process only takes a few minutes.
You can use a digital Aspiration debit card on your phone app before the physical debit card arrives. The initial deposit settled before I received the physical card, so I could start using it shortly after I opened the account.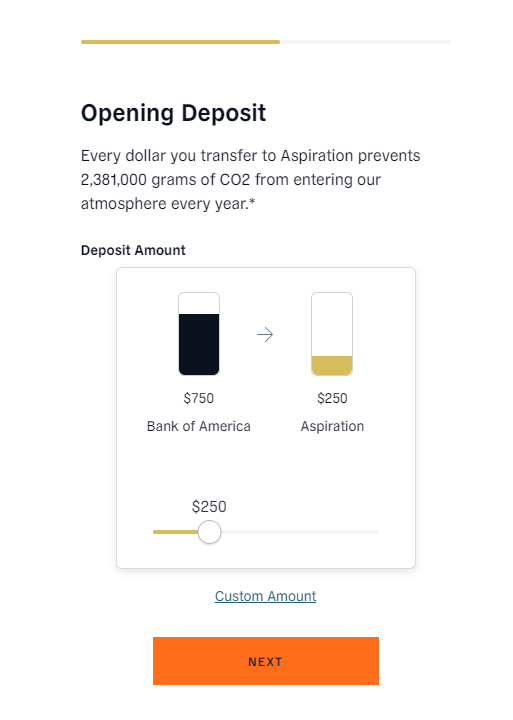 You'll receive instructions on how to use the digital debit card when you open the account. You can also set up Direct Deposit if you'd like.
Does Aspiration Cost More Money Than Other Banks?
Aspiration offers two types of accounts: Aspiration and Aspiration Plus. The basic Aspiration account fee is Pay What Is Fair. You choose the monthly fee, which can be $0. Aspiration Plus has additional benefits but costs $7.99 per month (or $5.99 per month if you pay annually).
Aspiration states that customers can save several hundred dollars per year on cash management services compared to average spending and saving rates. Actual savings depend on your current cash management costs and banking habits.
We chose Aspiration Plus to benefit from the higher interest rate on the Save account (up to 1.00% Annual Percentage Yield on up to $10,000), higher cashback on Conscience Coalition purchases, and carbon offsets for gas purchases. When we calculated the analysis of fees paid and interest earned with our previous banks relative to the fees paid and interest earned through Aspiration products, it was about breakeven. We also earned a $200 bonus after spending $1,000 within the first 60 days of opening our account.
Without considering the $200 account opening cash bonus, the net financial ongoing costs and benefits of using Aspiration were about the same as our previous bank when we took advantage of the most lucrative benefits Aspiration offers. Thus, it cost us financially nothing to move some of our money away from "dirty" banks and into Aspiration to reduce the carbon footprint of our banking habits (and our regular travel, thanks to the carbon offsets Aspiration pays on our behalf for gas purchases).
What Aspiration Cash Management Tools Do We Use?
Let me start by stating that this is what works for our family. It may not work for your family. I'm not suggesting it's the right option for everyone but simply providing one example so you can see how we decided where it made sense for us to use Aspiration cash management tools today.
Aspiration Plus
We signed up for the Aspiration Plus Spend and Save Plans. Although we pay a higher monthly fee, we chose this account to earn a higher interest rate on the funds in our Aspiration Save account (up to $10,000 balance). We also already shop at some of the Conscience Coalition partners, like Girlfriend Collective and Dropps. Purchases with our Aspiration Plus debit card earn a higher cashback rate on purchases from all brands in the Coalition group compared to the basic Aspiration debit card.
Aspiration requires at least $1,000 in debit card spend to receive the higher 1.00% interest rate on the Save account. We use the Aspiration debit card to make at least $1,000 in purchases per month, an amount we were already spending with another card.
We will receive a $200 bonus (no longer offered) for spending at least $1,000 in the first 60 days of opening our account. Further, we use this debit card for gas purchases so Aspiration will purchase carbon offsets on our behalf when we pay for gas.
Overall, the monthly account fee is offset by the increased interest we earn on the Save account balance as well as the initial bonus, cashback on Conscience Coalition purchases, and the value of the carbon offsets for fuel purchases.
What About The Standard Aspiration Account?
The basic Aspiration account offers a Pay What Is Fair fee. While it has fewer benefits, I think it would be a really great account for those with limited cash management needs. For example, I think it could be perfect for high school or college students who may not meet the monthly spending minimums for increased interest rates under the Aspiration Plus account.
The basic Aspiration account would also be great for someone planning to use the Spend account without having a significant Save account balance or intending to purchase much from the Conscience Coalition partners. In these cases, the monthly fee might not be worth it (at least from a strictly financial perspective) because you wouldn't be taking full advantage of the Aspiration Plus account benefits.
I'd also love to see Aspiration offer accounts for kids that easily link to our family account. They don't offer this yet, but the no-fee model would be great for green cash accounts for kids with a very low balance but attached to more active spending and saving accounts for our family.
Are The Aspiration Dashboard and App User-Friendly?
I think the Aspiration customer dashboard and app are really easy to use. The interface is clean and simple, and it has all the features I would expect for my personal banking needs.
Before signing up for Aspiration, I was hesitant I wouldn't have all the online tools I needed because I was moving from a global bank with sophisticated technology to a start-up financial services company. But that hasn't been the case at all. In fact, I think I like the Aspiration customer dashboard better than our prior bank. It feels more modern and has all the functionality I need without being bogged down by excess tools I wouldn't use anyway for our day-to-day personal cash management needs.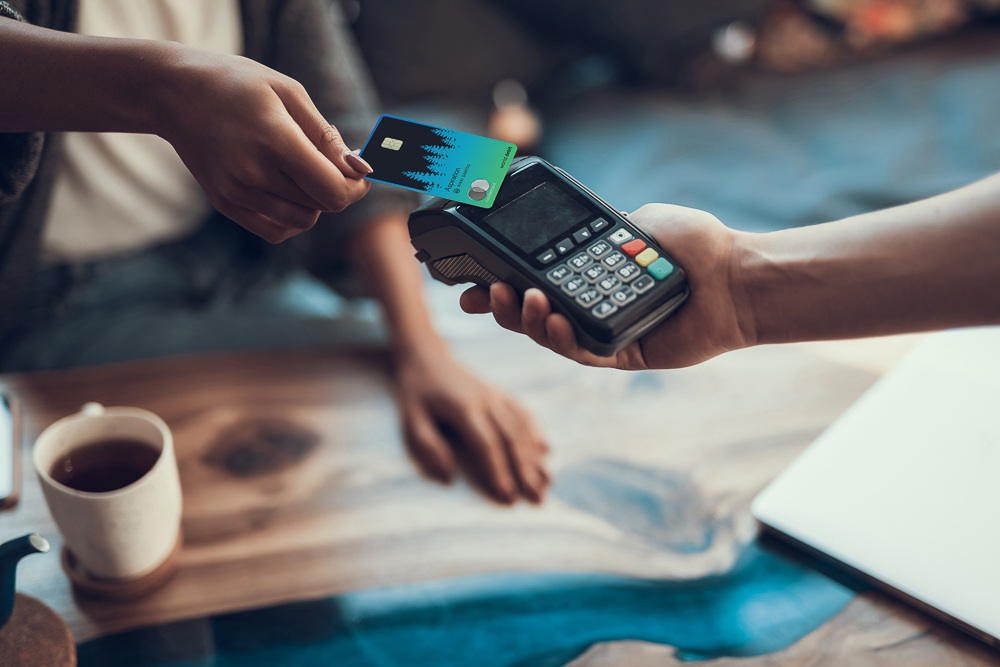 Does Aspiration Have Good Customer Service?
To date, I've had no issues with Aspiration customer service. I think the Dashboard and app are really easy to use and are great for simple cash management, and I use the Aspiration debit card regularly with no issues.
It doesn't take a deep online search to see that Aspiration had some customer service hiccups a year or two ago. Although I always remind myself that frustrated customers are far more likely to leave negative reviews online than satisfied customers, I did have some hesitation about opening an account if others had trouble with the service.
In the grand scheme of cash management and banking, Aspiration is a fairly new company working through growth phases. When I spoke with their team member, I asked them candidly about the customer service struggles. This person was honest about the issue and noted that it related to an operational matter that has since been resolved.
I think it's typical for start-up companies to have bouts of trial and error. As we pave the way for progressive financial institutions like Aspiration to create better ways of managing our money that do not destroy the planet or pad the pockets of already-wealthy elites on Wall Street, there are bound to be imperfections. Changing our global structural financial systems and redefining how banking works when the big, dirty banks are "too big to fail" isn't going to be a flawless journey.
When I asked for recommendations for a bank for WasteWell, a friend said about a specific bank in question "Eh. They're fine. But all banks suck." Unfortunately, this is the reality that we've been living with for decades; most banks aren't that awesome. There are plenty of good people working at banks of all sizes. But overall, most banks can't or won't meet our needs without burning up the planet for the benefit of their owners and investors. Aspiration is working to buck the trend and be a better option for its customers and our planet.
Should You Make The Switch To Aspiration?
Aspiration is working to make managing our cash better for our wallets and better for the world. Based on my experience thus far, I think it's worth making the switch if you can. After a few initial steps to update your cash flow processes, Aspiration fits right into everyday spending and saving without the harmful carbon impacts from fossil fuel investment.
If you have any other questions, leave them in the comments, and I'll do my best to answer them. So long as our money is funding fossil fuels, our eco-friendly lifestyle swaps aren't going to swing the pendulum. Go check out Aspiration and make the change to put your green ($$) to work in a much greener way.

Note: The above information was accurate at the time this post was written. We will update it periodically but Aspiration may change product offerings, interest rates, or other information at their discretion and this post may not be updated to reflect those changes at a particular point in time.
(1) According to the Banking on Climate Chaos: Fossil Fuel Finance Report 2021 from the Rainforest Action Network, Sierra Club, Indigenous Environmental Network, and others.
The Aspiration Spend & Save Accounts are cash management accounts offered through Aspiration Financial, LLC, a registered broker-dealer and Member FINRA/SIPC. Aspiration Card Services, LLC offers the Aspiration Zero Credit Card. Make Earth Green Again, LLC offers a standalone Plant Your Change service. Aspiration Financial, LLC, Aspiration Card Services, LLC, and Make Earth Green Again, LLC are wholly-owned subsidiaries of Aspiration Partners, Inc. ("Aspiration"). The Aspiration Save Account's up to 1.00% Annual Percentage Yield ("APY") is variable, subject to change, and only available to customers enrolled in Aspiration Plus after conditions are met. Terms & FAQ. The Aspiration Plus debit card is issued by Coastal Community Bank. member FDIC, pursuant to a license with Mastercard International Incorporated. Aspiration is under separate ownership from any other named entity. Aspiration is not a bank.