Aruba: One Happy Couple on One Happy Island
Need a break from the every day grind? We spent five days in Aruba, without the kids, and couldn't have been more pleased. Here are a few highlights from our trip.
About a year and half ago, I changed roles at work (same company, different job). For the first time in a decade, without a crazy busy season at work clogging up most of the winter, I could travel somewhere for "spring break". I had no intention of replicating anything like a college spring break, but what's not to love about a reprieve from winter after many years in the Midwest tundra. Chicago winters are brutal, to put it lightly.
M and I decided to take our first winter trip to a Caribbean island last February to celebrate my newfound "freedom" allowing winter travel. Life got the best of us as we planned for a move from Chicago to Philly and that trip was postponed… until last week. #BetterLateThanNever
The timing couldn't have been better and the locale was absolutely amazing. If you haven't been to Aruba, it's a very nice island just north of Venezuela that's perpetually breezy due to the trade winds that flow across the island. It's not subject to hurricane season, and the tourists are almost all American (which means it's rather quiet the week after Thanksgiving when we visited). For much of our trip, especially the first few days, the resorts were so quiet! There were open beach huts and pool chairs everywhere.
M and I have never been "beach people" so vacations like this aren't really on our agenda that often. For our honeymoon, we traversed London for seven days with little plan but a hotel reservation. This was also the first time we've traveled together without the kids since they were born. We need to do that more often!
Odd as it may sound, I'm not sure I had ever laid in a beach chair without interruption for more than 30 minutes. I never realized how amazing lying under the shade of a beach hut with the ocean waves calmly rolling over the sand and a book in my hand could be. Seriously amazing.
I read two books during our trip, both recommendations from Janssen at Everyday Reading (she has some really great recs). I read Hillbilly Elegy by J.D. Vance and This Is Where You Belong by Melody Warnick. I really liked both. Hillbilly Elegy offers an insightful and well-written perspective on the working poor in the rust belt, perfectly fitting for our current political environment.
Aruba is a surprisingly arid island (at least it was a surprise to me). Iguanas, most small and a handful as big as this guy, roam the sidewalks everywhere. We also enjoyed amazing sunsets every night, as one might expect at a beach resort overlooking the ocean.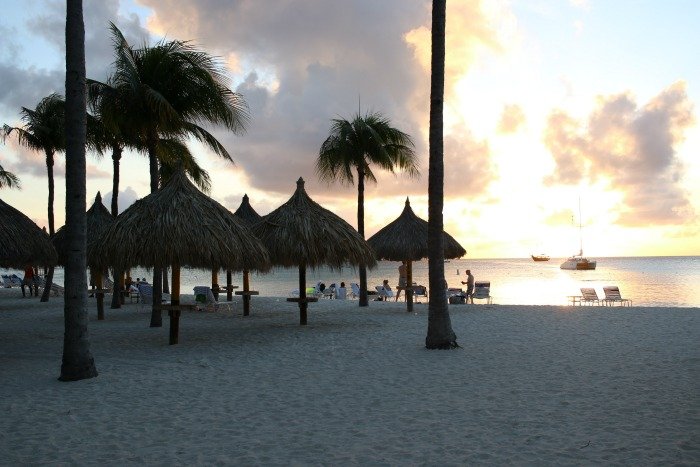 Unlike some other Caribbean islands, Aruba is generally safe to explore. They call it "One Happy Island." We ventured out on several occasions including for dinner at a local restaurant called Papiamento (seriously amazing) and breakfast at a spot called Taste of Belgium. Papiamento used to be a house and the family turned it into a stunning restaurant, most of which is outdoors thanks to the consistently beautiful weather.
Papiamento is also the name of the local language, though everyone speaks English too (which also helps makes traveling away from the resort really easy).
We enjoyed another dinner at BLT Steak in the Ritz Carlton (next to our resort). It's a chain with some other locations around the world, but it was so good I didn't care. The popovers are out of this world!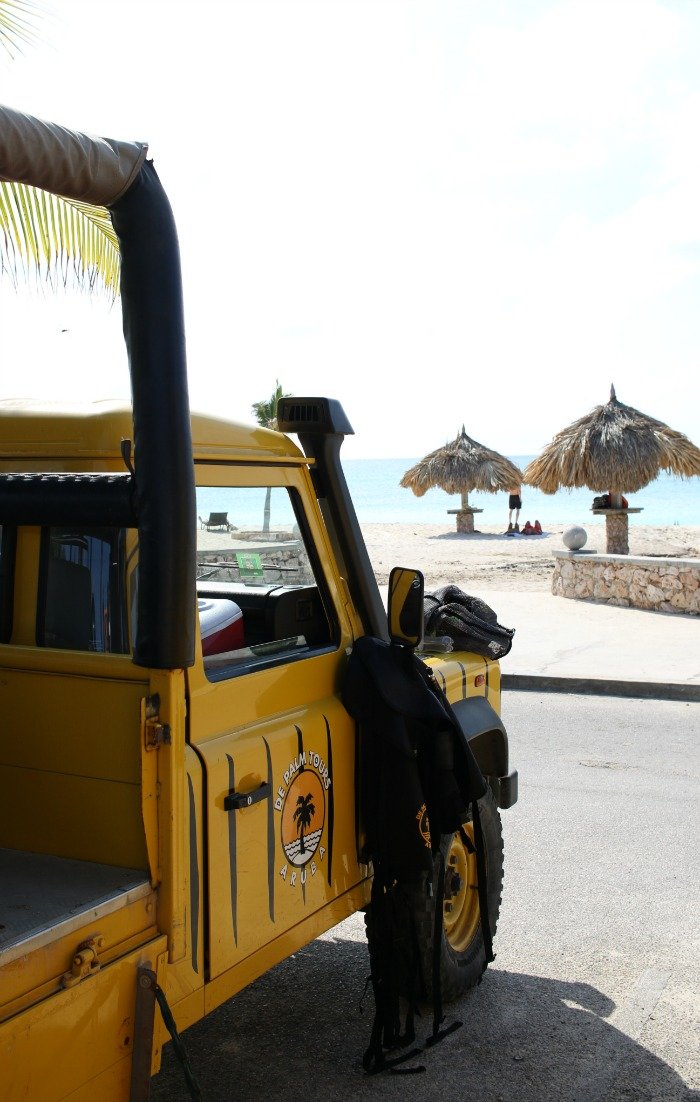 One afternoon, we participated in a De Palm Tours Land Rover excursion. The tour guide drove us through portions of the island's national parks to see the (now collapsed) Natural Bridge, swim in the Natural Pool, and enjoy an adventurous drive through the rocky roads and hills.
They call a portion of the drive "the Aruba Rollercoaster" because it's a pretty steep traverse through very uneven terrain (and the driver makes sure everyone experiences at least a few moments of healthy fear on the journey). It's all very safe but a lot of fun and worth the investment of an afternoon to see more of the island.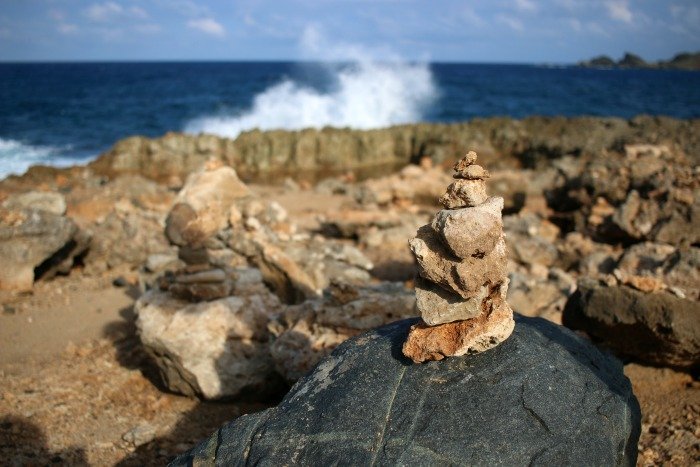 That's the Natural Bridge (which used to a bridge, exactly as you'd imagine). It collapsed a few years ago, but still remains a big tourist attraction.
Surrounded by all the rocks above, the Natural Pool was a fun place to take a dip in the ocean. It's not as calm as I expected it to be, which you can see in the video of our trip. M gave me the side eye when I took my iPhone into the water, but I got some really fun videos of our time in the Natural Pool and the waves crashing in between the rocks. All's well that ends well, right?
Knowing we were headed to an island, I brought
my waterproof iPhone case
so I would be able to take my phone into the water a time or two. I took most of the photos and videos with my
Canon 70D camera
and either my
50mm lens
(my favorite) or my
24 mm wide-angle lens
. But after causing almost $400 worth of damage to my camera on
our trip to Turks & Caicos
(thanks to getting sand in it.. ugh), I was sure to bring the waterproof case so I could use it when we were near the water or the sand. I wasn't making that mistake again!
We stayed at the Aruba Marriott Resort and Stellaris Casino. If you're considering a trip to Aruba, we plan to go back next year and stay at the same hotel. Needless-to-say, we really liked it. When we do go back, rest assured you'll have no complaints from me about more of these sunset views each evening.